Are you looking for something unique to sprinkle magical dust over your family's Christmas this year?
Some of the things that make our Christmas magical have included:
:: Christmas Eve one-present opening rule
:: Sprinkling Reindeer Food around our yard
:: Hiding a Pickle ornament in our tree, and whoever finds it gets an extra gift
A big ole' Santa-sized buuuutttt…….we're looking for something more now that we've got a little one.
So I created the Santa Family Initiative Kit
Santa's Family Initiative Kit Details: Santa has issued your family an initiative this holiday season and a family reward under the Christmas tree is up for grabs upon successful completion. Are you and your kiddos up for the challenge? You will decide which of the 3 initiatives − spreading Christmas cheer, volunteering at a location, or completing a household project your family will complete together, and what the family reward will be. (Pssst: don't worry about coming up with ideas yourself! Santa's included a sheet of ideas to get your brain working).
And guess what? After pitching it to The Dating Divas, they've asked me to team up by offering it through their All-Things-Christmas Blogger Bundle!
All-Things-Christmas-Bundle Includes So Much More
The Santa Family Initiative Kit is only available through the All-Things-Christmas-Bundle.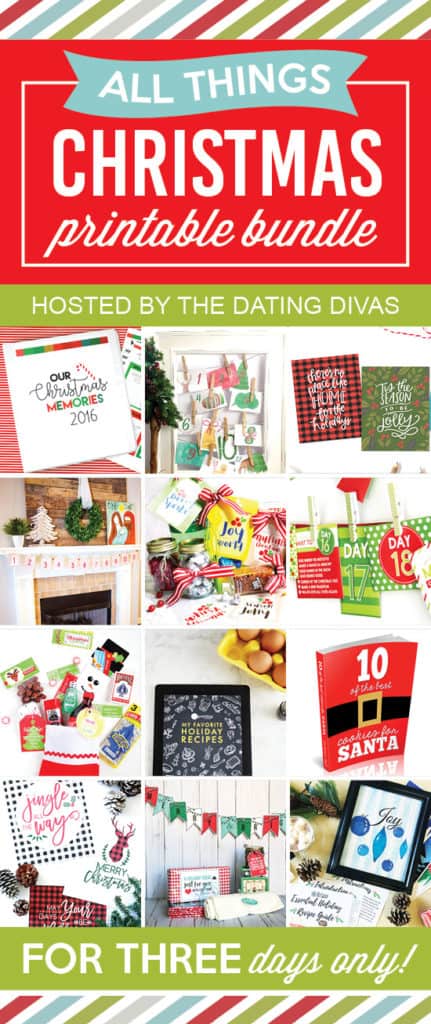 A sprinkling of some of the other printables in this bundle that I can't wait to get MY hands on are:
Christmas Memories Pack: I'm going to use this to write down our most cherished activities this time of year, then when our child is old enough, I'll gift it to him so that he can hopefully pass on these activities to his own family.
Ugly Sweater Party Printables: I always thought it would be SO fun to host a Christmas Ugly Sweater party!
Christmas Cootie Catcher Conversation Starter: This one will be fun around the dinner table. I always love things that get the conversation going!
Naughty or Nice Love Coupons: Something for the just the adults:) <wink, wink>
Lots more
Details of the Sale
This is a 3-Day sale, but the price goes up a little each day. So, you can snag the whole bundle for ONLY $18 today>>! BUT the price is going up tomorrow! Here's the breakdown…
Buy on the 16th for only $15
Buy on the 17th for only $18
Buy on the 18th for only $20
After that, this deal is GONE FOREVER!
And the cost of purchasing all of these products separately from each blogger? Over $200!
No matter what you decide to do this holiday season, I hope yours is especially memorable.
The following two tabs change content below.
Amanda L. Grossman is a writer and Certified Financial Education Instructor, Plutus Foundation Grant Recipient, and founder of Frugal Confessions. Over the last 13 years, her money work has helped people with how to save money and how to manage money. She's been featured in the Wall Street Journal, Kiplinger, Washington Post, U.S. News & World Report, Business Insider, LifeHacker, Real Simple Magazine, Woman's World, Woman's Day, ABC 13 Houston, Keybank, and more.
Read more here
.
Latest posts by Amanda L Grossman (see all)