How do you start a Thanksgiving tradition? I've got 19
Thanksgiving family traditions ideas, any of which you can swipe for your own family

.

"How do you start a Thanksgiving tradition?"
I wondered that as well as a newlywed getting ready to spend my first Thanksgiving together with my husband.
Thanksgiving happens to be Paul's favorite holiday. And Fall is my favorite season.
The leaves changing color, crisp air when I head out to my car in the morning, new things starting up, breaking out some lovely family traditions…what's there not to love?
Let's work on how to make Thanksgiving memorable for you and your loved ones in your life (whether you're meeting with family or celebrating Friendsgiving).
Thanksgiving Family Traditions to Make Thanksgiving Memorable
One of the best ways to make a Thanksgiving celebration memorable – this year, and beyond – is by establishing family Thanksgiving traditions.
These are experiences that provide "memory capital", or memories your family members (and you) are building and can look back to for decades to come.
And there's a really simple way to keep these as traditions in your family, and not just one-time events: write it down.
My grandmother does this. For each holiday, she wrote down a detailed list of what she would cook. It's now something that we will treasure as a family long past this generation or next generation.
Psst: I even included each holiday's write-up in a family heirloom scrapbook!
Here's a snapshot of hers (you can easily add in the games/activities/traditions to yours):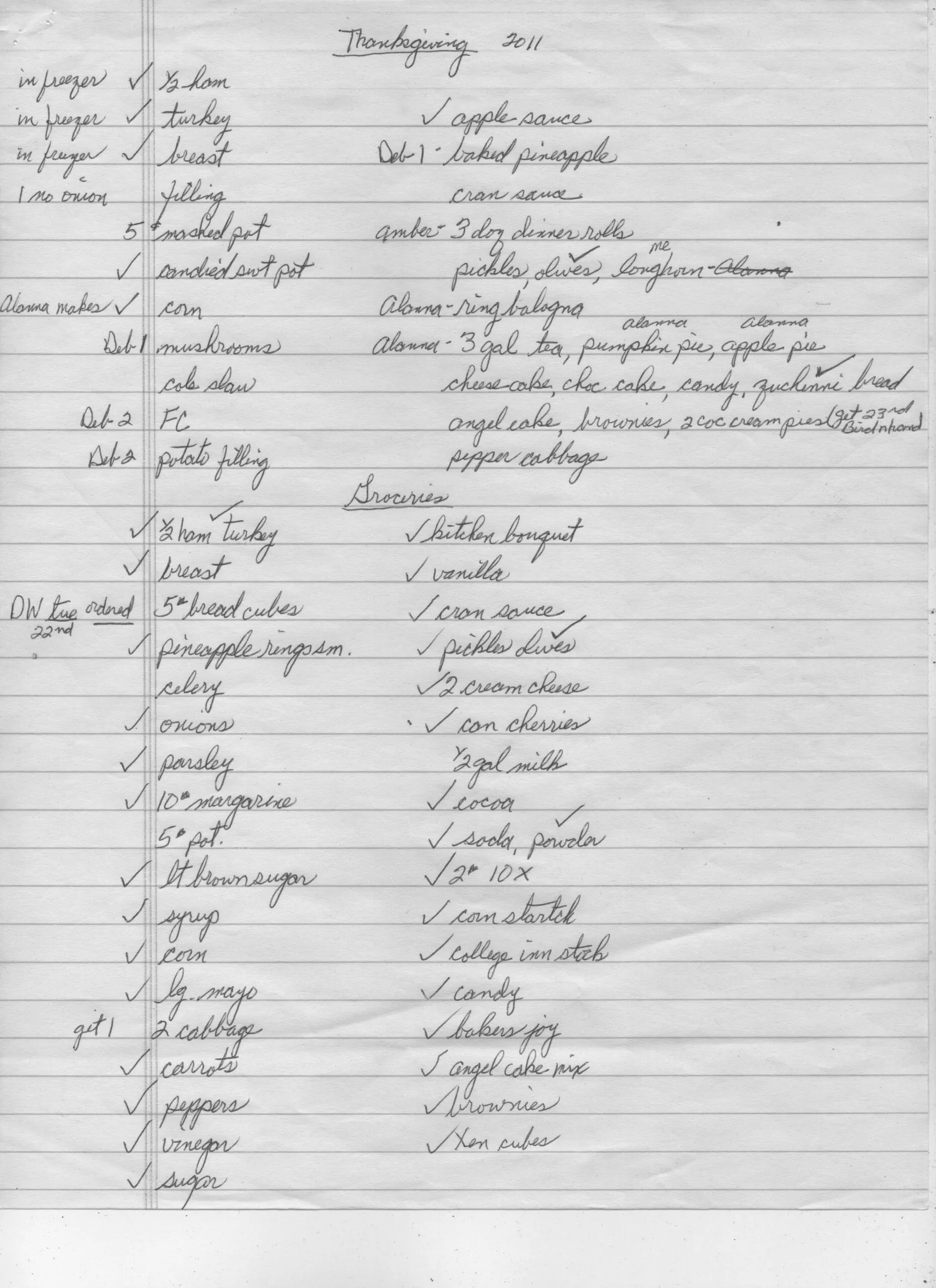 Thanksgiving Family Traditions Ideas
Ready to bust out some new, fun thanksgiving family traditions? Fun ideas below.
Psst: have a small family? Here are my 14 favorite small family Thanksgiving traditions.
1. Give a Wishbone to Everyone
Two people making a wish while breaking the turkey wishbone can be fun. But what about everyone else?
This year, purchase a set of breakable, plastic wishbones so that everyone around the table can participate in the tradition of making a wish and breaking the wishbone.
Hint: Here's a chocolate mold wishbone, so you could make chocolate ones, too!
2. Host a Centerpiece Competition for the Kids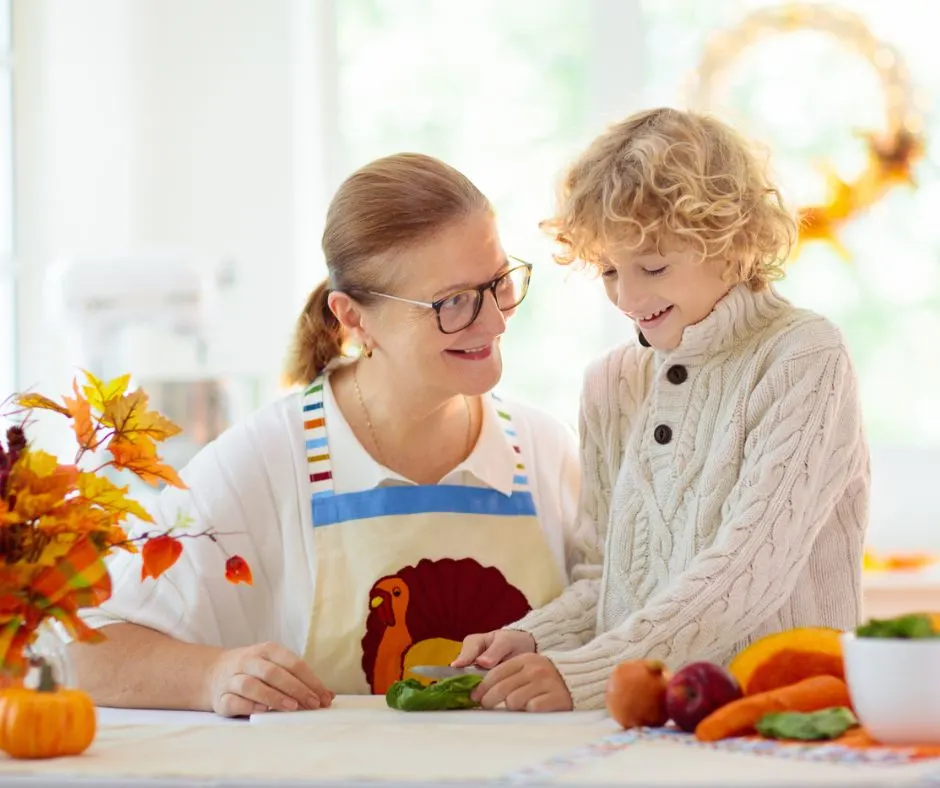 Get the children super excited about Thanksgiving by making it a contest to see whose centerpiece gets chosen for the main table.
In the weeks leading up to Thanksgiving, have each family who will be at the Thanksgiving feast help their kids plan and craft a centerpiece for the meal table (the contest could also result in the centerpiece chosen for the kid's table, or a dessert/side table; also, there could be 2nd and 3rd-place runner ups that get chosen for different areas in a home).
While everyone is anxiously waiting to start dinner, have each family member cast votes to see which centerpieces get displayed, where.
3. Do a Centerpiece Rotation Among Families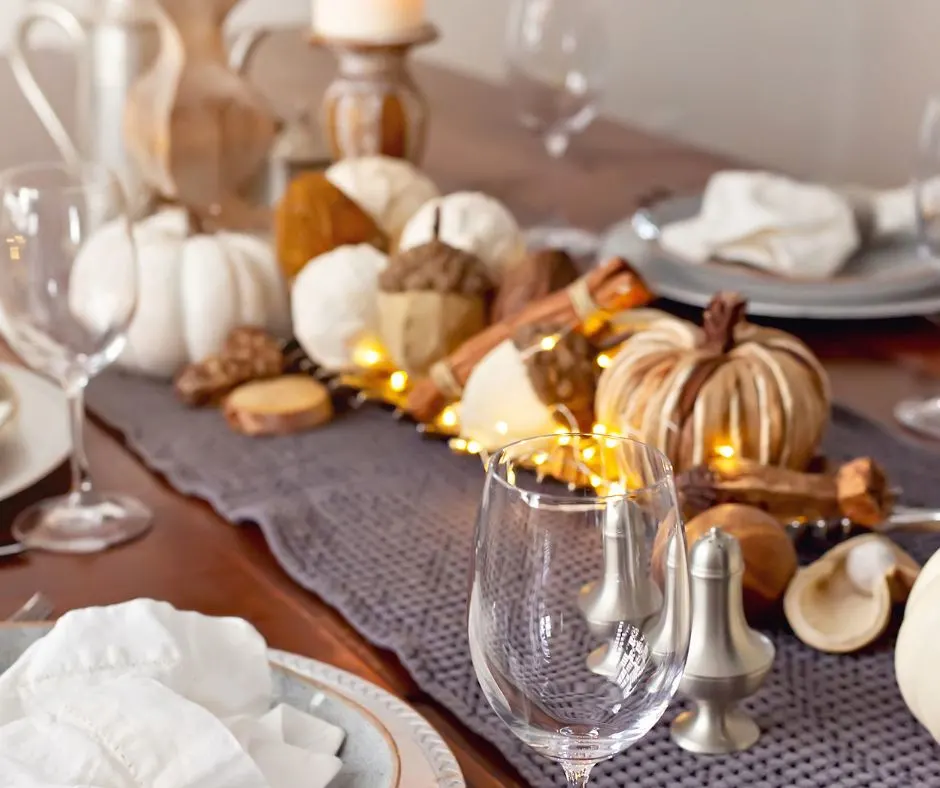 Don't just choose who will host Thanksgiving each year, but also rotate who will create a table centerpiece for the occasion (make sure it's not the same family that is hosting, to mix things up).
My cousin, Lauren, says, "my favorite was the year Steve and I hosted (our first year married), and we did apples carved out with tea lights on top and a name card in front."
4. Create a Family Turkey Trot
How about creating a family turkey trot race that starts from your home, and ends where the feast will be?
Kelan and his wife, The Savvy Couple, do this. Kelan explains,
"Each year, our family creates our own turkey trot. We live within 5 miles of my parents so it's a perfect run before the big feast. We save money not needing to sign up for an official race, and my mom is always waiting for our arrival with Champagne to celebrate.
5. Volunteer Together
Kate Braun from DollarSanity.com says, "Last year, my cousins and I took advantage of the day off to walk dogs at a local shelter. We do it when we can the rest of the year too, but it seemed particularly fitting to share some happiness on Thanksgiving with ones who don't get a lot of it."
This makes a great November activity for adults, too.
Psst: here are more kindness challenges for adults.
6. Teach the Next Generation a Family Dish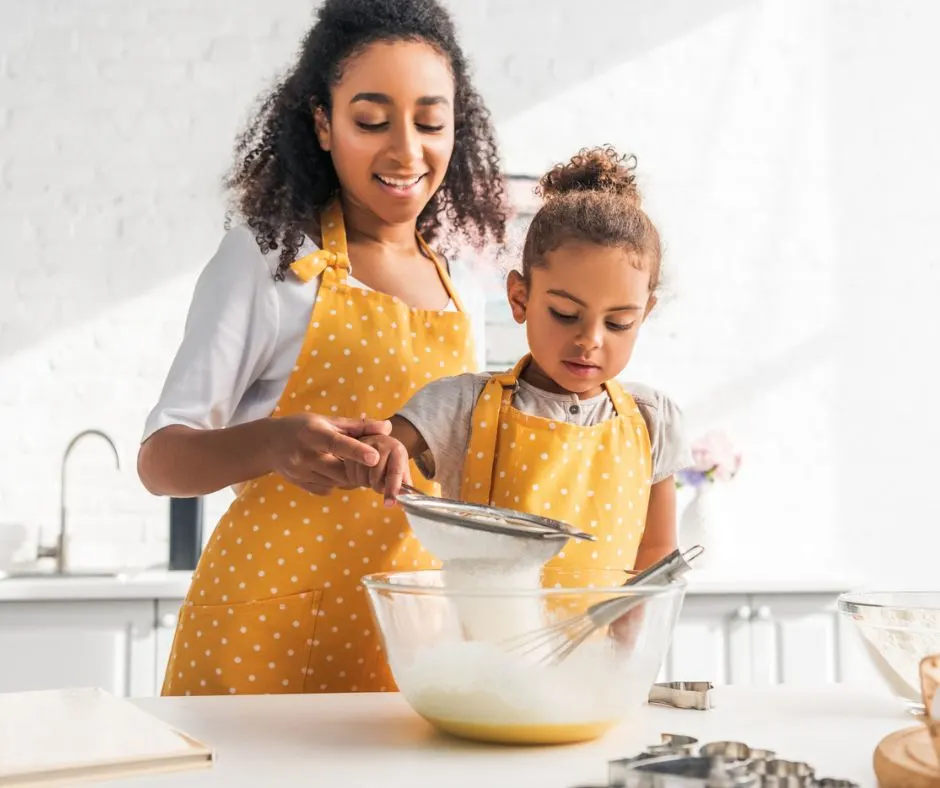 This is a great time (though not in the heat of the kitchen moment right before putting the meal on the table) to teach someone from the next generation how to cook a famous family dish.
Follow-up the next week or for Christmas by sending them a handwritten copy of the recipe.
7. Watch the Thanksgiving Day Parade
One of the most well-known American Thanksgiving traditions is watching the Macy's Thanksgiving Day Parade.
But there's also the:
Dunkin' Donuts Thanksgiving Day Parade
America's Thanksgiving Day Parade
H-E-B Thanksgiving Day Parade
Chicago Thanksgiving Day Parade
Novant Health Thanksgiving Day Parade
Thanksgiving Tradition Stories
Find more inspiration for family Thanksgiving traditions with these stories from real people. I'll start with my own Thanksgiving tradition story.
1. Post-Dinner National Lampoon
One year, while in college, I decided to visit my boyfriend (now husband) for Thanksgiving. He was stationed in Japan, which is where we met, and was super homesick because of the time of year.
I brought with me a copy of National Lampoon's Christmas Vacation. One jet-lagged morning, at around 3:30 a.m., he woke up to me sitting at the end of the bed, watching Clark Griswold and his family.
Ever since then, our tradition is to cozy up a few hours after Thanksgiving dinner, and watch National Lampoon Christmas Vacation. It's the perfect opportunity because almost everyone falls into a cozy turkey coma after eating the big meal.
Don't forget the homemade hot chocolate!
2. The Cauliflower Turkey
Drew from DrewDuBoff.com shares his story.
"My family used to be the traditional Jewish family on Thanksgiving…
We'd have all the extended friends and family over (if our Pittsburgh cousins came in) or go to our cousins' in a different part of Pennsylvania when they didn't. I'm from South Jersey.
A few years ago, when my parents decided they wanted to convert the house to kosher dairy, that put us in quite the little predicament.
Now, we're all vegetarian (my dad for the most part) and as a culinary arts major, I had to figure out what gastronomic feat I was going to pull off.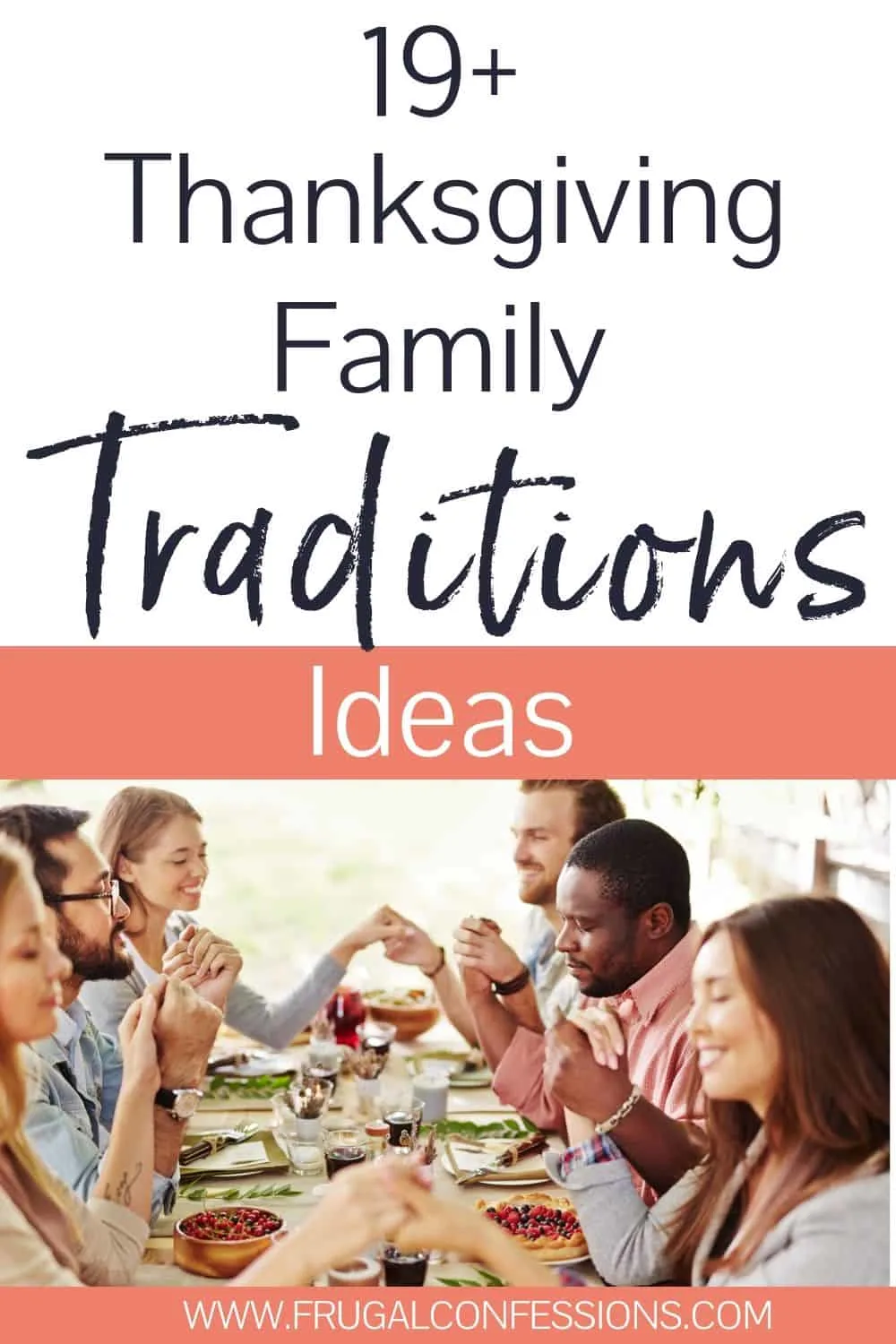 I remember watching one of those viral Facebook videos where they roasted a cauliflower head and put it on top of the traditional mirepoix.
So, I decided to try it, since I knew tofurkey was not going to become a staple in our household.
I am happy to report that since that first year I tried it, we have enjoyed our roasted cauliflower and it's become something we look forward to.
Although, I'm probably more excited for the bottle of Banyuls (fortified red wine from Southern France that tastes like chocolate) that I started buying."
And, honestly…that's how many Thanksgiving traditions start. Someone gets an idea, it turns into a "thing", and next year it feels right to do it again.
Let's look at lots more ideas for traditions you could start!
Thanksgiving Games Traditions
Games – especially ones you only play at Thanksgiving time – can be real memory-makers. Check out Thanksgiving games traditions examples below!
Psst: you might also want to check out these 17 Christmas Eve traditions for adults, and Christmas traditions from around the world.
1. Neighborhood Hockey Game
Andrew Daniels from MillenialHomeowner.com says,
"My family loved hockey, so we would get everyone in the neighborhood who was around, to play in a street hockey game. It didn't matter how old you were, or if you had never played before. It came from the kids who loved the sport and the adults having a reason to enjoy a game of hockey. Plus, it was a great excuse to get everyone together and encourage people who didn't play to try it. Hockey season would just be getting started, and it was usually one of the last times we could get a hockey game in before the snow started to fall."
2. Play a Poker Tournament
Jennifer says, "Growing up in Dallas we went to my grandparents, ate at 1, watched the Dallas Cowboys game and played poker. Loved those days!"
Here's help with how to organize a home poker tournament for your Thanksgiving day, plus a free printable comes with it!
Here are more Thanksgiving activities for adults.
3. Backyard Football Game
If you have enough competitive guests, then break them up into teams and play a football game out in the backyard. It beats sitting around watching one, and can create wonderful memories (and rivalry) for years to come. Go one step further and create a novelty trophy that the winning team gets to possess until the following year's match.
Now, we'll move onto Thanksgiving ideas around gratitude and appreciation.
4. Play Karaoke
Allan Liwanag from The Practical Saver says, "Coming from the Philippines, my family didn't have Thanksgiving. That said, when we all came here, we adopted Thanksgiving and infused our own family tradition. After every Thanksgiving dinner, we would play games where everyone both kids and adults are required to participate. After that, the adults will sit down and do karaoke while the kids would watch a movie or two in another room.
Looking for activities around being thankful and thoughtful on Thanksgiving day? That's what we're talking about next.
Thoughtful Thanksgiving Ideas
Thanksgiving is such a thoughtful time of year – a great moment and space, before the rush and consumerism of the rest of the holiday season, to reflect on gratitude and appreciation.
This section is all about thoughtful Thanksgiving ideas to help put you and your loved ones in a space of appreciation and thankfulness.
1. Make a Jar Full of Gratitude (with a Twist)
Have each of your guests write down something they are thankful for on a piece of paper. Fold and collect them in a mason jar. During your dinner, pass the jar around and have each person pick a piece of paper and read it out loud.
That's right – have other people read each other's gratitude statements out loud!
2. Make a Gratitude Tree
Kelly from Centsible Life shares, "We make paper leaves and write what we're grateful for on them. When the kids were small, I would make a 'tree' out of cardboard and they would tape the leaves on the tree. Now we just add them to the place setting.
How do Families Celebrate Thanksgiving?
Some families stay home for Thanksgiving, while others travel. Some families only include immediate families, while others incorporate friends and even coworkers.
There are any number of ways for families to celebrate Thanksgiving, many of which are detailed below.
1. Travel for Thanksgiving
Ashley says, "we always go away for Thanksgiving. Growing up my parents lived on opposite coasts and I'd always go visit my dad for Thanksgiving… and he always planned a trip. So, traveling for Thanksgiving just feels right. It's what I grew up doing and it seems like what you should do. These days we usually book a rental house somewhere remote and bring all our T-day foods. We cook, eat, play games, watch movies all weekend. It's fun.
Bonus: I would watch Dan in Real Life. It's such a wonderful Thanksgiving movie, but on top of that, it's about a family that travels to be together for the weekend. Love that!
2. Skip the Traditional Feast for Day-Long Breakfast, Instead
Kelly from Centsible Life says, "My husband, kids and I don't love a traditional feast, so we decided one year (when it was just the 6 of us) to do a Thanksgiving brunch instead. We do pancakes or waffles, with fall spices, eggs, bacon, sausage, fruit salad, salad, a veggie tray, charcuterie tray, and some baked goods. Drinks are usually coffee, tea, juice, cider. We eat all day, and it's so much more low-key and fun!"
3. Host Friendsgiving the Day Before
Crystal says, "Our favorite Thanksgiving tradition is Friendsgiving. The day before Thanksgiving, every year for the last decade, my husband cooks an entire Thanksgiving feast from scratch including apple pies for our closest friends. We usually have about 15 guests."
4. Host a Thanksgiving Day Brunch
Not hosting the big day? You could throw a Thanksgiving Day Brunch instead. Make it early enough in the day so that people have time to recover for the big meal, and be sure to invite whoever is going to make the big meal to give them a break. Great brunch ideas include Baked Pumpkin French toast, Pumpkin Pie Oatmeal, Homemade Cinnamon Rolls, etc. If you have children, why not include them in this tradition by cooking together? To make this even more fun, do it in pajamas and slippers!
Now, let's talk about how you can let Thanksgiving bleed into Black Friday (and NOT the other way around!).
Thanksgiving Traditions that Mesh with Black Friday
One of those Facebook pops of wisdom (via someecards.com) showed up on my wall a few years ago.
It stated, "Black Friday: Because only in America, people trample others for sales exactly one day after being thankful for what they already have."
Normally these are quirky and satirical observations that most of us can relate to, but this one spoke to me in a different way.
I say this because, I don't like the way that the crazy consumerism that tends to wrap itself around Christmas season has, in recent years, attempted to overpower Thanksgiving (and even Halloween). I mean, did anyone else see red bows showing up in commercials as early as September, and Christmas holiday displays sitting side-by-side with 75%-off Halloween merchandise?
There is a growing trend in consumerism that is making me uneasy: Black Friday selling and buying frenzy is encroaching on Thanksgiving Day. Instead of each of these days getting their own time to shine — a day centered around friends, family, and food, and then a day centered around incredible deals — an evening of full bellies, love, and laughter could now be spent standing in a line with hundreds of other cold, impatient people to try and score a flat screen for $199.
This section is all about reminding us that we are not united in buying THINGS, we're united in sharing thanks.
And there are ways to continue Thanksgiving so that it bleeds into Black Friday (and not the other way around).
1. Enjoy an Early-Morning Pumpkin Spice Latte
If you do not want to go out on Black Friday, you could still participate by inviting Black Friday shoppers over for coffee, tea, and hot chocolate mid-morning. If you don't feel like hosting something, then set up a coffee or tea date at a local coffee shop where you and the shopper can meet up and chat in-between their trips.
Riley Adams of YoungandtheInvested.com says, "It's post-Thanksgiving but still a tradition in our family. My wife and I always wake up early to go to Starbucks on Black Friday to buy seasonal coffee drinks (…usually Pumpkin Spice Lattes…) and then walk around the mall. We look at all the sales and usually make purchases we've put off in anticipation of the day's deals. We avoid making unnecessary purchases if at all possible."
2. Enjoy a Thanksgiving Leftover Potluck on Black Friday
Mmmm…Thanksgiving leftovers. You can extend the holiday a bit by offering to host a leftover luncheon in your home for people who do not work that day. Reheat everything and serve it buffet style with as little fuss as possible. Or, create new dishes from the leftovers such as Turkey Cranberry wraps, or any of these recipes. This could also be an opportunity for another get-together for those who went Black Friday early-morning shopping (they'll need fuel when they return home) and those who did not.
The following two tabs change content below.
Amanda L. Grossman is a writer and Certified Financial Education Instructor, Plutus Foundation Grant Recipient, and founder of Frugal Confessions. Over the last 13 years, her money work has helped people with how to save money and how to manage money. She's been featured in the Wall Street Journal, Kiplinger, Washington Post, U.S. News & World Report, Business Insider, LifeHacker, Real Simple Magazine, Woman's World, Woman's Day, ABC 13 Houston, Keybank, and more.
Read more here
.
Latest posts by Amanda L Grossman (see all)