41 Mother's Day gifts when you're broke – because celebrating your mother should happen whether you can splurge or not.
Being broke is NOT a reason to "cheap out" on celebrating your mother this Mother's Day.
What do I mean by "cheaping out"?
It turns out that WHAT you spend on a Mother's Day gift is not nearly as important as the care that you put into it.
Yes, on days like Mother's Day, care and time are considered currencies.
So, in my mind, "cheaping out" would be skipping over Mother's Day altogether, or not putting any effort into trying to make or do something (don't worry – I've got you covered with loads of cheap and free ideas below), and in general, forgetting to honor your mother on this day.
Fortunately, there are always options to show others how we feel about them without spending a lot of money. At the end of the day it is the feeling we leave with our loved ones that matters the most, not the price tag on a gift.
Just ask anyone if they would rather have a new television or your unconditional love and support.
For Mother's Day, I'd like to give you some frugal ideas that will allow you to express your love and gratitude.
What Can I Do for Mother's Day if I Have No Money?
When you have no money but you really want to show Mom how much she means to you, then you need to get creative. Creative with your time, your talents, and with what you consider a "gift".
#1: Offer Your Services to Make Mom's Life Easier
Is there something that you do that your mother could benefit from (or has hinted she would like help with)?
For example, my husband, Paul, works in IT and could offer to clean up his mother's computer for her.
Perhaps Mom needs help with downloading apps or music. Gutters need cleaned, cars need washed, oil needs to be changed, and I'm sure your Mom has a thing or two she would love some help with.
Better yet, make her a pitcher of iced tea and let her relax while you knock a few things off of her to-do list.
Bonus: Tell her ahead of time to write you a honey-do list, then tell her you'll come over for 3 hours or so on X date to knock them out.
#2: Present her with Free Genealogy Research
Did you know there are totally free genealogy websites? You can use them to conduct some genealogy research into your mother's side of the family and uncover a few nuggets to share with her.
Pssst: here are some genealogy project ideas for how to present the information to her.
#3: Do a Mother's Day Countdown
The Dating Divas came up with an awesome Mother's Day gift – a Mother's Day Countdown. Grab your free printables, and show your Mom how much she means to you for 7 days (one week) leading up to the big day (all while doing things for her that are almost entirely free – now that fits any budget!).
Also, here's free printables for a Mother's Day Eve tradition you can introduce to your family!
#4: Give her Mother's Day Coupons
Print out these adorable Mother's Day coupons, and assemble. Would be a perfect pairing with breakfast in bed!
#5: Help Your Kids Fill Out a SuperMom Letter
Could your mother (or your wife) use a little appreciation? Here's a free SuperMom Letter printable you can help the kids fill in.
#6: Go to the Gym Together
Does one of you have a gym membership (I'll skip over the fact that if it's you, you might want to nix that since you're broke)? Meet up for a gym workout date with your Mom.
Cheap Things to Do for Mother's Day – Awesome Mother's Day Activities
Sometimes what we want to give loved ones cannot come close to what we can actually afford to give them.
Because there is pressure from the media, retailers, and other people to try and express all of this emotion towards others in a financial way, we may purchase a gift that is over our budget or fail to give anything at all since there is such a huge gap between what we want to give and what we can give.
While it would be nice to really treat our mothers to something wonderful — brunch or afternoon tea at a restaurant — it is not always feasible to do so.
Don't fret. I've got inexpensive Mother's Day activities that will make. her. day.
Activity #1: Wildflower Walk
Does your mother enjoy the outdoors? Grab a local wildflower or wildlife book from your library, and take her on a wildflower walk where you guys talk and identify wildflowers together.
Activity #2: Free Eventbrite Events
Mothers loooovvvveee it when their children voluntarily spend time with them. I'm a Mom, so I can say this!
Did you know that you can find FREE events to attend on Eventbrite.com? Let me show you how to uncover some gems for your mother.

Just click "more filters", then "Any Price", and select "free".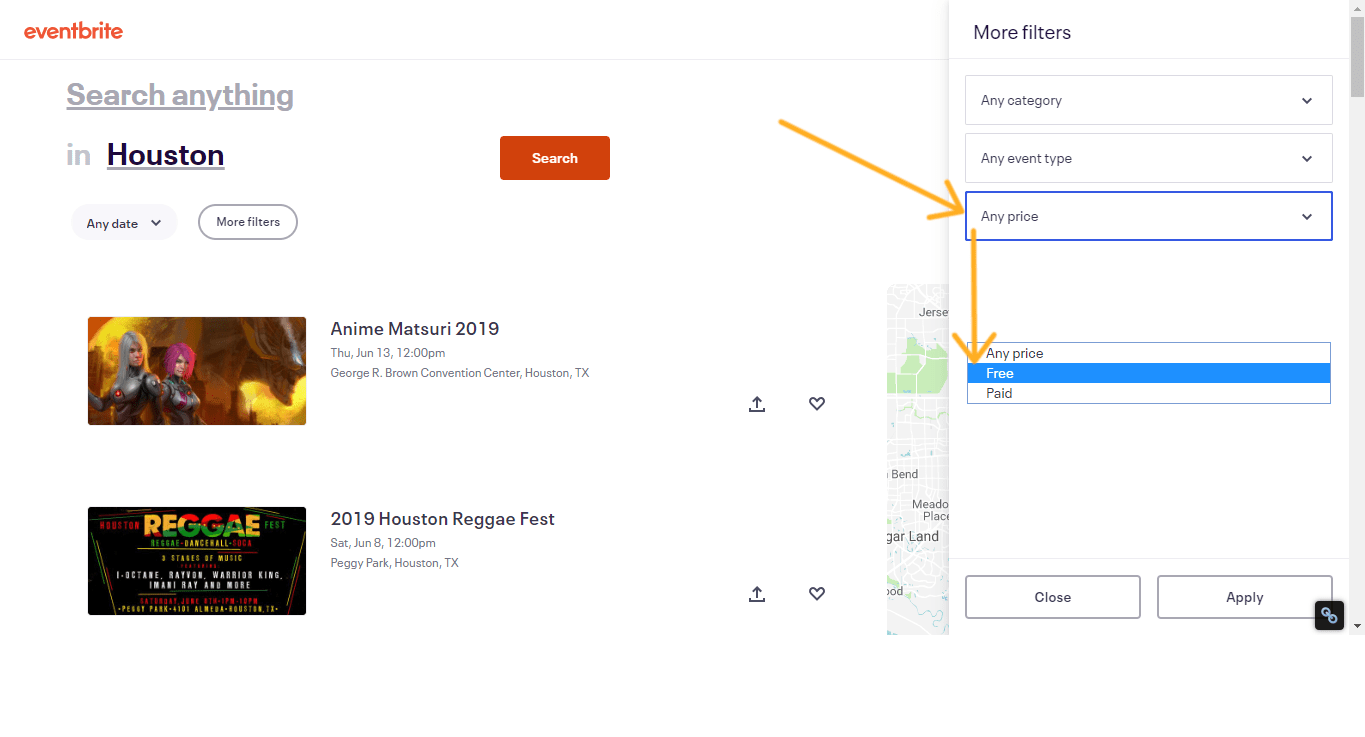 So, you might be wondering, what do you do if there are no events ON Mother's Day or Mother's Day weekend? Simple. Just find an event AROUND Mother's Day weekend, and let your mother know you'll be celebrating her a little early or a little late, where she needs to meet you, and what you'll be doing together. Having everything thought out ahead of time will score you major points.
Activity #3: Attend Church with Her
Does your Mother attend a church? Do you know how much it would make her day to have her son or daughter (and their families) attend with her?
Not only that, but usually churches give a shout-out to all of the mothers in their congregations on Mother's Day. How wonderful to have her actually family there with her to clap!
Bonus: many churches have breakfast after the service; you might ask your mother about this, and offer to bring in a potluck breakfast dish to have food with her and her friends.
Activity #4: Dinner and a Movie…at Your Home
Parents love to be invited over to their kid's homes (especially when there's grandkids!). You can honor your mother by inviting her to your house for a home-cooked meal with your family, and then a family movie afterwards. Set up a popcorn bar, or an ice-cream bar, to make it even more special.
Activity #5: Invite Her Out for Dessert
There are some pretty snazzy dessert locations out there. The great thing is, you're still taking your mother out, it's just for a lot cheaper. Even better? These dessert places are very boutique-like, so it doesn't FEEL like it's a cheap way to take your mother out.
Let me give you some examples to look for:
Chocolate Bar
Edible Cookie Dough Boutiques
Cupcake Bakeries with seating
Activity #6: Tea and Treats with the Grandkids
Got a cake plate (or you can make your own)? Print out a free tea and treats printable invitation, and give it to your mother. Pick up some tea from the grocery store, as well as ingredients to make some tea-party-worthy treats, like:
Activity #7: Food Trucks
Take your Mom to a food truck (you can find the schedule of food trucks near you on RoamingHunger.com). You can buy gourmet food for you guys to share, without paying tip (so under $20).
Cheap, Creative Mother's Day Gift Ideas
#1: Create a DIY Silhouette Family Portrait
You could get quite classy, and create a set of silhouette portraits of each person in your family (or just the kids). Frame them (make sure you use craft store coupons for 40% of when buying fames), and have them ready for Mother's Day.
#2: Create a Photobook
Google "free photobook deals" to see all of the current free and cheap photobook deals you can find (you generally have to pay shipping & handling).
Take a company up on their offer, and gather your photos of Mom from a trip, from a time period, etc. You could even download images from her FB page (though I think you'd have to do this one-by-one – I did this for a friend, and spent hours downloading each of her images for a baby photobook I made her).
Cheap but Good Gifts for Mom – Under $5, Under $10, and Under $20
Are you ready for some seriously cheap but good gifts, starting at the less-than-$5 category?
Under $5 Gifts for Mom
#1: Print Magazine Subscription from Amazon
There are legit tons of print magazine subscription options for $5 on Amazon.

#2: Single Serve Cupcake from a Boutique
Have you seen how gorgeous cupcakes are these days? Not only do they have all kinds of flavors and looks, but you can buy small, single cupcake boxes that are just adorable.
Bonus: here's a really cute, cupcake card you can make out of your child's hand for an added touch!
#3: Gourmet Dipping Oil + Loaf of Crusty Bread
Shop the gourmet food section of stores like Tuesday Mornings, Marshall's, TJ Maxx's to find gorgeous bottles of gourmet dipping oils at half price (pro tip: check the expiration date before purchasing, just sayin' from experience). Pair this with a beautiful loaf of crusty bread.
#4: Card + 2 Gourmet Chocolate Bars
You know the "expensive" chocolate area in your grocery store? Get to it, and pick out two luxury bars of chocolate to include with your Mother's Day Card.
#5: Fiverr Mother's Day Video Creation
Go to Fiverr.com, and search for "Mother's Day Video". You can send photos of your Mom, and get a video created just for her. For $5!
Under $10 Gifts for Mom
#1: Mandala Coasters
Mandalas are pretty trendy right now, and you can get her a set of gorgeous, and absorbent, mandala coasters for less than $10.


#2:  Start Seedlings Indoors
Several months before Mother's Day, start a bunch of seedlings indoors (seeds and soil are cheap!). Then, present your mother with the small plants she can plant in her own garden for the year. Even better, offer to plant them with her for some bonding.
#3: Car Trunk Organizer
Help Mom keep things tidy in the trunk by getting this car trunk organizer.

#4: Magnetic Car Phone Mount
Not only is this phone car mount a convenient way to keep track of your phone, but it's safer if your Mom happens to talk on her phone during driving (not suggesting she should!).

#5: Smart Phone Case with Credit Card Holder
What a snazzy smart phone case!

#6: The Little Book of Hygge
Inspire your mother to slow down and savor life more. This book is all about the Danish way of Hygge (hoo-ga), an it's a hit among women!

#7: Lastword Bookmark
If you're Mom's a reader, then this Lastword Bookmark could be just the thing – it lets you easily see the last sentence you ended a page on.
#8: Elephant Desk Cell Holder
Can I just say how much I would love to have this elephant cell holder on MY desk?
#9: Bird Feeder
Purchase a bird feeder and a bag of bird feed to get your recipient started (hint: I find that the cheapest bird food can be found at the grocery store, and in particular, Kroger's). If your friend/family lives in an apartment, or doesn't have trees, you can purchase a bird feeder with suction cups to adhere to a window.
#10: Vera Bradley ID Case
You can get your mother one of these stylish ID cases.
#11: Starbucks Clearance Gifts
About once a season, Starbucks stores have a clearance section. You can find some reasonably-priced, branded products to buy for your mother!
Under $20 Gifts for Mom
#1: Mother-Daughter (and Mother-Son) Journal
Take turns filling in this mother-daughter journal, and pass it back and forth for years to come (here's a Mom and Son version).

#2: Shower Steamers
Shower steamers are a great way to give your Mom an awesome shower experience (plus there can be health benefits, depending on the natural oils in each one).

#3: Waterproof, Blue tooth Shower Speaker
While we're talking showers…does your Mom like to listen to music in hers? Here's a Bluetooth speaker that is waterproof for her shower.
#4: Take her to the Movies
You can afford two movie tickets for $20 (but I'd steer clear of the snacks area!). Perhaps cook her a homemade meal, then go out to the movies together?
#5: Pot of Cacti or Succulents
Head on over to your nearest home center, and check out their plants section. You should be able to find colorful cactus and succulent options that would make a nice addition to a windowsill.
What Should I Buy my Wife for Mother's Day?
I've got some Mother's Day gift ideas for your wife that are both easy on the eyes AND easy on the budget.
#1: Start a Mother's Day Journal
Are your kiddos still kind of young? Start a new tradition for Mother's Day with these cheap Mother's Day Journal printables. These your wife will cherish for all of her days – and certainly long after the kids have moved out.
Remember: kids become teenagers, who then become adults with our own careers, families, and lives. Somewhere along the way most of us spend much less time with our mothers than we used to. Taking an afternoon, a day, or a few hours to spend with your mother will truly show her how much you care.
I think I've shown you that – whether you're broke, have little money, or think you have little time – there are no good excuses for skipping out on celebrating your mother on Mother's Day. You've got this!
#2: Back Seat Car Organizer
Does your wife crave organization in the car? I totally get that! Our car is small, so that adds to the cluttery-feeling of trying to fit all the kid things in.

#3: The Day "Off"
While you can never really be "Off" when you're a mother, you can provide a lot of the services that your wife provides on a day-to-day basis so that she can kick back and relax a bit.
Are you kids of parent-bathing age still? You can bathe them. Take them to the park for a few hours, and take over dinner prep for the night. Read bedtime stories to them, and get their endless snack needs taken cared of. You get the point.
#4: Belgium Waffles Breakfast
Can you whip out your waffle maker (the one that hardly gets used), and make some Belgium waffles? My husband makes us bacon and waffles on the weekends, and it's such a delight. It'll feel even special for your wife if you don't normally do it.
#5: Pack Up a Picnic
Plan a whole picnic for your wife and kids. Make the food ahead of time, pack it up, and whisk her off to the beach, park, lake, or whatever you have around you guys.
Does your wife enjoy baths? Create one for her, and make it a kid-free zone by letting the little ones know the bathroom with the bath tub is off-limits for an hour (hopefully there's another one!). Scrub the tub out until it's sparkly, use a tub pillow, bubbles, and whatever else you'd like. Let your wife relax!
No matter what you choose to do for your mother or wife this Mother's Day, just be sure to put care, thought, and love into it. Those make a huge difference — and will mean more than any expensive gift you could buy.
The following two tabs change content below.
Amanda L. Grossman is a Certified Financial Education Instructor, Plutus Foundation Grant Recipient, and founder of Frugal Confessions. Over the last 10 years, her money work helping people with how to save money and how to manage money has been featured in Kiplinger, Washington Post, U.S. News & World Report, Business Insider, LifeHacker, Woman's World, Woman's Day, ABC 13 Houston, Keybank, and more.
Read more here
.
Latest posts by Amanda L Grossman (see all)
https://www.frugalconfessions.com/wp-content/uploads/2012/05/inexpensive-mothers-day-activities.jpg
512
1024
Amanda L Grossman
https://www.frugalconfessions.com/wp-content/uploads/2019/02/frugal-confessions-logo-340.jpg
Amanda L Grossman
2012-05-02 05:00:07
2020-01-07 14:00:42
41 Cheap Mother's Day Gifts (When You're Broke)