You're putting in lots of genealogy research…why not put it all together into some sort of genealogy project? I share genealogy project ideas to inspire you.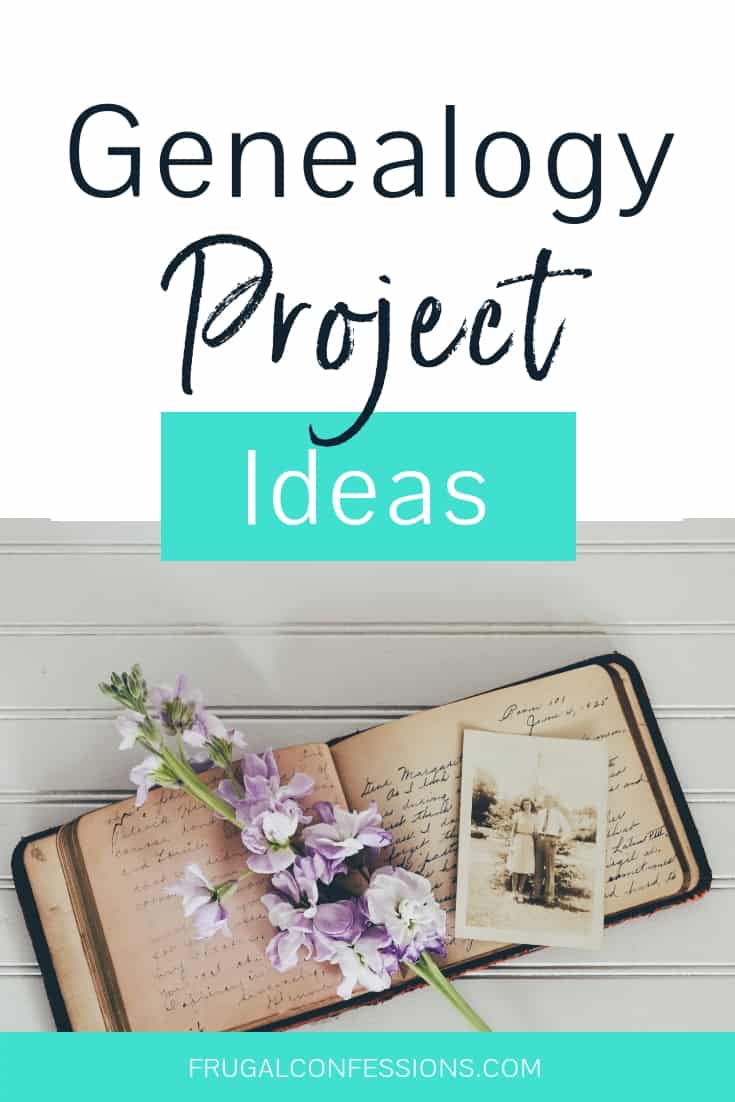 If you take the time to really delve into researching genealogy, then you will most likely end up with a few piles of information, photographs, and documents.
It would be sad to see your efforts not shared among family and friends, or your information not passed onto the next generation. There are several ways that you can commemorate your family's history and your hard work, and I'd like to take the time to discuss a few.
Genealogy Project Ideas
Some of these may be out of the scope of your project, but I want to list them just in case there is someone out there who can make good use of the information.
Pssst: you'll also want to check out my article on totally free genealogy websites to help you along.
Project #1: Create a Family Tree or Pedigree Chart
Perhaps the simplest way that you can commemorate the information you uncover is by creating a family tree or a pedigree chart. Here are three that I found to be useful during my research:
Simplest way you can commemorate your family history is by creating a family tree or a pedigree chart.
Click To Tweet
Once you fill out the chart, you might want to make it more formal or decorative to give out to others. Perhaps you just would like to print it out and frame it for your wall (if you can, print your family tree on acid-free paper so that it will stand the test of time a bit better).
Project #2: Research a Coat of Arms or Family Crest
If you find that your ancestors are from England, Wales, Northern Ireland and much of the Commonwealth (including Australia and New Zealand), then you might want to research the possibility of a coat of arms or family crest within your family.
A coat of arms is an emblem or a device which is displayed by titled persons, persons of royal blood, and their descendants. The origination of the coats of arms was on the colors displayed on soldier's shields for the purposes of identification and recognition during the Middle Ages. Eventually the soldiers began including an embroidered surcoat over their shields, and it became known as the coat of arms. A Crest was worn by individual knights on their helm, and included part of their coat of arms. In 1483, King Edward IV established the College of Arms (aka Heralds' College) to oversee and regulate the granting of coats of arms.
Today, the College of Arms maintains registers of arms, pedigrees, genealogies, Royal Licences, changes of name, and flags.
Armorial bearings are hereditary, and you must prove that you are a descendent in a legitimate male line of the person to whom the armorial bearing was originally granted or confirmed (and they must be in the register of the College of Arms).
You also must go through the Officer in Waiting at the College of Arms, who will assess a fee for attempting to identify your coat of arms or crest. Also, note that a coat of arms is granted to individuals and families and not to entire surnames.
Project #3: Document Historical Landmarks
My Uncle Andy pointed out that I should look into registering our farm in PA as a Centennial Farm (actually, as a Sesquicentennial Farm, as we think it has been in our family for over 150 years). In order to qualify for our state specifically, a family member must be living on the farm permanently, the farm must consist of at least 10 acres OR the farm must gross at least $1,000 in annual sales from farm products (check, check, and check).
Do you think your home would qualify for an historical placard? You might want to look into local historical societies if you have uncovered specific historical information about your home or another building (if you need help researching your house, check out this article). You can start your research at the National Register of Historic Places Program, which lists a way to contact each of the State Historic Preservation Officers.
Project #4: Write Your Family History
Depending on how extensively you have researched your family history, you may wish to write a family history book. This can chronicle stories, photographs, locations, or even family recipes. Two examples I could find are for the Bower Family, and for the Mulvaney Family.
You can also donate your family history book to the Library of Congress, a local library, or the Family History Library in Salt Lake City Utah so that future generations may find it.
Project #5: Engrave a Family Member's Name onto a Memorial
If you have a family member who came to the United States through Ellis Island, you can add their name to the American Immigrant Wall of Honor. Currently the cost is $22, and that comes with a certificate in an embossed folder. The engraving is done through The Statue of Liberty-Ellis Island Foundation, Inc.
Project #6: Contribute to the Veterans History Project
Thanks to Tracey, I found out that my great Uncle Pete is a part of the Veterans History Project. This project collects first-hand accounts of US Veterans from the following wars: WWI, WWII, Korean War, Vietnam War, Persian Gulf War, and the Afghanistan and Iraq Conflicts. It turns out that my great Uncle Pete was a prisoner of war during WWII (thank you to Aunt Molly for sending me the transcript).
Genealogy Scrapbook Ideas Using Photo Books
Have you ever thought about all the wonderfully unique ways you can use photo books as part of your genealogy scrapbooking?
I've got lots of genealogy scrapbooking ideas for you, all of which you can do with photo books:
Recipe Scrapbook: Taking the time to write down your recipes for yourself, others, and future generations can add so much more to your history. You can handwrite the recipes and then scan them in as jpg format (or if you can only have them scanned as pdf, then you can convert them for free to jpg). After you have them scanned in and formatted correctly, just use them like photos. You can add photographs, stories, a label for where you got the recipe from, what you use the recipe for, etc. This would make a wonderful housewarming/apartment warming, college gift, wedding favor, Christmas gift (from the kitchen of Paul and Amanda), etc.
Wedding Shower Advice Book: My Maid of Honor came up with such a beautiful idea for the wedding shower she and my sister threw me. She had each of the wedding shower attendees write a piece of marriage advice on the pages of a journal, as well as sign their name. How neat would it be to do this same thing, but through a photo book? You could gather the advice as well as a photo of each person for their page. You could even print out a photo of each attendee and leave room for them to handwrite the piece of advice/message. If you wanted to wait until after the shower to present this to the bride and groom, you could also include a few pages of photos from the shower itself.
Commemorating a Marriage: I was so blessed to be there for my grandparents' 50th wedding anniversary several years ago. My sister created a slideshow of photographs commemorating their 50 years together and the beautiful family they created. Wouldn't it be neat to put that slideshow into a photo book and give it as a gift to them?
Chronicle a Love Affair: My husband and I met in Japan and dated for several years from 7,000 miles apart. We used to send each other letters, postcards, packages, and a ton of emails. One day in a fit of love-angst from missing him, I decided to print out lots of these emails to chronicle our love story. These could easily be scanned in a copier in jpg form and put into a photo book to tell our story. We could also include maps or locations specific to where parts of our love story have taken place.
Storybook with Recorded CD: Wouldn't it be neat to create a children's story and record yourself reading it? You could create an envelope at the beginning of the photo book and include the CD so that the child could listen to it at any bedtime they wish.
House Renovations Diary: We have completed multiple renovations in our home, and I thought it might be a great idea to keep the before/after photos, anecdotes, etc. from these projects all in one place. It would be fun for us to look at it years from now, and also a good way to organize what we completed in case we sell our home one day.
Portfolio: Are you an artist, construction worker, or someone who needs to show others the work you have completed in the past? You could collect your best work, scan it into a copier, and cheaply create a color portfolio to show future clients (or just to peruse yourself and remember all of the wonderful work you have created).
Graduation Gift: Take the time to put together your photos and memories from 18 years for your child. They may not appreciate it in their early 20s, but it will be a treasure for them when they begin to care about their childhood and family history down the road.
Yearbook: Who says yearbooks are only meant for people in school? How about creating yearbooks for your life? You could create a book for 2010, 2011, 2012, 2013, etc. Use your Facebook photos to remember everything that happened this year, or go back through your digital camera/phone photos to see what should be included. You can also include a page with handwritten or typed memories, phrases (like a quote board), or words that will preserve your memories. Imagine having these wonderful yearbooks to look back on years from now.
Retirement Gift: If a co-worker or friend is retiring, you could take the time to prepare a photo book with photos of your organization, events with co-workers, and photos of the co-worker over the years. We did this when my band teacher left our high school.
Family Genealogy Projects – Our Own
Do you ever try to trace something in your present life back to the one thought that began it all?
Following the web of synapses as your mind jumps from thought to visual to thought (in reverse) often uncovers associations and influences picked up along the way that you never knew had any effect on you.
The one thought or object that connects the beginning and the ending of this maze is often quite surprising.
Enter a bright blue dish that caught my eye from my Aunt Anita's mother's home in Florida. Back in 2007 my aunt flew down to Florida in order to help her mother sift through decades of living so that she could move in with one of her daughters.
Among other objects I gratefully inherited, there was this pretty light blue pitcher that I could not take my eyes off of. It was given to me that day, and I kept it during my 2008 move to Houston.
Upon seeing this dish in my home several years later, my grandmother boxed up her mother's dishes and gave these to me because they were the same set.
Last year after we redecorated our kitchen, we dedicated two shelves to permanently displaying my great grandmother's dishes.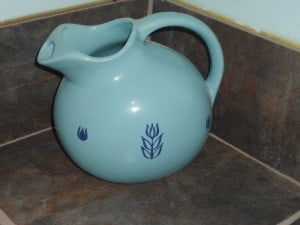 A Catalyst to My Curiosity
This dish set became a fixture to our kitchen and to my wandering thoughts over the last year or so. What was my great grandmother like? What was that Hungarian prayer that my grandmother used to say at our holiday gatherings? Why do we eat things like Turkta Cobbasta (later found out this is Töltött Káposzta) at Christmas and something that phonetically sounds like Yedosh Kenyed at New Year's? Why did my great-great-grandparents — only four short generations ago — decide to come to America?
My own maze of thoughts began when I picked up that original, eye-catching pitcher, and ended in a large genealogy project.
Our Hungarian Genealogy Project
My grandmother is 100% Hungarian. Her parents were both 100% Hungarian, and the parents of each of her parents actually came over from Hungary.
I think it's such a rarity in these times to have 100% of anything in the United States, let alone of an ethnicity, and this motivated me to permanently commemorate our heritage.
After much thinking I came up with the idea to create a genealogy recipe scrapbook to include our history, our recipes (both Hungarian ones as well as Mom-Mom's good ole' recipes I want to make in my own kitchen), and photos of my grandmother's life.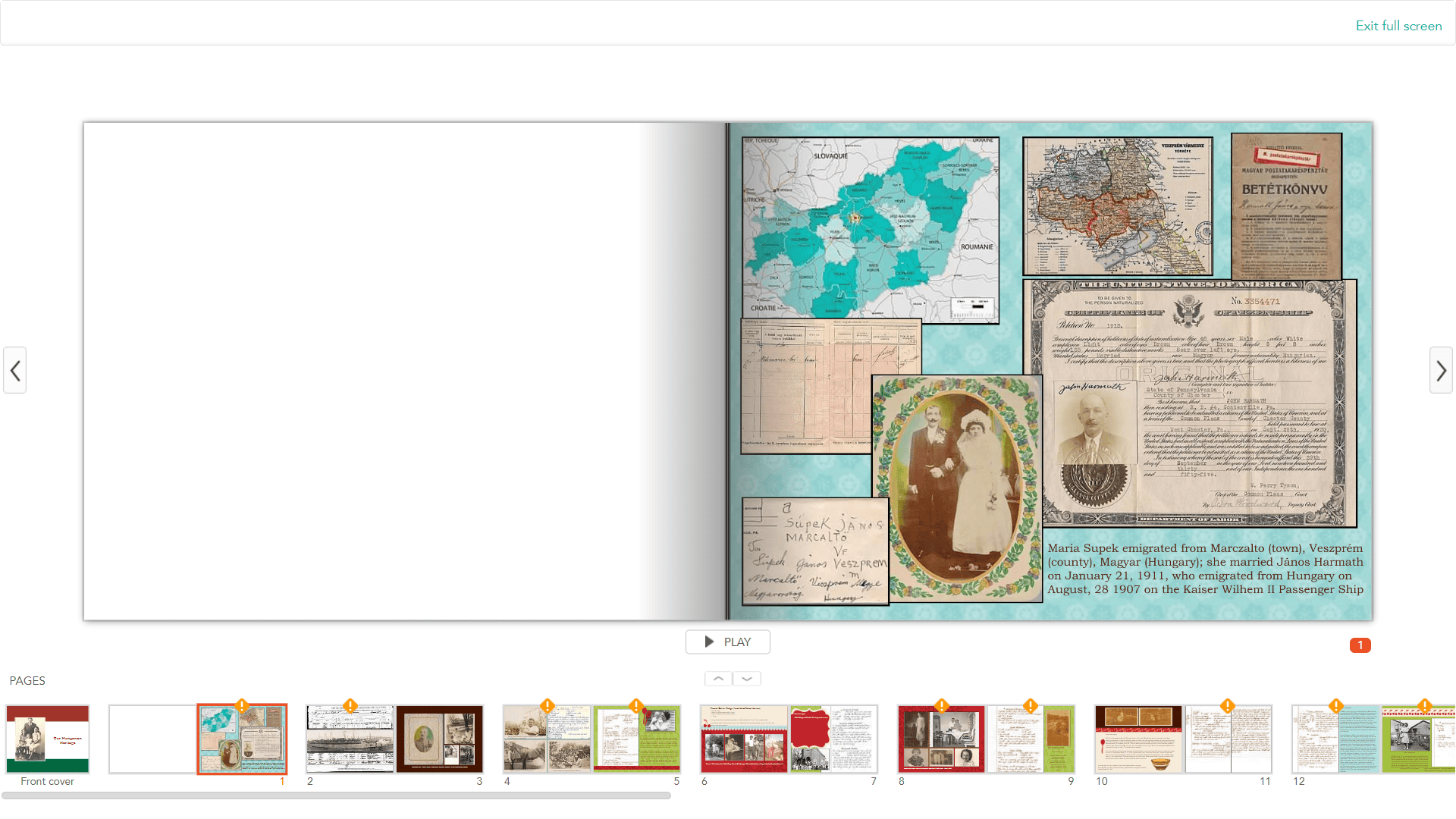 It's such a rarity in these times to have 100% of anything in the United States, let alone of an ethnicity.
Click To Tweet
My grandmother and I embarked on this big genealogical project in the fall of last year. I'm sure she thought I was a little crazy when I first asked if she'd be a willing participant.
However, I think we've both had fun working together. Once the project took shape I came up with various needs from my grandmother.
She took the time to answer all of my questions, go through her belongings, and carefully write down a small book's worth of information and recipes. After each task completion I received a wonderful package in the mail.
One package contained all of our Hungarian family recipes, another contained 50+ photos of relatives, and a third contained memories Mom-mom had surrounding the various recipes.
Then I planned an Easter trip home to spend time with family and friends as well as to conduct some genealogical research. Over the course of two weeks my grandmother and I cooked several of her recipes together, talked about her past, recorded lots of information, and found a treasure trove of documents and photographs dating back to our family's life in Hungary.
We were even able to corroborate what I had found with my genealogy research online with newspaper clippings, stories, and photos that she had in her home. It was deeply satisfying, and a huge success!
Useful Tools
There are several tools that I used that would be very helpful to pass along in case I have planted a seed in your brain about embarking on a similar project.
Free Pedigree Chart: I had a few issues finding a pedigree chart that I could type onto. In the end, I settled on this one. While it did not make it into the photo book (I have some more research to do before I feel comfortable about a few pieces of information), I am going to include it in the end by affixing an envelope to the front or back page and including it inside.
Free Photo Scanners: It turns out that to have someone hand-feed photos into a photo scanner at places like Office Depot is really expensive ($2.99 per page!). So if you can source a photo scanner to use for free, then you will save yourself a lot of money. I was fortunate enough to be able to use several family members' printers to complete this task.
Photo Book: If you missed my article on 10 Unique Ways to Use Photo Books, you may want to check it out for information on how to score one for free. Also, see below for a photo book giveaway sponsored by Shutterfly (Giveaway now closed).
Free PDF to JPG converter: This free service was monumentally important to our project as it enabled me to convert any file into jpg format, which is the format photo book companies use.
Ideas to Save Money while Heritage Scrapbooking
I love to scrapbook (and just LOVE the idea of heritage scrapbooking). There is something about popping in a comfort movie and organizing my life into a book to be enjoyed throughout the rest of my years.
And it's not just about organizing photos into a photo album for me; I get to use my creative side and really bring the memories to life on a page.
This love of mine began back when I became the Chester County Dairy Princess at age 16. One of the requirements aside from the pageant, interviews, and seminars was to maintain a scrapbook of my reign that included all of the public relations I was involved in throughout the year. This scrapbook was then judged at the statewide pageant, which gave me a lot of motivation to learn the craft. My sister, the Dairy Princess before me, was especially good at scrapbooking, and she taught me a trick or two.
After this, I made a scrapbook of my trip to Spain, my trips to London and Japan, a scrapbook to Paul for his Navy Days and our early relationship as a gift, and a few other scrapbooks as gifts.
The downside to scrapbooking is the potential cost involved.
Anyone who has perused the scrapbook aisle at the local craft store can attest to the hundreds of stickers, tools, albums, and other neat mementos available for purchase at costs that can quickly add up. Over the last few weeks I have been working on an all-in-one pre-wedding, wedding, and honeymoon scrapbook, and thought I could offer a few insights on how to save money on your own scrapbooking adventures.
Save Mementos
One of the ways I love to bring memories alive without costing anything extra is by saving mementos.
Some of my favorite items are:
ticket stubs
napkins/cardboard bar coasters
matchbooks
ribbons
flowers you can dry
maps
business cards
invitations
labels
old passports
luggage tags with old addresses
receipts
rip out a pocket from a favorite pair of jeans you can no longer use and stash some of these mementos inside
etc.
You don't need to worry about the bulkiness mementos will add to a page because you can purchase extenders for screws on the scrapbook.
Get Free Prints
One of the ways I save the most money on scrapbooking is by getting the majority of my prints for free.
I've detailed in an article before about some great deals where if you sign up for a new account with a photo service, you score free prints. Several of these services give you the option of picking the prints up at a local store, so you might even get free shipping.
Purchase Half-Off Supplies
If you shop for your scrapbook supplies as you go, then you can always use a 40% off coupon for the craft stores (Michael's, Hobby Lobby, etc.).
These are found in the Sunday paper, by signing up for emails, or on their websites, and most craft stores will accept competitor coupons.
Also, each craft store has a week where all scrapbook supplies are on sale for 40-50% off anyway — it would be great to wait until this week so that you can still purchase everything in one trip, but get it at a great discount.
Media Clippings
You can add context very cheaply to scrapbooks by clipping a newspaper article, internet article, or magazine article of an event that is very prominent or helps to tell the story.
For example, in my Japan scrapbook, I have a newspaper clipping from the first earthquake I felt (this was the first earthquake in my life).
And in our wedding scrapbook? I'm adding an article about the volcano eruption in Iceland, since this occurred two days before we got married and caused us to postpone our honeymoon for half a year.
Add Some Journaling
Another way to really bring memories alive is to add little notes about what your life is like at the moment. At our farm our ancestors were pack rats, and so we have wonderful collections of magazines, newspapers, bottles, hair tonic, journals, etc. from hundreds of years ago.
One of the most fascinating reads is a journal simply because they list the cost of items at the grocery store, the weather, crops planted, and other seemingly mundane items from everyday life.
Capture your day to day life (in the future, it won't be the humdrum, but rather a precious time for you) by taking a page to list your likes/dislikes, what your schedule looks like at the time, your transportation, your address, favorite places to eat, and really anything that you are into at the time.
For our wedding album, I also used the back of our invitations to have Paul and I both write out the story of how he proposed.
Background Paper
There are so many varieties of gorgeous papers in the craft store, and they can cost $0.19-$2.49 each.
I like to purchase paper that can be two-sided to immediately cut some of my costs while still enjoying the fancy pages. It is also nice to have a mix between fancy pages and homemade ones where you really get to use some creativity.
White paper can be tea-stained for aging, used as a background for mementos, you can dress it up with ribbons from gifts, cut-outs from color paper, you can stamp it with your baby or child's footprints/handprints, make a page of magazine clippings, glue old scrabble pieces onto it, glue seashells, grab some lipstick and leave kisses along the edges, paint your own hand or thumb and leave prints on a page, etc.
You can also use the following as background paper for your photos: gift bags (just cut along the seam), paper bags (again, cut along the seam), newspapers (perhaps the comic section), wrapping paper on hand, draw and/or color with crayons, paints, or anything else on hand, etc.
A Few Other Cost-Saving Measures
I have just a few more suggestions. If you print out smaller photos, then you can fit more per page. The bonus is that the smaller sized photos optimize digital prints anyway (if you have a digital camera).
I've always purchased the actual scrapbook from a craft store with a coupon, but for our wedding album I actually snagged a beautiful book from CVS on clearance for $4.99, so you might want to keep your eye out in other places. Not every page needs to be a masterpiece; you can add in pages of white with photos among the mix and cut down on costs while finding a good balance. Finally, always keep scrapbook scraps from previous projects (random stickers, leftover sheets, cut-outs, etc.) as you never know when you can use them next.
In an increasingly digital age, I find it more important now than ever to save my memories in a tangible format. Who knows, perhaps all of my scrapbooks will someday be put into the attic at the farm as well, and some of my ancestors will find them one day while perusing the stacks.
P.S. Some of you might not be into paper scrapbooking; for those of you who enjoy digital, there is also digital scrapbooking. Could be a lot of fun!
Be careful what you surround yourself with, what you read, and the things that catch your fancy — you never know where they will take you. For me, I was fortunate to have that beautiful blue pitcher cross my path. The 100+ hours or so my grandmother and I have dedicated to this project has been well worth the time, effort, and potential early-onset carpal tunnel syndrome (she has handwritten around 50 pages, some front and back). We've lost our Hungarian language. But now we will never lose our recipes. And these preserved recipes will taste all the sweeter with our background story intact.
The following two tabs change content below.
Amanda L. Grossman is a writer and Certified Financial Education Instructor, Plutus Foundation Grant Recipient, and founder of Frugal Confessions. Over the last 13 years, her money work has helped people with how to save money and how to manage money. She's been featured in the Wall Street Journal, Kiplinger, Washington Post, U.S. News & World Report, Business Insider, LifeHacker, Real Simple Magazine, Woman's World, Woman's Day, ABC 13 Houston, Keybank, and more.
Read more here
.
Latest posts by Amanda L Grossman (see all)