Wondering how to spend no money on a cruise? Help with that, plus how much to budget for a cruise based on our experience.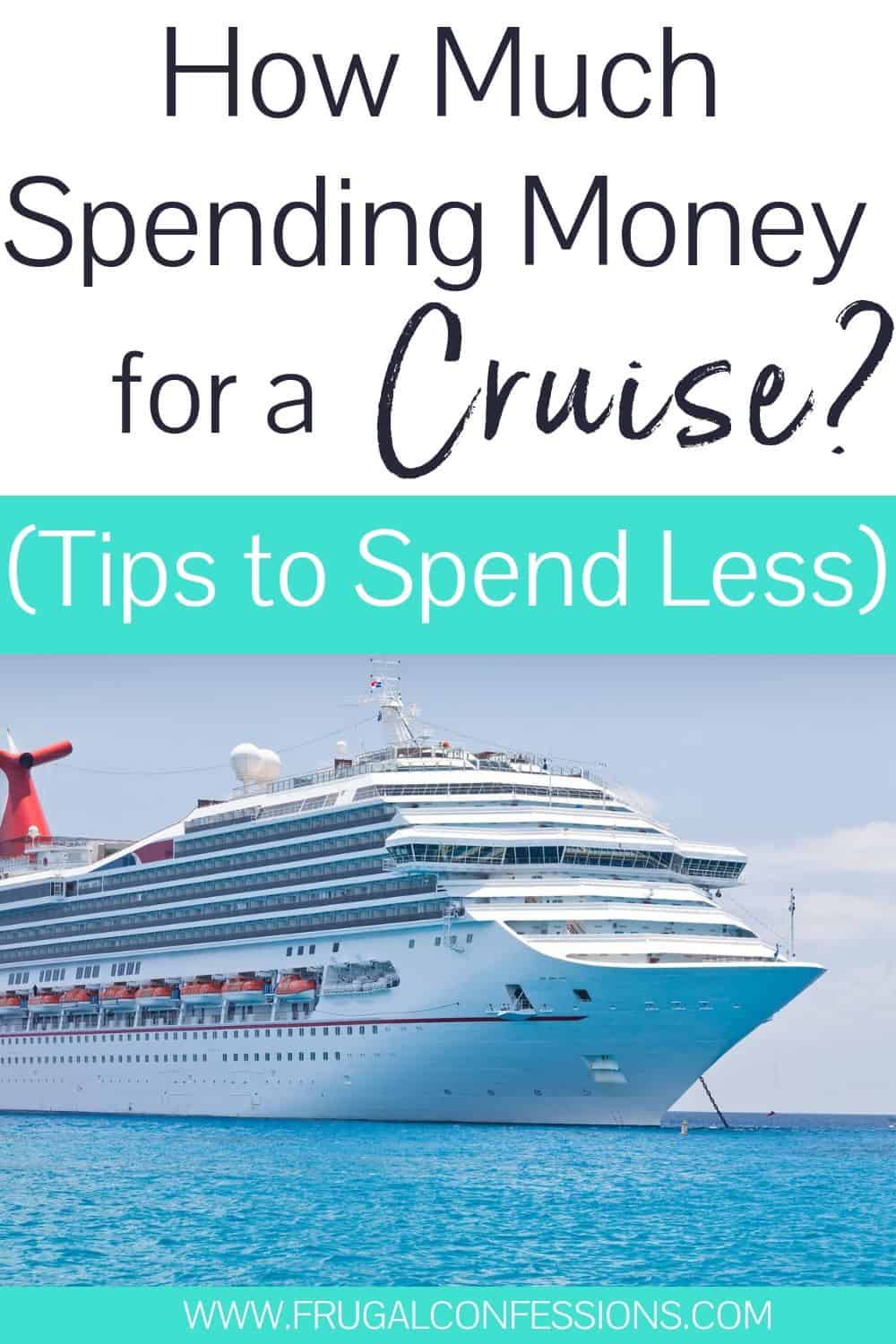 Cruises are not frugal ventures. Just to purchase the airfare and tickets can cost a small fortune, let alone actual spending once you get on the ship.
So not wanting to spend more money on a cruise after the initial booking is totally understandable.
While I don't think you'll get away with spending no money at all – and we'll look at what you should budget for your cruise – I can help you with lots of ways to not spend money while on one.
That's because I'm fresh off the ship of the first cruise I've ever taken, and I happen to be a frugal person who also didn't want to drop a fortune during the cruise itself!
We sailed from Vancouver to Ketchikan, Juneau, Skagway, Glacier Bay, and then to our final port, Seward. From there we took a train into the interior of Alaska, stopping at Denali for a night and then Fairbanks for a night.
To say that our journey was amazing is truly not giving Alaska's landscape credit.
We stumbled upon a field of bald eagles, each statuesque in their own right. On a hiking trail I looked up in time to see a moose casually cross my path just feet away. While polishing off a meal of salmon and chilled berry soup one evening, three whales teased us in the distance with their spouts.
There were so many moments where I just stood in awe at what was in front of me. I would take a photo with my camera and then look down at the image, disappointed; the photos just did not compare.
Majestic, inspiring, shocking brilliance — my daily vocabulary had to expand in scope just to describe what I was looking at.
Alaska was worth the money we spent, hands down — for the cruise, the airfare, the excursions, the train tickets, and the food. But there could have been a lot of other costs added on by making tons of unnecessary purchases on the ship that, in my eyes, would not have been worth it.
It might even be worth it to look into seasonal jobs in Alaska, and live there for part of every year.
Since this was my first cruise, I had no idea that we were essentially living in a peddler's dream.
Every step of the journey there were people more than happy to help us spend our money.
This could be on trinkets and the next hottest gemstones, all the way to the bath robes that hung in our rooms (which could be monogrammed for another $2.00 per letter).
Part of this is because work in Alaska is mainly seasonal in nature. Our tour guides on and off the ship were a mixture of locals and students/retirees from all over the United States who needed to earn this year's living between May and September.
Of course the other reason is because…why not? People on vacation consume and spend in ways quite different from what they would normally do at home (check out this cruise line's trick to get you to spend more money!). Selling to them while in an enclosed container on sea is a pretty brilliant idea.
We're going to look at how much cash to take on a cruise, ways they'll try to get you to spend more money, and how to NOT spend money on a cruise (above what you wanted to, anyway).
Pssst: a cruise not in your budget? Check out my article on cheap weekend getaways, and how to plan a staycation.
How Much Money to Take on a Cruise (when you're trying not to spend any)
You've probably heard the experts say that you should bring between $15 and $20 per day, per person, for your cruise spending.
But honestly? This doesn't answer the question for YOU, well enough.
Because there's lots of specifics to take into consideration when figuring out how much to bring on your next cruise.
You'll need to answer the following questions to get a more accurate estimate:
Does your cruise package include tips and gratuities?
Does your cruise package include alcohol? Do you expect to drink alcohol?
Will you be on the cruise the entire time, or is there a land portion where you'll have to pay for food, transportation, tips, etc.?
What does your cruise line suggest (for example, you'll read about our own experience on Holland America, which put an on-hold charge on customer's credit cards for $60 AUTOMATICALLY each day, then would give you back any money out of that you didn't spend)
A final thing to consider is whether or not your cruise line uses a cashless system. In that case, you don't need to bring ANY cash…but you do need to keep an eagle's eye on how much you're spending each day. Because trust me, you'll be surprised when the final bill comes and it's time to settle up if you didn't.
Cruise Ship Line Suggested Cash Amounts (take with a grain of salt):
Next up, how much to budget for an Alaska cruise? Since this is the cruise we went on, I'll talk about our experience.
How Much to Budget for an Alaska Cruise – Our Experience
On our cruise ship, not only were they happy to help you spend your money on the cruise, but they automatically charge an initial hold amount on your credit card of $60 per person per day ($840 upfront) upon entering the ship because they assume you will be spending that much (if you didn't have a credit card or wish to give one, here is the ship's note: "With the cash option, you MUST bring enough cash to cover the $60/person/day account deposit. Failure to do so may forfeit your right to board").
In the event that we didn't spend the total of $840 of anticipatory charges (we certainly did not — that would've resulted in a bout of buyer's remorse to overcome), we would be refunded the money.
Pretty crazy, huh?
So, just where does the cruise line ship think you're going to spend all this money? Let me give you specific examples of all the opportunities you'll have to spend money on your cruise.
Many Opportunities Spend Money while on a Cruise Ship
Here's 20 ways the cruise ship was happy to help us spend our $840 — you'll find these types of options on many cruise ships.
Some of these charges are before we entered the ship, and most were while we were on the ship.
Purchase Cruise Branded Luggage Tags: These were peddled before entering the ship at a mere $6.95 each (

FYI:

our luggage made it to all ports, cities, and the final airport destination without these fancy tags).
Pre-order a Cruiseline Formalwear Rental: There were two formal nights, and apparently you could rent the garments, shoes, and accessories needed and they would be waiting for you in your stateroom on your particular formal night. I looked, and for the ladies there is black, gold, and sparkles!
Use the Internet: I warned everyone ahead of time of my limited internet access because of the high cost to use the service while on board the ship. Internet usage is between $0.40 to $0.75 per minute (depending on if you purchase a discount plan with a lot of minutes or do pay as you go), with a one-time activation fee of $3.95.
Purchase an Indulgence: I'm not sure how anyone could have gone for want with all of the food and luxuries built into our ship and tallied into the price of our tickets, but apparently you can also purchase indulgences for even greater luxuries sent directly to your ship room. These included couples packages, flowers, chocolate dipped strawberries, special wine offerings, gaming lessons and casino chips, cigar gifts, spa treatments and keepsakes.
Take a Cooking Class with a Chef: We were offered a cooking class on board for $29.95.
Purchase Photography and DVD Packages: Periodically a photographer would take our photos and make them available in a room for purchase. Also, they took photographs of the entire voyage and made DVDs for keepsakes beginning at $24.95.
Bid at the Art Auction: There were several art auctions on board throughout the week. I did not attend, so am not sure what price ranges were reached.
Learn how to Mix On board Signature Drinks: Classes were offered to learn how to mix the signature drinks on board. The cost was $12.50 to mix and drink.
Take your Bathrobe Home: For $49.00, you could own the terry cloth bath robe in your room. Monogramming can be done for $2.00 per letter.
Play Bingo: The Bingo jackpot went from $25,000 all the way to $100,000 at the end of the week. The price was $15 for one card, $25 for three cards, and $35 for six card

s and they also had bingo bonuses.

Put a Deposit Down on Your Next Cruise: After about two days we were given daily reminders of how this cruise was rapidly coming to a close and we should put a deposit down for our next cruise. You needed to put only $100 down, and then would owe nothing until the final payment. If you didn't know where you wanted to go or when, it wasn't a problem! The deposit was good for any cruise over the next four years. The deposit also ensured a shipboard credit on the future cruise of $100, and your preferred travel agent would receive full credit for the booking.
Drink Beverages Other than Water, Juice, Coffee, and Tea: Soda and alcoholic beverages are extra. A can of soda is around $2.50, and alcoholic drinks were between $6.00-$12.00. You could purchase drink cards for discounts. A $50 non-alcoholic drink card cost $25. A $250 alcoholic drink card cost $225.
Shop at the On board Mall: There were a slew of high-class shops on the ship including several jewelry stores. At times, I felt like I was at the Galleria! Also, there were several poolside sales throughout the week including Alaska books, watch sets, and apparel.
Eat at the Premium Restaurant: The food on our cruise was truly exceptional. I was very impressed. This is why I could not understand paying an extra $10 for lunch or $25 for dinner to get even more premium food at one particular restaurant on board.
Drink Water/Soda Available in the Room:Just like at a hotel there was bottled water and sodas in our room available for purchase. Water (it was a large bottle) was $2.95 and soft drinks were $1.95.
Do Wine Tasting: There were several wine tasting events during the week at a cost of about $12.00 per person.
Go to the Spa: There was a gorgeous spa on board with lots of services available. I wanted to get a manicure and pedicure done…and then found out the cost would be $95 before tip. Woah!
Gamble: There are plenty of slot machines and a card table or two to eat up some money. My mother actually won $250 this trip!
Book Excursions: Paul and I did a few excursions that really added to our overall experience. He went salmon fishing, I went snorkeling (umm…yes, it was cold, even in the warm suit), and we all took a tour bus to a salmon hatchery and glacier. We also took a bike trip through a gorgeous coastal temperate rain forest. Excursions were available on our ship from between $20-$1,000+. You can purchase them ahead of time, or during the cruise itself.
Forget to Hand in a Complimentary DVD: Apparently the DVD will cost you $30 if you do not hand it by the deadline.
Next up, here's how we managed to live it up on the ship while spending far less than "the average" of $60 per person, per day.
How to Not Spend Money on a Cruise (By Taking Advantage of the Free Stuff)
After reading about 20 ways to spend money on a cruise, you might think that there is nothing left to enjoy but the gorgeous sights off the side of the boat (and the sea is gorgeous!). This is simply not the case; on our cruise there were many things to do on board the ship that were all ready included in the price of our cruise ticket. I'd like to share many of the "free" things we enjoyed on board and as well as ways we were able to get our money's worth.
Once again, all cruises are different, but I think many of these are available on other cruises as well.
Take a Digital Detox: I am a blogger (but you knew that!), and my husband works in IT. Needless to say, we are on computers a lot. We knew that the cost of using the internet on board the ship was going to be excessive. So we chose to take a digital detox — we needed a break anyway. For one and a half weeks I only texted 3-4 messages to close friends and family. I checked my email for the first time on the 7th day when we were in a port. Ooohhhh it was glorious.
Enjoy the Beautiful Seascape: Remember that on board the cruise you are given the opportunity to view some amazing scenery. Taking walks and reading on the deck, meditating, whale watching, stretching, and just taking moments to gaze out onto the sea cost nothing extra and can really relax you.
Enter Raffles and Drawings: It's possible that you may just win a spa package on board instead of paying for one. There were approximately 1200 people on our ship, and not everyone will enter a raffle. So your chances of winning little luxuries are much greater than if you play the lottery.
Wear the Robes: Wearing terry cloth robes can make you feel like a million bucks! These were available to us to use while on the ship (they only cost money if you wished to take them home).
Attend the Shows: While on the ship we attended a Broadway show, a musical show, and watched a comedian. These were all "free" to us and provided great entertainment.
Dine at the Best Restaurant Included in the Price: There were four restaurants on board our ship, and only one you had to pay for (an extra $10 for lunch and $25 for dinner). Two were fine dining, and the third was buffet style. We ate at the fine dining restaurants as much as we could. Paul and I don't normally eat at the level of dining these restaurants gave, so this was an event in itself! For the first time I tried escargot, chilled berry soup, cinnamon ice-cream, and also enjoyed salmon dishes for many meals.
Participate in Events: Paul did something absolutely crazy—the Polar Bear Plunge. While in Glacier Bay he and about thirty other people stripped down to their bathing suits and plunged into the outside pool. They then stood on the deck in front of the Glacier for one minute in order to join the club. It was exhilarating for him! Because of his participation, he received two free Bingo cards.
Take Advantage of In Room Dining: I was amazed that there was an entire menu for in room dining that was included in our ticket. We could literally order food and have it delivered to our rooms at any hour of the day for no extra charge. One night we ordered a plate of chocolate chip cookies and milk. Another time we had a late cheeseburger and French onion soup.
Attend a Jewelry Presentation: My mother was curious about the port shopping presentations and attended several of them. Because of the information she received, she and I gathered a free pair of earrings, a necklace, and a charm bracelet with free charms at the ports we entered. I'm sure the jewelry is worth hardly anything, but it is pretty and a great souvenir for no money at all! Also, at the presentations several women in the audience were given free gifts by the presenter. My mother and I also attended a presentation by a park ranger and found out information about the types of sea life we would see throughout our journey.
Attend a Cooking Demonstration: Cooking classes cost $29 on board; however, there were culinary demonstrations at designated times that were free. We watched as a chef prepared Halibut Caddy Ganty, as well as Sesame-crusted Salmon with Wasabi-Butter. Being in person meant that we could ask questions, and we were handed the recipes beforehand so we could take notes. Another class you could attend was learning how to mix the signature drinks on board. If you just attended, the cost was free (it was $12.50 to actually mix the drinks).
Catch a Movie at the Free Theater On board: While we did not take advantage of this, there were movies being shown in the theater on board.
Pick up a Complimentary Newspaper: Each morning there was the ship's version of a newspaper available. At several of the ports were complimentary newspapers as well. This was a good way to keep up with some worldly news, but an even better way to get some of the local color.
Go Hiking: Excursions can cost a small fortune (though the ones we did were wonderful). At each port, there were visitor centers with information on hiking in areas that were free (and breathtaking). At Denali we took two separate, free hikes. On one a moose crossed the path just in front of me. On the other, we saw a rabbit and Paul spotted a moose as well.
Visit the Visitor Centers: I did not see a Visitor Center at each of the ports, but I did see one in Juneau and Skagway. The one in Skagway had two free museums and a free 30-minute video that really set the stage for the Klondike Gold Rush. It was fascinating.
Check Out Books and DVDs: Our ship had a library where you could check out any books that you wanted. There was also a collection of 800 DVDs that were "complimentary" and could be delivered to your room at any hour.
Take Part in Pub Trivia: Paul loves pub trivia, and it was available for free in the bar areas each night at 6:30. It was a lot of fun; there were several teams and by the end of the week the teams had grown a fun rivalry between each other.
Read Books: It was so nice to choose two books from home that I have wanted to read but have not had the time to (p.s. Water for Elephants is a fantastic book!). One day we took the books out on the deck and covered up with some of the blankets they provided. What a view!
Take Advantage of the Gym Facilities: We meant to take advantage of these facilities…but we did not get around to it. There was a workout room with a gorgeous view, a hot tub, and several pools. This will help with all of the exquisite food you are eating!
Meet Other People: Strike up a conversation or two. One of the most common questions I was asked was where we were from—this is a great conversation starter. Everyone else seemed to ask where we had traveled to and wanted to discuss their other trips. Whatever floats your boat.
Whale Watch on the Deck: Instead of paying for a whale watching excursion, keep your eyes peeled. You will definitely see more whales on an excursion, but you can also see whales, porpoises, sea lions and dolphins right outside of your room (dolphins were the most common sighting).
Two more final tips on saving money while on the ship:
Our ship's bars had happy hours where you could get two drinks for the price of one.
Apparel, jewelry, and other items on the ship went on sale later in the week when they attempted to get rid of as much as possible before our final port.
See? There's TONS of "free" things to do while you're on the ship, even if you don't book any excursions (although I truly suggest you do book excursions ahead of time — you'll save money booking before the cruise most times, and you do NOT want to miss all the sights that you paid so much money to see, anyway).
Have you ever taken a cruise? What were some "freebies" you enjoyed?
The following two tabs change content below.
Amanda L. Grossman is a writer and Certified Financial Education Instructor, Plutus Foundation Grant Recipient, and founder of Frugal Confessions. Over the last 13 years, her money work has helped people with how to save money and how to manage money. She's been featured in the Wall Street Journal, Kiplinger, Washington Post, U.S. News & World Report, Business Insider, LifeHacker, Real Simple Magazine, Woman's World, Woman's Day, ABC 13 Houston, Keybank, and more.
Read more here
.
Latest posts by Amanda L Grossman (see all)