Daydreaming about your next big, family vacation? Grab one of these free vacation budget worksheet printables and make it a reality.
Are you scrolling through drool-worthy travel photos, wondering how you'll be able to afford to go?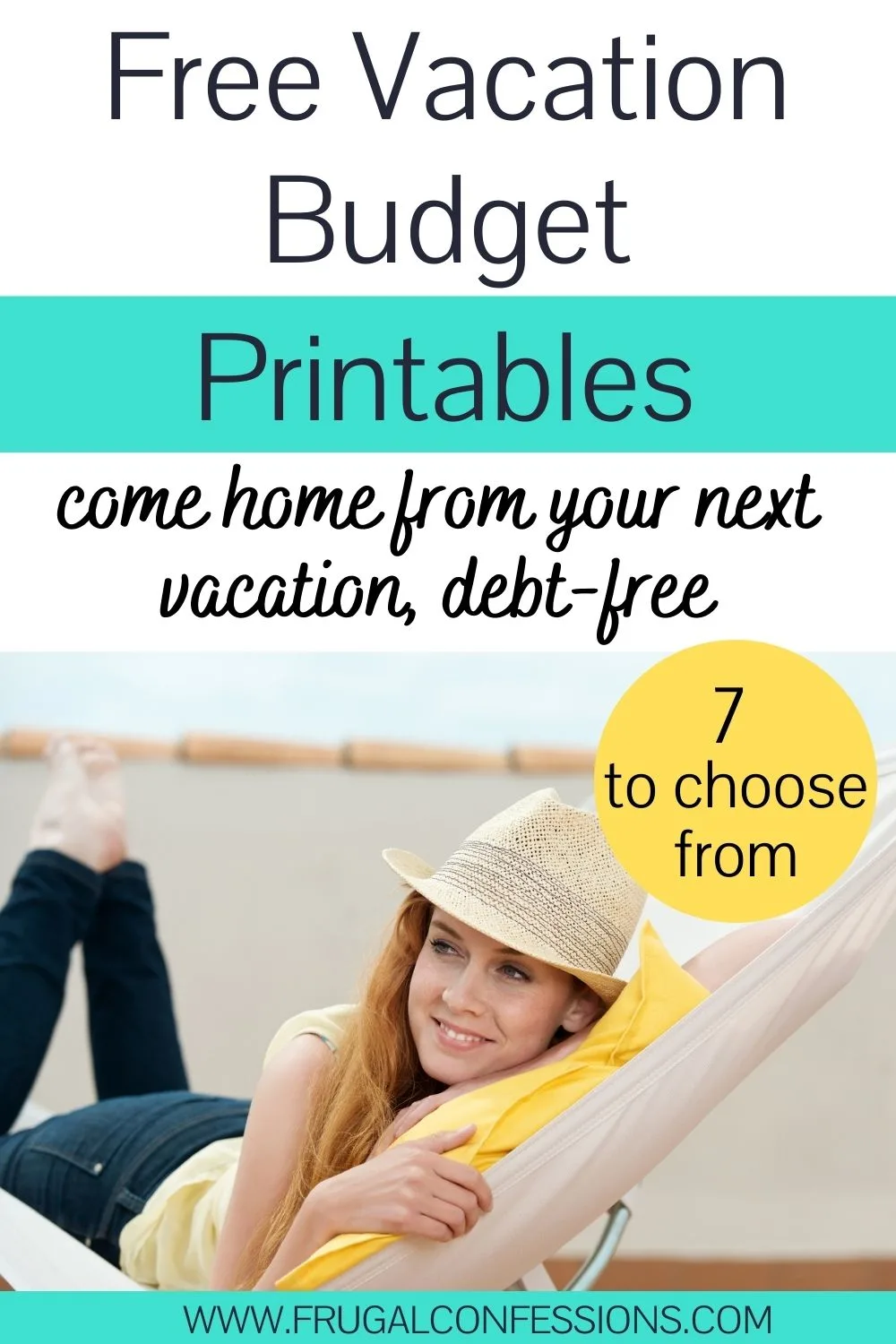 Don't sell yourself short – instead of just daydreaming about a trip in the future or a cheap weekend getaway, get into action with one of these vacation budget worksheet printables.
Hint: stick around until the end, when I talk about a few tips for filling out whichever of these free vacation budget worksheets you choose.
Vacation Budget Worksheet Printables
Use one of these free travel budget worksheet PDFs to estimate how much you need to save up to go on your next vacation.
Use this printable to work out the numbers for your next vacation.
I really like how you can estimate what you think each item and category will cost, and then you can come back and put in actual costs – this can help you get better and better at budgeting travel into your future.
Psst: this is also a great skill to use on one of these cute beginner budget worksheets.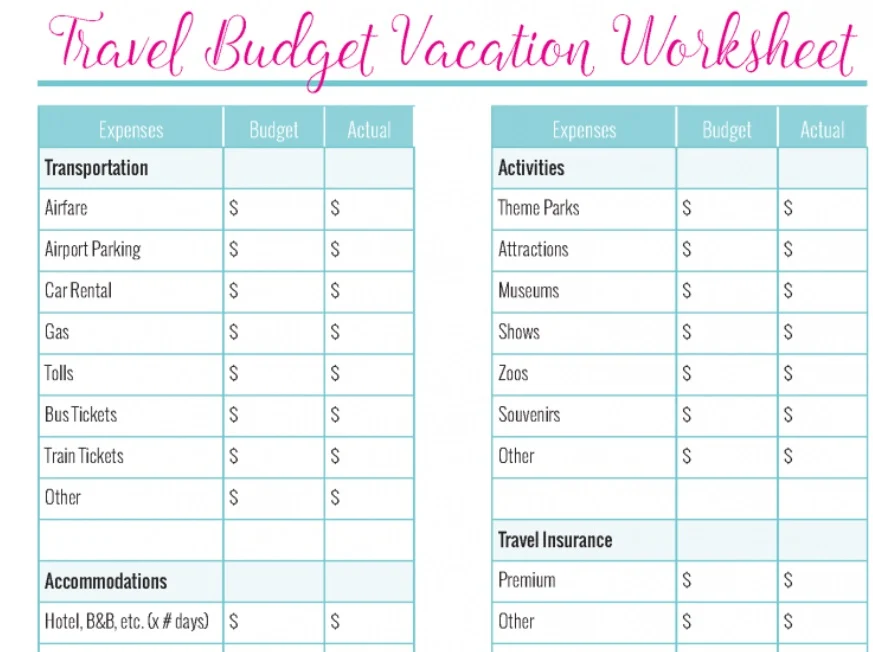 This detailed travel budget worksheet will help ensure you don't miss expenses you might not think about.
For example, under transportation, there are slots for:
Airfare
Airport parking
Car rental
Gas
Tolls
Bus tickets
Train tickets
Other
Hint: it's very difficult to see where to click for this freebie – it's in the beginning of the second paragraph down.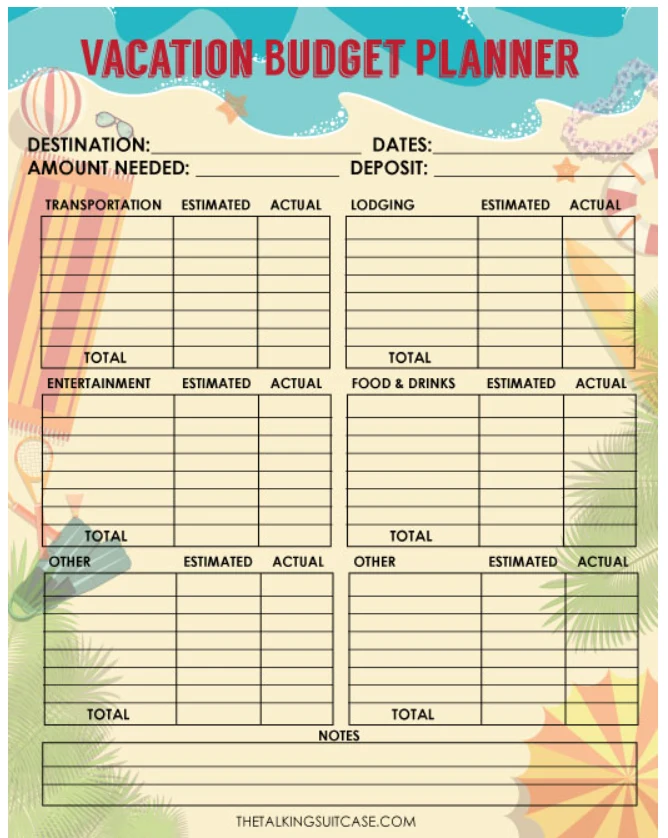 Here's a really cute travel budget worksheet.
Categories include:
Transportation
Lodging
Entertainment
Food & Drinks
Other
4. Vacation Budget Template Excel
Are you an excel kind of gal? You know – where you input your costs and it spits out your total automatically?
Great. UpgradedPoints.com offers a free excel vacation budget template.
And it's quite extensive. In fact, probably too detailed for the typical vacation.
It includes categories like:
Flights
Hotels
Vaccines
Travel insurance
Car rental
Attractions
Snacks
Souvenirs
Etc.
Still, you can just delete out the rows that don't apply to your trip.
Psst: Will you be road-trippin' it? Check out these 19 things to do in a long car ride for adults, plus these car activities for 4-year-olds.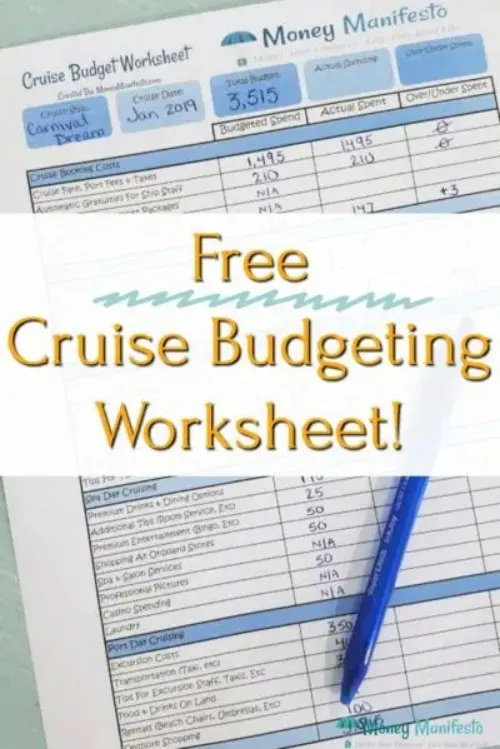 I know firsthand how expensive a cruise can be…once you get on the cruise. Not to mention just to purchase your package!
That's why I'm including Lance's cruise budget planner worksheet. It's specific to cruises, and will help you think through all of the extra (and interesting) costs you might incur on your next cruise.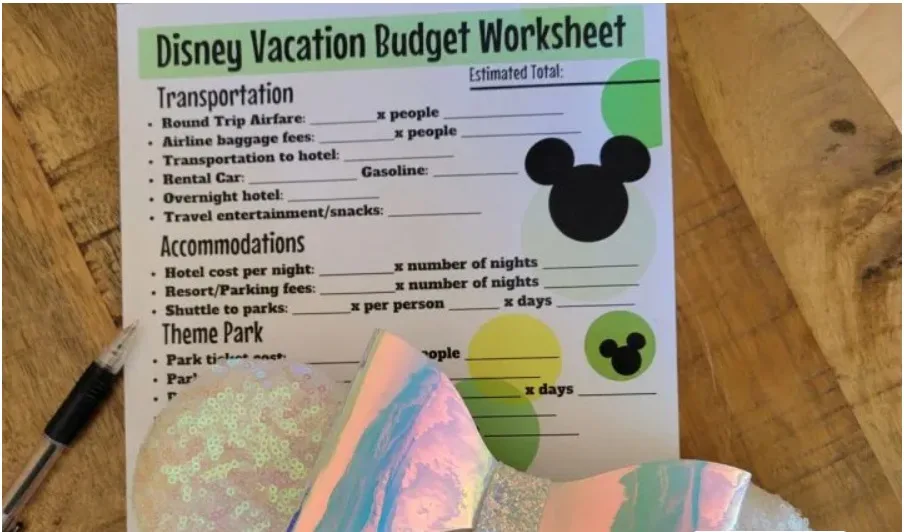 Taking the kid(dos) to Disney sometime in the near(ish) future? Or, maybe you're going by yourself (I actually went to Disney with my husband when we were both dating one another).
Here's a free Disney vacation budgeting template to use.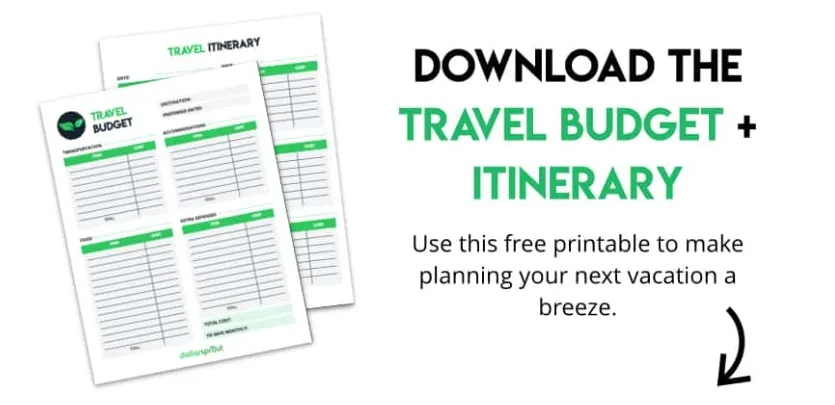 Check out these classic set of traveling worksheets that'll help you plan not only how much to budget for the trip, but your day-to-day schedule.
And if you're not into planning out your activities? Just list what you'd like to do, and use that sheet as a bucket list.
Tips for Filling Out Your Vacation Budget Worksheet
Picked out your vacation budget worksheet?
Awesome.
Now, here's a few tips for how to fill it out.
Tip #1: Research a Cost Range
Sometimes, you know exactly what something is going to cost. But with travel? You likely won't.
If you're not entirely sure what one category of spending is going to cost – like the flight, or hotel – then do some research and take the average.
Look at the lowest-end of options that you would accept, and the highest-end of options you could afford. Put this range of costs down on your worksheet.
You can then choose the average of these two numbers (add them together, and divide by 2), and this can be your estimate for how much to save for that category.
For example, if you research hotel costs to be between $150/night and $230/night, then you would estimate the cost to be $190/night.
Tip #2: Download a Free Savings Goal Tracker
Once you figure out how much you need to save in order to come home from your trip, debt-free, go ahead and download one of these free savings goal tracker printables.
Put it somewhere that you'll see it often so that it'll motivate you to see your progress towards your trip.
Tip #3: Open Up a Dedicated Savings Account
For larger trips, consider opening up a dedicated online savings account to stash your savings until you're ready to start booking everything.
You can even name the account something super motivating, like "Mexican Seaside Fund", or "Couple's Romantic Adventure Weekend".
Tip #4: Tend to Overspend? Do This
If you know that you're a spender, and you tend to not stick to a budget, then go ahead and add around 10% to your overall travel savings goal.
That means if your savings goal is $1,700, then multiply that by 0.10, and add an extra $170 to your total as a buffer.
Choose your vacation budget worksheet printable, and set a timer for an hour or so to actually fill it in. Just the act of writing down where you want to go and calculating a target savings goal number puts you in a great space to one day get there! In the meantime, you can check out how to plan a staycation, and family winter staycation ideas.
The following two tabs change content below.
Amanda L. Grossman is a writer and Certified Financial Education Instructor, Plutus Foundation Grant Recipient, and founder of Frugal Confessions. Over the last 13 years, her money work has helped people with how to save money and how to manage money. She's been featured in the Wall Street Journal, Kiplinger, Washington Post, U.S. News & World Report, Business Insider, LifeHacker, Real Simple Magazine, Woman's World, Woman's Day, ABC 13 Houston, Keybank, and more.
Read more here
.
Latest posts by Amanda L Grossman (see all)