Military love letters for him that will keep the two of you connected, and give him motivation + inspiration while he's so far away from home. These worked wonders while I dated my husband, who was stationed 7,000 miles away!
You may not know this, but I met my husband while he was a Cryptologist in the Navy. He was stationed in Japan, and so the first three years of our relationship took place over thousands and thousands of miles apart.
We used to joke that it would be wonderful to get on the same continent as one another, let alone in the same time zone.
We are proof that relationships can survive the military — 7 years later, we married, and now we live in Houston with our 3 year old son.
Still, I remember how hard it was to sustain a relationship with someone in the military.
That's why I created this article — to help with maintaining and growing a relationship while one of you (either the husband or the wife) is deployed.
Pssst: In a long distance marriage? If you're married and/or sharing finances with your long-distance partner, then you'll definitely want to pick out a couple's budgeting app. These will make your life that much easier!
❤️Our Military Love Story
Initially, my boyfriend (now husband) and I had three months of uninterrupted bliss together in Japan — where we met while I was studying abroad in 2003.
Once I returned home, we saw one another once every three months for a few weeks at a time.
During the day I wrote emails to him, then I would excitedly wake up the next morning, knowing that he had sent me emails while I slept. We spoke to one another on the phone several nights a week. Our conversations centered around learning about each other's day-to-day experiences, talking about memories of Japan together, and counting down the days to when we would be reunited.
What really sustained us and our relationship throughout those years was our handwritten letters.
Emails were wonderful for day-to-day, especially since letters would take anywhere from two weeks to several months to arrive (we learned to number our letters because sometimes they would not show up in chronological order).
Hearing each other's voices was the best, but speaking to one another everyday was not financially viable.
It was the letters that made all the difference — knowing that the other person had handwritten thoughts onto the same paper that is now in your hands.
Love Letters to My Soldier — Military Love Letter Ideas
We didn't just send any old letters (though those were wonderful to receive as well).
Instead, we put a lot of thought into ways we could enhance the letters.
What else could we send along? How could we make our letters more engaging, so that we could build our relationship together (even while 7,000 miles apart — yes, you can actually build your relationship and emotional intimacy in marriage while apart. Here's one of my favorite long distance relationship dates we used to have.)?
I thought I would share with you all of the ways we found to sweeten up our letters, plus ways I've thought of since.
Pssst: you'll definitely want to check out my article on long distance relationship gifts. And the section on "fun challenges for long distance couples" found in this article.
Love Letter Tip #1: Sweeten Up Your Letters with a Personal Touch
Any way I could find to sweeten up my military love letters for him, I would.
Things like:
Scenting the paper with perfume/cologne.
Adding confetti (store-bought or homemade) to the letter before folding it up.
Putting playful stickers on the envelopes and letter.
Including small chocolate treats, like single Ghirardelli chocolate squares.
Going to a photo booth and having a strip of photos taken (you can also make large letters L-O-V-E and hold them up in each of the photos) to include.
Including photos developed from a previous trip together.
Love Letter Tip #2: Play Games Through the Mail
Now we're starting to talk about how you can actually engage with each other, by experiencing something together through your military love letters for him.
You could:
1. Include a Mad Libs sheet (store bought — here's Adult Mad Libs all about relationships/dating — or make your own) and the next time you are on the phone you can fill it out together.
2. Purchase a mini notebook. Write one secret about yourself that you haven't told anyone (or that you at least haven't shared with him). Then you send him the mini notebook, and he does the same. Mail this back and forth until you learn lots of little (or big) secrets about each other that no one else knows.
3. Play a questions game. In each letter include a separate sheet of paper with several random questions on it for your beau to fill out and return with their next letter. You're gong to LOVE receiving those answers!
4. Set up an online scavenger hunt for them.
5. Write a message in invisible ink.
6. The Dating Divas came up with a fun Believe it Or Not date night idea (it's free) — why don't you create your OWN believe it or not pieces of fact/fiction of yourself! Ask your military man to do the same, and then use the scorecards from the kit to play the game. You can send one believe it or not each letter, or send all of them at once and pick a date to play the game.
Love Letter Tip #3: Grow Your Relationship, One Letter at a Time
Relationships that are in-person and NOT thousands of miles away have a leg up on yours — frequent visits with each other means things tend to grow quicker and more naturally.
Lingering conversations on park benches, engaging in experiences together, and candlelight dinner dates are not exactly at your disposal. Not right now, anyway.
So, you've got to get creative — you want your relationship to grow + thrive, right?
You'll love these ideas for how to not only keep in touch, but actually GROW your relationship, one letter at a time.
Purchase two copies of a book, and send one to them. Read the book at the same time (say, one chapter a week) so that you are experiencing something together — and you can talk about it in your phone conversations/over email.
Even better? Purchase two copies of a relationship book to read together. Some of our favorites include the 5 Languages of Love, and The Love Dare. Did you know that there's actually a 5 Languages of Love — Military Edition? You could even start a private book club with your spouse, or significant other!
Print out two copies of the 5 Languages of Love Test (it's free), then include one in your next letter. Both of you take the test, and exchange results in future letters.
Print out these free sexy surveys (one for him, one for her). Send his in your next letter and ask that he fills it out. Fill yours out. Either exchange answers over the phone + discuss, or send your answers via mail (you might just check your mailbox a bit more than usual if you're waiting on his!).
Include torn-out magazine articles and newspaper clippings or printouts of articles online that you read, and write your thoughts in the side columns. You can also use a highlighter to highlight the things you find most important + want to talk about during your next phone conversation.
If you were in the same location, you'd be working on things together all the time. But you're not — so you've got to come up with ways to work on something together, while hundreds and thousands of miles apart. How about working on building a couple's journal, using these free printables? Each letter, send a new prompt to him to write about, then have him send it back to you. Keep all the prompts and pages, and build a mini-book with responses to the questions (from both of you).
Create a box of memories with your love — in each letter, include an index card/flash card you filled out with a favorite memory of the two of you. Then include a blank one, and have him fill out one as well (that he sends home to you). Collect them all at the end, divide them up, and put them in a two little love boxes — one for you to keep and one for him to take — for his next deployment.
Include a card from the Talk, Flirt, Dare card game (from the Talk deck). Save the Flirt and Dare decks for when he comes home!
💞Military Deployment Love Letters
So, you found out your boyfriend/girlfriend/fiancee/spouse is getting deployed.
Can I just say, my heart goes out to you.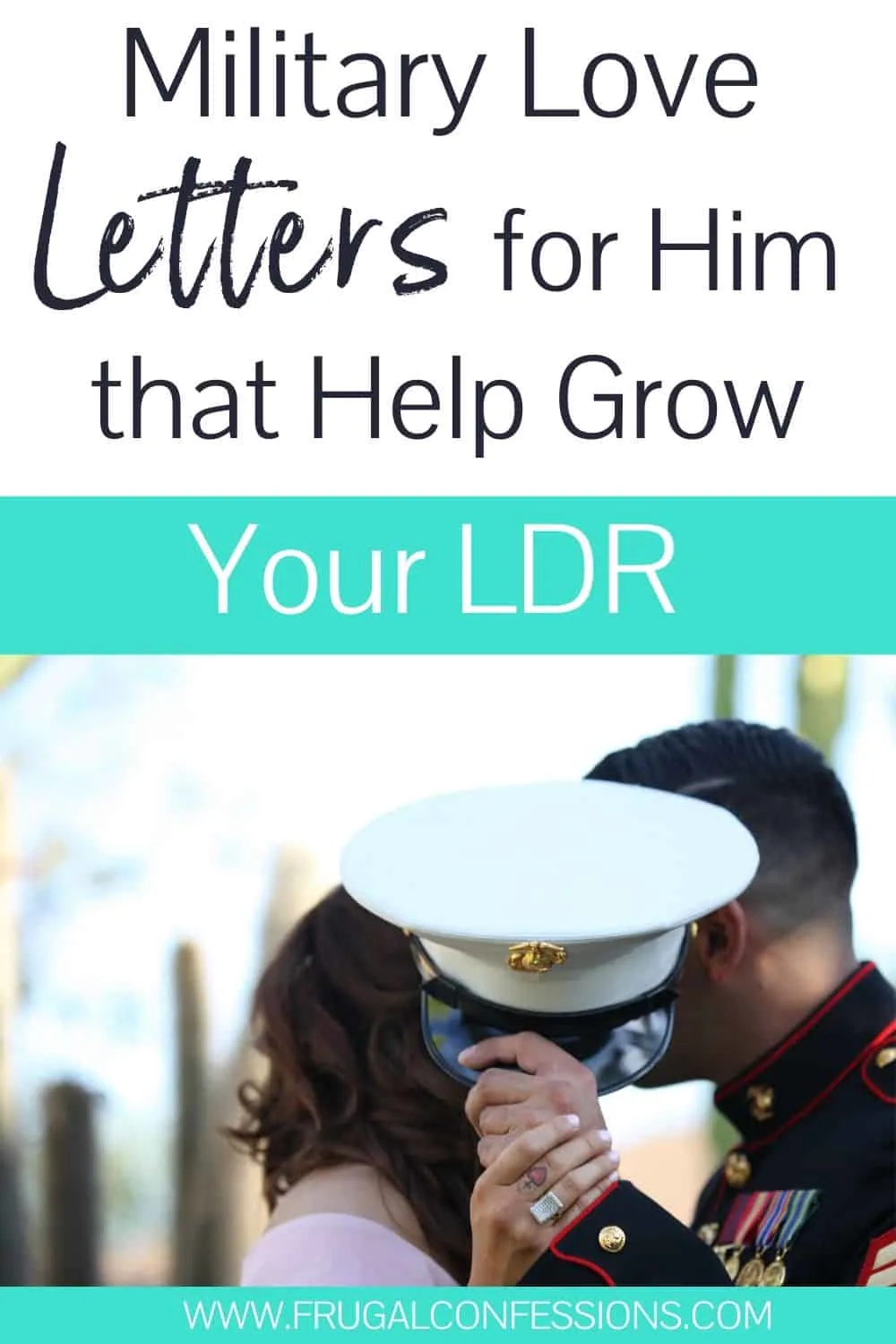 I clearly remember going through this while dating my navy sailor, all those years ago. Even in those first three months that we had together (living within an hour of each other in Japan), he went underway (out to sea) for three weeks. It was our first taste of being apart — and I knew rougher seas were ahead for us.
I remember meeting him outside of base with a homemade welcome sign I had made him. What a sweet reunion (the shortest time apart we ever had — the rest were 3 months to six months long).
We weren't married, nor did we have kids at the time. I can only imagine how much harder deployment becomes if you guys are!
Here are some ways to encourage + engage your military beau, while he's deployed:
Create 7 Days of Photos: Send him off with an envelope that has 7 sealed envelopes inside of it. Label each of the 7 envelopes Days 1-7, and include one new photo that he gets to open up over the first 7 days that he's deployed.
Hide Surprise Letters, with the Help of a Friend: Do you know one of your boyfriend/fiance/spouse's friend? Ask them to take several letters from you and hide them in specific places (where, depends on the type of branch he's in/deployment. For example, my husband was in the Navy; I could ask his friend to hide a letter under his pillow, in his boots, taped to his locker, tucked away in his book, etc.). Then, send a text periodically to give him a clue for where he can find a surprise from you! You could also mail a bunch of letters/mini-cards/postcards to a friend of his, and ask him to help you out with the surprise.
Build an Envelope of Encouragement He Can Draw From: In the month leading up to deployment, take a few minutes each day to write out a note of encouragement to your guy on some blank business cards. You can write several cards about traits you know he has that will help him get through his deployment, why you think he's an amazing soldier/boyfriend/fiancee/husband, a specific memory of how he came through for you and why it really meant a lot, etc. Put them all in this small business card holder (it's smashable, so it won't get ruined, plus it holds up to 25 business cards), then pack them away in his sea bag or other luggage.
Get Inspiration from the Greatest Military Love Letters of All Time: Read up on a collection of Love Letters of the Great War, We are Going to Be Lucky: A World War II Love Story in Letters, and Love and Valor : Intimate Civil War Letters Between Captain Jacob and Emeline Ritner.
I would love to hear your ideas for adding that little extra somethin' to your military love letters for him!
The following two tabs change content below.
Amanda L. Grossman is a writer and Certified Financial Education Instructor, Plutus Foundation Grant Recipient, and founder of Frugal Confessions. Over the last 13 years, her money work has helped people with how to save money and how to manage money. She's been featured in the Wall Street Journal, Kiplinger, Washington Post, U.S. News & World Report, Business Insider, LifeHacker, Real Simple Magazine, Woman's World, Woman's Day, ABC 13 Houston, Keybank, and more.
Read more here
.
Latest posts by Amanda L Grossman (see all)