When it comes to the Super Bowl what I look forward to the most are the commercials, the socializing, and the food. I get a little choked up at the singing of the national anthem, and I can't help but smile when seeing the players hit the field in all their glory.
But my true enjoyment comes from the gathering itself (especially those funny commercials).
Many Super Bowl parties I've attended over the years involve party trays ordered from grocery stores. I've never ordered one myself because I assumed that they would be very costly.
This year, I wondered "is it cheaper to make your own meat and cheese trays"?
So, I decided to look into the cost of party trays, and then try to recreate them at home to see if doing so makes sense.
What I found is that you can save around 34-37% of the cost by making your own fruit and vegetable trays. However, the cost savings on a cold cuts tray by making your own is not that much (8.4%).
Here's a breakdown of store-bought trays from Walmart, HEB, and Kroger's, as well as the cost to make my own. Please note that I tried my best to replicate the store bought trays (photos below):
| | | | | | |
| --- | --- | --- | --- | --- | --- |
| | Walmart (serves 15-20) | HEB (serves 10-15) | Kroger's (serves 12-16) | Make Your Own (serves 10-15) | Cost Savings (from lowest store-bought price) |
| Veggie Tray with Ranch Dip | $25.00 | $19.99 | $24.99 | $12.45 | $7.54 (37.7%) |
| Fruit Tray with Vanilla Yogurt Dip | $25.00 (includes cheeses) | $29.99 | $29.99 | $16.30 | $8.70, (34.8%) |
| Cold Cuts Tray | $35.00 | $32.99 | $29.99 | $26.45 | $2.54, (8.4%) |
Psst: trying to feed a crowd? You'll definitely want to check out my articles on easy meals for large groups on vacation, inexpensive meals for large groups, and best winter meals for a crowd.
Homemade Party Trays
For each of the party trays I purchased the actual tray from the 99₵ store. This cost, as well as the cost of the dips has been added into the overall cost above.
For the fruit tray I made a Dairy Princess fruit dip recipe (with a ton of dairy in it; and yes, yours truly was a Dairy Princess when I was 16). The recipe is at the end of this article. Fruits include grapes, oranges, apples, strawberries, and a pineapple (included in the cost, but not included in the tray because I could not find room).
The cost of the meat tray includes a jar of pickles. Also included is roast beef, honey ham, turkey, provolone, and cheddar.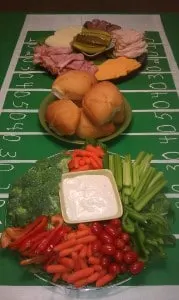 For the vegetable tray I used straight Ranch dressing as the dip (included in price).
Tips to Save More Money on Homemade Trays
Since I was attempting to mimic the grocery store party trays for this article, I spent money that I did not necessarily need to spend. For your own homemade trays, you can save money by using your own platters or saved platters from previous party tray purchases (I would not recommend putting these plastic trays into a dishwasher). In order to accurately mimic these trays I also purchased mid-ranged deli meats. You could potentially save more money on your own homemade cold cuts tray by purchasing less expensive cuts of meat and cheeses.
Cost of the Football Field Tablecloth
I have an artsy/creative side that has needed an outlet lately. About a year ago I got the idea to make a green football tablecloth for food tables at football parties…and I am so happy I've been given the chance to do so! The cost for making this was $17.66 (this does not include the cost of painter's tape, which we had on-hand). The supplies were a bottle of fabric paint, two yards of duck canvas fabric from Jo-Ann's (scored for 50% off!), a foam brush, sharpie marker, a measuring tape, and painter's tape.
Fruit Dip
8 oz. package cream cheese
¾ cup packed brown sugar
1 cup sour cream
2 tsp. lemon juice
1 cup cold milk
1 package (3.4 oz.) instant vanilla pudding mix
In a mixing bowl cream together cream cheese and brown sugar until smooth. Add sour cream, vanilla, lemon juice, milk and pudding mix and mix until smooth. Cover and chill for at least 1 hour. Serve as a dip for fruit.
The following two tabs change content below.
Amanda L. Grossman is a writer and Certified Financial Education Instructor, Plutus Foundation Grant Recipient, and founder of Frugal Confessions. Over the last 13 years, her money work has helped people with how to save money and how to manage money. She's been featured in the Wall Street Journal, Kiplinger, Washington Post, U.S. News & World Report, Business Insider, LifeHacker, Real Simple Magazine, Woman's World, Woman's Day, ABC 13 Houston, Keybank, and more.
Read more here
.
Latest posts by Amanda L Grossman (see all)