I've got some killer inexpensive date ideas — you know, the type of cheap date ideas that don't scream "cheap" to your date?
Most marriage and relationship experts suggest making date night a weekly ritual in order to keep the spark alive in your relationship, to encourage communication, as well as to continually add to your bond by remaining apart of each other's current lives.
But going to dinner and the movies each week could easily add $150 to your monthly budget, and most of the other traditional dating venues are just as expensive.
I'd like to offer some fun and inexpensive date ideas as alternatives that will help keep date night in your budget (in other words, money should not be the reason to ax date night with your partner or spouse).
What Can You Do for a Cheap Date Night?
I devoured stumbled upon an episode of The Bachelorette the other day. It was one of the hometown date nights, where the last remaining contestants get to go to the bachelorette's hometown to meet her family + get an idea of her history.
It got me thinking about how this type of date night is applicable to just about everyone (well, except if you both grew up in the same town together).
For example, my husband grew up in a town in Texas, and I grew up in a small town in Pennsylvania. There's ample opportunity for us to have some cheap + interesting date nights that will also reveal more about who we are and how we got that way.
Not only that, but it can make for some really cheap date nights (without skimping on meaning).
Let me give you some ideas for how you can kickoff your own hometown date night, just like they do on The Bachelorette (minus the whole mood-killing, voting-someone-off ordeal).
Pssst: A perfect pairing with any of these hometown dates? Take your spouse through a fun round of Spouse Scattergories (free printables).
Bachelorette Hometown Date #1: Go through Old Photographs at Your Parents'
Paul's parents periodically host a family get together where they cook a delicious meal on a Sunday and everyone comes over for a few hours. One of these times, his parents pulled out old photo books. No one had ever seen these photos (at least  not the spouses or kids), and so it was super fun to go through these memories and hear the brothers and their sister talk about the back story.
I even got to see a photo of Paul's infamous high school sweetheart, whom I've heard about but didn't have a visual on!
Your Turn: The next time you'll be in your hometown, call your parents ahead of time and ask them if they have any photo albums they can bring out to show your loved one. Chances are, they'll enjoy the memories as well. Videos? Even better.
Bachelorette Hometown Date #2: A Place You've Always Wanted to Go
Paul and I both have these places that we wanted to desperately go to as kids but either weren't allowed to or it cost too much. For me, it was Assateague Island near Ocean City Maryland (OCMD). We used to visit there every summer for a week, but never made it to see the ponies on the island. So when my sister got married last year in OCMD, I told Paul the story. He immediately agreed we had to have that on our short itinerary (we had flown in just for the weekend), and we made it happen!
For Paul, it was fully experiencing the annual Houston Livestock Show & Rodeo. So last year we actually scored free packages for tickets, food, drinks, and rides and had such a wonderful time together.
Check, and check!
Your Turn: Share with your spouse (plus listen to them) about places or experiences you always wanted to do as a kid but weren't able to for whatever the reason. On your next hometown trip, make it a priority to experience this together. Your 10-year-old selves will get a kick.
Bachelorette Hometown Date #3: The Make-Out Place
You know…where all the couples used to go when you were in high school? Maybe you never actually got to experience this place yourself, so taking your loved one would be even more momentous in your mind.
Your Turn: Buffer in an extra 10-15 minutes onto the back of one of these other hometown dates to drive out to the make-out place. And, well, have some fun. You might want to bring back memories for some of your high school friends/acquaintances on Facebook by posting an update like, "took the husband to XXX Point." Don't forget a winking emoticon.
Bachelorette Hometown Date #4: Your Alma Mater
Check out a game at your old high school, roam around the track, or do anything else that's allowed (you might have to get a visitor badge). You'll remember stories and people you haven't thought of in years, and can color in some history for your loved one. Even better if you received an award and it's still hanging up in a glass case somewhere!
Your Turn: Call your alma mater ahead of time and ask them if there's a way you can show your spouse around some of the grounds. Ask them what the procedures are, such as if you'll need a visitor's badge or to check in anywhere. If there's a strict policy against this, ask them when the next home game will be for a sports team and gain access that way.
Bachelorette Hometown Date #5: The Food Joint
Notice that didn't say "A Food Joint?" That's because we're not talking about A food joint. We're talking about THE food joint. For me, that's Harry's Hot Dogs. You can't come to my hometown and not eat one of these infamous dogs. Personally, I make it a cheese dog with everything on it but mustard. My sister likes hers with everything + extra sauce.
The fun thing is that now when Paul and I head home to PA, he doesn't consider it a trip without hitting this place up.
Some other goodies from my childhood that are very unique to the area I grew up in? Amish-made Whoopie Pies (I like the pumpkin flavored ones better than the original, which are chocolate), and/or Philly Cheesesteaks (we tried both Pat's and Geno's, and decided Pat's King of Steaks was for us) for my area in PA.
For my husband, one of the first times we came back to his hometown we went to eat at a Tex-Mex place called Mamasita's. It's what he thinks of when placing a taste for his hometown.
Your Turn: What is your hometown known for (food-wise)? If there's nothing major that comes to mind, think about where everyone goes to hang out to get out of the house (with food), then go there. 
It doesn't matter which of the hometown dates you choose from above. The only thing that matters is that you learn more about one another through the experience. Oh yeah, and that you don't spend a ton of money doing so.
I mean, this site is called Frugal Confessions for a reason, right?
Pssst: looking for at home date night ideas for married couples? I've got 7 for you. 
Cheap Date Ideas
Not heading to your hometown anytime soon?
No worries, I've got tons more cheap date ideas for you:
Antiquing: Map out a cluster of antique shops and window shop on a Sunday afternoon. This is delightful!
Beer Tasting and Wine Tasting: Find a vineyard, distributor, or restaurant that has wine or beer tasting, and you will be in for a treat. This sophisticated pastime typically is quite cheap, and even free in some cases. Create a memento by taking a pad of paper or journal with you so that you can keep track of the wines you taste and how you like them.
Free Zoo and Museum Days: Most zoos and museums have at least one day a month that is free of charge (it may be in the middle of the week, in which case you can meet one another straight from work). Take advantage of this day. Instead of trying to cram in the entire museum or zoo, focus on one wing at a time over several months/several free days.
Reading and Book Signing: Check out ads at your local library, coffee store, and bookstore to find out when a favorite author is in town. Ahead of time, read parts of one of their book out loud to one another (borrow from the library if you don't already own one).
Pick Fruit from a Farm and Bake a Pie Together: Cooking classes are super trendy right now and a lot of fun for dates. However, they are super expensive! Instead, locate a farm to pick and purchase fruits together, and then take your bounty home to use in a recipe you've picked out ahead of time. The end result is wonderful, and the intimate time in the kitchen will be worth it.
Meet at a Coffee or Tea Shop: On a rainy Saturday or lazy Sunday afternoon meet up with one another at a coffee/tea shop and order your favorites. You can chat, read each other tidbits from your books and newspapers, or even bring along a board game to play.
Outdoor Movie: Many cities and towns sponsor outdoor movies for free. If this is not the case, locate an outdoor movie theater (hint: scroll down once you get to this website). Bring your own snacks, pop the seat back, and tune into a fun night. Or create your own outdoor movie night at home: a projector and some Hallmark Hall of Fame movies are a winning combination
Dessert and Coffee: Who says you have to go out for dinner? Meet your partner for a piece of cheesecake, cupcake, or a shared ice-cream sundae and some coffee in the afternoon, or go out to your local cupcake boutique/cheesecake/chocolate factory after a homemade meal. Paul and I recently did this; we met each other after work at the Chocolate Bar, and had a magnificent piece of pumpkin cheesecake, followed by some great conversation.
College Theater Productions: Don't have the money to shell out for the theater or symphony? Try your local college or university. You can call the school directly, or look for flyers and pamphlets around campus.
Witness Rare or Annual Migrations/Nestings: Whether it is the turtle nesting season in Florida/Texas, the bat migration, or the monarch migration, take the time to borrow some binoculars and experience these timeless acts in nature as a couple.
Placard Walk Through History: Drive to the historic district of a nearby city or town, park, and grab a map from the local tourist place. Walk around the area locating placards and read them out loud. You will learn the historical significance of buildings, walkways, and moments in time that you normally would just drive past.
Karaoke: True, there are not karaoke stations around every corner like in Japan, but you can certainly find them (bars sometimes host one karaoke night a month). This is a really fun activity, and certainly will help break down any barriers you may have.
Movie Tourism: Find out if any movies have been filmed around the area where you live or even a few hours from where you live. Rent the movie and watch it as a prelude to finding the various locations on a walk/bike/car trip. Take turns taking pictures of one another as you act out the various scenes.
Dollar Movie Theater: You will be watching older movies, but it beats watching them on your small television at home! Do a google search for "dollar movie theaters"; I found one right on Westheimer called Windchimes Dollar Cinema 8 where tickets are $1.50 each.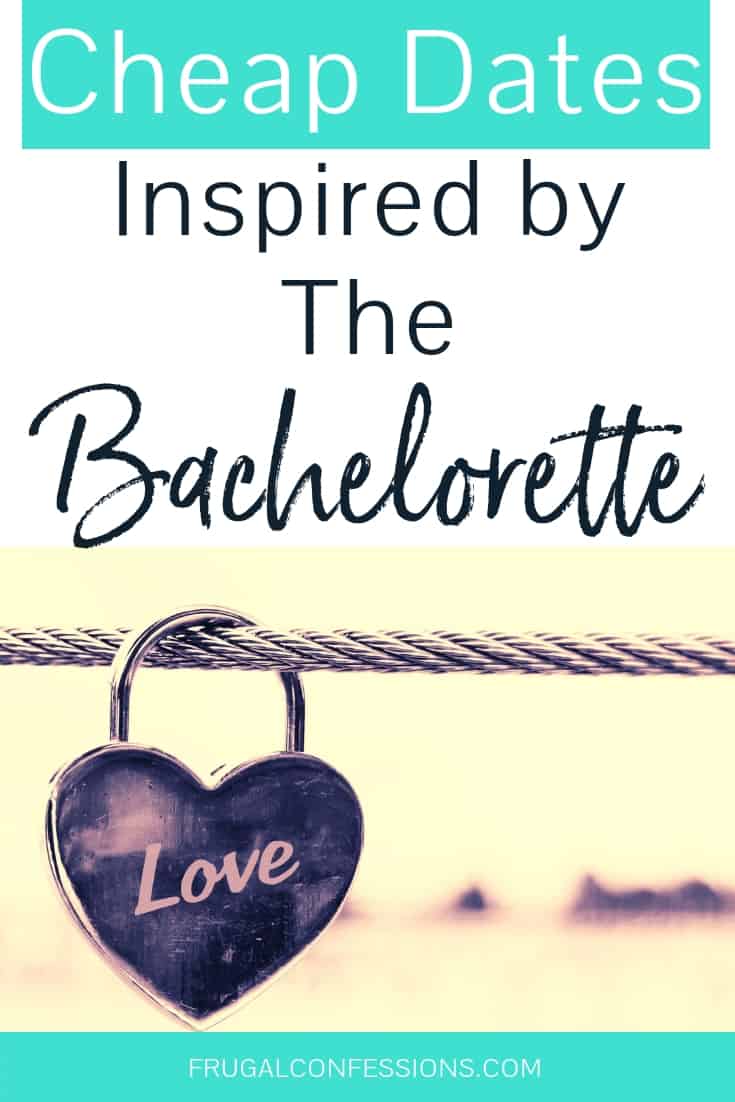 https://www.frugalconfessions.com/wp-content/uploads/2017/02/inexpensive-date-ideas.jpg
512
1024
Amanda L Grossman
https://www.frugalconfessions.com/wp-content/uploads/2019/02/frugal-confessions-logo-340.jpg
Amanda L Grossman
2017-02-27 05:00:26
2018-10-31 19:34:34
5 Cheap Hometown Dates, Bachelorette Style