Looking for companies that sponsor individual athletes, like you? I'll show you 27 possible opportunities, plus how to uncover hundreds more.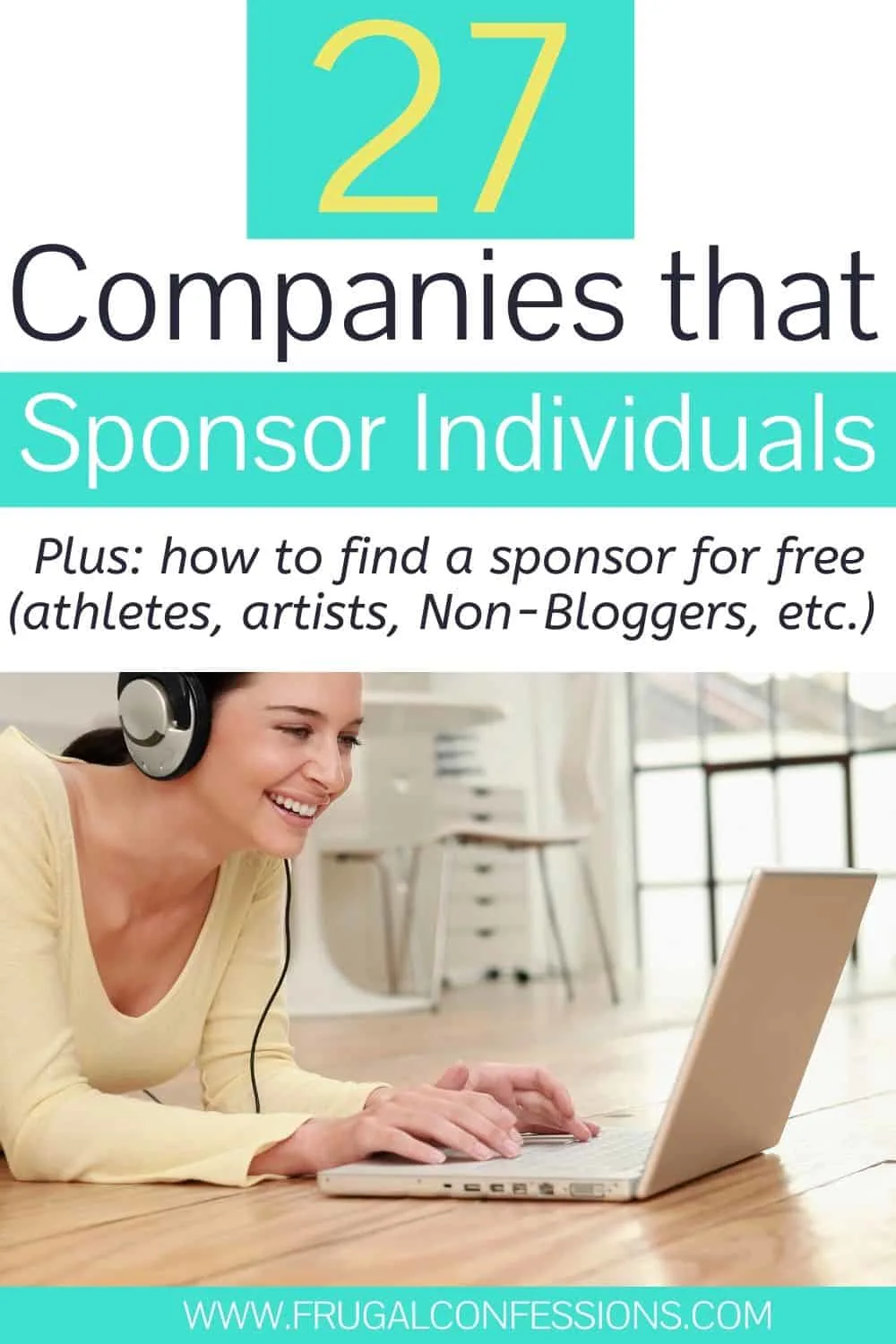 Are you looking for companies that will sponsor individuals so that you can work in your area of passion, compete in sports, or afford to do what you've been wanting to?
Have you ever wanted to score free sponsored swag just for being alive, like reality television stars or Beyoncé?
You know, where companies send you free, lucrative products just because you're so cool and they'll hope you spread the word about it?
I've had a small glimpse into this world just because I'm a blogger and companies want me to review their products.
Every so often I take them up on the offer and score things like "free" luxury pillows ("free" in quotations because it takes my time to write a review), free books, free tickets, free movie pre-screenings, free cowboy boots, etc.
Each time I score a cool sponsor, I've wondered, "yeah but, how can my readers enjoy some cool swag like this, or cash in on a sponsorship deal, without owning a blog?"
In other words, are there companies that sponsor individuals?
That's the intent behind this post.
Hacks to Help You Find Companies Wanting to Sponsor (for Free)
Aside from scanning the various sponsorship opportunities on this page, I wanted to give you some hacks to help you find a sponsor for free, by yourself.
Pro Tip #1: You'll want to create an excel or Google Sheets document for yourself to keep track of each of the sponsorship opportunities you uncover in this article, and while doing your own searches.
Find a Sponsor for Free
Hack #1: If you're going to take the time to send out sponsorship proposals, then you'd rather find companies most likely to sponsor, right?
Do that by scanning the thank you pages, media pages, and newsroom pages of athletes, non-profit organizations, artists, or whatever category of people who are like you, to find the companies that sponsor them.
Write down each of the sponsors in your excel sheet, because these are companies that have already shown they're willing to sponsor individuals.
You want to follow-up with this list when you start out trying to find sponsorship for either yourself, or for an event.
Hack #2: Complete the following Google Search: "company's name + sponsorship" (you can also use any of the keywords below).
You can also use the word "ambassador". Another search is "sponsored athlete application", which should quickly show you results of companies with athlete sponsorship applications.
Hack #3: Got a company in mind or a category of companies you'd like to check into for sponsorship?
Go to their websites and look on their press release, press, or newsroom pages for information on the good works and sponsorships they're doing.
This will give you an idea of whether or not they do the type of sponsorship you're looking for, and how to get in touch with them.
Hack #4: Look over the listed sponsors that have completed actual deals on sponsorship websites, such as this page on SponsorPitch.
You can quickly see an active sponsorship companies list, which is better than cold-calling or cold-emailing a company you aren't sure has a history of sponsorships or not.
Companies that Sponsor Individual Athletes
Looking for companies that sponsor individual athletes? Getting sponsorships is partly how Olympian athletes get paid to train and can afford to work on their craft for a living.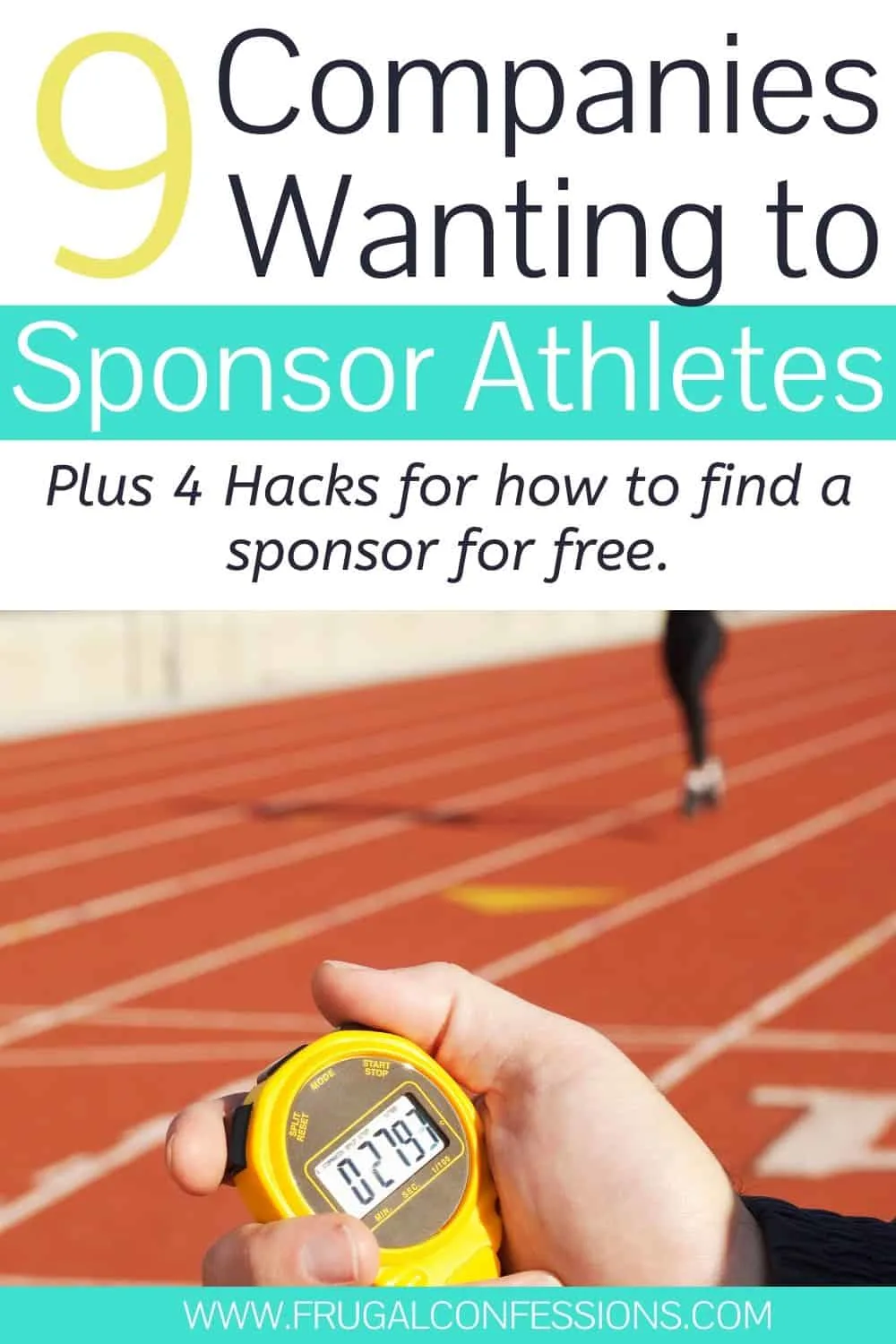 But don't worry; there are plenty of individual athlete sponsorships available for people who are not on the level of an Olympian athlete (or even close).
Businesses that Sponsor Athletes
These are companies that like to sponsor athletes:
1. HeadSweats.com: Head Sweats will respond to your sponsorship request within 72 hours. Athletes need to apply to be an ambassador before applying for sponsorship, and applications are reviewed between October and November.
2. Red Bull: Red Bull has a current list of individual athletes they sponsor here, and they're accepting applications from athletes across the world for new sponsorships.
3. Infinit Nutrition: Willing to market the Infinit Nutrition brand? While they only sponsor a select number of elite athletes each year, if that doesn't describe you, check out their Ambassador program. Through that program, you can earn a commission on any Infinit products you sell through your referral link.
4. Professional's Choice: This manufacturer of equine products sponsors a list of horse trainers and horsemen. They do not have an application, but you can contact them through their endorsements page.
5. Merrell: Merrell sponsors a handful of individuals and families. Their ambassadors live and promote an outdoors lifestyle.
6. Red H Nutrition: Become a team athlete ambassador, and supplement your income to be able to live while training.
7. State Farm: State Farm Insurance recently announced they've sponsored their first individual athlete. Could be a good opportunity to apply to be their second!
8. Alpha Wear Fitness: Apply for a Sponsored Athlete Position.
9. Optimum Nutrition: Pro-level fitness models and athletes are welcome to apply for a sponsorship with these guys.
Platforms Filled with Companies that Sponsor Athletes
Want to get exposure to hundreds or thousands of sponsoring companies at the same time?
There are platforms where companies looking for sponsorship opportunities lurk.
Check out the Sports Sponsorship platforms below, which help you gain exposure, make deals, and do the actual transactions. You should know there is generally a transaction fee on any athletic sponsorships gained (but signing up is typically free).
Sports Sponsorship Platforms:
OpenSponsorship.com: Register as an athlete (team, or event) on this site, and you gain exposure to over 1,000 companies specifically looking to sponsor athletes.

SponsorPark: Again, list use this sponsorship platform to create your sponsorship proposal one time, and get it seen by hundreds or thousands of companies looking to sponsor individuals.
Alternative ideas for athletes to raise money include crowdsourcing for athletes, and fiscal sponsorship.
Psst: while you're waiting to score all those company sponsorships? Check out these 37 ways to for how to earn extra money at home, fast.
Artist Sponsorship Opportunities
Looking for artist sponsorships opportunities, and companies that sponsor the arts?
Elizabeth Greenshields Foundation Grant: This foundation offers a grant to young, emerging artists, and has already given out 1800 grants to artists in over 40 countries. Your first grant can be in the amount of CAD $15,000, and subsequent grants in the amount of $18,000 each (you can get three grants over your lifetime). You must be working in a "representational style of painting, drawing, sculpture or printmaking".
National Parks Artist in Residence Program: The National Parks organization offers programs for visual artists, writers, musicians, and other creative media that range between 2 and 4 weeks in length. You have to apply individually to each park (use this link to find the information), and most parks offer free lodging.
Also, here are 27 writing residencies that will "sponsor" individuals for various lengths of time to write and work on their art.
Are you a Mama Artist/Writer? I've got a list of artist residences and writer residences that will give you a stipend to pay towards childcare!
Family Residency on SPACE Ryder Farm: This is for female playwrights, and your kids (ages 3-12)! While you work, kids participate in nature-focused arts programming.
Here's an impressive list of opportunities for family artists/writers/etc. to find stipends and residencies for families.
I've also uncovered 5 opportunities for you to gain sponsors + swag for your awesome life (without having to blog, or without having to be an athlete/artist, etc. ).
Individual Sponsorship Opportunity #1: Host a Party
Parties are the engine of Word-of-Mouth marketing, so it makes sense to have companies willing to sponsor events by providing free swag to you + your guests.
My sister, a non-blog owner, has scored some pretty sweet swag for hosting a party themed around a particular product. She got to have guests come over and enjoy themselves, plus everyone went home with free stuff, including things like individual servings of dog food (like, 20 of them!) plus doggie plates to give out and coupons for almost-free products t hand out.
Source free swag for your party through companies willing to sponsor events:
HouseParty.com: You get to apply for various Party Packs from sponsors like Oreo, Kikkoman, and Burt's Bees. You invite your friends over, post some photos of the shindig on social media, and everyone leaves having had a good time + with some free party favors.
MomsMeet.com: Get sent free samples of products to use at playdates or other Mom meetups!
MomSelect.com: Same deal here, you can get free samples of products to share with other Moms when you meet up with them.
Individual Sponsorship Opportunity #2: Write a Review
It turns out that you willing to write a review means you could score lots of free swag.
It turns out that you willing to write a review means you could score lots of free swag.
Click To Tweet
There are companies out there that exist solely to find people to get a product and leave a review about it. Many of them are tied to Amazon.com, so it's helpful if you're a Prime member so that you can receive free shipping instead of having to pay for it.
Here are two sites to get you started:
Psst: these kinds of sites really make you think about all those Amazon reviews you see! However, I know from personal experience that with Snagshout at least, you have to put a disclaimer in your review saying that you received the product for free or at a discount in exchange for a review.
Individual Sponsorship Opportunity #3: Become a Panel Member
There are opportunities for you to become a panel member for companies − such as the L'oréal Consumer Participation Program and McCormick Consumer Testing − that will send you products to test out and give your opinion on.
A good way to do this is to use Swagbucks to search for "a product or company you're in love with" + "Consumer Panel ".
Individual Sponsorship Opportunity #4: Be a Social Media Butterfly
The last opportunity I'd like to show you today is for you social media butterflies. If you're on Facebook or twitter, or other places where people hang out, then you're in the position to score some free products.
BzzAgent is probably the best known site for this, where you get products in exchange for leaving reviews on your social media accounts. You'll need to complete surveys in order to determine if you're the right demographic for the product, fyi.
Another company to check out is Influenster.com.
Individual Sponsorship Opportunity #5: Put a Banner On It
Have you ever seen a car at the red light that had an advertisement on it? Perhaps as a magnetic banner?
Besides people like Mary Kay consultants, there are actual companies who will pay you to turn your morning and afternoon commutes into a commercial.
Companies are looking for people like you.
And who are "people like you"? Well, you need to have things like a driver's license, a clean driving record, and probably commute a lot of miles in high-traffic areas.
I mean, what a cool way to get your gas bill paid for you! Or how about money towards your car payment? I'd totally sign up…but they probably don't want my rust bucket of a beater car representing their brand (I'm up to 218,000 miles now!).
Word of Caution: This industry is rife with scams; in fact I played a vehicle wrap scam out in order to write about it a few years ago. So make sure that you check and see if the company is with the Better Business Bureau, as well as do not pay anything up front just for information.
Have you tried out a company and they're offering a drool-worthy stream of free swag? Do share in the comments below so we all can enjoy!
The following two tabs change content below.
Amanda L. Grossman is a writer and Certified Financial Education Instructor, Plutus Foundation Grant Recipient, and founder of Frugal Confessions. Over the last 13 years, her money work has helped people with how to save money and how to manage money. She's been featured in the Wall Street Journal, Kiplinger, Washington Post, U.S. News & World Report, Business Insider, LifeHacker, Real Simple Magazine, Woman's World, Woman's Day, ABC 13 Houston, Keybank, and more.
Read more here
.
Latest posts by Amanda L Grossman (see all)