Outdoor and indoor fall games for adults (including free printable fall games) to help you really take this season in.
Who couldn't use one of these fall games for adults to simmer in all the goodness this season has to offer?
Whether you're looking for an outdoorsy, hands-on fall game to play with a group, or want to cozy up with your partner in front of a fire and compete with a free printable fall game for adults, you're in the right place.
Grab a round of pumpkin mocktails, and let's get this party started!
Fall Games for Adults
We're starting off this list of fall adult games with games to physically play (both indoors and outdoors), and then we'll move onto some printable fall games for adults (so stick around!).
1. Play a Round of Pumpkin Bowling
Got a backyard? Set up a fun fall game for the adults by buying a few small pumpkins, taking its stem off, and using it to bowl.
You'll need bowling pins or something to stand up and knock down (filled water bottles could work in a pinch).
Psst: whether you want to paint or decorate the pumpkins beforehand is up to you! You could also do this the day after Halloween, and request that everyone bring one of their pumpkins from home as their bowling ball.
2. Play the Great Weird Pumpkin Hunt
Have you noticed that every company under the sun has created something with pumpkin?
Some of them are awesome. And some? Well, they're kind of ridiculous.
Forget about hunting for that perfect pumpkin with the kiddos – instead, hunt for weird pumpkin products (and have a hoot sharing them with others!).
There are:
Pumpkin marshmallows
Pumpkin toothpaste
Pumpkin spice spam
Pumpkin lip gloss
Pumpkin face masks
Pumpkin Pie Spice Pringles
etc.
Every year, even more pumpkin-laced products fill the store shelves (the grocery store can be a goldmine for these).
That's why you're going to gather your friends for a get-together (could be a party, or just an evening catching up at the local coffee shop). Instead of them bringing a dish to eat, have everyone bring the weirdest pumpkin product they can find.
Hint: don't feel like throwing a party? You can do this with just your spouse or partner, too! Give each other a deadline to find and buy the product, and then reveal it on one of your at home date nights for married couples.
3. Host a Pudgy Pie Competition Over the Fire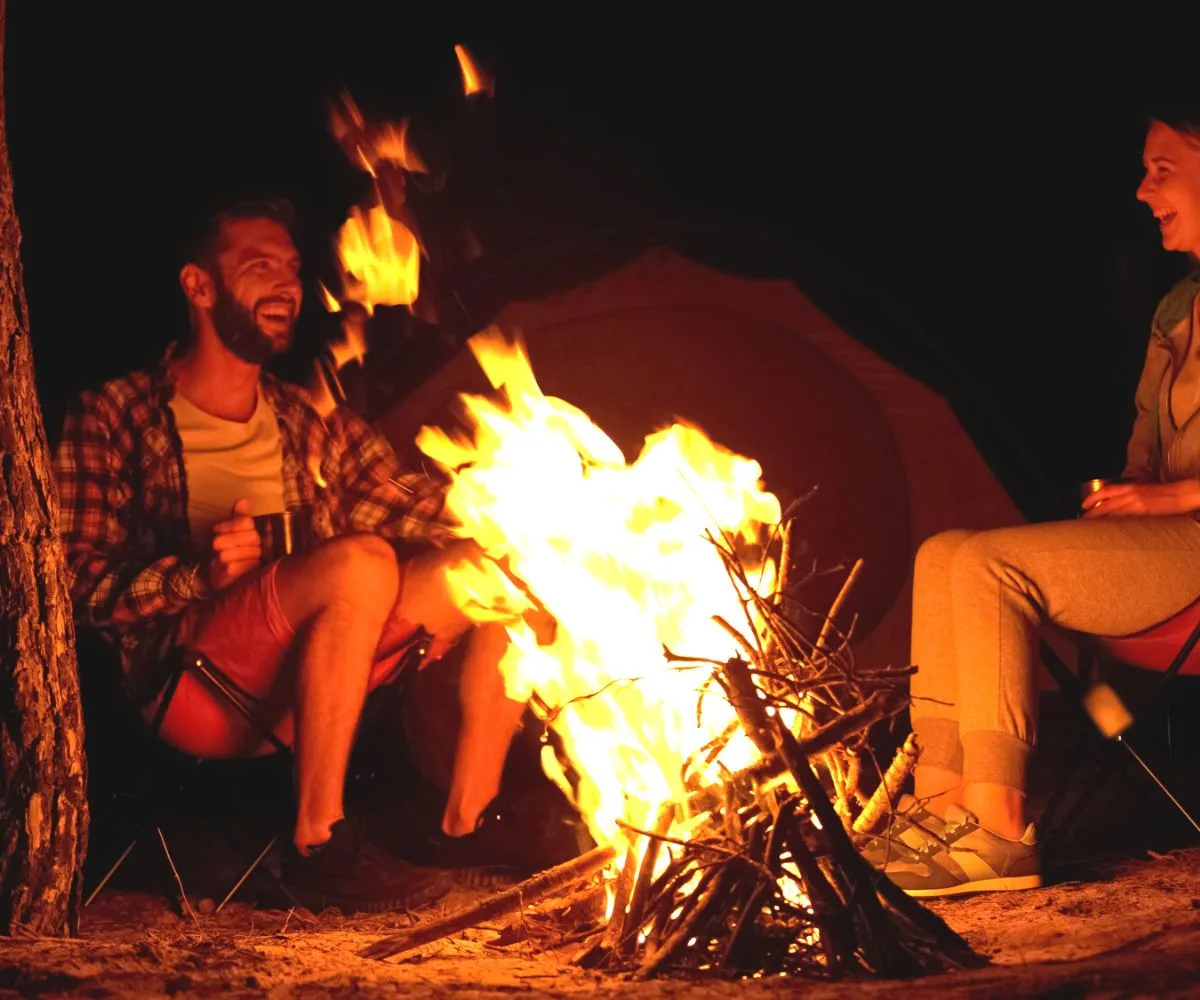 Later in the season is the perfect time for early-night bonfires and fires, what with it getting dark earlier and earlier.
Pudgy pies are basically sandwiches filled with savory and sweet fillings that you roast over a fire. The fun comes with all the recipe variations that are out there, plus that you can create.
Host a Pudgy Pie Competition and taste test. Here are a few recipes to get you started:
Hint: you'll also need a pie iron cooker.
4. Find a Complicated Corn Maze
Lots of corn mazes in the U.S. are made for kids, and maybe contain a few rows to work through.
You want to find an ADULT corn maze – the kind that's complicated enough, it'll keep you entertained.
Here are the biggest and best corn mazes in the U.S.
Psst: Want a scarier theme for your fall activities? Check out these Halloween activities for adults.
At your harvest party, have each guest decorate a round sugar cookie as one of the other people in the group – well, their scarecrow form.
Create a scarecrow cookie-decorating station that includes round sugar cookies, different colors of icing, candy corns, candy beads, shredded wheat (for hair), etc.
Invite guests to come and make a cookie at their leisure throughout the party. Then, have them write down the person's face they created on the scarecrow cookie, and put that under the cookie on a table where they'll all be lined up.
No sharing that information!
Here's the fun twist: hold a scarecrow identification contest by having people guess who the scarecrow cookie's face is supposed to be.
The person's cookie that people correctly identify the most, wins.
6. Host a Flag Football Game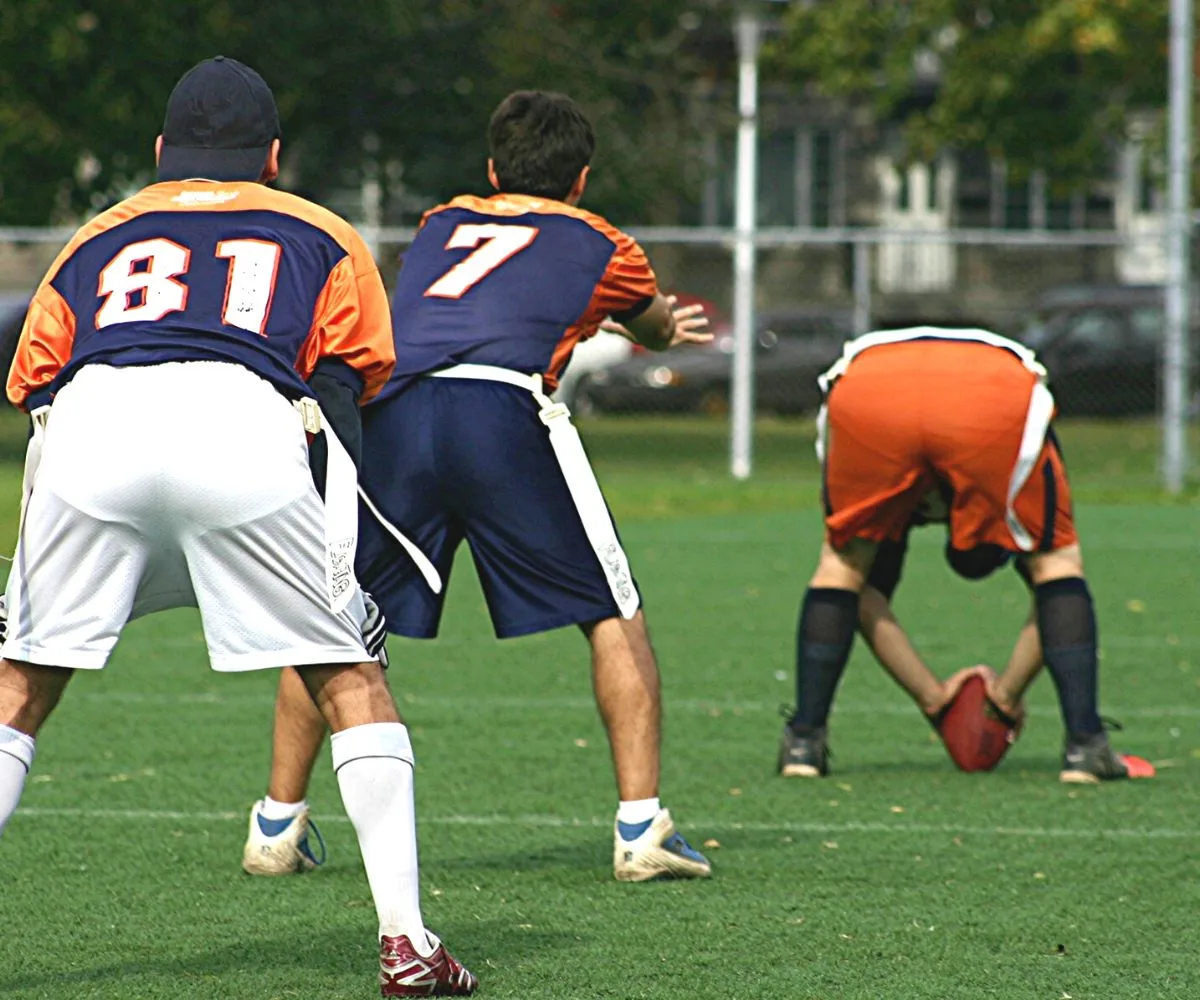 Get a group of friends together for a friendly flag football game that you can play as a fun halftime activity during a football game you watch together on TV, or just because.
Here's a flag football set you can use with up to 12 players, and some really cute, free flag football game printables to make the whole thing more official.
You'll definitely want to check out more ideas here:
Free Printable Fall Games for Adults
Need free printable fall games for adults that you can do at home, take to a party, or even with coworkers?
I've got you covered (plus check out the next section, too).
Emojis are so much fun, amiright?
Print out this freebie Fall Emoji game – one for each participant – and try to figure out what the heck each line is saying.
This is the kind of fall game that can a) start some fun conversation around the time of year and b) remind you of all your favorite things you'd like to do this season.
And both are nice outcomes.
Grab your free Iron Chef competition printables. Divide up into two teams (one person each, if it's just two of you, or more if you've got a whole group)
Each team is in charge of choosing a fall-themed, secret ingredient for the other team to use.
Ideas include:
Canned pumpkin
Cinnamon
Pecans
Apples
Apple cider
Butternut squash
Etc.
Here's the thing: my husband loves football.
But me? Not so much.
SO, I found these fun printable football games for adults and kids – all free – to help me still enjoy a game with him (somewhat).
If this is you, OR, if you love football, then these could really add to a football day!
Included are:
12 Bingo cards
Charades cards
Prediction cards
Looking for Fall minute-to-win-it games for adults? This one has such a cute scorecard for each of the 8 pumpkin-themed, win-it-in-a-minute games.
Games include:
Candy Corn Stick Up
Pumpkin Seed Pick Up
Pumpkin Ring Toss
Mini Pumpkin Relay
Spinning Mummy
Jack Stack
Monster Eyes
Spider Ring Collection
Add a crockpot of warm pumpkin apple cider, and have some fun.
6. Chili Cook-Off Game with a Free Printable Pack
Does anyone else think about making chili in the autumn? I sure do.
My husband's family introduced me to the idea of chili cook-off games, and they can be so much fun with your friends, your family, or in your neighborhood (in Texas, at least, there are several chili competitions you can compete in).
Here's a free chili cook-off scoring card you can use. Or you can make it into a whole group game with this free printable chili cook-off pack.
Who knew there was so much to know (and learn) about candy corn?
Like, how many grams of fat are in five pieces, or which color most Americans eat first.
This is a free printable trivia game you can use with your guests or just a group of friends hanging out at the coffee shop (hint: you'll need to scroll to the bottom of the post to optin and get the free version).
I don't know about you, but I also feel a lift in spirits and a new bump in energy when the fall comes. I can't wait to share these fall games for adults – and all that new energy – with my friends and husband.
The following two tabs change content below.
Amanda L. Grossman is a writer and Certified Financial Education Instructor, Plutus Foundation Grant Recipient, and founder of Frugal Confessions. Over the last 13 years, her money work has helped people with how to save money and how to manage money. She's been featured in the Wall Street Journal, Kiplinger, Washington Post, U.S. News & World Report, Business Insider, LifeHacker, Real Simple Magazine, Woman's World, Woman's Day, ABC 13 Houston, Keybank, and more.
Read more here
.
Latest posts by Amanda L Grossman (see all)