Killer Dollar Tree food hacks to chop your grocery bill down to size. Seriously, you gotta check these out.
Looking to save money? You might think shopping at the Dollar Tree for groceries limits you. And to an extent, it does.
I mean, it's not like you're going to find things like chicken breast and romaine lettuce.
But that's where these amazing Dollar Tree food hacks come in – they allow you to make so many more meals than you probably thought was possible.
Skeptical? Keep reading.
Dollar Tree Food Hacks
I shopped at the Dollar Tree for years before ever considering it as a source for groceries.
But then a few ladies convinced me I was missing out (I'll share their videos, below). And I got so inspired!
Not only that, but our grocery bill went down by about 20% pretty much right away.
That's some serious cash savings.
So even if you've been shopping at the Dollar Tree for years? Keep reading. I think you're going to be just as surprised as I was.
Psst: You'll need a Dollar Tree with a refrigerated and freezer section for many of these hacks.
Dollar Tree Food Hack #1: Make Texas Toast or Garlic Bread Pizzas
Did you know your local Dollar Tree likely has all ingredients needed for Texas Toast Pizzas?
Ours does.
Just buy their box of 4 or 6 frozen Texas Toasts, a jar of pizza sauce, and a real block of 4 oz. mozzarella cheese (or cheddar or pepper jack). Assemble, bake in your oven or toaster oven, and voilà!
A Friday night dinner for just $3.75 (maybe not the healthiest…but quite yummy).
Dollar Tree Food Hack #2: Make their Sausage the Star of a Variety of Recipes
Did you know the Dollar Tree sells a 7 oz. package of frozen sausage for just $1.25? That's about $0.18/ounce, where you'd pay about $0.29/ounce at the grocery store (for a brand name).
There are SO many uses for this.
You could make (these recipes use only Dollar Tree ingredients):
Dollar Tree Food Hack #3: Mash Up Your Own Ground Beef
One of my favorite kitchen tools – that was literally $1.25 at the Dollar Tree – is the meat masher.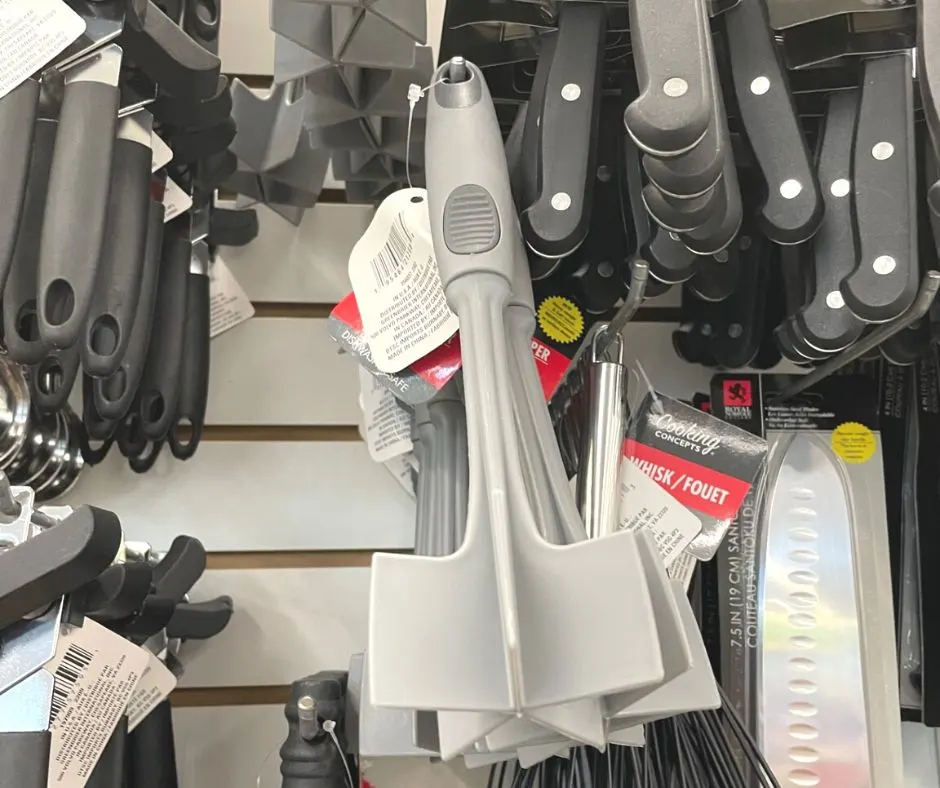 This thing is awesome. My husband loves it, too!
It breaks apart ground beef, ground turkey, etc. very easily.
Which brings me to this first Dollar Tree Food Hack: making ground beef out of ground beef patties.
There is no ground beef at the Dollar Tree. But if you need some for a recipe? You can just get their frozen ground patties, defrost them, and ground them up in a pan with your $1.25 meat masher.
Done and done.
Dollar Tree Food Hack #4: Keep a Container of Shelf-Stable Milk on Hand
We are a mostly vanilla-almond-milk household.
But sometimes? We like to put whole milk in a recipe (like when baking).
We were buying the smallest containers of whole milk we could find (and sometimes we'd have to buy a half gallon or even a gallon, since we live in the desert and stuff runs out in our grocery stores) and then wasting too much of it for my liking.
Instead, I now buy a $1.25 shelf-stable container of whole milk from the Dollar Tree. When I need it, I just pull it out of the pantry (I was hesitant at first to use shelf-stable milk, but I can confidently say it tastes exactly like the "regular" thing).
I use what I need, then freeze the small container box until the next time we need a cup of milk or so. It's worked beautifully.
Could also be a great staple for cheap pantry meal ideas.
Does your family normally drink milk? Keep a box of shelf-stable, whole milk in your pantry. The next time you run out, just go to your pantry instead of driving to the store on the way home from work.
Time AND money saved.
Psst: oh yeah…did you know you can take your partner on a dollar store date night? Yup – it's a thing.
Dollar Tree Food Hack #5: Get Frozen Fruits
Frozen fruits are actually just as healthy as fresh ones (a fact we learned after moving to the desert and being less-than-thrilled with the fresh fruit options/quick spoilage out here).
Hint: fresh fruit that takes forever to ship somewhere, like the desert, does not retain all its nutritional value, while frozen fruit is frozen right after being picked, so it does.
Even better? You pay about 12.5¢/ounce for frozen fruit at the Dollar Tree, and anywhere between 14¢ to 36.5¢/ounce at Walmart.
That's a win in my book!
Psst: You'll definitely want to check out my Dollar Tree Meal Plan for 2 ($37.50 for the week, with no beans & rice), and my Dollar Tree Lunch Ideas ($18.75 for a week of lunches).
Dollar Tree Food Hack #6: Cut their French Fries into thirds for "Hash Browns"
Does the Dollar Tree sell hash browns or tater tots? Nope.
But That Lisa Dawn came up with a great food hack: cut their frozen French fries into thirds to make some hash browns (or tater tots).
You can then use your "tater tots" for dishes like:
Tater tot casseroles
Totchos
Hashes
Etc.
Here's her video on eating a whole week, for 2 (including a meal around her hack), for just $20 from the Dollar Tree.
Psst: want more meal ideas? Here's my $37.50/week/2 people Dollar Tree Menu Plan ideas.
Dollar Tree Hack #7: Know the Fats You Can Use in Cooking
As of the writing of this, there is no butter to be found at Dollar Tree (comment below if you have the unicorn Dollar Tree that offers this!).
So, what are you supposed to do when you need a fat in your cooking, especially if you're doing ALL your grocery shopping from the Dollar Tree (some people do this and not just because of money – because there are no other food sources near them)?
Your fat choices can be things like:
Leftover grease from when you cook pork sausage (like in these Dollar Tree Menu Plan recipes) – this works in some recipes very well, but not in others
Shortening (I found a small container of shortening in one Dollar Tree, but not in each around us)
Oils (they sell a really small olive oil, or a soybean/olive oil mix (hint: it's likely mostly soybean oil)
Now, let's try to answer a question a lot of people have (I once did, too!): whether or not Dollar Tree food is safe to eat.
Is Dollar Tree Food Safe?
I am by no means a health expert.
However, there are some things that I look for when I'm determining if food is safe.
For example, I like to look for cans that are BPA-free. I like as few chemicals and "non-food" ingredients on labels as possible. And I don't like "fake" versions of food products (we'll talk about that in a minute).
Over the last few months of diving into Dollar Tree grocery shopping, I've paid particular attention to the labels and products.
And let me tell you – I personally think much of the food at the Dollar Tree is "safe", and certainly safe enough for me and my family to eat.
Here's what I've found:
Many of the cans at the Dollar Tree have BPA-Free on them, which I was pleasantly surprised to find.
There are multiple choices and brands for products, so don't assume that because one choice has chemicals you want to stay away from in it, the other one does, too. For example, I noticed there were two brands of single-serve fruit cups, with 3 packs each. But one had carrageenan in it, and one did not (the mixed fruit did, and the one with just oranges had a very clean ingredient list).
There are fake versions of cheese at the Dollar Tree. They will usually say a term after the word "cheese" such as "shreds" or "product", because the FDA has a very strict definition of what cheese actually is. (Hint: Lakeview is the brand of real cheese that I found there).
Frozen fruits and veggies just have the fruit or veggie as the only ingredient. That's a nice, clean ingredient list in my book!
You definitely want to do your own research (here's an article on how to find the companies behind the private labels at Dollar Tree to help), and you super-definitely want to read the labels.
As for me and my family? Well, I feel good about the ingredients I've been buying at the Dollar Tree, and will continue to do so.
That's a wrap on my favorite Dollar Tree food hacks so far – but keep poppin' back in, as occasionally I'll add more to this article when I pick up new tips and ways to use all the $1.25-ingredients they've got.
The following two tabs change content below.
Amanda L. Grossman is a writer and Certified Financial Education Instructor, Plutus Foundation Grant Recipient, and founder of Frugal Confessions. Over the last 13 years, her money work has helped people with how to save money and how to manage money. She's been featured in the Wall Street Journal, Kiplinger, Washington Post, U.S. News & World Report, Business Insider, LifeHacker, Real Simple Magazine, Woman's World, Woman's Day, ABC 13 Houston, Keybank, and more.
Read more here
.
Latest posts by Amanda L Grossman (see all)