Can you create a hot chocolate bar on a budget all from Dollar Tree? Yup. Let me show you how. Serves 12.
My husband and son are hot chocolate aficionados. Soooo, when I was in the Dollar Tree the other day, I thought, "why don't I surprise them with a hot chocolate bar on a budget?"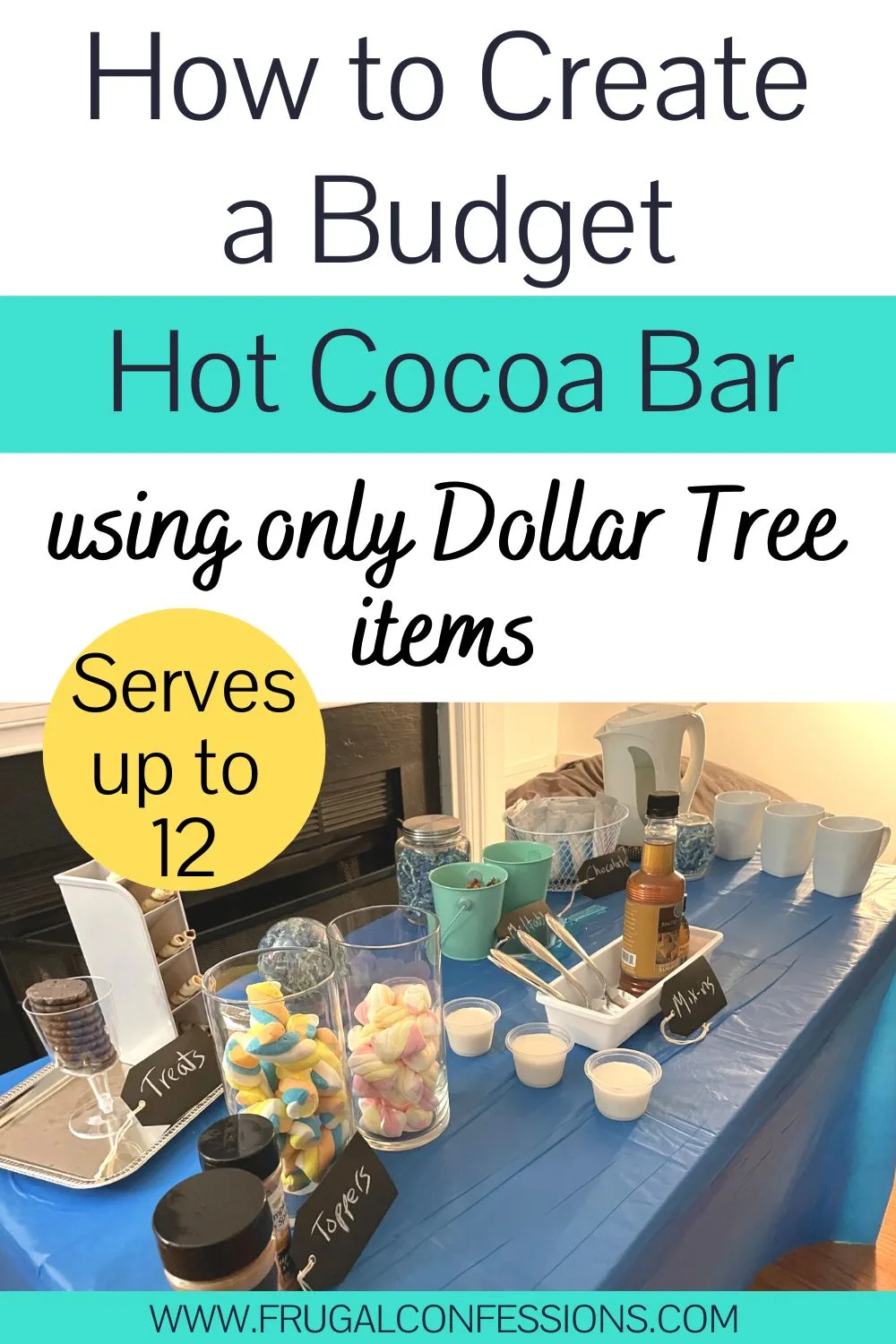 Turns out, the Dollar Tree has everything we could possibly want to pull one off for cheap.
Let me show you some great hot chocolate bar supplies you'll want to build your own DIY hot chocolate bar.
Hot Chocolate Bar on a Budget (Serves 12)
Excited to make your own hot cocoa bar (cheaply)?
Everything you see on the table in the photos below are from Dollar Tree – except the mugs (you can find mason jars there, too), the spoons, and the electric kettle (don't have an electric kettle? You can use a slow cooker as your hot beverage dispenser, too).
If you want to use your own containers? Then you'll pay just $15 for the food you see below.
With containers and decorations, the cost came to $32.50.
Since this would serve 12 people, you could use what I've done (detailed below) to create a:
Hot chocolate bar for a birthday party or themed party
Hot chocolate bar for a family date night
Hot chocolate bar for a Christmas gathering or holiday parties
And so much more.
I found two types of hot cocoa mixes at the Dollar Tree (either milk chocolate or milk chocolate with marshmallows). So, not a lot of variety there.
The real variety comes with all of the toppings, "meltables", and such that you set up at your hot chocolate station.
Here's how I divided the table sections up (I used chalkboard tags found in their craft aisle to label each of these sections).
Hot Chocolate Bar Toppings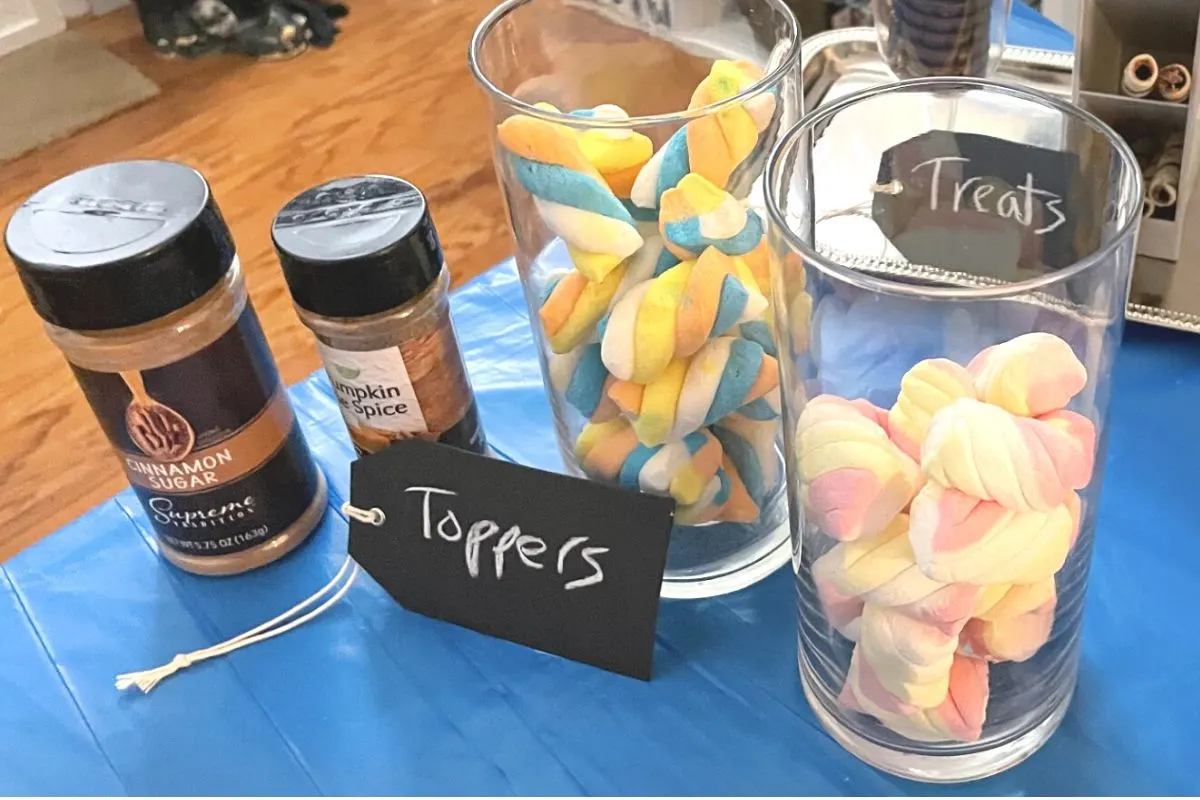 Honestly, there are so many different toppings you can find at the dollar store. Some are must-have toppings in our family (like marshmallows), and others are just nice-to-have's.
I called these "Toppers", and included:
Blue Unicorn Twist Marshmallows
Pink Unicorn Twist Marshmallows
Cinnamon & Sugar mix
Pumpkin Pie Spice
Hot Chocolate Bar Mix-Ins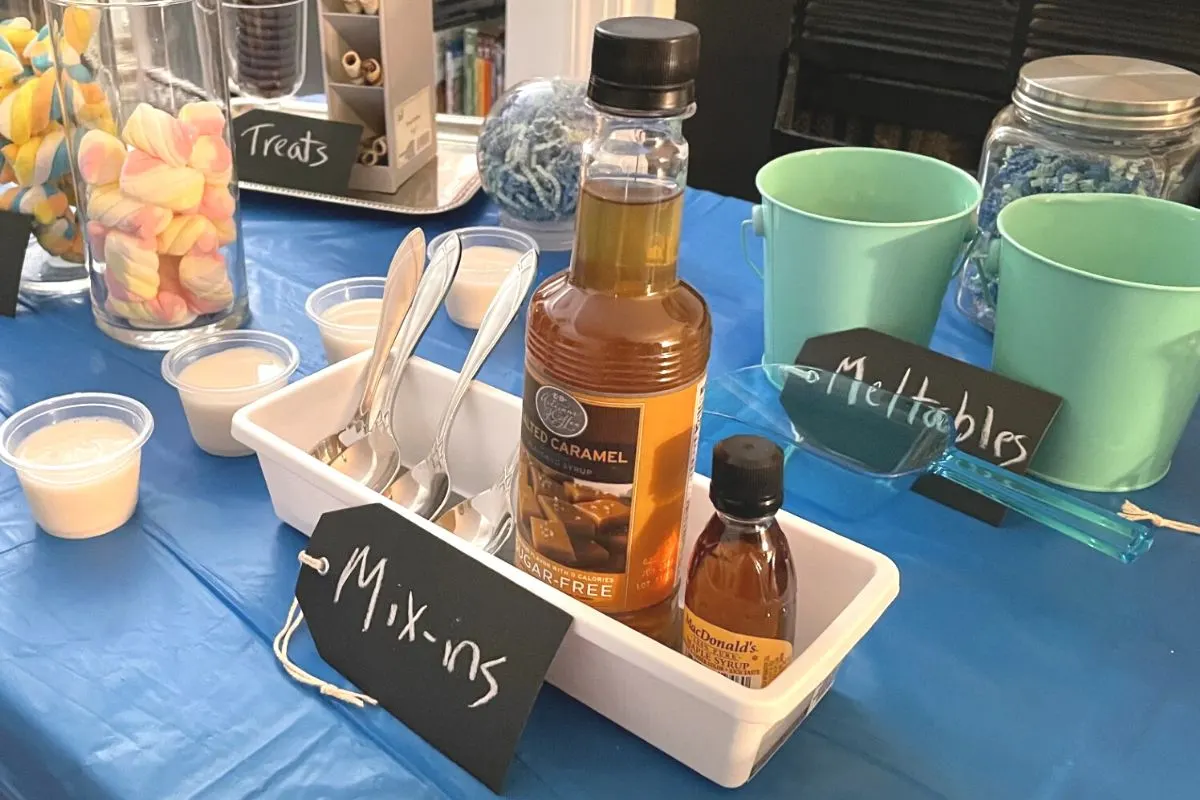 There's a surprising selection of items at the Dollar Tree I would consider great for a Hot Chocolate Bar.
Including:
Salted Caramel syrup
Maple syrup (my son loved adding this to his!)
Almond milk/Oat milk/Whole milk (pictured is the almond milk – it's our take on heavy cream)
Milk shooters (those little plastic cups of milk) are also good when you've got kids who want to drink their hot chocolate right away – they cool the hot water down and are easy to pour.
Hot Chocolate Bar Meltables
Yep – I called a section of the Hot Chocolate Bar "Meltables".
That's because I found two ingredients at the Dollar Tree that I was pretty sure would a) melt well in hot water, and b) really enhance the flavor.
And I was correct!
Those two ingredients are:
Dinner Mints (these were our favorite – you'll likely find candy canes as we get closer to the holiday season, if you prefer those)
Coffee Delights (yes, there is real coffee in these)
Hot Chocolate Bar Treats
Last but not least, I decided to add a few treats for us to nibble on as well.
From Dollar Tree, I purchased the Fudge Mint cookies (these sell out quickly at our local store because they are just that dang good), and Pirouline Chocolate Hazelnut cookies that dubbed as stirrers.
Delicious Hot Chocolate Recipe
My husband and son came up with some yummy hot chocolates, and I thought I would share a few variations for you based on these ingredients!
Here's my son's new favorite: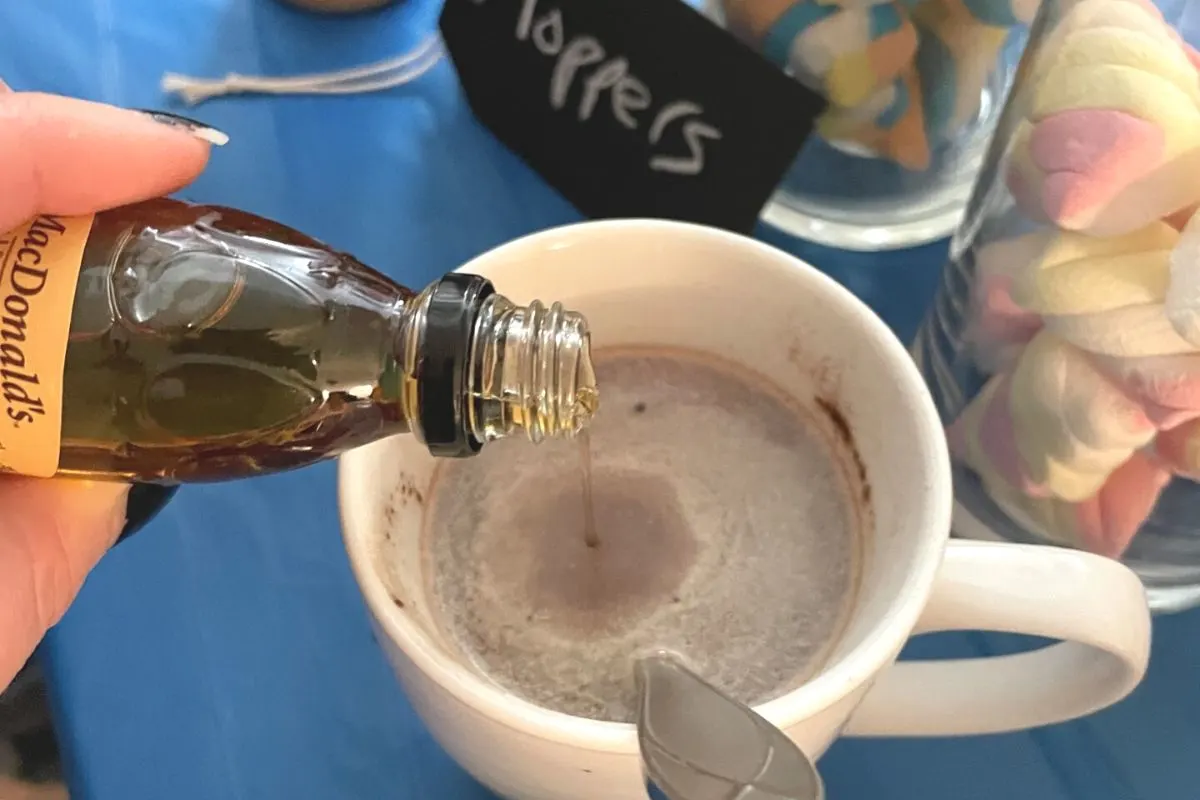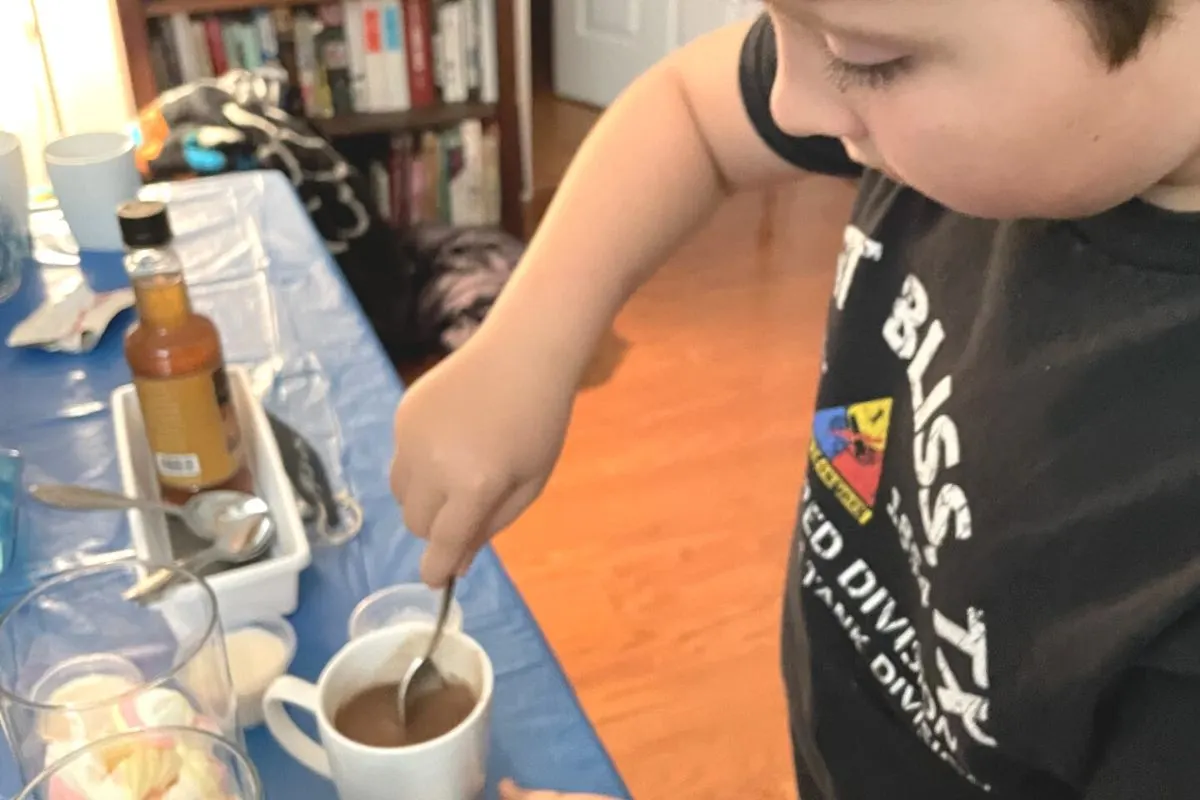 1 Swiss Miss Milk Chocolate Pack
6 oz. hot water
2 oz. almond milk
Dab of maple syrup
And my favorite hot cocoa recipe? Here you go: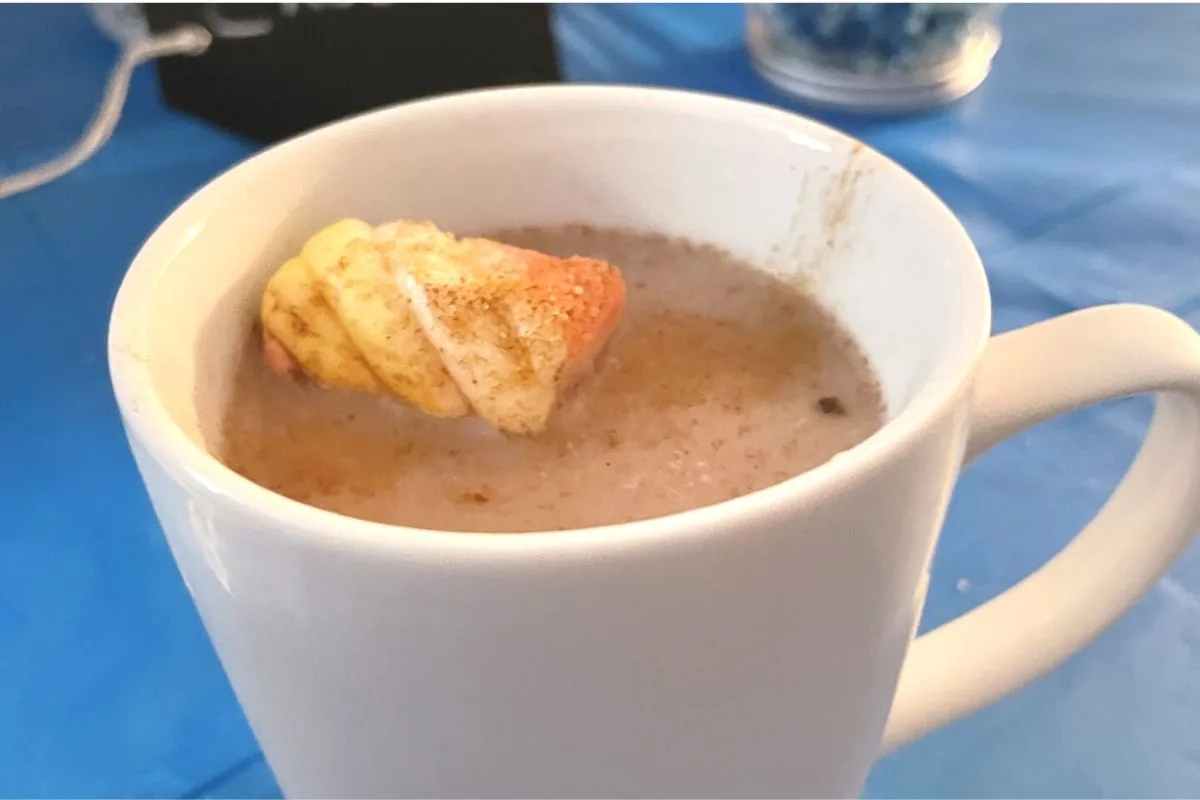 1 Swiss Miss Milk Chocolate Pack
6 oz. hot water
2 oz. almond milk
1 dinner mint, stirred around
Unicorn marshmallow
Sprinkling of cinnamon & sugar
Go ahead – put together one of these hot chocolate bar ideas for your family or for a party, grab a cup of hot chocolate created around your personal tastes, and relax for the evening.
The following two tabs change content below.
Amanda L. Grossman is a writer and Certified Financial Education Instructor, Plutus Foundation Grant Recipient, and founder of Frugal Confessions. Over the last 13 years, her money work has helped people with how to save money and how to manage money. She's been featured in the Wall Street Journal, Kiplinger, Washington Post, U.S. News & World Report, Business Insider, LifeHacker, Real Simple Magazine, Woman's World, Woman's Day, ABC 13 Houston, Keybank, and more.
Read more here
.
Latest posts by Amanda L Grossman (see all)