Love charcuterie boards but can't stand the cost? Check out these fun-themed Dollar Tree Charcuterie board ideas.
Dollar Tree charcuterie board ideas?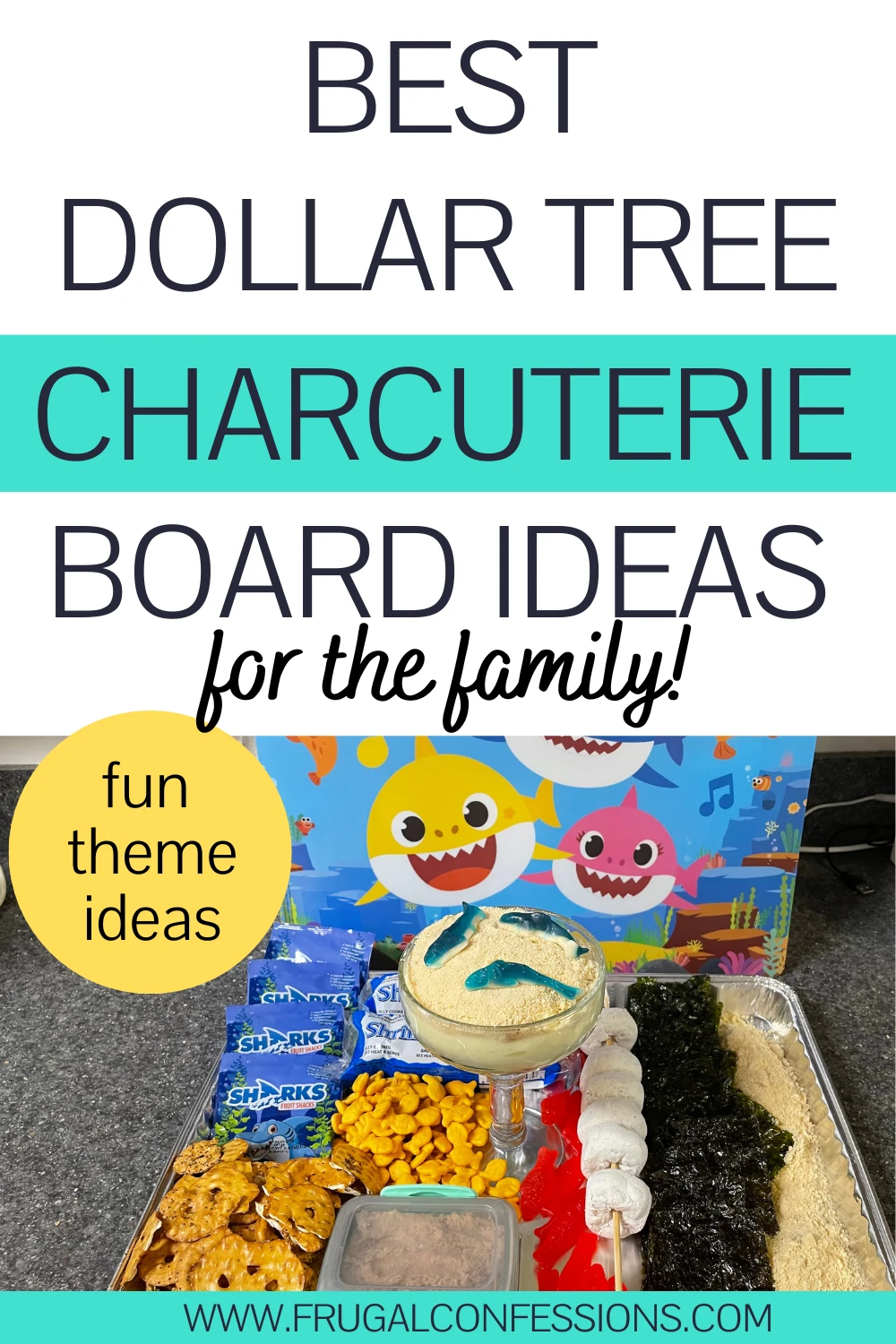 Yup – especially when charcuterie boards are soooo fun to shop for, assemble, and graze from, but they can double your food bill at the grocery store (seriously – some of those Pinterest boards could feed a block party and eat through a whole paycheck).
Check out these fun themes I came up with below – all tested out by our family, and all from the Dollar Tree.
Dollar Tree Charcuterie Board Ideas
Need a charcuterie board for a family gathering, an at-home date night, or a casual evening in?
You'll find all my best Dollar Tree Charcuterie board ideas.
1. Dollar Tree Sharkuterie Board
Who's into Shark Week? Tuning in to catch a few shark-filled shows is an annual summer tradition in our household.
We also like to do at least one Shark activity during the week (like hunt for shark teeth along the Chesapeake Bay – what we'll be doing next year).
This year, I decided to surprise my husband and son with a Sharkuterie board, straight from the Dollar Tree!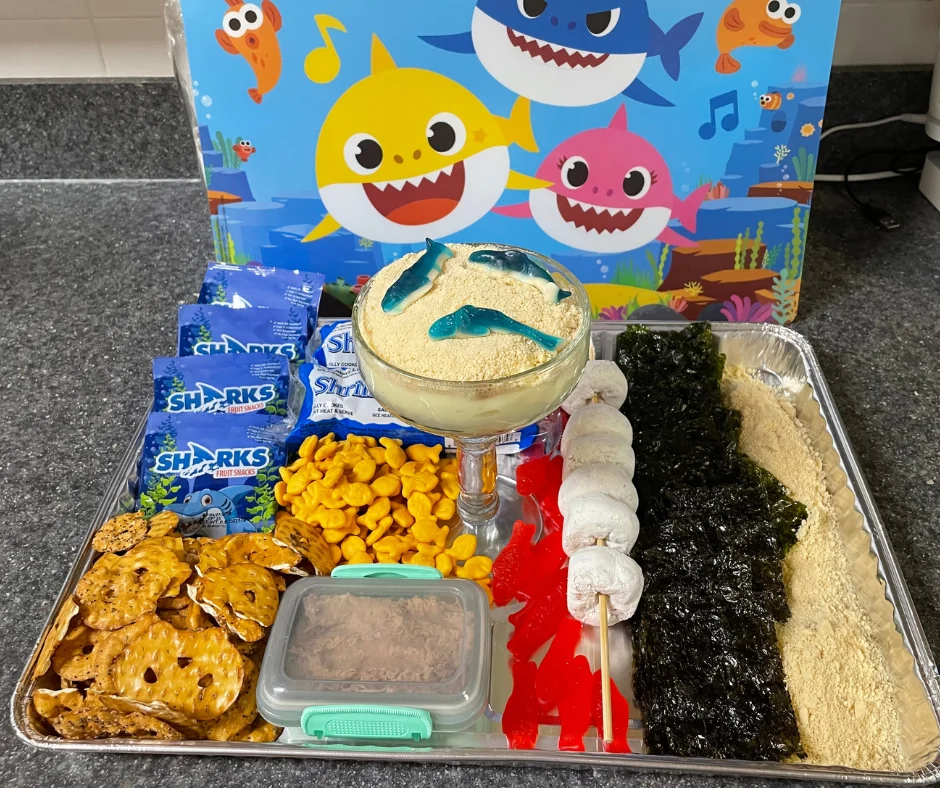 To recreate this one, you'll want to grab a foil pan from the Dollar Tree's kitchen section.
Then fill it with a few, shark and beach-themed foods like:
Shark fruit snacks
Pretzel crisps
Goldfish
Swedish fish
Powdered donuts (kind of like lifesavers? Work with me here…)
Roasted seaweed
Sand (a package of Butter Ring cookies, pulverized in a food processor)
Sand Shark Pudding: Vanilla pudding cups emptied into a large margarita glass cup I found at the Dollar tree, gummy sharks throughout, and some of the "sand" on top)
Tuna fish (can of tuna with relish and mayonnaise, all from the Dollar Tree)
2 Shrimp Egg Rolls
Total Cost: $21.25 (I added in a Shark Baby placemat for fun).
2. 80s Child Charcuterie Snack Board
My husband and I are 80s kids, and after seeing countless snacks and foods that were popular in our childhood while wandering the aisles of my local Dollar Tree one day, I decided to create an 80s-themed Charcuterie snack board.
It was so much fun!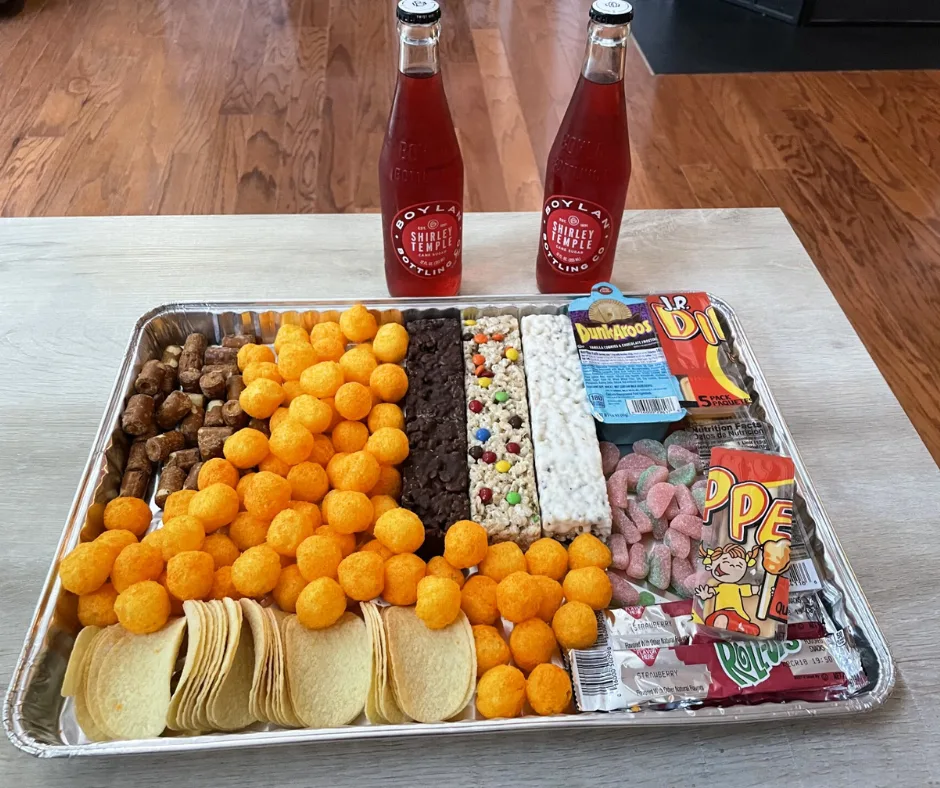 Not only that, but I paired it with a B-rated Shark Thriller movie (also purchased from the Dollar Tree for $1.25), and surprised my husband with a really fun at-home date night. Check out 8 other fun Dollar Tree date nights here.
Score!
Hint: I realize not all of these foods were created in the 80s, but anyone from the 80s would recognize most of these from their childhood. Nostalgic, and fun!
Here's what I filled a Dollar Tree tray with:
2 Shirley Temples
Cheese balls
Pringles
Combos
Fruit Roll-ups
Sour Patch Kids
Dunkaroos
3 varieties of Rice Krispie Treats
2 Hot Pockets (not shown)
I mean…can you believe all this is at the Dollar Tree?!? It's basically a tray full of the foods I was never allowed to eat as a kid!
Super fun.
Total Cost: $16.25
3. Classic Charcuterie Board, Dollar-Tree Style
Looking for a more classic charcuterie experience from the Dollar Tree?
Cool. Those can get expensive, fast, from a traditional store.
But look at all the variety on this board I was able to make from the Dollar Tree!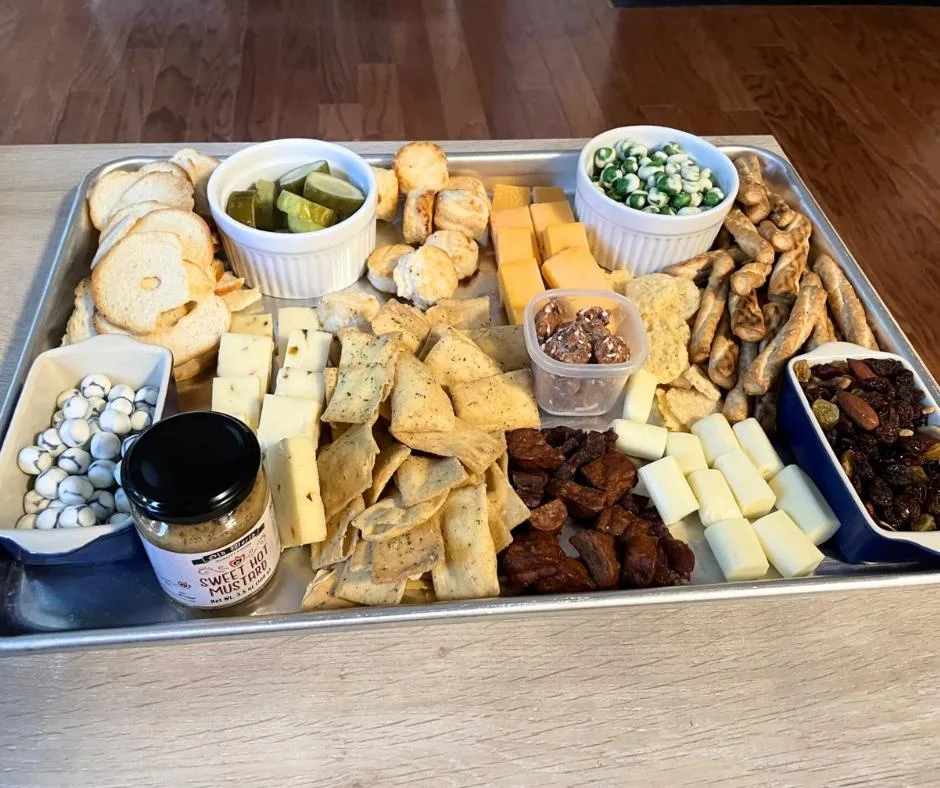 Garlic bagel chips
Mild cheddar cheese (yes, it's real cheese!)
Jalapeno cheese
Mozzarella cheese sticks (I cut them up)
Trail mix
Coconut-covered macaroons
Honeywheat pretzel twists
Garlic Pita Crisps
Sweet Hot Mustard
Wasabi peas
Dill pickle bites
Turkey jerky
Coconut-covered pecans
Yogurt-covered blueberries
Parmesan Whisps
Total Cost: $18.75
At these prices and with so much variety to choose from, you might even want to make your own Superbowl party tray from the Dollar Tree.
And there you have it – which Dollar Tree charcuterie board idea are you most excited to try? Come back again, as I'm still having fun figuring out new themes for cheap charcuterie boards.
The following two tabs change content below.
Amanda L. Grossman is a writer and Certified Financial Education Instructor, Plutus Foundation Grant Recipient, and founder of Frugal Confessions. Over the last 13 years, her money work has helped people with how to save money and how to manage money. She's been featured in the Wall Street Journal, Kiplinger, Washington Post, U.S. News & World Report, Business Insider, LifeHacker, Real Simple Magazine, Woman's World, Woman's Day, ABC 13 Houston, Keybank, and more.
Read more here
.
Latest posts by Amanda L Grossman (see all)