Figuring out USAA eligibility can be really tricky. Let me help you determine if you're eligible to join USAA, and how you can pass your membership onto the next generation.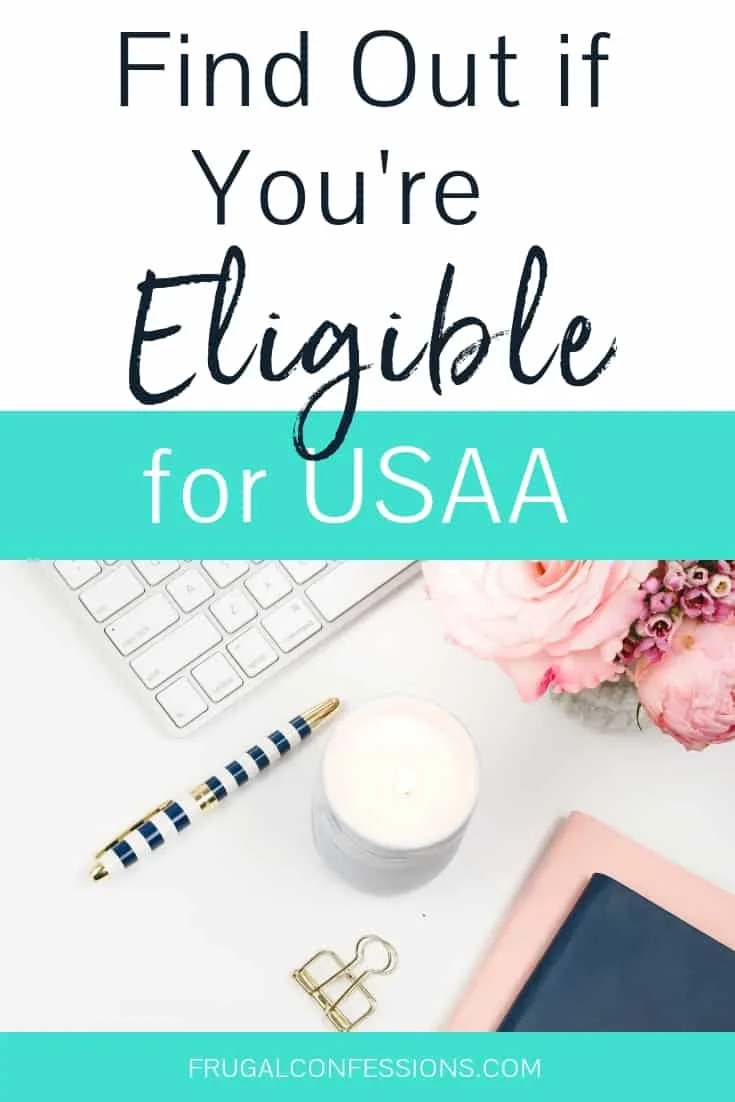 USAA has some serious perks to membership, which is why you definitely want to check out your USAA eligibility status.
For example, my husband and I just switched our auto and homeowner's insurance over to USAA after getting a quote that is a crazy $1,600 less than what we've been paying annually for the last few years!
Let me go through USAA eligibility requirements, how it passes from generation to generation, how it doesn't pass, and perks of membership.
USAA Eligibility Requirements
Here are the guidelines for USAA eligibility:
Active Military Member: If you're currently serving in the U.S. Air Force, Army, Coast Guard, Marines or Navy, you can apply!
Former Military Member: Veterans of these service branches who have separated are also eligible for membership (so long as the discharge type is Honorable).
Family Member of Military Person: For this category, you need to be, "Widows, widowers and un-remarried former spouses of USAA members who joined USAA prior to or during the marriage and individuals whose parents joined USAA." Note that membership goes vertically, downwards, or horizontally to your spouse. It doesn't pass vertically upwards (so, if you're the eligible person who joins USAA, your grandfather or parents wouldn't be able to join), and it doesn't go horizontally to siblings, cousins, etc.
Cadet or Midshipmen: If you're a Cadet/Midshipmen at a U.S. Service Academy, in advanced ROTC or on ROTC scholarship, or an officer candidate within 24 months of commissioning, then you can apply for membership.
✅Associated with the military? I've got a unique opportunity exclusive to the Military community (including spouses and vets) – earn gift cards and other rewards by taking surveys, plus chat with like-minded people. Find out if you're eligible, here.
If you want to check FOR SURE if you're eligible, you can go here and fill out the information (it's free).
Can I Join USAA if My Sister is a Member? — USAA Eligibility Siblings
Wondering about USAA eligibility for siblings?
I called USAA up to get the lowdown, and was told that membership does not go horizontally (except to a spouse), it only passes vertically (vertically down, that is, not vertically up) .
This means that no, you cannot give your siblings USAA eligibility. If your sister is a member, that does not mean you are eligible to become a member.
Are Grandchildren Eligible for USAA?
Yes – but with a caveat.
Grandchildren are eligible for USAA membership, but only if their parents (the son/daughter of the grandparent who served in the military/met the eligibility requirements from above) established a membership with USAA.
Does your Mom or Dad have USAA membership, established thanks to your grandparent? Then you can get membership.
Your grandparent never signed up for USAA? You'll need to do the following before you become eligible for USAA membership:
Have your grandparent sign up for USAA membership
Have your parent sign up for USAA membership
USAA Eligibility Grandfather
Are you wondering whether or not your grandfather would be eligible for USAA membership through your own service?
No. The membership is limited to direct family lines, so spouses go to spouses, then down to children. Can't go upwards, or laterally (, just downwards.
USAA Eligibility Deceased Parent
Do you have a deceased parent who was eligible to join USAA, and you're wondering if you can join USAA?
If they established membership with USAA, then yes, you are eligible to join (even if they're deceased).
However, if they never became members with USAA, then you are not eligible to become a member, either.
Psst: by the way, they have to have had at least an insurance account with USAA in order for you to be eligible. They don't have to have auto or property insurance, but some sort of insurance (like life insurance or VPP Valuable Personal Property Insurance). If they only had a savings or checking account or something like that, they you are not eligible for membership.
Can I Join USAA If My Father was a Veteran?
Three conditions need to be met in order for you to be eligible to join USAA if your father was a veteran.
The first is, that yes, your father was a veteran (meaning, he was eligible to join USAA).
The second is, that your father actually established a membership with USAA.
Your father had some sort of insurance account with USAA (this could be auto, property, Valuable Personal Property, etc.).
If your father is deceased, but never established his membership, then you cannot join.
However, if your father joined USAA and had an insurance account with them, then you are eligible to join – whether he's deceased or alive.
The parent has to get an account with USAA in order for the child to have full membership. If they just join USAA and don't get any accounts, then the child is limited in their membership. In this case, the child will only be eligible for certain benefits, and those don't include insurance or banking accounts.
Who Qualifies for USAA Health Insurance? USAA Insurance Eligibility
Here's a really fun fact: you don't have to have any relationship whatsoever with someone in the military (or be in the military, yourself) for you to get a health insurance plan through USAA.
I go into much more depth in my USAA health insurance review, + USAA Dental Insurance information but here's the quick answer:
You can get a USAA health insurance plan even if:
Your employer offers a plan
You have no military affiliation whatsoever (meaning no family member served, and you never served).
This is because USAA itself does not underwrite their own health insurance plans – they use well-known health insurance companies for this. So, plans are for everyone.
You'll need to get a special kind of USAA membership (it's free) in order to get health insurance plans through them without having any military affiliations, and you'll be limited in your membership status to just certain products.
Benefits of Joining USAA
There are some serious benefits to joining USAA – I'd like to share them with you to get you excited.
Discounts: There are member-only discounts for all sorts of things like travel (car rentals, flights, Member Travel Privileges), online shopping, TurboTax, home security systems, etc.
Rewards: You can get rewarded with cash to use towards shopping/travel/donations through the Member Advantages Loyalty Program. What I love about this program is that you earn the rewards by completing various financial challenges!
Financial Advice: Ask your financial questions in the USAA forum members get access to. You can also get your Financial Readiness Score, have your home value monitored for you, get a property risk assessment, and all kinds of other things.
Access to Services and Products Just for Members: You get access to insurance plans, checking/savings accounts, investment products, and even a Real Estate Rewards Network that non-members do not.
Part Ownership, with Potential Cash-Back: Since USAA is a reciprocal company, each member owns a tiny part of the company. This means that the USAA board gets to decide how to use the amount of income the company earns each year – either to support current goals/mission of the company, or to distribute it out to its members.
Pssst: if you end up having 40 or more years of membership with USAA? Then you could be eligible for what's known as a Senior Bonus distribution amount.
How to Establish Membership So That You Can Pass it On
If you haven't established membership yet – and you're eligible to do so – then you probably want to so that you can make other loved ones eligible for future membership (if they want to join one day, or even if they want to join today).
Here's how to establish your own membership, so that others can become eligible within your family:
Step #1: Determine that You're Eligible
You need to make sure you are, in fact, eligible to join USAA.
To recap, you're eligible to join if you are an:
Active Military Member
Former Military Member
Family Member of Military Person
Cadet or Midshipmen
Step #2: Apply to USAA + Have Your Eligibility Verified (How does USAA Verify Eligibility?)
In order to determine your own eligibility, click here – it's free.
How does USAA verify Eligibility? You'll need to have the following information handy:
Your Information: Your date of birth, contact information, and Social Security Number.
Military Service Details: You'll need some details about you or your family member's military service. Military verification can include one of the following documents – DD214 Member 4 Copy (including discharge type), Discharge certificate, Leave and Earning Statement (LES), Military orders (if you're actively serving), NGB22, or Academy appointment letter/ROTC contract. You'll need a photo ID as well, such as a driver's license, a state-issued ID, or a passport.
For Non-U.S. Citizens: You'll need your passport or a permanent resident card.
Step #3: Sign up for an Insurance Product/Account
Whether or not you can pass membership onto someone else depends on you signing up for an insurance product with USAA.
So, this step is important!
You can sign up for:
Hint: we switched to USAA last year for auto and property insurance. We saved a WHOPPING $1,600 annually from our last insurance provider! I knew we were being overcharged.
Remember that it pays to establish membership within a family. Once a person joins, they don't lose coverage (even if the person who made them eligible to join passes away). Then, they can pass on the membership to their family members, despite having never served in the military! What a nice chain of options it creates.
The following two tabs change content below.
Amanda L. Grossman is a writer and Certified Financial Education Instructor, Plutus Foundation Grant Recipient, and founder of Frugal Confessions. Over the last 13 years, her money work has helped people with how to save money and how to manage money. She's been featured in the Wall Street Journal, Kiplinger, Washington Post, U.S. News & World Report, Business Insider, LifeHacker, Real Simple Magazine, Woman's World, Woman's Day, ABC 13 Houston, Keybank, and more.
Read more here
.
Latest posts by Amanda L Grossman (see all)