Yummy + healthy snacks from Dollar Tree to stash in your desk drawer, or keep at home and eat throughout the week.
Healthy snacks from Dollar Tree…is that even possible?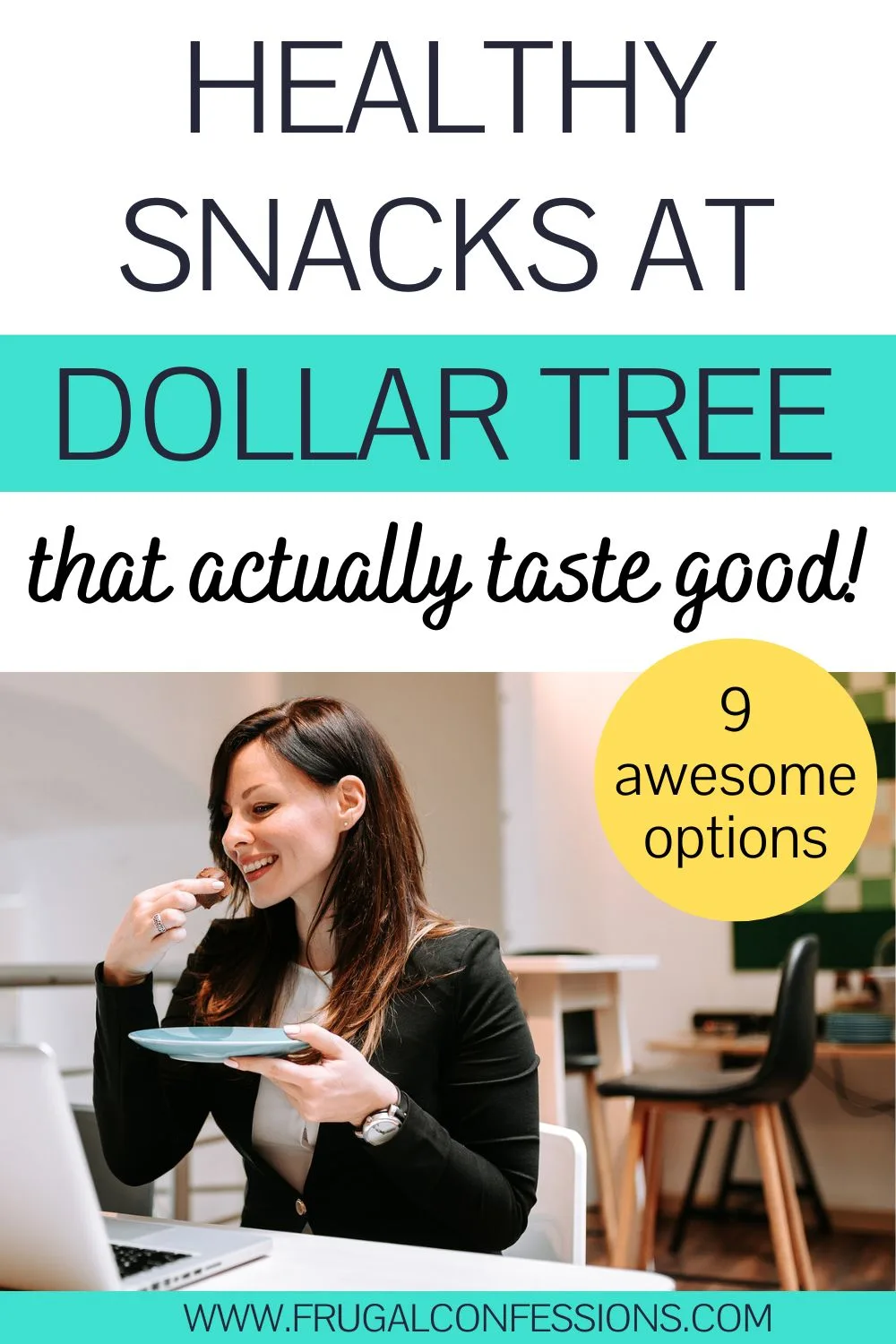 You bet.
Granted, with all the diet fads and eating plan needs out there, defining something as "healthy" can be different for everyone.
SO, all the healthy Dollar Tree snack formulas below meet at least one of these:
Few ingredients that are "clean" or as possible to whole ingredients as possible
Higher protein, lower carbs
"Superfood" with great nutrients in it
Is a better alternative to lots of other, less healthy, snacks out there
Healthy Snacks from Dollar Tree
I've been eating snacks from the Dollar Tree for months, and it's time for me to spill the (protein-rich) beans on my faves.
These would also be great for college students, at the work office, and so much more.
There's sweet, there's savory…there's something for everyone.
1. Rice Sticks + Peanut Butter, Dipped in Crushed Walnuts
Ingredients: Crunchy Rice Rolls, Crunchy Peanut Butter, Maple Walnuts
Total Cost: $3.75
Total Servings: 3-4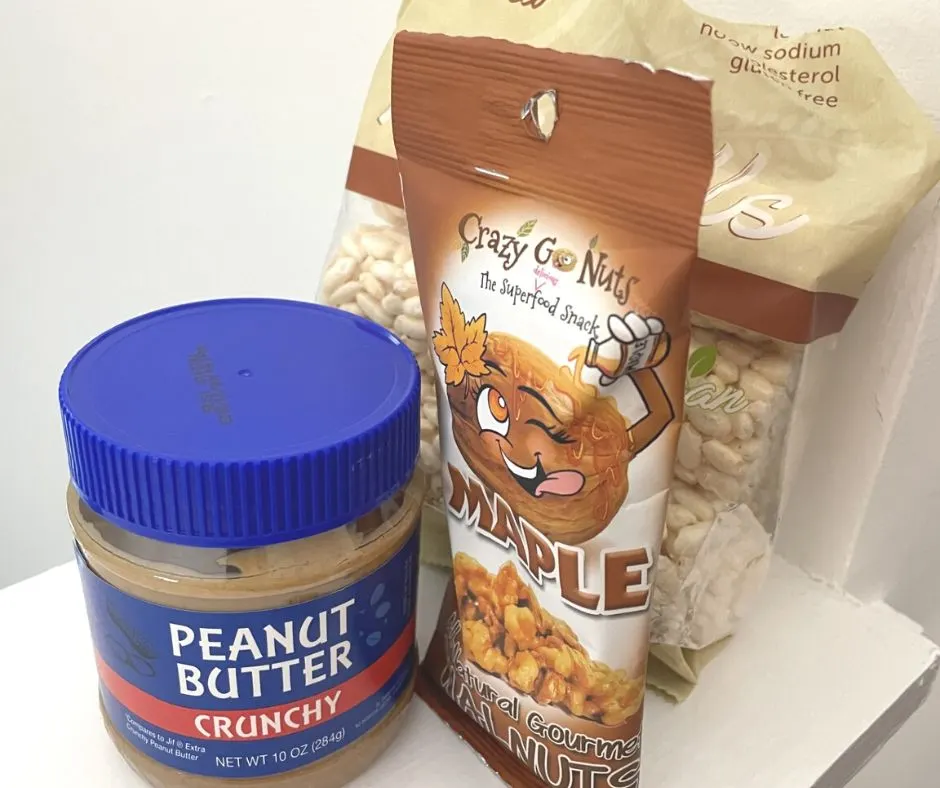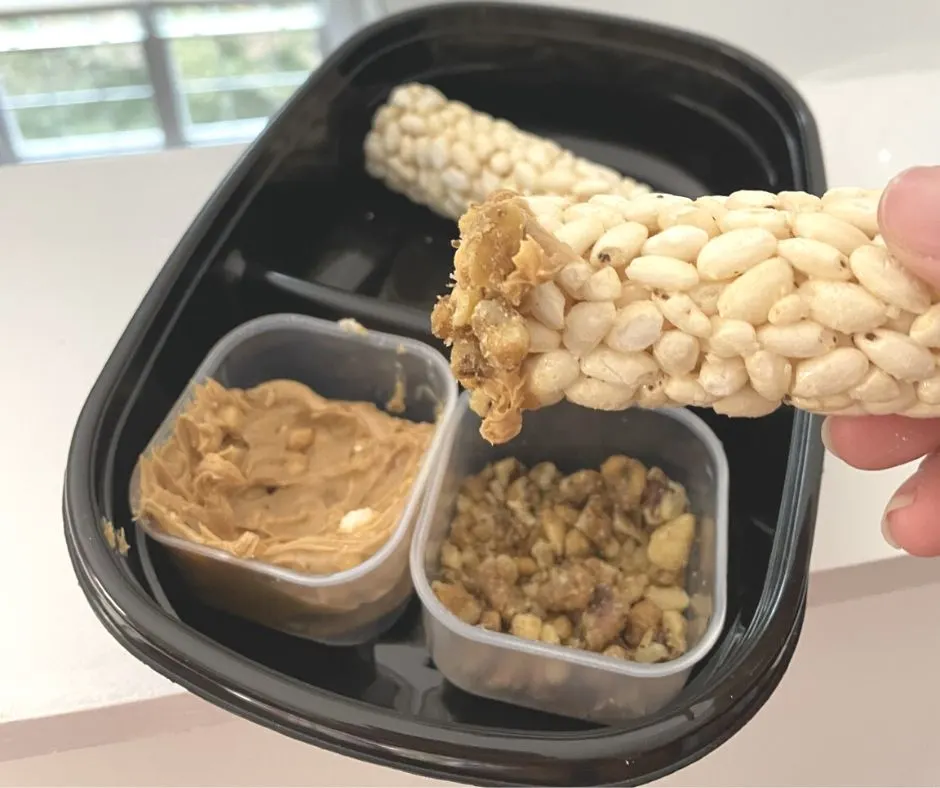 Oh my gosh. This could be my new favorite snack.
Seriously.
The rice sticks are slightly sweet. When you dip them in the crunchy peanut butter and crushed maple walnuts (all from the Dollar Tree)?
It takes them over the top.
I could eat this snack everyday, around 2:00 p.m.
Hint: see those two blue small containers in there? I found that the surefresh small condiments containers don't fit into this one. These are from the craft section – and they're food grade plastic (there's a "5" on the bottom).
2. "Walking" Pumpkin-Spiced Walnut Cheerios
Ingredients: 1 bag of cheerios, 1 bag of maple walnuts, 1 container of pumpkin pie spice OR Ground Cinnamon
Total Cost: $3.75
Total Servings: 2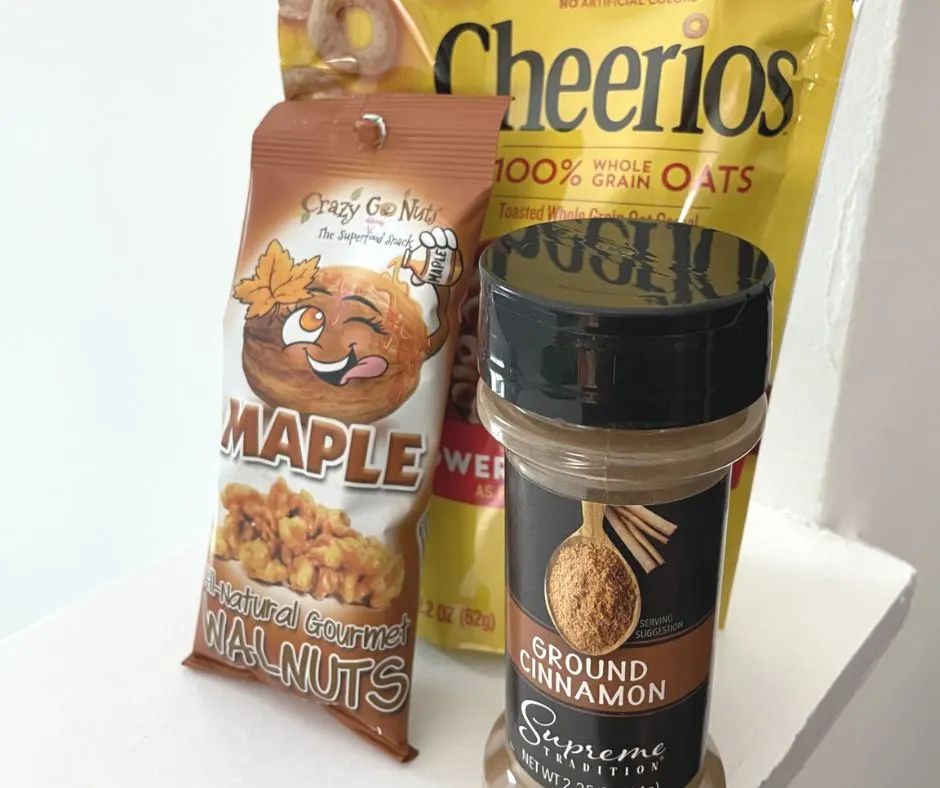 You're hungry for a snack, and want to run into a Dollar Tree for something cheap.
Awesome – this is the snack for you!
Just buy a bag of cheerios, maple walnuts, and pumpkin pie spice (or ground cinnamon).
Open the bag of cheerios, pour in the walnuts, tap the pumpkin pie spice over the bag a few times, then pinch the top closed and shake it up.
YUM. Makes 2 servings (though if you're like me…you might just eat the whole thing in one sitting).
3. Jerky Snack Pack
Ingredients: 1 peppered beef jerky, 1 bag of dry roasted Edamame, 1 teriyaki roasted seaweed
Total Cost: $3.75
Total Servings: 1-2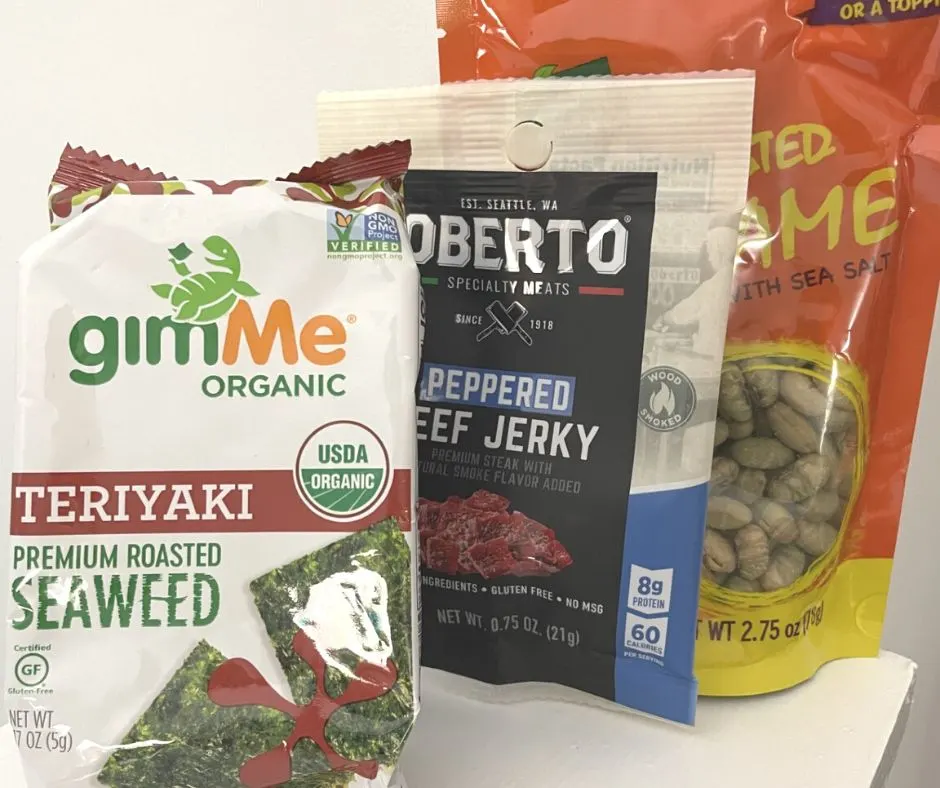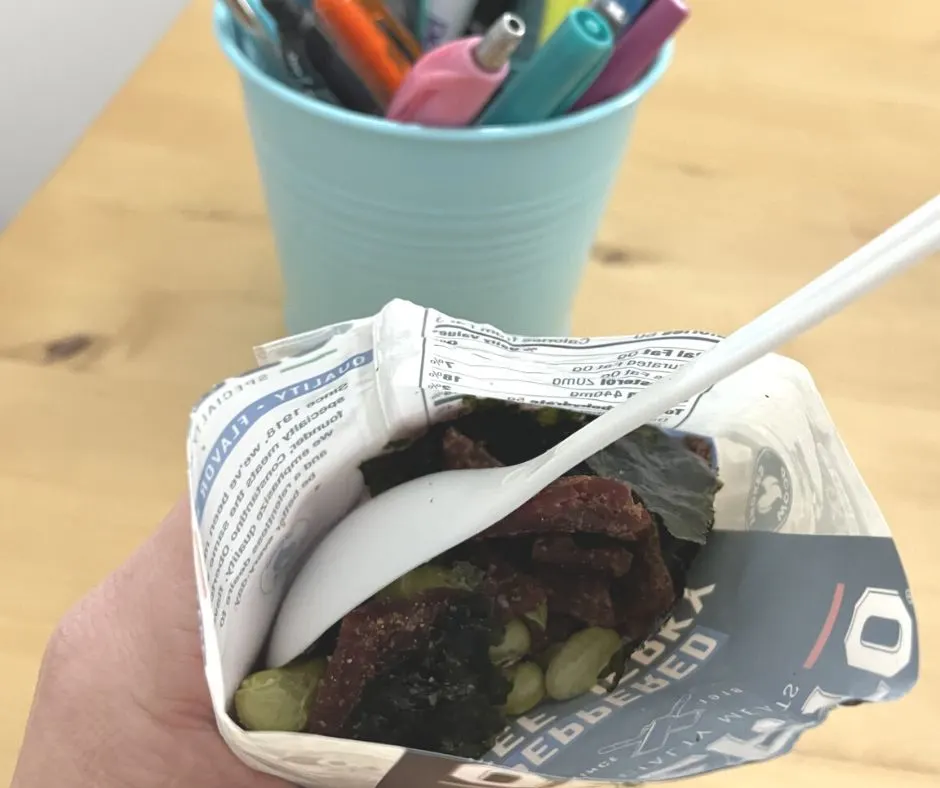 There's like a wall of jerkies at the Dollar Tree (who knew?).
And since they are high in protein, I wanted to make a snack pack with one.
Gather your three ingredients and:
Open the package of jerky
Pour in as many edamame as you'd like
Tear up as many seaweed pieces as you'd like and put those into the bag
Stir it around
And eat!
4. Bahama Ginger-Coconut Trail Mix (Bahama-Mama Ginger Mix)
Ingredients: Dried mango, dried pineapple, crushed ginger snap cookies, coconut flakes
Total Cost: $3.75
Total Servings: 3-4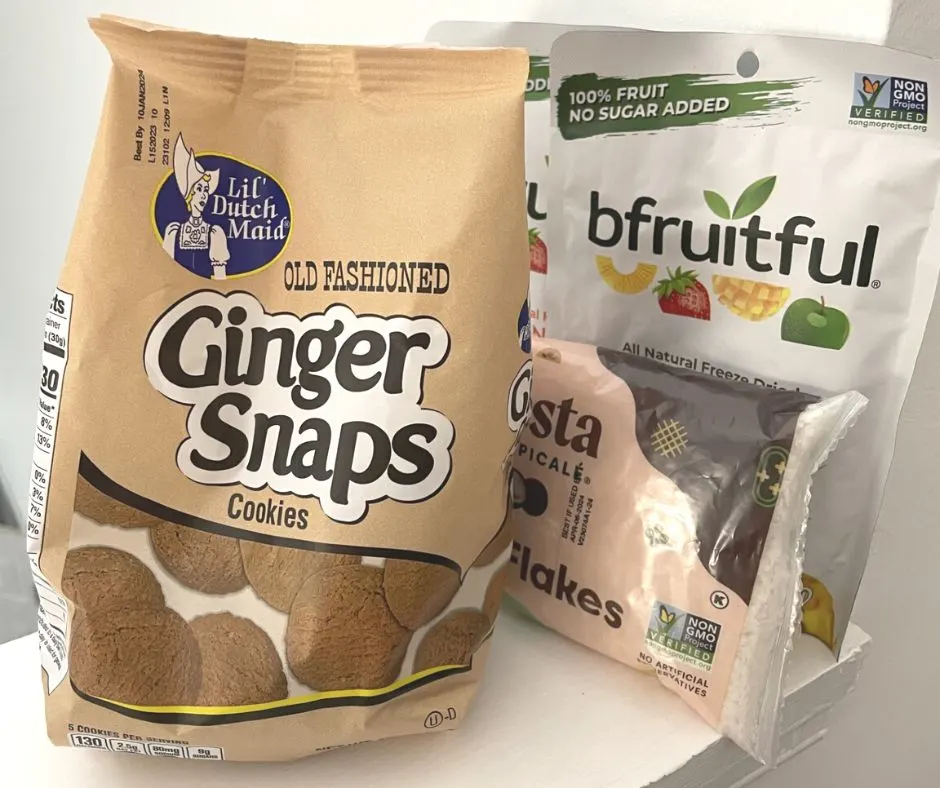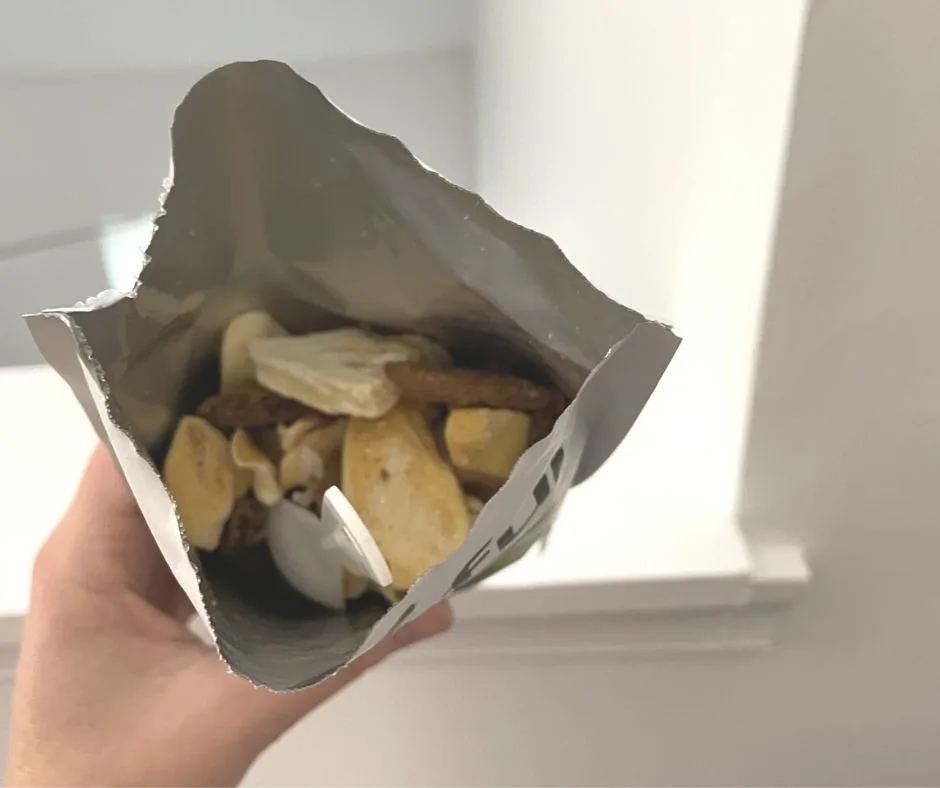 There are several different companies offering dried fruit at the Dollar Tree.
I chose the bfruitful company's products because they literally only have one ingredient: whatever dried fruit you're eating.
The dried pineapples only have pineapples in the ingredients. The dried mangos only have mangos.
It's a beautiful thing.
Here's how to make this yummy treat (that ginger, yo'! It makes this snack):
Open one of the bags of dried fruit
Pour the other bag of dried fruit into it (there's enough space)
Crush some ginger snap cookies, and put those in
Put in as much coconut flakes as you'd like
Pinch the top closed and shake it up
Eat 1/3 of the bag (or ½ – your choice)
5. Veggie Chips + Cheese Crisps
Ingredients: Samai Veggie Chips, Whisps Cheese Crisps
Total Cost: $2.50
Total Servings: 2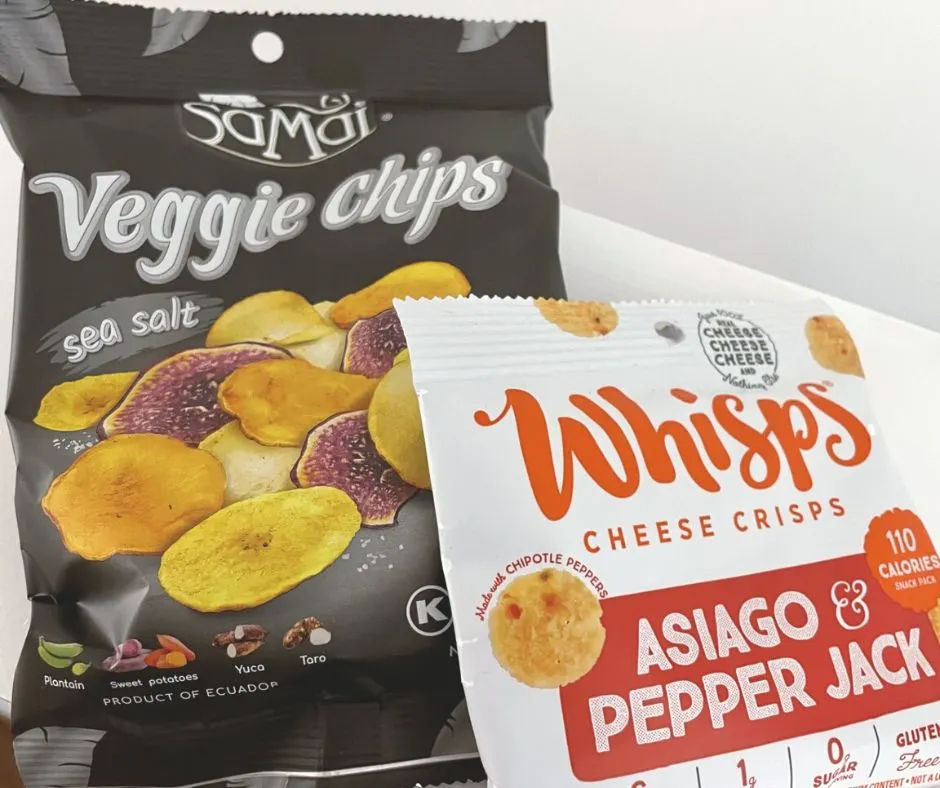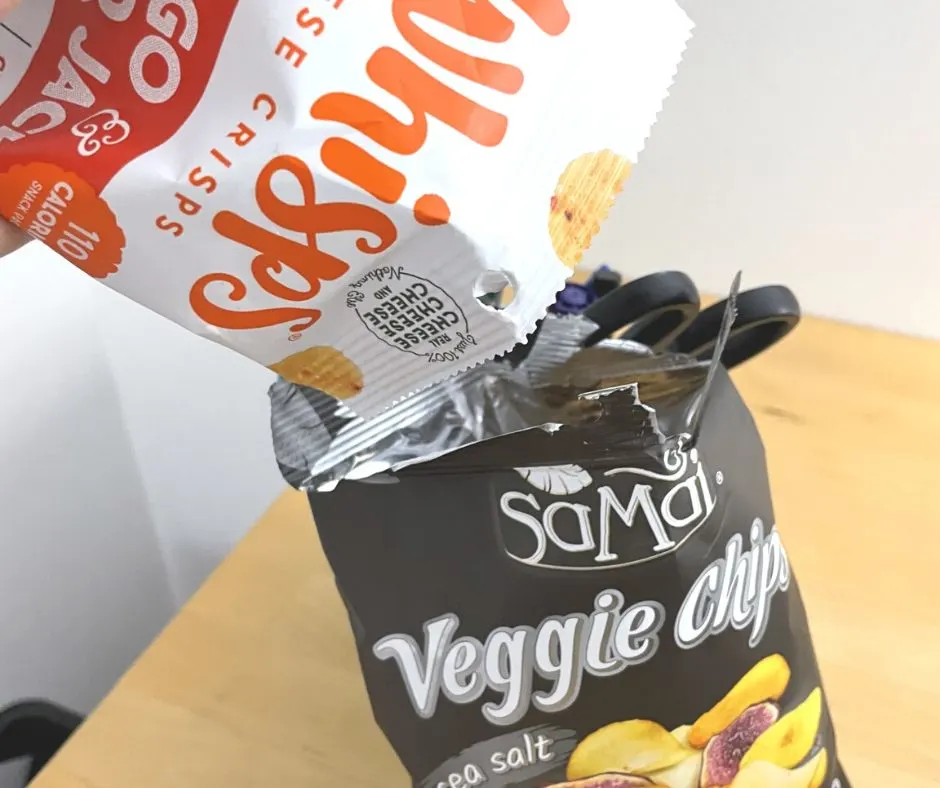 Veggie chips, alone, don't have much protein in them (and no calcium).
SO, I started buying a package of Whisps (either the Parmesan or the Asiago & Pepper Jack kind if you want a little kick), and dumping it into the veggie chips bag.
Shake, then eat half of it (if you can!) for a serving.
Like these ideas? You'll love my Dollar Tree dinner ideas, and Dollar Tree Meal Plan for 2.
6. Nutty Tropical Fruit Salad
Ingredients: Cherry Mixed Fruit containers (4 in a package), 1 Imperial Nut Energy Blend, 2 tbsps. Coconut Flakes, ½ container of Margareta's Tapioca Pudding (in refrigerated section)
Total Cost: $5.00
Total Servings: 3-4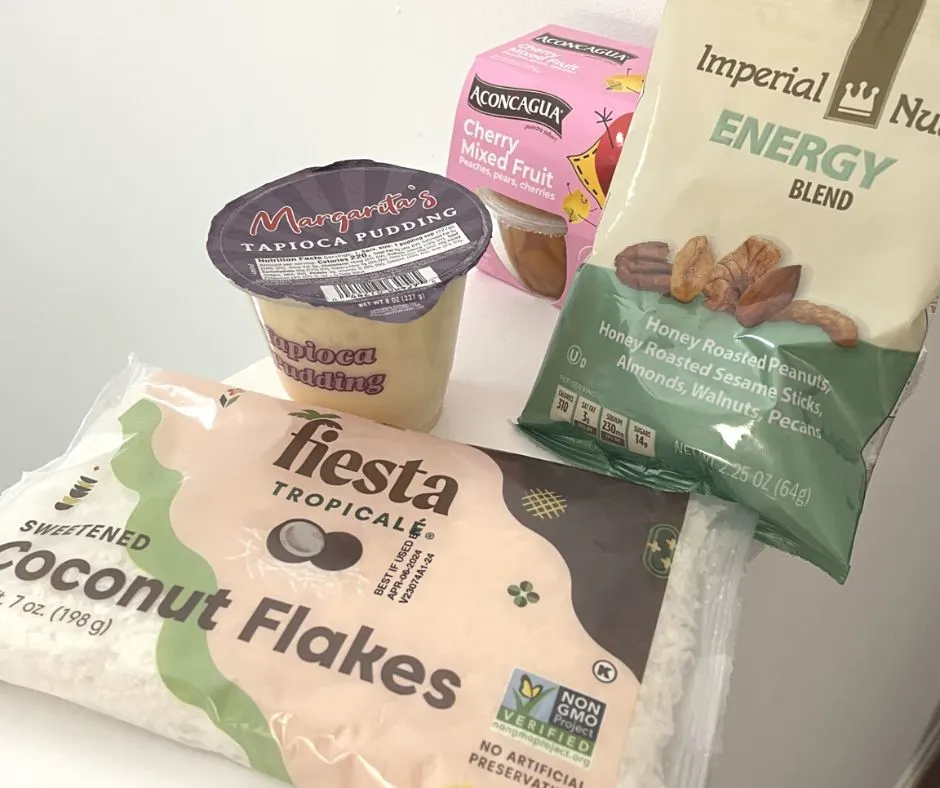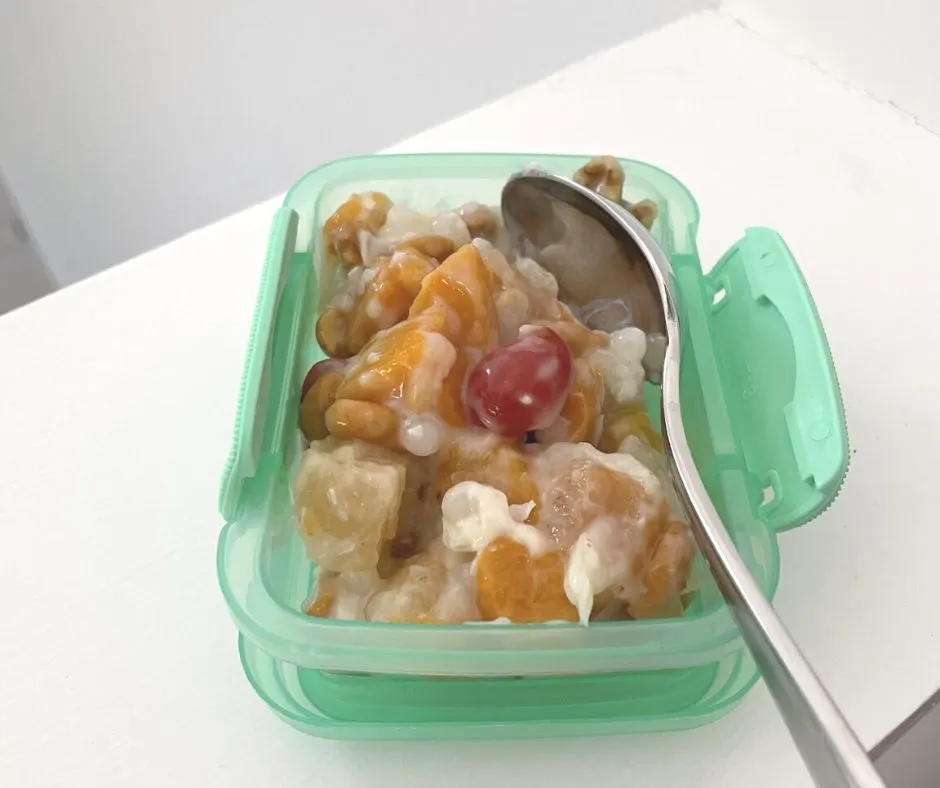 Can I tell you a secret? I don't really like fruit salads.
I was hesitant to try to make a recipe from Dollar Tree ingredients, but then I got so inspired when I saw their tapioca pudding in the refrigerated section.
And WOW am I glad I made this.
This is one of my new favorite snacks! It has a subtle sweetness, and the nuts just take it over the edge.
YUM.
Hint: the snack container in the photo was purchased from the Dollar Tree, too.
7. Ginger Snaps + Vanilla Almond Milk
Ingredients: Ginger Snaps, Almond Vanilla Milk (sweetened or unsweetened)
Total Cost: $2.50
Total Servings: 9 servings (5 cookies each)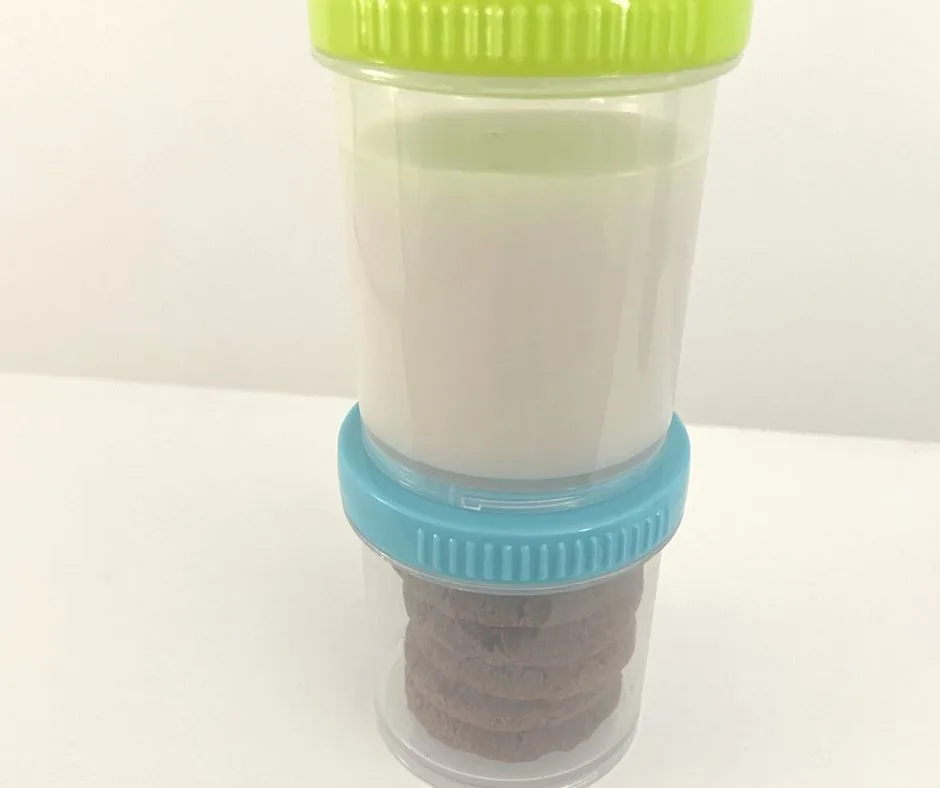 If we rolled this back to when I was around 12, then you would find me most days soaking ginger snap cookies (these exact ones) into milk, until they were the absolute best consistency (in my experience, that takes between 20 and 30 seconds), and gobbling them down.
Everyday. For my afterschool snack.
The fact that they have them at the Dollar Tree now makes my heart leap (and I haven't eaten this snack in years – so I was super happy to try them again).
Psst: see the containers in the image? They lock on top of each other! You can find them in the baby section at the Dollar Tree.
8. Dollar Tree Trail Mix
Ingredients: 2 bags of cheerios, 1 bag of bananas, 1 bag of strawberries, 1 back of yogurt covered blueberries, 1 bag of chocolate covered peanuts
Total Cost: $7.50
Total Servings: 4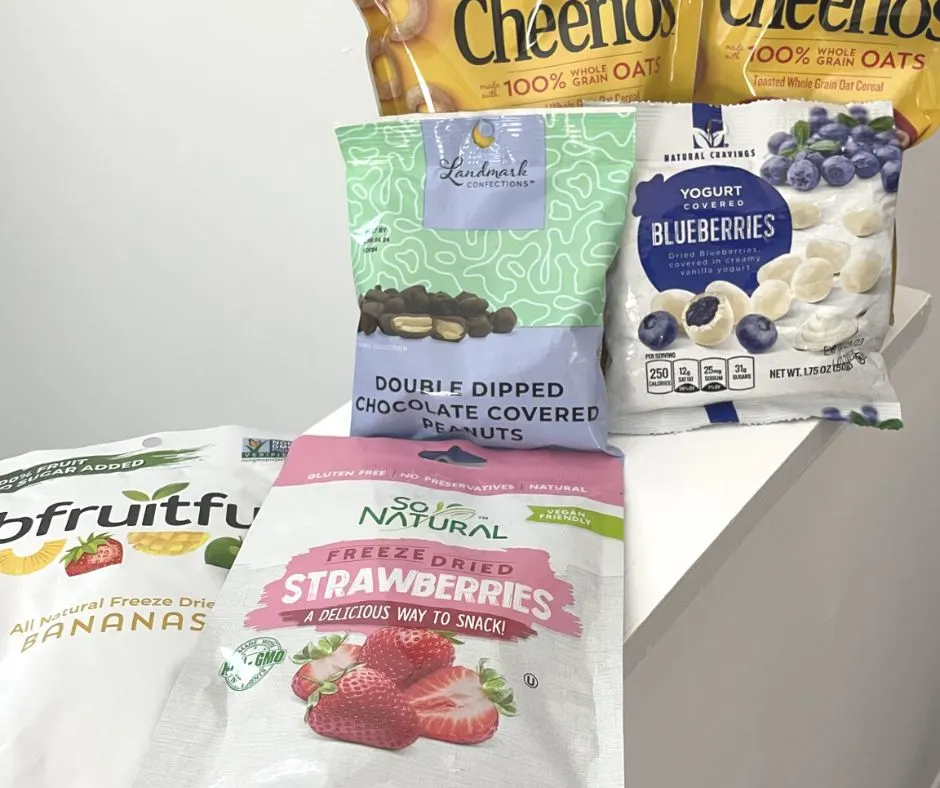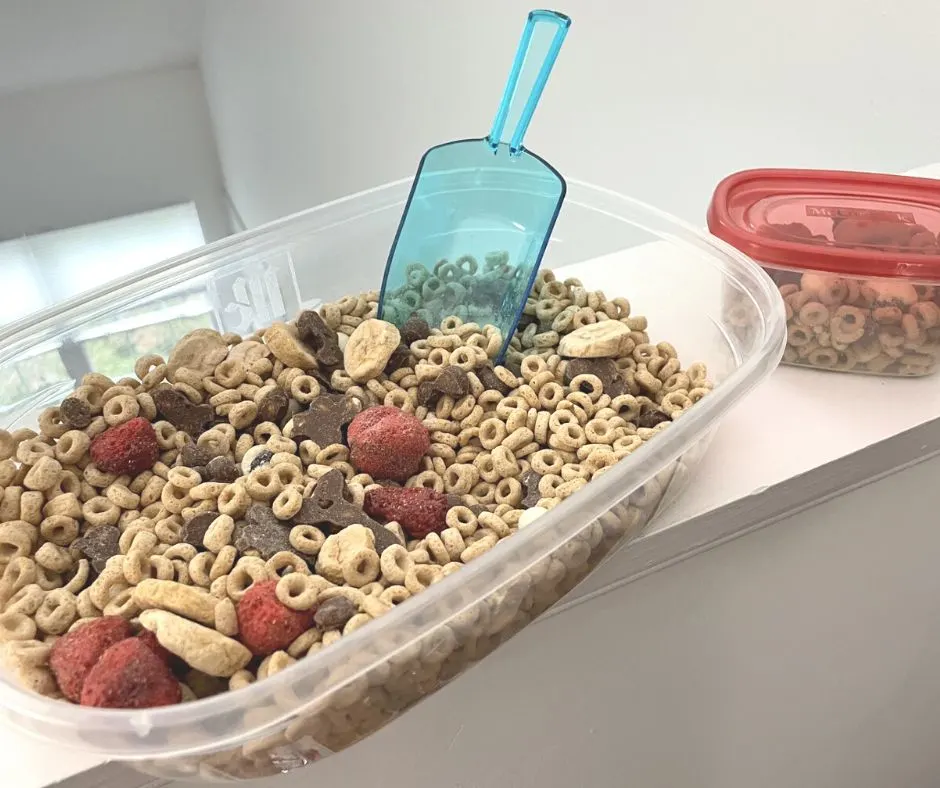 Ready to make a big batch of healthy snacks for the week in one container…using only ingredients from the Dollar Tree?
Buy a large plastic container for $1.25, then fill it with:
Trail mix base (I used 2 bags of Cheerios)
Dried fruits (I used 1 bag of bananas, and 1 bag of strawberries)
Other goodies (I used 1 bag of yogurt covered blueberries, and 1 bag of chocolate covered peanuts)
You can eat from it over the course of 3-4 days (depending on how much you eat a time).
9. "Walking" Spicy Tuna
Ingredients: 1 bag of Bumble Bee Cracked Pepper & Sea Salt Wild Caught Tuna, 1 bag of Bagel Chips, 1 bag of Crispy Jalapeños
Total Cost: $3.75
Total Servings: 1-2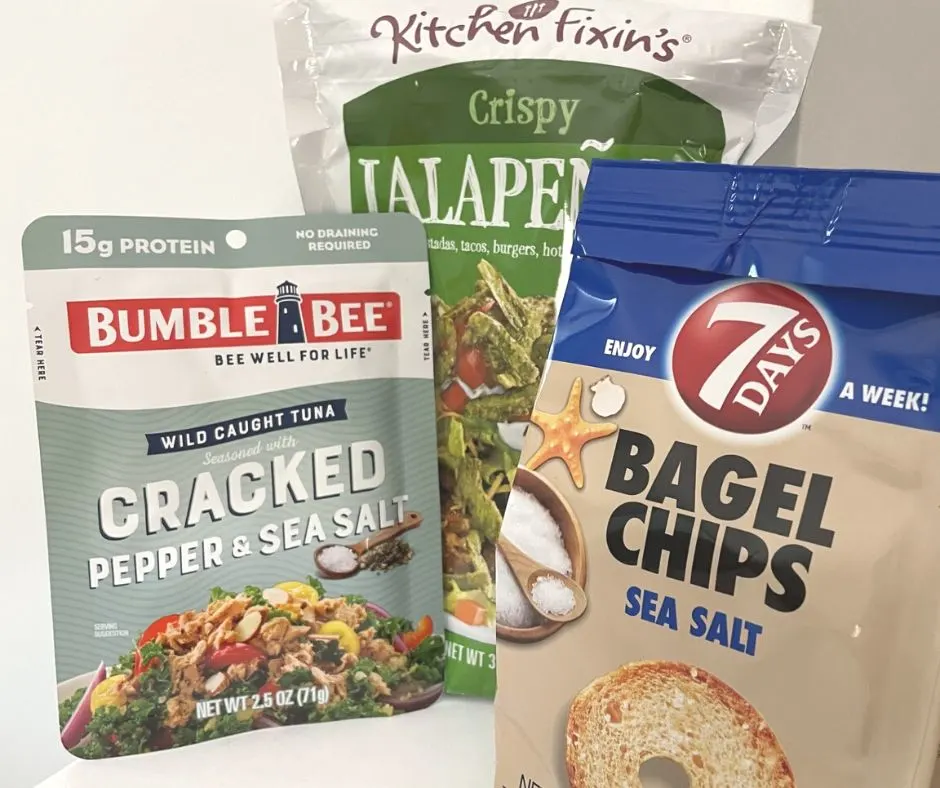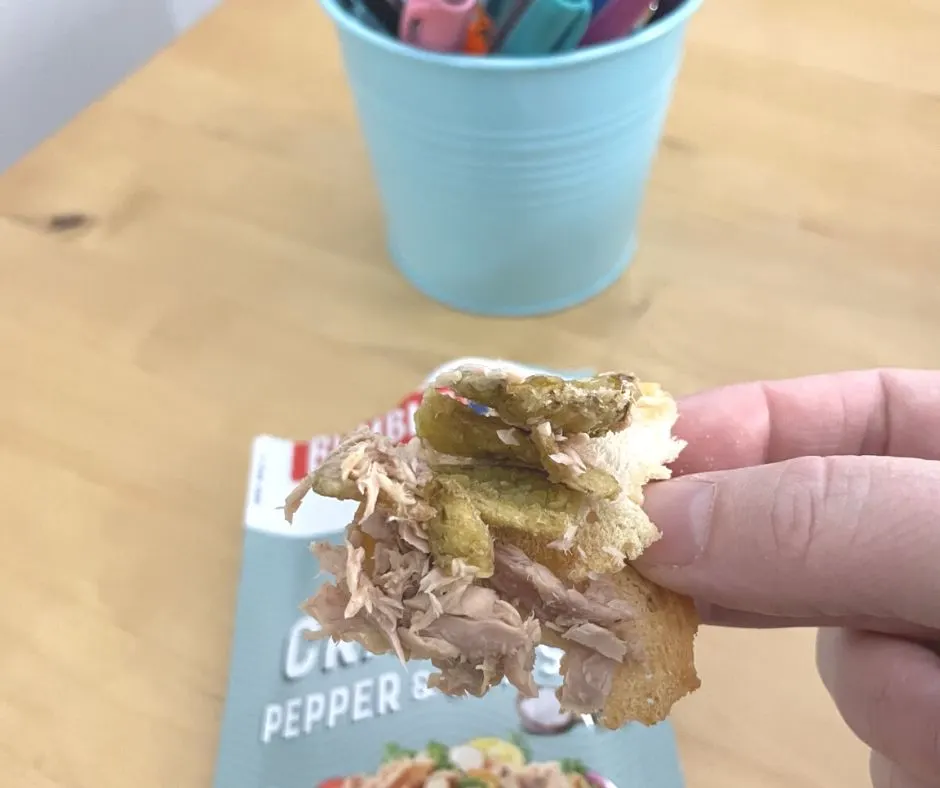 Ready for a protein-rich, spicy snack?
You can literally walk into a Dollar Tree, buy the three ingredients, assemble it in your car, and eat it while working, walking around, etc.
Especially since there's no draining required with the pouch of tuna.
Here's how to assemble:
Tear open the tuna pouch
Put in as many Jalapenos as you'd like
Stir it up
Dip your Bagel Chips into it (you might want a knife or spoon to put the tuna onto the bagel chips – either way works)
Psst: not into spicy kicks? They also have these crispy fried onions that are to die for. Also, this snack could really be a light lunch, too. Here are 7 more Dollar Tree lunch ideas.
I hope I've opened your eyes to lots of healthy snack Dollar Tree options you can eat at your desk, in your office, or around 2:00 p.m. at home (if you're anything like me – that's when I start getting the munchies!). And don't forget that all of these can be made and prepped ahead of time, OR, many of them you can just walk into your local Dollar Tree, grab the ingredients, and assemble at your desk or in your car (not while driving, of course). Score!
The following two tabs change content below.
Amanda L. Grossman is a writer and Certified Financial Education Instructor, Plutus Foundation Grant Recipient, and founder of Frugal Confessions. Over the last 13 years, her money work has helped people with how to save money and how to manage money. She's been featured in the Wall Street Journal, Kiplinger, Washington Post, U.S. News & World Report, Business Insider, LifeHacker, Real Simple Magazine, Woman's World, Woman's Day, ABC 13 Houston, Keybank, and more.
Read more here
.
Latest posts by Amanda L Grossman (see all)