I'm so excited – best Christmas traditions around the world to introduce to your own family (at home). Also, winter holiday traditions from the world.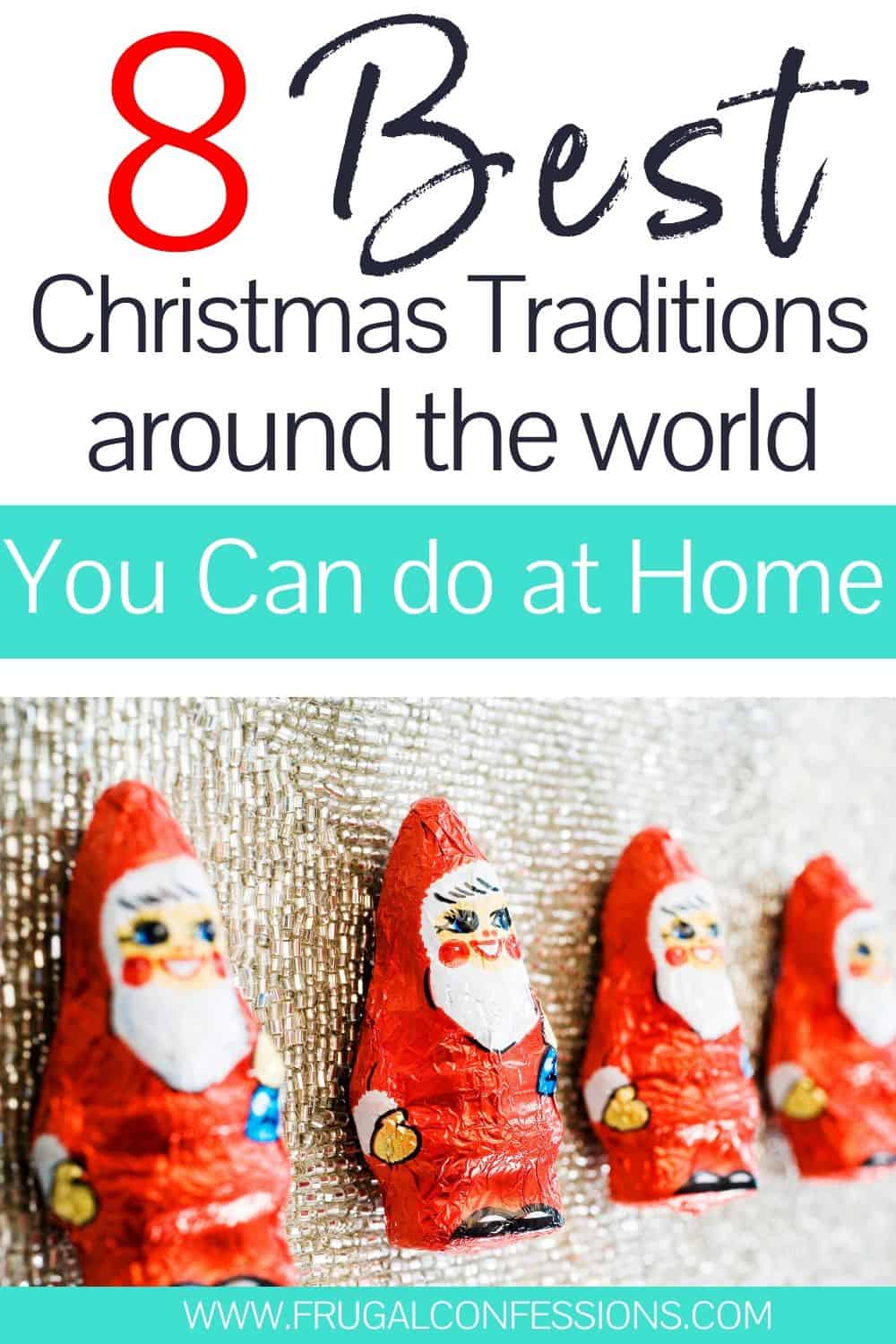 If you're like my husband and I, then you love learning about different cultures, traveling, and bringing unique traditions back home with you.
That's what this article is all about – sharing holiday traditions from around the world that you can mesh with your own traditions to introduce something new this year.
#1: Try Stroopwafels with Your Hot Cocoa
Two Christmases ago, our family went to where I grew up to spend the holidays with my family – Lancaster County, PA.
We went to the Reading Market, and on the way there, smelled this amazing aroma. In a tent, a Pennsylvanian Dutch teenager (what we call the Amish) was making Stroopwafels from scratch. These are cookies that originated in the Dutch city of Gouda.
He let us taste one, and told us that they were a traditional cookie that you put on top of your mug of coffee or hot cocoa, and the caramel inside melts.
I was soooo stoked to find out that Amazon sells them, online!
Absolutely delicious, and such a fun new tradition to add to your Christmas celebrations (I'm envisioning Christmas Even mugs of hot cocoa and Stroopwafels!).
#2: Hide a Pickle in Your Tree
The family of an old boyfriend of mine introduced me to this really fun, and quite unique, German tradition (at least people think it came from Germany) – hiding a pickle (not a real one) inside your Christmas tree.
The idea is that the parents hide a glass German pickle ornament (the weihnachtsgurke) while decorating the tree. On Christmas Eve, the child who finds it, gets an extra present!
#3: Scare the Kids with Krampus
Well…maybe this one's for the adults.
Imagine this – my husband and I are on our honeymoon in Austria. We're in Salzburg, and after a day of sightseeing, he would like to visit a pub and talk to the locals (one of his favorite things to do when we travel!).
I'm tired, so I stay in the hotel, eager for some reading time to myself (I am an introvert, after all).
Then my husband, Paul, comes rushing through the door two hours later, and excitedly describes to me how a man dressed in a bull costume came barging into the pub as part of the Christmas celebrations!
It turns out, this beast's name is Krampus and it's a tradition from Central Europe. It's a half-goat, half-beast, who punishes kids who misbehave (and let me tell you – it's scary!).
Several years after our honeymoon, we were scrolling through the television one night and noticed a new movie called Krampus. Apparently, the tradition is beginning to show up in the U.S.!
Psst: The movie, Krampus, is actually much better for adults to watch…look here for more 17 Christmas Eve Traditions for Adults.

#5: Feed a Christmas Log (and Hope It Poops Candy)
This one is quite funny.
A Catalan Christmas tradition, the 'Tió de Nadal' (Christmas Log) sits on your kitchen table or in your fire place, and you're supposed to feed it. The hope is that your log will "poop out" candies (specifically, turrón, which is a nougat traditionally made of egg white, honey or sugar, and almonds – you can find them here) and not onions or something else that's undesirable, on Christmas Eve.
On Christmas Eve, singing and dancing take place around the Christmas log as well as prayer, they spank it with a stink, and then the red blanket on its rear end (I cannot make this up) is lifted to reveal the candies!
I couldn't find an actual log that is sold here in the U.S., BUT, you can click through here to see what one looks like (it seems quite easy to make).
Here's a bunch more info on this holiday tradition from an article on NPR.
#6: Snap a Cracker Tube
An English tradition is the 'Christmas Cracker', or a three-tubed creation shaped like a piece of traditional candy. There's a tiny SNAP that occurs when two people play tug-of-war with it, and then from the mini-explosion pops out candy (and possibly some other trinkets).
Then, everyone wears the paper crown hats afterwards (there's a part of Bridget Jones's Diary where she's wearing one).
You can buy your own set of Christmas Crackers here, and add this to your Christmas meal tradition as a fun way to get the meal started, or at the end when everyone's stuffed and needs a pick-me-up!

#7: Try Hot, Mulled Wine at a Christmas Market
While on our honeymoon in Austria, we also stumbled upon something we had never known existed – Christmas markets. I mean, there are Christmas markets here in America…but they pale in comparison.
Think rows and rows of gorgeous wooden huts lined with woodland creatures, hand-blown glass ornaments, sausage huts, and hot wine!
While you head out to a Nutcracker market here in the U.S., perhaps bring some Glühwein (hot mulled wine) in a mug to sip on. If it's not allowed? Be sure to try some over your Christmas holiday. It's actually quite tasty.
Use these German Mulled Wine spices – they'll get you the closest to tasting an authentic mug of Glühwein!

#8: Press Intricate Patterns into Cookies
While checking out a German Christmas market IN Texas, we came across something we had never seen before – Christmas cookies that looked like art.
These cookies had the most intricate designs on them, from patterns, to an entire nativity scene. They were so gorgeous, that we asked the bakers all about them (plus, I bought one for my grandmother and shipped it to her).
They were happy to share their wooden cookie molds, and said that the tradition was Scandinavian.
Find a collection of Springerle presses boards, and rolling pins here – you'll be delighted just looking at them!
Give these as gifts, and include a funny holiday card message with it.
Which of these best Christmas traditions around the world are you going to try this year with your own family?
The following two tabs change content below.
Amanda L. Grossman is a writer and Certified Financial Education Instructor, Plutus Foundation Grant Recipient, and founder of Frugal Confessions. Over the last 13 years, her money work has helped people with how to save money and how to manage money. She's been featured in the Wall Street Journal, Kiplinger, Washington Post, U.S. News & World Report, Business Insider, LifeHacker, Real Simple Magazine, Woman's World, Woman's Day, ABC 13 Houston, Keybank, and more.
Read more here
.
Latest posts by Amanda L Grossman (see all)