Have you thought about car wrap advertising? Let me talk to you first about the car wrap scam, including ACTUAL emails (yes, they tried to get us!).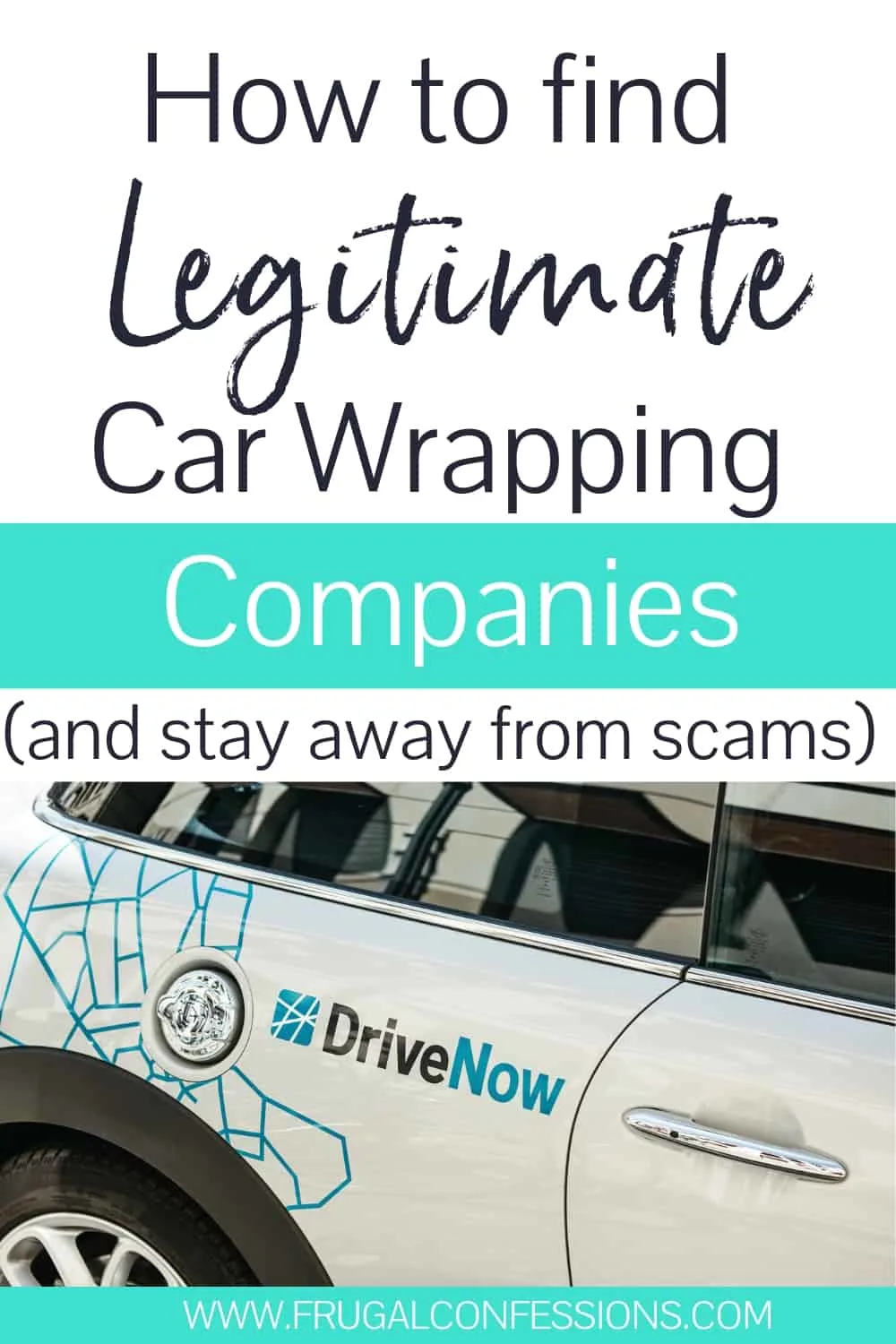 Let me introduce you to an internet car scam in the hopes that you will not fall for it.
I specifically want to go over this one because I have mentioned before that you can make money by having your vehicle wrapped in an advertisement.
In fact, my husband and I signed ourselves onto a legitimate vehicle wrapping company several years ago in the hopes that they would choose us.
It turned out to be a complete car advertising scam, and I played along until the end so that I could show you what this looks like.
Our Car Wrap Scam Experience
Which is probably why the initial email I received from the scammer did not raise alarms for me:
From: [email protected], 10/24/13: "would you like to earn $300.00 weekly for wrapping your vehicle in an Ad?"
Even though the email looked rather informal, I replied, "yes", thinking that this was someone working for the vehicle wrap company where I had signed up for.
On 10/25/2013, I received the following reply from Harry Peterson, [email protected] (I realize this is a lot of copying and pasting to read through; however, I believe this will help others who are searching online to determine whether or not the email they have received is a scam; also, I included grammatical and spelling errors from them):
"Wrap advertising is the marketing practice of completely or partially covering (wrapping) a vehicle in an advertisement or livery, thus turning it into a mobile billboard. This can be achieved by simply painting the vehicle surface, but it is becoming more common today to use large vinyl sheets as decals. These can be removed with relative ease, making it much less expensive to change from one advertisement to another. Vehicles with large, flat surfaces, such as buses and light-rail carriages, are fairly easy to work with, though smaller vehicles with curved surfaces can also be wrapped in this manner. Wrap advertising is available to anybody irrespective of the vehicle you drive.

We are currently seeking to employ individuals world wide as we look to expand our market thus, introducing ( Kronik Energy Drink) to every nooks and crannies especially in the USA. How would you like to make money by simply driving your vehicle or banner wrapped for Kronik Energy Drink®

How it works?
Here's the basic premise of the "paid to drive" concept: Kronik Energy Drink® seeks people — regular citizens, professional drivers to go about their normal routine as they usually do – 'which means there are no OBLIGATIONS whatsoever as to how many miles you have to cover' only with a big advert for " Kronik Energy Drink®" plastered on your vehicle. The ads are typically vinyl decals, also known as "auto wraps,"that almost seem to be painted on the vehicle, and which will cover any portion of your vehicle's exterior surface.

Don't Have a vehicle?
If you don't have a vehicle, you can also participate if you have a bike or scooter.

What does the company get out of this type of ad strategy?
Lots of exposure and awareness. The auto wraps tend to be colorful, eye-catching and attract lots of attention. Plus, it's a form of advertising with a captive audience,meaning people who are stuck in traffic can't avoid seeing the wrapped vehicle alongside them. This program will last for 3 months and the minimum you can participate is a month.

What is the Contract Duration?
Once the wrap has been installed, minimum term is 4 weeks and maximum is 12 weeks.

Would the wrap/decal damage the paint of my vehicle?
The decal doesn't damage the paint of the vehicle and will be removed by our representative once the contract expires. We will be responsible for installation and removal of the wrap.

You will be compensated with $300.00 per week which is essentially a "rental"payment for letting our company use the exterior space(excludes your windows and windscreens) on your vehicle and no fee is required from you. Kronik Energy Drink® shall provide experts that would handle the advert placing on your vehicle and also the removal. You will receive an upfront payment of $300.00 check via courier service for accepting to carry this advert on your vehicle…

Best Regards,
Harry Petterson
Hiring Manager
Kronik Energy Drink®

Ph:+1 702-605-3372
Fax: +1 702-537-5695″
At this point, I did not pick up on the fact that Harry Peterson had signed his email with two "t's" in his name. But I did smell a rat. In the email response I received on 10/26/2013, I knew something was wrong for sure:
"1) The first payment will come as a check in the mail.It will include both the installation and removal fee and also the $300.00 accrued to you. You are to cash the check payment as soon as you receive it for the decal wrapping of your vehicle and also deduct $300.00 accrued to you as your up-front payment. However, the rest of the funds would be paid to the Graphic artist that will install the decal on your vehicle. Method of payment will be related to you as soon as you receive the check payment. Nevertheless, it is paramount for you to confirm the acceptance and understanding of this email. Please note that the graphic artist payment covers the installation and removal of the wrap on your vehicle. The installation and removal will be done at your address and it will only take up to 2-3hrs. Subsequent payment of $300.00 accrued to you will come in the mail every Tuesday of the week."
I mean, why would I have to pay the graphics person and not them? A quick internet search resulted in finding the following forum where this very scam was unraveled.
Pssst: You'll also want to learn how to identify a craiglist scammer, as car wrap scams occur on that site.
How Car Wrap Advertising Scams Work
Basically, the check I was to receive in the mail (and actually did, to the tune of $2,450) came with instructions to cash it. I was to take out $300 for myself, and then wire the remaining $2,150 to a specific address and person who would then design the vinyl advertising wrap for my car.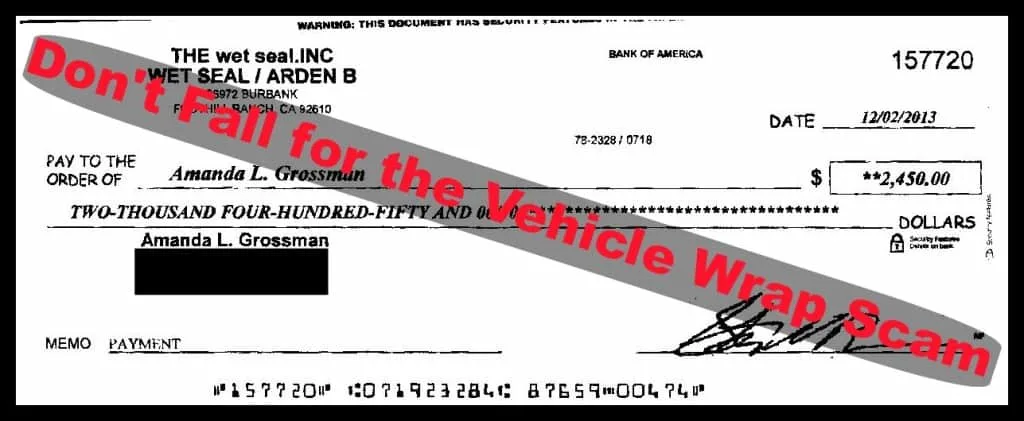 This kind of scam happens for all sorts of vehicle scams.
Some current ones (car wrap scams 2022) reported to me by people like YOU include:
Cadbury USA Car Sticker scam: The scammers have said "Cadbury will pay you $400 weekly" for putting a Cadbury chocolate sticker on your car.
AutoZone decal scam
Oral B advertising campaign scam
Verve energy drink car wrap scam
Aspire energy drink car wrap advertising scam
Ben & Jerry's car wrap scam
In fact, that is what Harry asked me to do on 12/5/2013:
"Report has it that the check payment for the decal wrapping of your vehicle will be delivered to your address via USPS today. Kindly confirm via usps.com with the tracking number 9470101699320004911554. kindly proceed to deposit the check into your bank account as soon as you receive it today and funds will be available for withdrawal 24hrs after the check has been deposited. I will be waiting for a confirmation message immediately the check is deposited. As soon as the cash is cleared you are to deduct $300.00 which is accrued to you and forward the balance to the graphic artist that will be wrapping the decal on your vehicle via WESTERN UNION transfer. The same graphic artist will also be responsible for removing the decal when the program is completed."
The person I was to send it to was Brigido B Bellhouse, Laverne CA, 91750.
Checks take several days to clear a bank, and the scammers frantically attempted to contact me after the check was sent to my house to ensure that I would wire this money. If I had not already known it was a scam, then I would have been out to the tune of $2,150.
When I asked Harry Petterson why I would have to pay the graphics person, he responded:
"Payments are issued to our respective applicants through our corporate sponsor. However the payment covers both the installation fee, removal fee and the weekly $300.00 accrued to you."
Right.
Psst: do you have Netflix? I just watched a documentary about scams, and it was really good with explaining them! Check out Money, Explained Episode 1: Get Rich Quick if you're curious.
Clues that Set Off My Gut Instinct
In case you ever find yourself with an email offer that looks too good to be true, check out these clues that set my own gut instinct off:
Clue #1: The name changed from Harry Peterson to Harry Petterson at some point in the email transactions.
Clue #2: It made no sense that the company was sending money through me to pay the decal wrapping person, instead of them paying the decal wrapping person themselves.
Clue #3#: The company did not already have my address and information (which they should have had if they were one of the companies where I registered).
Clue #4: The emails were riddled with grammatical mistakes, such as lowercase letters at the beginning of sentences and missed spacing.
Clue #5: They did not care that my vehicle was old, dirty, and that I was self-employed (i.e. I hardly drive at all). BIG red flag.
Clue #6: My gut did not feel easy about this transaction. Gut instinct should not be discounted!
Oral B Car Wrap Scam – Real Example
I get emails and comments about the oral b scam all the time. You guys are receiving text messages, emails, and sometimes, even checks, from Oral B (or supposedly), and you need to know: is oral b legit (as far as car wraps are concerned)?
No. Oral B does not have a car wrap advertising campaign.
Fortunately, to show you how this particular vehicle wrap scam works, Chad offered to share his text message, email, and experience dealing with the Oral B car wrap scam.
Chad says,
"I received a text message to my phone, which I took a screen shot of. I will attach. It also has a link to follow where you fill out an application, type of vehicle how far you drive etc etc. then a week or so later I got the "acceptance" letter."
He also asked that I share the following text message and email he received, verbatim, from the scammer.
Oral B Scam Text Message: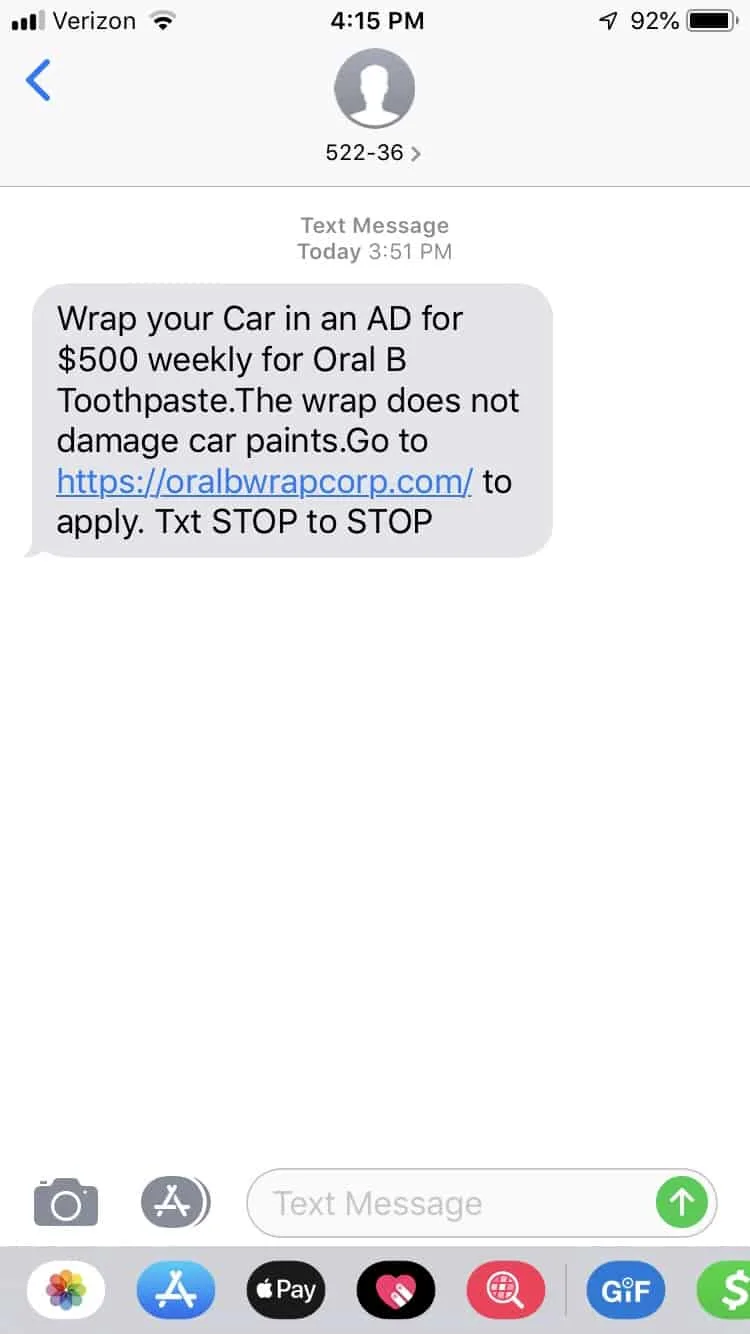 Oral B's Scam Acceptance Letter:
From: Oral-B®
To:
Sent: April 13, 2019 at 2:22 PM
Subject: Car Wrap Acceptance Letter.

Hello,

(ID NUMBER ORB/806/1218)

We will like to Thank you and Congratulate you for signifying your interest to partake in our Survey brand car wrap advert program. Your information as been kept private. This program will last for 3 months, in which the minimum you can participate is 8 weeks (contract renewable at the end of the 8th week).

Per our offer letter, I would like to restate your hiring agreement.

* You will begin your position as our brand representative.

* I understand your starting salary will be $200 per week with performance reviews per month.

* You read & agreed to our part-time scheme.

Are you Able, Willing & Capable of this position in a timely manner ? Kindly REPLY to validate your Interest, As soon as you receive this Mail.

Yours Sincerely,

Tony Gardner

Hiring Manager,

Oral-B®
The Check Chad received from Oral-B:
Oral B Scam Text Message

How to Report Car Wrap Scam Emails and Text Messages
Beforer we get into finding LEGITIMATE car wrap advertising opportunities, I want to give you resources so that you can report car wrap scam emails and auto wrap spam text messages.
How to Report an Auto Wrap Scam:
Forward Your Emails to the FTC: Did you receive unsolicited e-mail offers or spam? Forward your messages to the Federal Trade Commission at

[email protected]

.
File a Complaint with the FBI: You'll want to file an official complaint with the FBI's Internet Crime Complaint Center (ITC3). They'll process them, and may or may not refer the complain to federal, state, local, or even international law enforcement agencies for investigation.
Report Phone Scammers: Phone scammers try to offer free grants, lotteries, product samples/trials, ask you to invest your money, and they can come in the form of actual people calling you or robocalls and even text messages. If they ask for your credit card information or social security information, then you're likely dealing with a scam. You'll want to report these by submitting a complaint to the FTC. To protect yourself for the future, place your phone number on the national DoNotCall list. Then, if you receive marketing calls still, you can submit a claim through the DoNotCall.gov site (these are different from scams, though. They might just be people trying to sell you something, which is not a scam).
Report to Your State's Consumer Protection Agency: You can search here and find your state's consumer protection agency. They can help!
Report Scam Checks Received to US Postal Service: If you receive an actual scam check in the mail, then you'll want to also file a complaint with the U.S. Postal Service.
Report Scam to TruthinAdvertising.org: You can also alert this site, which routinely publishes scams (marketing and advertising scams) to help warn others before they go down the scam rabbit hole.
Here's more info on what to do after being scammed.
How Do You Find Legitimate Car Wrap Advertising?
You might be happy (and surprised, at this point) to learn that there ARE some legitimate car wrap advertising opportunities out there.
I mean, there has to be – otherwise, why would we drive by cars wrapped in advertising on the highway?
Typical signs that you're dealing with a reputable company:
You've already registered with them, and they're sending you an offer.
You have to tell them your driving history, and it has to be clean.
They require you to have car insurance.
They don't ask YOU for any money.
They require you to have a decent car (model year, what shape it's in, paint job is still good, etc.)
They are accredited by the BBB (Better Business Bureau)
List of Legitimate Car Wrap Advertising Companies – Get Paid to Wrap Your Car
Vehicle Wrap Company #1: Carvertise
BBB Rating: A
Years in Business: 6 years
Average Customer Review: 4.5 stars
Customer Complaints: there have been 3 customer complaints, each of which were closed (meaning, resolved) within the BBB
This company has placed over 6,000 car advertisements. They have a network of 425,000 drivers nationally, and have paid out $1,500,000 to drivers across the U.S. Also, they're growing their driver base, with a goal to get up to 600,000 drivers in their network.
To qualify, you must drive at least 30 miles/day, have a clean driving record. Also, your car must be a 2008 model or newer, and you will need a factory finish job (advertisers wouldn't want to put their advertisement on a beater car!).
Payouts are typically $100 – $150/month per campaign with occasional opportunities to earn extra by doing things like parking your car in a specific location ($30/hour), posting photos, and getting your wrapping done quickly.
Here's how their wrapping process works,
"We wrap cars in-house with a team of expert detailers. We also work with a network of wrap shops across the U.S. for drivers located outside of Delaware. We work with only the highest quality wrap shops to ensure consistent quality no matter where the driver is. There is no cost to the driver for putting on/taking off the car wrap."
Wondering how you can tell if someone is scamming you by pretending to BE carvertise?
Here's their answer:
"Carvertise only sends emails from Carvertise.com — never reply to an email or message from anyone claiming to be a Carvertise representative if they are sending emails from yahoo, AOL, Gmail, or any other similar provider). We have a team of dedicated tech support, so you can also call us to speak with a live rep."
Have you received any email scams lately? Care to share to alert the rest of us?
The following two tabs change content below.
Amanda L. Grossman is a writer and Certified Financial Education Instructor, Plutus Foundation Grant Recipient, and founder of Frugal Confessions. Over the last 13 years, her money work has helped people with how to save money and how to manage money. She's been featured in the Wall Street Journal, Kiplinger, Washington Post, U.S. News & World Report, Business Insider, LifeHacker, Real Simple Magazine, Woman's World, Woman's Day, ABC 13 Houston, Keybank, and more.
Read more here
.
Latest posts by Amanda L Grossman (see all)