Enjoy a good mystery or horror book, but have little time to read? Here's a list of free horror audio books to fill your playlist.
I'm sharing how to get your claws hands on some horror audio books free for the listening because…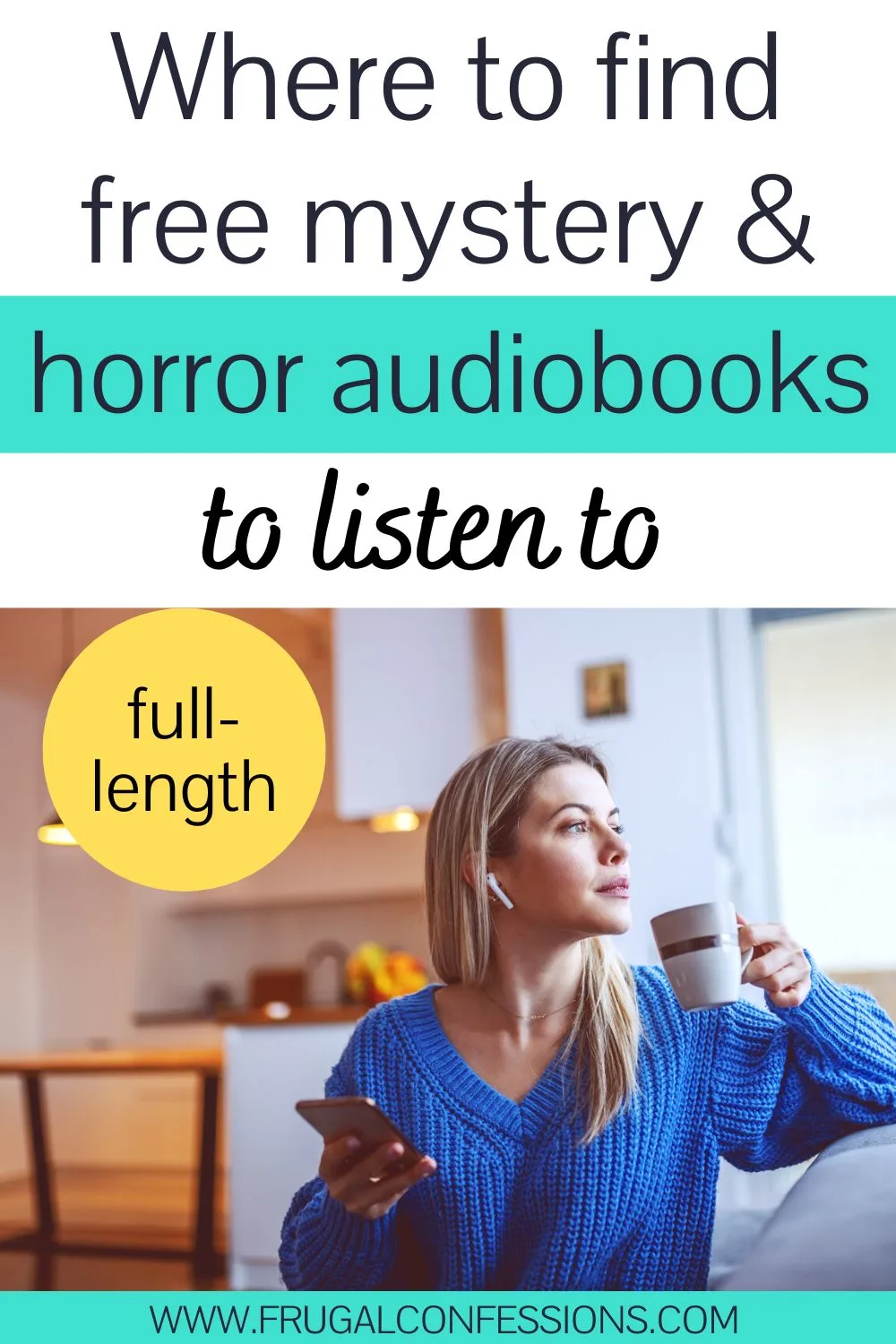 I've always enjoyed a good horror book, movie, or show.
Not the gory ones (no judgment if that describes you).
But the psychological thrillers.
The ones that slowly unravel, and keep you thinking for hours about the various mysteries. Then pulls everything together in the end.
Let's dive into finding your next thrilling reading adventure…for free.
Psst: Love listening to free audio books, but you've already used up your three free audiobooks through an Audible Free Trial? You'll also want to check out my article on where to find free full length audio books.
Horror Audio Books Free for the Listening
There's nothing worse than getting into a good horror audio book…only to have to purchase something to finish it.
That's why I'm only including full-length horror audio book free downloads.
Check 'em out!
Honestly, your best bet on getting to listen to lots of newer, free horror audio books – all full length – is through the Libby App.
You download this app, then associate your library card to it.
This hooks you up to your library's audio book collection. You can look through the horror audio book section (click on "audio books", then "Refine", then "subject" to find the thriller/mystery/suspense section), and borrow a title for up to 14 days.
Hint: some library systems have more audio books than others. For example, our local library card gets us access to 5,000 total audio books on the Libby App, and 1,264 of those are thrillers. But if I associated to my old Houston library account? There'd be a whole lot more.
A few notable free horror audio books to check out (I'm linking to the paid versions on Amazon, since your Libby App may not have them):
2. Free Horror Audiobooks through Amazon
This works without being an Amazon Prime member, FYI (because I'm not).
Head on over to Amazon's Audiobook section, and filter by "free titles".
Then, click on "Mystery, Thriller, and Suspense".
Once you find one, click "add to library", for it to show up in your Family Library and on your free Audible app (no subscription necessary – but you will need a free Audible account).

A few currently available include:
A second way to find free horror audio books through Amazon is to go straight to the Audiobooks page, filter by "Mystery, Thriller, and Suspense", and then filter that by "Priced: Low to High". The free titles will come first.
The final way to find free full-length horror books is by opening one of the free ones you found through the other two methods, then scrolling down to the "People Also Viewed" section. The titles that say "$0.00 Listen Free with Audible" are completely free. The ones that say "$0.00 Free with Audible Trial" you can only get if you sign up for a free trial.

Hint: most of the free titles will actually be podcasts – it'll tell you whether it's an Audible Audiobook or a podcast under the title.
Have you given public domain horror audio books a shot?
DigitalBook.io offers lots of these.
Since these books are in the public domain, anyone can record their voice while reading them and turn them into an audio book.
However, you should know that to get into the public domain, the book has to be much older.
A few you might want to check out:
Again, this site converts books in the public domain to audio books. Which means lots of horror books are available to us to listen to, free of charge!
A notable set I'd like to point you to is the Library of the World's Best Mystery and Detective Stories. What I like about this is in this collection are never-before-heard mystery and horror stories from other countries.
For example, in Volume 4 you'll find translated mystery stories from French, Spanish, Italian, and even Latin.
Psst: looking for free horror audio books on YouTube? Check out LibriVox's channel. Specifically, browse their "Suspense" and "Political & Thrillers" playlists.
Ready to get your hands on some horror audio books for free? Listening to one makes a fun October activity for adults or even Halloween activity for adults. But really? You don't need to wait until the "spooky" time of year to enjoy one – any ol' day works, too.
The following two tabs change content below.
Amanda L. Grossman is a writer and Certified Financial Education Instructor, Plutus Foundation Grant Recipient, and founder of Frugal Confessions. Over the last 13 years, her money work has helped people with how to save money and how to manage money. She's been featured in the Wall Street Journal, Kiplinger, Washington Post, U.S. News & World Report, Business Insider, LifeHacker, Real Simple Magazine, Woman's World, Woman's Day, ABC 13 Houston, Keybank, and more.
Read more here
.
Latest posts by Amanda L Grossman (see all)