Looking for how to get a free airline ticket? My husband and I do this, and I'll show you how, plus share a frequent flyer program chart.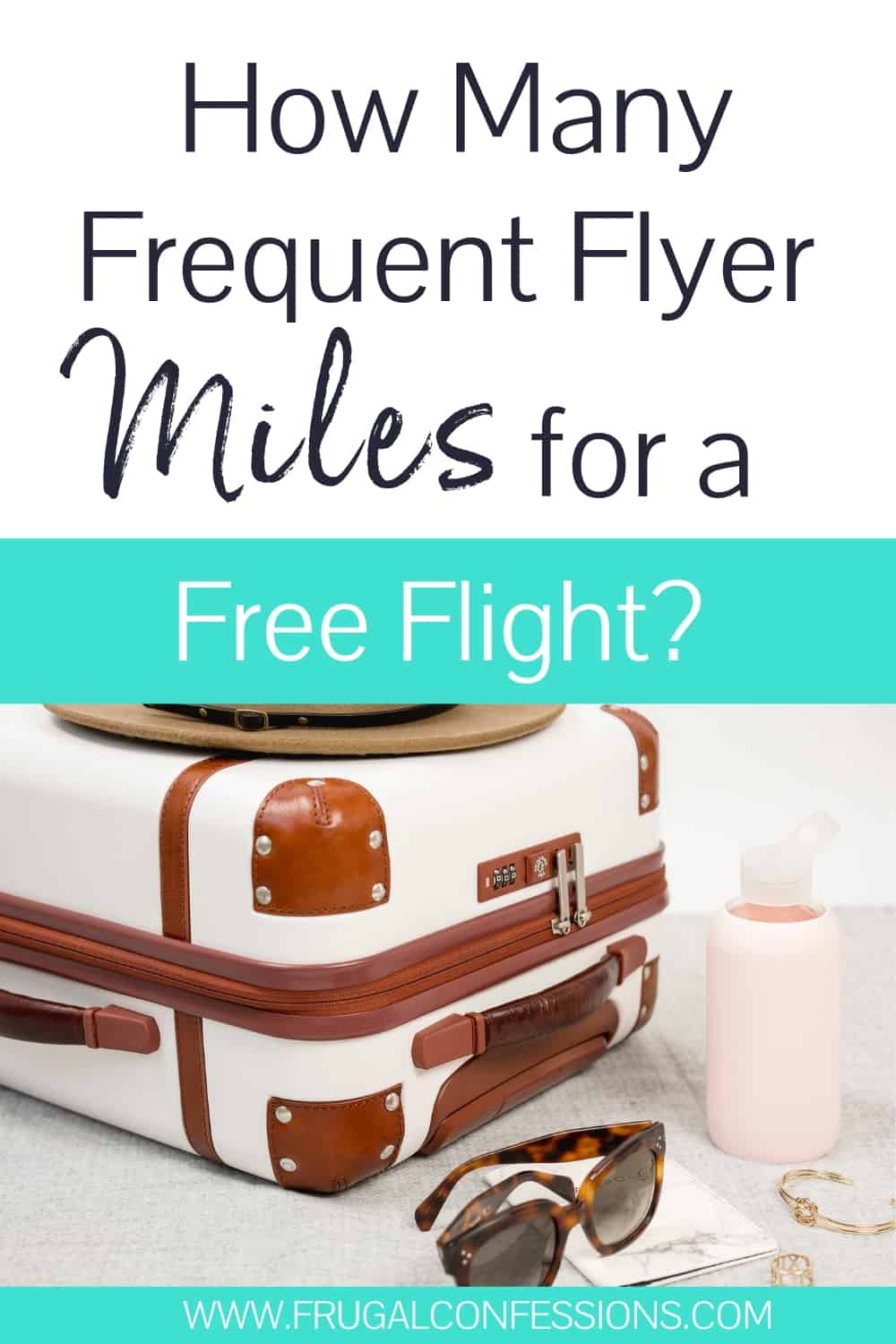 My husband and I did something incredible last Thanksgiving with our frequent flyer miles (or at least incredible to us): we scored free airfare to Michigan at an 85% discount over the holidays. Our family gathering was really nice, and even more so because we were able to get around Michigan's very expensive airline market.
For us to fly there and back from Houston would have cost an astounding $1400. To give you a bit of perspective, you can almost fly two people to Dublin and back for that same price.
How to save money when we're paying those kinds of prices?
Let's look at how many frequent flyer miles you need for a free ticket, PLUS, my 3 strategies for how to score free airline tickets without racking up the miles all by yourself.
How Many Frequent Flyer Miles Do You Need for a Free Airline Ticket?
Frequent Flyer mile programs can really save a lot of money, especially if you love to travel like we do (but choke when you see airfare prices). However, not all frequent flyer programs are created equal. Below is a comparison of baggage fees and how many frequent flyer miles you need for each of the major frequent flyer mile programs.
Frequent Flyer mile programs can really save a lot of money, especially if you love to travel like we do.
Click To Tweet
Note: Frequent flyer mile programs are sometimes tedious and difficult to compare. Feel free to share in the comments anything that should be added to the chart.
How Many Frequent Flyer Miles to Fly – Airline Frequent Flyer Comparison Chart
| | | |
| --- | --- | --- |
| Program | Cheapest Free Ticket Redemption Point (Roundtrip, Continental U.S., and Alaska/Canada where available) | Checked Baggage Fees (up to 50 lbs. and up to 62″ per bag) |
| Alaska Airlines Mileage Plan | 20,000 award miles | 1st Bag: $30, 2nd Bag: $40 |
| American Airlines AAdvantage | 15,000 award miles (for MileSAAver) | 1st Bag: $30, 2nd Bag: $40 |
| United MileagePlus | They've decided to stop printing an awards chart, but you can go here and search by destination | 1st Bag: $30, 2nd Bag: $40 has a calculator to figure out baggage fees for your individual flight |
| JetBlue TrueBlue | 7,000 award points | 1st Bag: $30, 2nd Bag: $40 |
| | * Delta chose to remove its award chart as of February 7, 2015. All awards are priced individually based on various factors through its website. | 1st Bag: $30, 2nd Bag: $40 |
| Southwest Rapid Rewards | The number of points needed for a reward flight depends on the fare* (Anytime fares) | 1st Bag: Free, 2nd Bag: Free |
How to Get Free Flight Tickets? 3 More Ways
Sooo…what if you're really far away from a free ticket through frequent flyer miles? I've got 3 different strategies for how you can hack your way to a free flight, anyway.
Free Flight Strategy #1: Know Your Airline Passenger Rights (and Score Free Travel)
Two years ago, we were given two $75 vouchers after a several-hour flight delay. This was after calling Southwest from the airport (hey, we had several hours to wait, so I thought I would give it a try) and telling them about the meeting I was now going to miss because of this delay.
I thought I was doing pretty well for myself.
Turns out, I might've been entitled to a lot more.
Airline Passenger Right #1: Reimbursement for a Delayed Flight
How long does a flight have to be delayed for compensation? The US Department of Transportation (DOT) mandates compensation after an hour's delay on a domestic flight, or between a one-hour and four-hour delay on international flight.
I've traveled a good bit in my day, and can tell you that I don't remember receiving compensation that one Christmas Eve my husband Paul and I spent six hours playing cards to kill time in an airport pub, or the time my flight from London to Boston was so late getting in that I had to spend the night because I missed my connecting flight to Philadelphia (they did put me up in a hotel room, but only after a substantial midnight stand down between ten of us in the same boat, er, airline lobby and an airline representative).
Airline Passenger Right #2 – Reimbursement for Getting Bumped from an Oversold Flight
This may come as a surprise to you (it sure as heck does to me), but there are no-shows on almost every flight. They happen so regularly that airlines try to estimate how many no-shows they are going to have so that they can double book those seats and make more money.
The only problem? If everyone ends up showing up anyway, then someone or several someones are going to get bumped either voluntarily or involuntarily to a different flight.
They then tempt volunteers with promises of a travel voucher (by the way, this is a great strategy some use to score free flights if you have the time). If they can't get a volunteer(s), then they have to involuntarily bump someone. Vouchers will expire after a year, so accept a check payment.
Bumped passengers are entitled to cash compensation equal to the value of four times their ticket price, up to a maximum of $1,300 if delayed for a lengthy period of time (defined as between over two hours from scheduled arrival time for domestic flights and over four hours for international flights), and up to double their ticket price, maximum of $650, for short delays (defined as within one to two hours of scheduled arrival time).
Airline Passenger Right #3 – Reimbursement for Lost Luggage
I had a bag chewed up by the luggage conveyor belt once, so I was given a brand new London Fog one.
Pretty cool!
Turns out that if your bag is one of the 2 million lost domestically each year for any period of time, then your checked bag fee needs to be reimbursed (sounds like the least they could do). And if your bag is one of the lucky ones to be forever lost, then the US DOT mandates up to $3,300 per customer in reimbursement. Though the settlement factors in depreciation and you may have to show receipts for the lost items.
Travelers Who Want Reimbursed But Don't Want to Fool with It
So after all of this information, you might not be motivated enough to go after what is owed to you. I mean, we're all busy, right?
If you experience a delay or a missed connection, or anything else of the like, then GetAirHelp will go after funds you are owed on your behalf. Their fee for doing the legwork is 25% of any money they score for you. It only takes three minutes to check, and what's even better, they can check on past flights for you and possibly receive compensation for those! If it comes to it, they'll even take the airline to court on your behalf. And if they receive no compensation for you, then you pay nothing.
Before researching for this article, I honestly thought airlines who gave out vouchers for some of these mishaps were doing it out of the goodness of their hearts (or at least to score some points with social-media happy passengers). Turns out, it's the law.
You've probably heard about people scoring a free flight doing something called Travel Hacking. This is when they open up a credit card with an awesome bonus offer of free airfare or frequent flyer miles if they spend a certain amount of money in a certain amount of time.
In a nutshell, anyway.
But what if you don't want to open up a new credit card just to reap a free flight?
Well, as a young adult who was very into international travel (but had very little money), I kinda stumbled onto a different way to score free airfare.
With a little bit of forethought and luck, you can get in on this secret trick as well.
Free Flight Strategy #2: Pitch an Organization or Company
I know, I know. That sounds vague.
So let me explain.
There are businesses, organizations, clubs, groups, etc. that have the funds to pay for your spring break travel.
But why would they want to?
Well, you have to pitch them a really good reason.
Two very good reasons I've come up with in the past:
Tacking on a market research project directly benefiting their organization
Tacking on an extra week of travel to an educational trip
Let's tackle both, with examples from my own experience.
Spring Break in Japan: $500 from a Company for Market Research
Remember I said "with a little forethought and luck"? Well, the luck with this one came from being an intern for a snack food start-up company.
After that, there was a lot of forethought.
You see, I was dating my now-husband, who happened to be stationed in Japan. And I desperately wanted to go visit him for Spring Break. The only problem? Airfare was an excruciating $800-1,200, which is a huge amount to cover on a $5.15 federal work-study job.
So, I decided to pitch a market research project to the company.
Here's a quick rundown of the pitch:
I'm going to Japan to visit my boyfriend during Spring Break.
I see that you (the company) have a snack food product, and that you're looking to expand into different markets.
How about you fund my free flight to Japan, and in exchange I will stuff part of my luggage with different varieties of your snacks to conduct a taste-testing session while there?
Here are the Deliverables for You: a report including translated results from surveys, plus I'll load my suitcase with lots of Japanese snacks to help you gauge the market.
Not only did this work, but I was featured in the local newspaper when I gave them the presentation.
Your Turn: What organization, group, company, etc. do you have an association or contact with that could use some work-on-the-ground in a foreign country? Think outside of the box here. Maybe even base your location solely upon their needs (hey, beats hanging around home instead, right?).
Spring Break in Paris: $628.45 from My College Department Head
I was chosen to be part of the Model UN team our college sent to Geneva, Switzerland. As if that wasn't cool enough, the trip happened to be the week leading up to Spring Break. So what did I do (after a little thought)?
I asked if we could have the return ticket for any date that we wanted.
The department head had no problem with that. So I made my return ticket for a week after the conference ended, and took a train from Geneva to Paris to spend a week there for Spring Break. It was a free flight to Geneva, then just cost me $80-$100 (estimated – I did not save that ticket) to get to Paris.
Your Turn: This one doesn't have to be only for Spring Break. On any educational trip abroad take several days off in order to tack on some extra travel time for a leisure trip. Okay the return ticket date change with whoever is sponsoring the educational trip. If there is going to be a difference in cost from when you were originally going to return home (at the end of the educational part), then offer to pay the difference (which is a heck of a lot cheaper than paying the full round trip).
The point to this article is to show you that with a bit of thinking outside of the box, luck, and forethought, you can get your Spring Break airfare paid for. I mean, what do you have to lose?
Free Flight Strategy #3: Open a New Credit Card (Travel Hacking)
Have you ever heard of travel hacking? It's when you get tons of free frequent flyer miles at once, typically by opening up a new credit card that offers you lots of bonus miles for spending a certain amount of money in a certain amount of time.
When my uncle and aunt decided to host Thanksgiving at their home last year and I learned that nearly everyone would be joining in on the festivities, I knew that we wanted to go.
How We Scored Airfare at an 85% Discount
Instead of saying "no" to what we wanted, I decided to look for (much) cheaper alternatives. Southwest Airlines had previously sent us several offers for two roundtrip tickets by opening up a credit card with them, paying the $99 annual fee, and making one purchase.
I took them up on their offer several months in advance in order to receive the frequent flyer miles in time (Southwest is running a similar deal now, though you have to make $1,000 in purchases in the first three months for the tickets. Note: this is not an affiliate link).
Even with this strategy, the free roundtrip ticket offer only covered $800. So on top of this we liquidated all of Paul's frequent flyer miles he had accumulated last year from traveling for business. Problem solved! We ended up paying $20 in security fees, plus the $99 in annual fees for the credit card.
Here's a beginner's guide to travel hacking.
Remember that when saving up those frequent flyer miles for a free flight, you'll typically get the most bang for your buck if you use ONE airline frequent flyer program exclusively(versus spreading your dollars and frequent flyer miles around to several different programs). While I have had a free flight on American Airline and have some miles in my Delta account, we generally stick with Southwest.
Which frequent flyer program(s) work best for you?
The following two tabs change content below.
Amanda L. Grossman is a writer and Certified Financial Education Instructor, Plutus Foundation Grant Recipient, and founder of Frugal Confessions. Over the last 13 years, her money work has helped people with how to save money and how to manage money. She's been featured in the Wall Street Journal, Kiplinger, Washington Post, U.S. News & World Report, Business Insider, LifeHacker, Real Simple Magazine, Woman's World, Woman's Day, ABC 13 Houston, Keybank, and more.
Read more here
.
Latest posts by Amanda L Grossman (see all)