Full length audio books for free…YES, they do exist! 11 sources, plus a secret trick to getting free audio books on Audible.com (no membership required).
Wanting full length audio books for free to help pass the time on your long commute, add some fun to your road trip, or take the sting out of running more than one mile on the treadmill?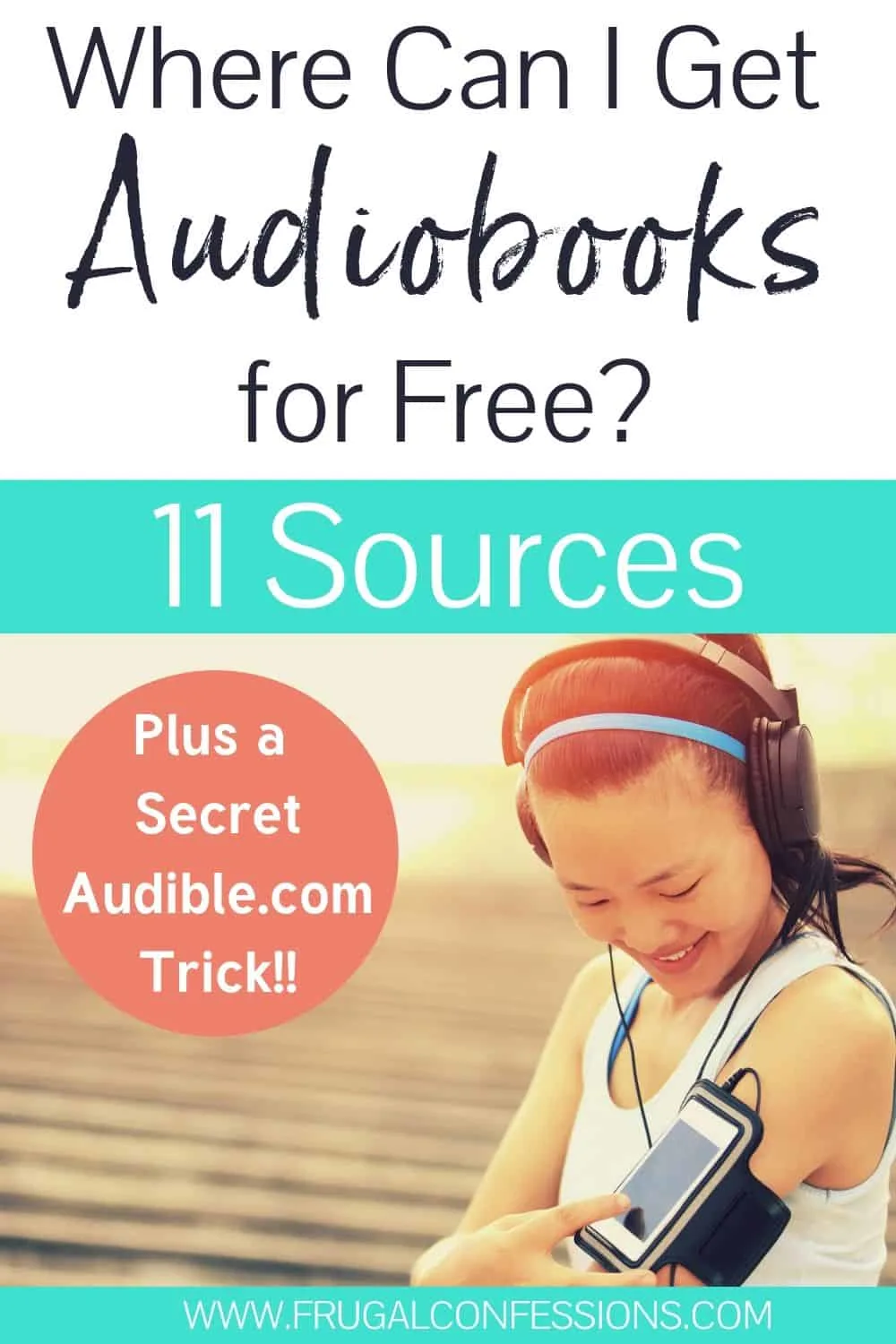 I hear ya!
Services like Audible cost $14.95/month ($164.45/year), and purchasing audiobooks And not just any audio books. Free ones.
After all, just one week of 1-hour-long commutes could get you through an audio book or two.
Imagine the bill you might rack up after a year?
Wait, you don't have to because I've done the math. Your first year with a membership service like Audible.com would cost you $164.45 (includes the one-month free trial). And to buy audio books on their own costs at least $7.00 (usually much more).
Keep your $164.45, and try these audio books free instead.
Psst: eBooks more your thing? Here's how to find free books on kindle.
Free Audio books Source #1: Audible.com Secret Trick
I don't have an Audible.com membership. And I don't need one, even though I get free, full-length audiobooks from them quite often.
Here's how you can, too.
Psst: Did you know you you can get unlimited audiobook listens by trying a 30-day free trial of Kindle Unlimited?
Step #1: Search for Free Audiobooks on their Website
You cannot find this page on their app, but you can find it on their website (don't worry — I'll teach you how to set it up so that your free audiobooks from Audible's website syncs to your Audible app on the phone).
Go to their website, and type in "Free Audiobooks" in the search bar (yep…it's that easy).
You'll get a page that looks like this.
Lots of free audiobooks, and a couple with orange buttons that are only free with a free trial (you can ignore those).
OR, you can go directly to their "Free Listens" page, where they keep a running list of free books (without having to sign up for a trial).
Psst: I know these say "sample" on the bottom of each, but I promise you they are full-length versions.
Step #2: Pick a free audio book, and click on it.
I chose the Mueller Report, clicked on it, then got taken to this page where I clicked on "Buy for $0.00".
Step #3: Sign into Your Amazon.com Account
Audible is through Amazon.com, so you'll next need to sign into your Amazon.com account (or create one, if you don't already have one).
Step #4: Get Link, and Click on it
You'll get a link sent to your phone, AND you'll get an email with the link to click on to access your free audio book.
Note: These will come to the phone number/smartphone and email address you have associated to your Amazon.com account.
Step #5: Get the Free Audible App
If you click on the link in the email, you'll be taken to a screen to download the app so that you can listen to your new audio book.
Step #6: Sign Into Your App
Once you sign into the app on your smart phone, refresh it, and your new, full length audio book will be there in "My Library"!
Psst: into horror books? Here's how to get horror audio books free.
Free Audio Books Source #2: Turn Free eBooks into Audiobooks
I have an awesome resource article detailing 27 sources for finding free eBooks. Guess what you can do with all of those free eBooks you get?
You can turn them into free audio books!
Download the Good e-Reader app, and it'll read any eBook you have, out loud (just like an audio book!).
Here's the Google Play version.
Free Audio Books Source #3: Audiobooks Free Trial
Did you know that you can get two free, full-length audiobooks plus a bonus book (from their VIP selection) in your free trial with Audiobooks.com?
Worth a shot, just for that!
Free Audio books Source #4: Scribl
Scribl has this really interesting pricing structure that they call crowdpricing. The idea is that, when you get something for free, you measure how good it is differently than if you had to pay money for it.
Based on this, new ebooks and audiobooks start off "free" for a short promotional period. Then, based on reviews on each tier of pricing, it gets more or less expensive.
Point being — you want to periodically check this site's free section for new audiobooks that are still in that free promotional period.
There's two ways to get to the free audiobooks — different for desktop vs. mobile app. You'll need to join for free in order to download any of the free audiobooks you find.
Here's their iPhone app, and here's the Google Play one.
On a computer, you just click once on the "browse" tab at the top of the Scribl.com page, which will give you two options to choose from.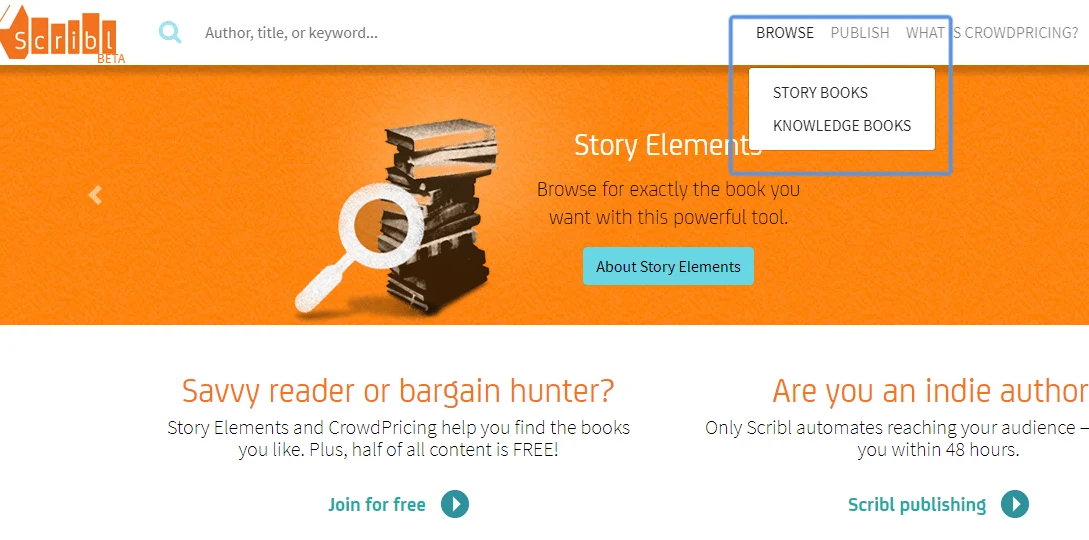 On the next screen, un-select all except for podcasts (all their free audiobooks are under podcasts). Then click "Hide Filters".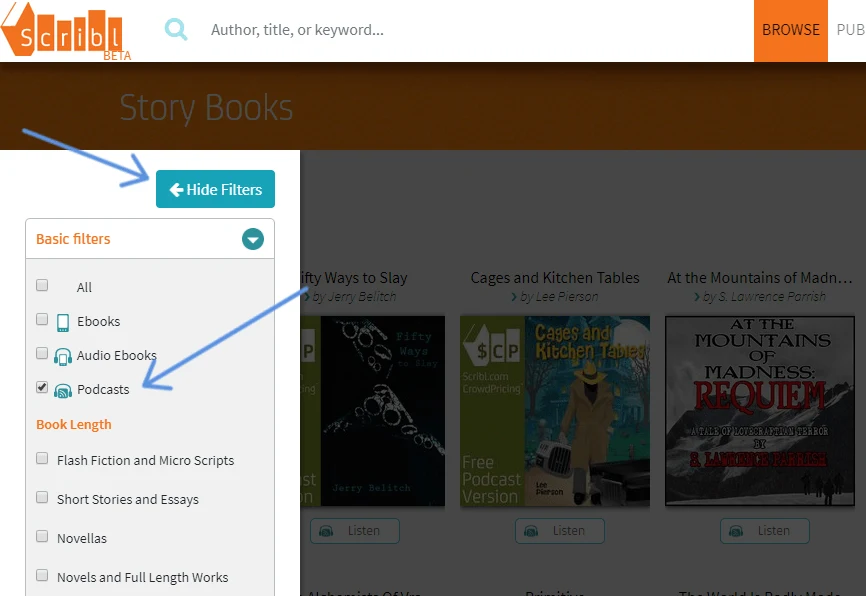 Now you'll get a screen full of free audiobooks to listen to.
Free Audio Book Source #5: Overdrive's Libby App
Your local library is not only the source for any book or DVD (including the ones on your Netflix list through the use of Interlibrary Loan) you could want, but it also is stocked with audio books free for you to borrow!
And if your library has a subscription to Overdrive? Well then you can peruse and borrow audio books free from the comfort of your own home, at work, heck, even in the bathroom (wait, you don't have a family member who reads on the John?).
Some particularly great finds on Overdrive right off of my reading wish list are: Elizabeth Gilbert's Big Magic, Gary Keller's The ONE Thing, and Hal Elrod's The Miracle Morning.
Check out Overdrive for yourself and see if your library participates. If not, head to your library and get set up to start checking out audio books.
You just need a library card.
Here's a tutorial for how to use Overdrive's Libby app to source free audiobooks:
Free Audio Books Source #6: Indie Author Collections
Some new authors are making their audio books available for free to get their work out there.
Check out a few of these sites:
These audio books are read by multiple actors, bringing each alive more so than if there is just one person reading them. Sort of like a podcast-drama.
Free Audio Book Source #7: LearnOutLoud.com
You can quickly search LearnOutLoud's free audiobook section by going here. They have over 10,000 free audio books, courses, documentaries, lectures, interviews, and speeches.
Free Audio Book Source #8: Public Domain Projects
Source free audio books from the Public Domain.
The Public Domain refers to creative materials, like books and music, that are not protected by copyright laws. These can include works that automatically are assigned to the public domain by the author, works that have entered it due to copyright expiration, and works that are there because you can't copyright them (more information on the Public Domain here).
Project Gutenburg: Project Gutenburg is known for keeping the classics of literature accessible and alive. It turns out, they've enlisted the help of volunteers to read and record some of these books for everyone to enjoy. There are also computer-generated audio books…your choice. Some gems I found include Robinson Crusoe, Little Women, and a whole pile of Jane Austen books.
LibriVox: This user-friendly search site has over 13,000 audio books from the public domain ready for your ears to listen to.
LoyalBooks.com: Another user-friendly (very visual format) to find public domain audio books free for you. Since the majority of free public domain books are digitized by Gutenberg.org and recorded by Librivox.org, this is merely a search engine feeding from those two sites.
Free Audio books Source #9: Free Audible Channels for Amazon Prime Members
Wondering is audible free for Prime members (as in, Amazon Prime members)?
Yes, it is. You gain access to free streaming from Audible channels through your Amazon Prime Membership. Score! However — you cannot download the audiobooks. Still, this gives Prime members a ton of free audiobooks to read.
Get your free trial membership of Audible, through Amazon, now! Or, try Amazon Prime for free, and test out Audible that way.
Free Audio Books Source #10: DigitalBook.io
DigitalBook.io offers over 100,000 audiobooks and eBooks for download. Browse by categories, and be sure that it says "free audiobook" underneath your selection (otherwise, it's an eBook).
That's enough to get you started! What are your favorite audio books you found for free?
The following two tabs change content below.
Amanda L. Grossman is a writer and Certified Financial Education Instructor, Plutus Foundation Grant Recipient, and founder of Frugal Confessions. Over the last 13 years, her money work has helped people with how to save money and how to manage money. She's been featured in the Wall Street Journal, Kiplinger, Washington Post, U.S. News & World Report, Business Insider, LifeHacker, Real Simple Magazine, Woman's World, Woman's Day, ABC 13 Houston, Keybank, and more.
Read more here
.
Latest posts by Amanda L Grossman (see all)