Let me show you how to find free books on Kindle app from 27 sources, (PLUS how to upload free eBooks from other sources to your kindle app).
My husband is a bit obsessed with finding free eBooks on Kindle to read. So finding out how to find free books on kindle app is sort of a hobby in our household.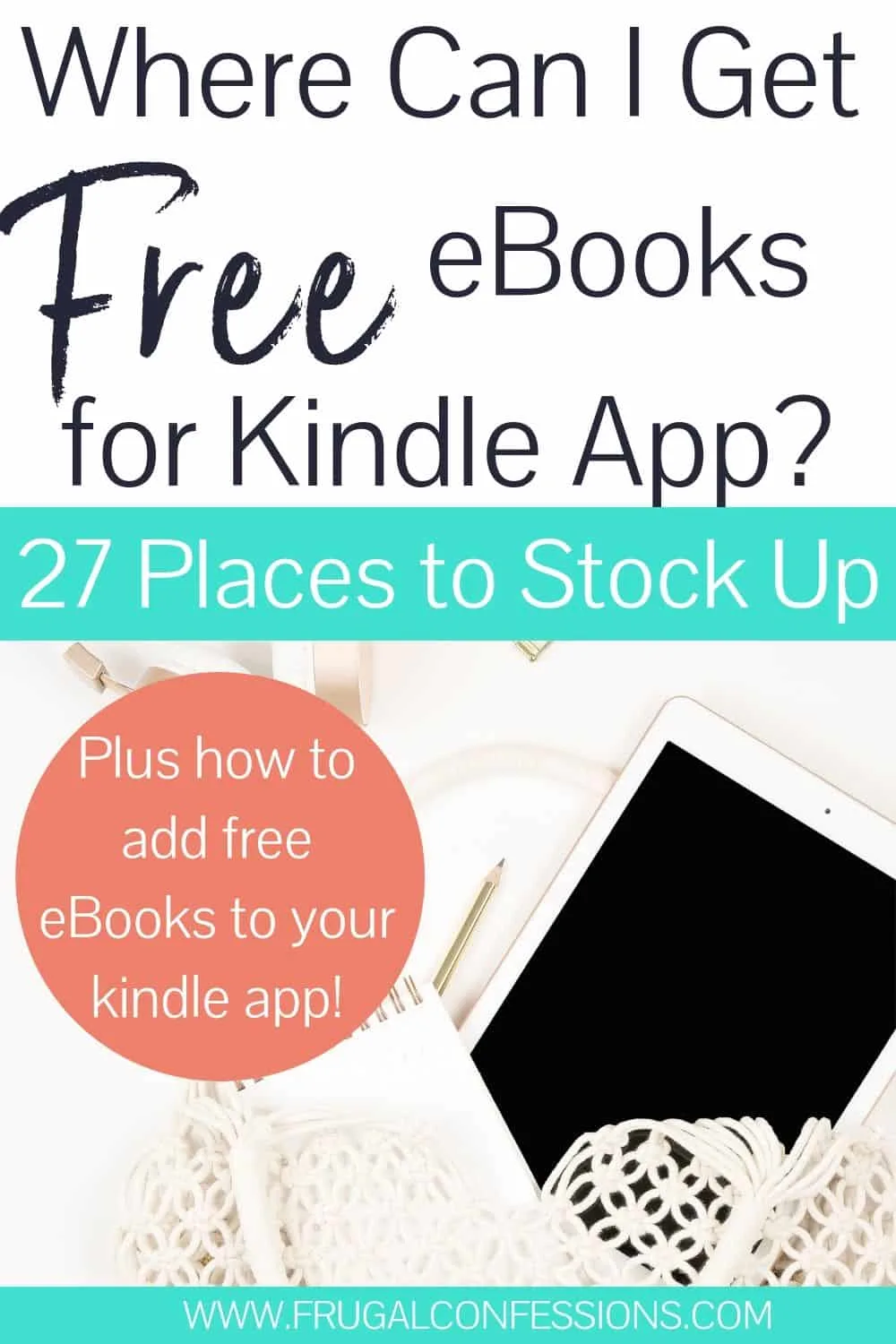 I mean, the man can read through a book a week!
Truth be told, I love to read actual, touchable books — the crisp, new pages, the smell of ink and paper as I open them up, the perfectly, non-creased binds (something that drives my husband — a page folder, cover-ripper, and bind-creaser if I ever did meet one — crazy).
Still, there are certain pros to eBooks that regular books don't have.
I mean, information is highly valuable no matter what form it comes in, right?
Like the fact that you don't even need to purchase a nook, cranny, Kindle, or whatever else they're called these days to read free eBooks — you can just download the free kindle app to your computer/iPad/smartphone.
I want to share 27 HOT PLACES to find free eBooks for Kindle.
Psst: Did you know you you can get unlimited Kindle eBooks downloads during a 30-day free trial of Kindle Unlimited (and sometimes…they offer you a free 60-day trial, FYI)?
Information is highly valuable, no matter what form it comes in.
Click To Tweet
How to Download the Free Kindle App + Sync
If you have a computer, then you can download the free Kindle App and use it to gain access to all kinds of eBooks. You can also use this free app on a Smartphone (and if you have a computer and a Smartphone, the app will sync with your Amazon.com account so that you have access to the same material on any device).
#1: Sign into Your Amazon.com Account
To download this app onto any device (your computer, your smartphone, your iPad, etc.), you need to first sign-up or sign into your Amazon.com account. Navigate to this page where you can choose which device you are going to download the free kindle app onto.
#2: Pick Your Device: Plug in your cell number to get the Kindle App on your phone, or click one of the three options to download the app.

For example, when I entered my mobile number, I got this:

And within 30 seconds, this text message came to my phone: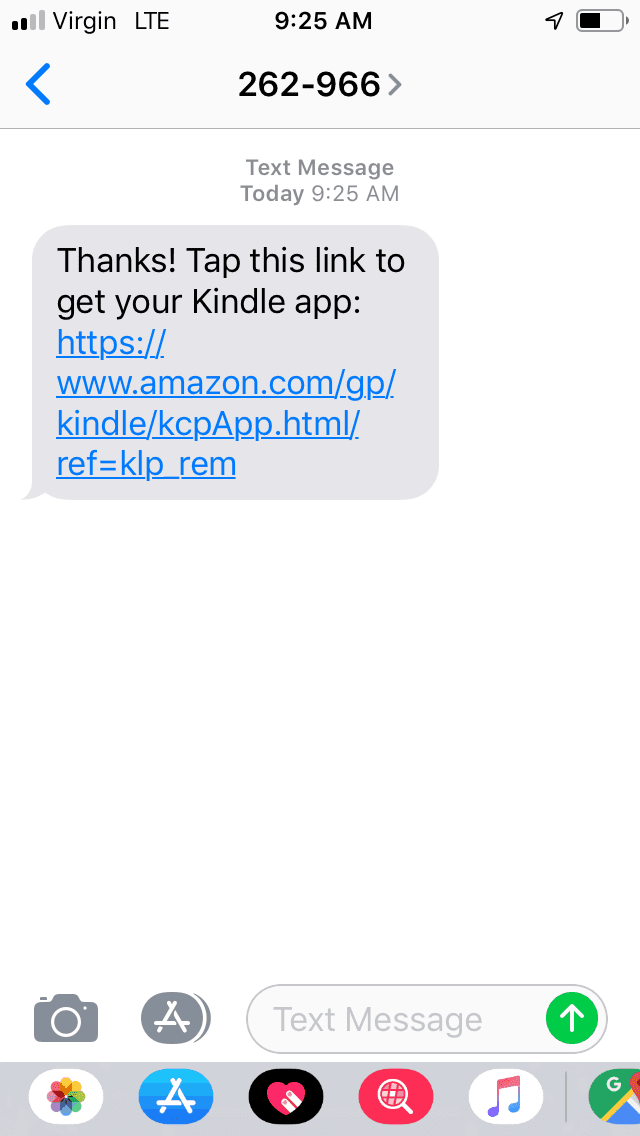 #3: Sync Your Amazon.com Purchases: Even free books you "purchase" on Amazon need to be synced to your device. So, click "Tools", and then click "Sync and Check for New Items" within your Kindle app.
Pro Tip: You can also upload several family member's devices with Kindle so that you can share your free books across devices! I like to surprise my husband with free eBooks I find for him every so often.
Click on "Your devices and content".
Click on "Manage devices".

You'll see your devices, you can set your primary device, and you can add a family member's device here.
Once you have your "family library" set up, you can go back to the screen above, and click "Manage digital content". From there, click on any eBook you have downloaded, click "Add to Library", and you can choose to add it to a family member's device.
Pretty cool, huh?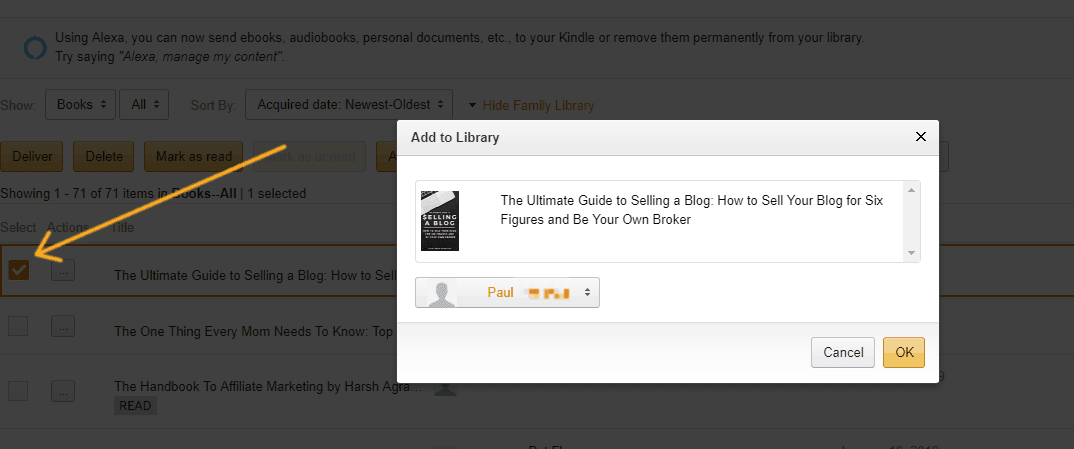 Two Other Things to Know about Free Kindle App
I'd like to talk about two more things you should know about getting free eBooks using Kindle, Amazon, and from other locations (because we'll be offering those next)!
#1: eBook Formatting and the Kindle App
All eBooks and digital reading content downloaded directly from the Amazon.com online bookstore is in the .awz format, which is proprietary to Amazon.
Other file formats that the kindle app supports include:
Kindle Format (.MOBI, .AZW)

Microsoft Word (.DOC, .DOCX)

HTML (.HTML, .HTM)

RTF (.RTF)

Text (.TXT)

JPEG (.JPEG, .JPG)

GIF (.GIF)

PNG (.PNG)

BMP (.BMP)

PDF (.PDF)
So what happens if you want to download Nook content, or other content in a file format not supported by kindle? You can convert other file formats using this free service (find a demo video for how to use it at the top).
And if you have a .PDF you got from anywhere else that you want to access on your Kindle app? Well, I've got you covered.
#2: How to Upload Free eBooks You Got from a Different Source (Besides from Amazon), Onto Your Kindle App
Let's say you download a free eBook below, from a source other than Amazon. How would you add that book onto your kindle reader app?
The easiest way to do this is by email. You need to find your kindle email address (they give you one), and then you can email any eBooks you download for free to it, to be uploaded to your Kindle App automatically.
Go back to your "Manage Devices". If you see your devices listed in grid detail, like below, you'll want to click the "list detail" button on the right.
Next, click on the "…" next to your primary Kindle device.
Note: you can edit and change your email to the address you want! Just click "edit".
Once you get a downloaded, free eBook, simple email it to that email address.
We're almost there! You now need to check and make sure the email addresses are correct for your device — both the email address you'll use to RECEIVE the free eBooks, and the email address you'll use to SEND the free eBooks.
Click on "Preferences", back at the top.
Scroll down until you see "Personal Document Settings".

Edit to add the email you'll be using to receive those free eBooks.
Then, scroll down, and edit the email address to reflect the one you're using to SEND the eBooks.
You can only receive emails to this address from APPROVED email addresses.
I did this for the first time, myself, and here's what my email to my own kindle email looked like. Notice, I didn't put a subject in, or anything like that — just attached the free eBook file, and click "send".
In about 1 minute and 30 seconds, the eBook showed up on my Kindle App on my phone!! How exciting.
Another option to do this is to download the application for Chrome (firefox is also available).
WHEW. That was a bit of work, eh? But so great on you to set it up so that you can just fill your Kindle Reading App with tons of free eBooks, below.
27 Resources for Finding Free eBooks
There are three types of resources where you can find free eBooks:
Public Domain — There are tons of books that are part of the Public Domain, meaning they're free for everyone. People spend time scanning and uploading these so that they're available for us.
Libraries — Libraries let you borrow best selling eBooks for a period of time, using an ereader app.
Authors — Many authors give their eBooks away for free during promotional periods, when they try to get lots of downloads and reviews to help their numbers. You can take advantage of this and help them out at the same time, and there are many sites that specialize in finding these freebies FOR you.
Pssst: audiobooks more your thing? Here are 11 free places to get full-length audiobooks. I also have an article on how to get the cheapest used books.
Public Domain Resources
There are many public domain publications available in MOBI or PDF format that you can read on your Kindle for free. Let's look at all of your options.
#1: Amazon's Public Domain Section: There are thousands of free classics that are part of the Public Domain such as Les Misérables, A Tale of Two Cities, and Crime and Punishment. Use the instructions above to send these .pdf files to your Kindle Reader App.
#2: Project Gutenberg: In the Access Project Gutenberg, I was able to locate memoirs of Benjamin Franklin Volumes I and II for free.
#3: OpenLibrary.org: Use OpenLibrary.org to navigate the book section of the internet archive, which has over 1,000,000 free eBook classics. The tutorial videos are very helpful in explaining how to do this; one particularly useful piece of information for the Kindle reader app is to open the book online, then in the upper right hand corner is a large, italic "i" to click on where you can send the copy to your app.
#4: LoyalBooks: LoyalBooks is another great resource, with a top 100 list for public domain eBooks.
#5: Archive.org: Archive.org is the Internet Archive, and offers over 15,000,000 (yes, MILLION) public domain eBooks.
Libraries — Using Your Kindle App to Borrow eBooks
A neat development as libraries attempt to acclimate to the age of digital books has been the availability of eBook lending.
#1: Overdrive: If your library is linked to Overdrive then you can check out titles virtually using your library card number and PIN.
Search your library's eBook/Digital Media catalogue.
Select the book that you want to borrow, then input your library card information and pin.
There should be an option for "Get for Kindle" to have it sent to your Kindle app. This will redirect you to Amazon's Public Library Loan page.
Choose your app (or device if you have one) from the "Deliver to" Menu, and then choose Get Library Book to send the book to your app/device.
#2: OpenLibrary.org: If your library does not offer eBook lending, then check out OpenLibrary.org to borrow over 1,000,000 modern eBook titles. You will need to sign up for a free account with them. Once you have an account, you can borrow up to five books at a time for 14 days.
You can use the Libby App to send the eBooks to your kindle reader.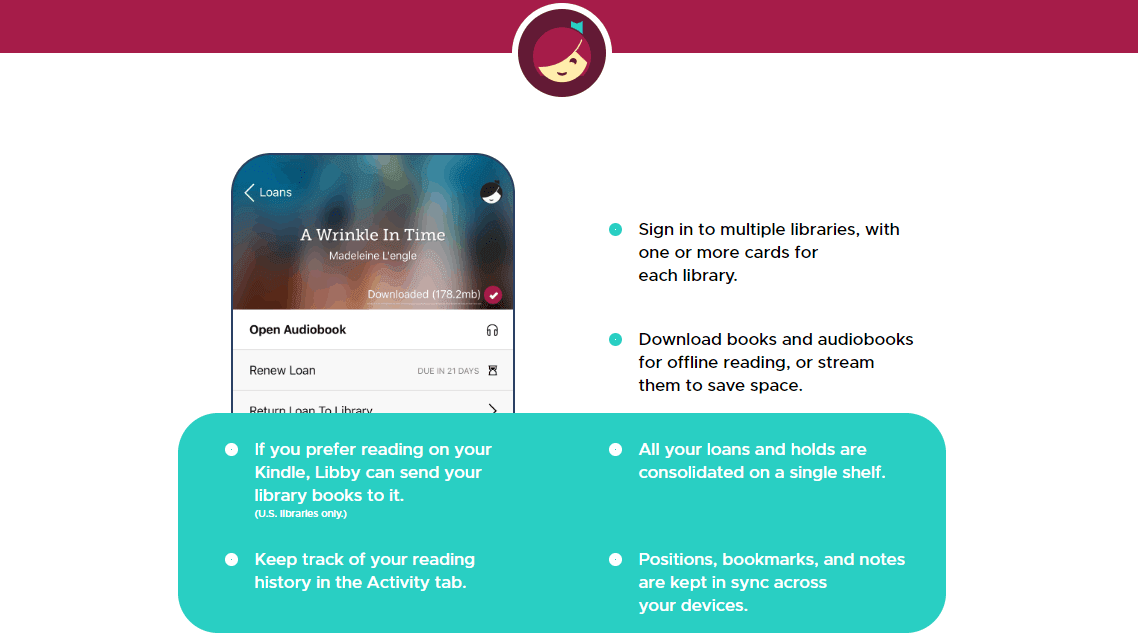 #3: Archive.org: Not only does the Internet Archive offer tons of public domain books, but they offer 550,000 modern eBooks that you can borrow for two weeks.
How to Find Authors Giving eBooks Away for Free
#1: How to Find the Best Free Books on Kindle
You're looking for the best free eBooks you can get, right? Here's how you do that:
Go to Amazon.com's Kindle Store, and click on the "Best Sellers and More".
Then, click on "Kindle Best Sellers".
Finally, click on "Top 100 Free" List.
#2: Amazon.com (method #2)
Would you rather search for free eBooks by category?
On Amazon.com, choose "Kindle Store" in the drop down box of search categories.
Then once you choose a category or genre, sort it by pricing (low to high). This will pull the free books available in that category to the top of your search results.
Hint: you can also just search within the kindle store for "0.00" or "free kindle books", and a list of free eBooks will appear. But be careful here — know the difference between Kindle Unlimited free, and non-Kindle Unlimited free. You want the Buy Now 1-Click to be $0.00 if you don't have Kindle Unlimited.
#3: BookLending.com
This is a really cool concept. Maybe you want to get your hands on great, best-selling books…without paying for them. It turns out that Amazon.com allows customers to lend out their bought eBooks for 14 days. And BookLending.com? They pair together people willing to lend a book, and people who want to borrow books.
#4: ManyBooks.net
ManyBooks.net offers 50,000 eBook titles, for free. Scroll down to see the trending free eBooks.
#5: BookBub.com
Join the list here, and they'll send the latest free eBooks to your email. Note that not all of their eBook deals are free; you'll want to specifically bookmark their free eBook section and check back.
#6: Smashwords.com
Check out Smashwords.com's free eBook section. Over 515,000 titles (not all free). The cool thing is that you can filter three different ways (all books or special deals, then the price you're looking for, then the length you're looking for) to narrow down your results.
#7: FreeBooksy.com
Search the 17 different genres on this site to find the latest free eBooks. Beware — they have the date that the book will be free for, so only the top results are typically still free.
#8: Get on Your Favorite Author's Email List
Remember how I said that authors offer their eBooks for free for a small period of time in order? It's to help their rankings and get reviews on Amazon. If you are a big fan of an author, you want to get on their email list. I can't tell you how many eBooks I've gotten for free (that I would've probably bought, anyway) just because I got an email from the author of when their free eBook promotion period was.
#9: OHFB.com
OHFB stands for One Hundred Free Books, and they offer both free and severely discounted eBooks. One feature that I particularly like? They have a price tracking tool that will notify you by email when the price drops on an eBook you want to get your hands on.
Since eBooks tend to cycle in and out of free promotion periods, this could really save you some money!
Here's how to use it,
"Simply enter the title, author, or keywords into the bar at the bottom of any page, select the specific book you want to watch, and enter your email address."
#10: CamelCamelCamel Price Drops
Another cool tool to track price drops on specific eBooks you want is through CamelCamelCamel.com.
#11: eReaderIQ
This is another site that offers an impressive freebie section for eBooks.
Sign up for a free account, and you can track price drops by:
You can even import your eBook wish list from Amazon.com, and track the prices for them!
#12: Borrow Books from Friends
Are you and a friend Amazon Prime members? Amazon Prime Members can borrow eBooks for free from the Kindle Owner's Lending Library.
#13: Get on the Amazon Daily Deals Newsletter
You'll be notified, by email, of the newest free eBooks on Kindle by joining the Amazon Daily Deals newsletter.
#14: Feedbooks.com
Feedbooks.com offers a collection of both free public domain eBooks and free newly released eBooks.
#15: DigiLibraries.com
DigiLibraries.com offers over 15,000 eBook titles, for free.
Wow. I can hardly believe how many free eBooks there are out in this world! I'll still opt for traditional, print books when I can. But I've found that an eBook is great for reading by the pool, or for when waiting in line, or for several other times. What about you?
The following two tabs change content below.
Amanda L. Grossman is a writer and Certified Financial Education Instructor, Plutus Foundation Grant Recipient, and founder of Frugal Confessions. Over the last 13 years, her money work has helped people with how to save money and how to manage money. She's been featured in the Wall Street Journal, Kiplinger, Washington Post, U.S. News & World Report, Business Insider, LifeHacker, Real Simple Magazine, Woman's World, Woman's Day, ABC 13 Houston, Keybank, and more.
Read more here
.
Latest posts by Amanda L Grossman (see all)