Buy experiences, not things, (plus these two other things) if you want to maximize your happiness ROI (Return on Investment).
Many of us have learned over the years that buying things does not make us happy.
Sure, there's the fleeting excitement of making a new purchase and playing with a shiny, new toy.
But if you are looking for real, bone-deep happiness, then spending money on items is not the way to go.
Does that mean that spending money does not bring happiness at all?
It turns out that it depends on what you purchase with your money. When given a choice of what to purchase, using your money towards an experience is better than spending your money on an item.
Money Can't Buy Happiness…or Can it?
We all know that money has the ability to make us completely miserable if we mismanage it or fall into ill fortune. But, can money buy happiness?
Most people say "No – money can't buy happiness."
It's one of those thoughtful phrases with a lot of depth that people continue to pass along when they want to sound wise. Because of this, no one seems to want to debate it (the money can't buy happiness debate).
I mean, it appears to be true most of the time. We know this through examples of extremely wealthy people who commit suicide, suffer from great bouts of depression, and the many literary stories about the poor-rich man.
Yet the rest of us live our lives on the other side with limited resources, secretly suspecting that money can play a role in happiness.
The question is, how much can it add to our happiness, and in what way?
Do Experiences Make Us Happier than Possessions? – Experiences Vs. Things
According to a study titled "If Money Doesn't Make You Happy Then You Probably Aren't Spending it Right", money can buy us a small amount of happiness, particularly when we used it for experiences and when we use it to benefit others.
Study author Ryan Howell, from San Francisco State University, first introduced this concept when he presented his findings at the 2009 annual meeting of Society for Personality and Social Psychology.
Howell found several reasons for why experiences make us happier than things, starting with "memory capital." You might get bored with a new item after six months or so, but having an experience to remember and think about will bring repeated happiness over a lifetime.
Experiences also make us feel alive by increasing our sense of "vitality, vigor, and sense of being connected with your social world." Finally, experiences are less susceptible to social comparison than belongings (i.e. you may look at your neighbor's new flat screen television with a green eye, but comparing your last canoe trip to your neighbor's canoe trip is not as likely).
If you're looking for real, bone-deep happiness, then spending money on items is not the way to go.
Click To Tweet
But you know what else money can buy that can make people happier (according to me)?
People enjoy having more control over their circumstances, which money can provide (financial freedom). People also find happiness in love, friendships, and social interactions. While money cannot purchase any of these, having enough money can create time, and with that time we can all nurture relationships.
How to Increase Your Happiness on a Low Budget
What excites my frugal heart about these study's findings is that the cost of the experience doesn't matter in terms of the amount of happiness it will bring.
It's a perfect example of the opposite of "you get what you pay for" – you get a lot more.
So long as it is an experience, you can spend $0 or $3,000, and you'll still gain the same amount of happiness.
How great is that?
This means that last Saturday when I learned how to bake my grandmother's famous chocolate cake with her beside me, she and I reaped just as much happiness and memory capital as a couple who spent $50 going to dinner and a movie.
Yet our checking accounts stayed intact!
Psst: one surefire to make yourself happier? Is to help others. Here are 27 at home service projects you can do without even leaving your home.
Buy Experiences Not Things – Ideas
Spend money on experiences not things with these simple ideas to start reaping some happiness (without breaking your budget).
Psst: there's tons of experiences you can have for $5 or less, that I detailed in my article on 365 ways to reward yourself.
#1: Find Free Events on Eventbrite.com
Did you know that you can filter your search results on Eventbrite.com for just FREE events near you? I've found all kinds of cool ones within 10 miles of us in Houston.
Search for events in you zipcode, then click "More Filters".

Click "Any Price", then toggle down to "Free".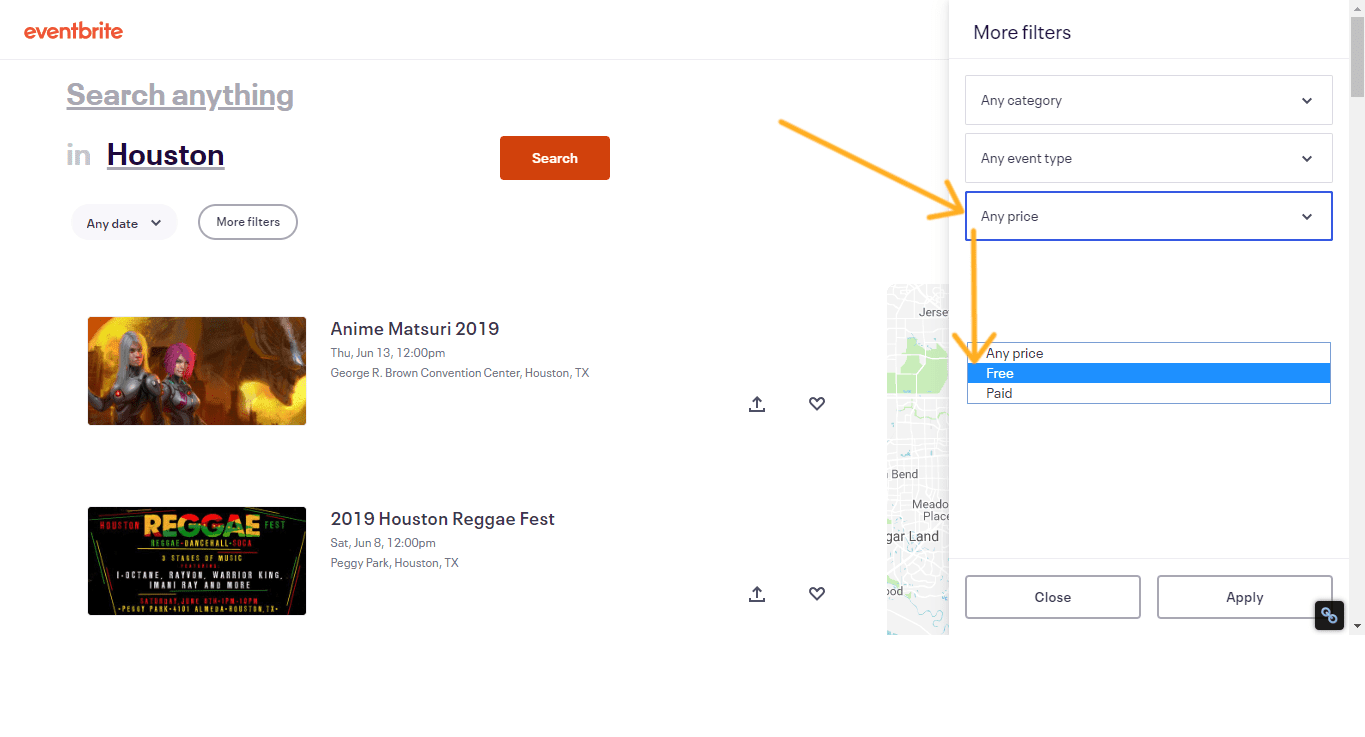 See what you can find!
Psst: check out these 21 cheap summer activities for adults.
#2: Host Board Game Potlucks
Once every other month or so I go to a friend's house for her board game potlucks. These are so much fun! I get to compete against others, learn a new game, socialize, and then we all bring ingredients or dishes to help with a meal afterwards. The cost is very low, and the social and entertainment value is very high!
#3: Go on Wine Tastings
Wine tastings typically cost $0-$10. There are lots of places around Houston and outside of Houston to do this, and you can do some research to find wineries and vineyards near your own town.
Get a group of friends together or your significant other and experience either local or global wines. If one wine tasting place is not enough, then map out a few to travel to (ensuring you have a designated driver).
#4: Meet Up for Coffee
In the last several months I have met up with two different friends at a coffee shop. For less than $5 we spent a few hours chatting, giggling, and having a great time just catching up with each other.
Here's 17 coffee shop date ideas for you + your partner to try out, too!
Howell states that, "surprisingly little is known about the processes by which one may resist urges to buy material items and invest in experiential consumption."
While he and his team continue to figure that out, I hope you will implement his current findings into your life by choosing to spend small amounts of money on experiences rather than on things.
Pssst: you also might want to check out these 41 free date ideas for married couples.
#5: Go on a Staycation
I've got an ultimate resource guide for how to set up your staycation (plus tons of staycation ideas) to make your own staycation an incredible experience. For starters, you want to make it intentional, and set a theme.
You'll want to research the hottest things to do in your area of this world (or within an hour or two), and then actually create an itinerary.
Oh, and one more thing – you'll definitely want to set up your home so that it feels like you're on vacation!
#6: Take Your Child through a Car Wash
One of our luxuries as little kids was when a parent took us through the automatic car wash. It was so neat watching the car get a bath and rinsed off while staying nice and dry inside.
#7: Hunt for Gems
My father would take one or two of us with him when visiting other farmers/neighbors. One of these farmers in particular had beautiful rose quartz in their meadow/barnyard.
Each time we went to visit I would spend an hour or so hunting for rose quartz (like finding treasure!).
Also, at the edge of one of our fields was rumored to be arrowheads. My sister, brother, and I used to dig for these every so often. I don't think we ever found anything, but how entertaining it was for us!
As a bonus, one year I was given the Rock Tumbler as a Christmas gift, which gave us a way to polish any stones we found.
#8: Camp Out in the Backyard
Several times my brother, sister and I would pitch a tent in our front yard and go "camping" for the night. This usually coincided with some sort of eclipse or meteorite show we wanted to stay up for (and we never actually stayed awake long enough to see whatever we had wanted to begin with). This was a great way to get us excited, planning, and out of the house for awhile!
#9: Visit the Pet Store
I always remember my mother running a ton of errands. Fortunately for us, whenever we went to this one shopping center in Thorndale she would allow us to visit the pet shop next door to the store she needed.
Of course, we knew we could never actually buy one of the pets (and we had a hundred or so "pets" on the farm anyway), so allowing us into the store was not a dangerous thing.
Psst: here's 100 family fun night ideas.
#10: Blow Bubbles
This is just one of my all-time favorite activities. When I am over at people's homes that have children and they bring out the bubbles, I enthusiastically count myself in on the fun.
In fact, at our wedding I gave out bubbles to all of the guests so that we could be engulfed in them while walking back up the aisle; I could not think of a better way to start our new lives together.
My Aunt Anita taught me that bubbles are not just for kids when, for a retirement dinner, she purchased each of the guests these cool teddy bear bubble bottles where you push in the belly to get the wand. What fun we all had!
#11: Actually Play with Playdoh (No Kids Needed!)
Through innovation activities at the market research consulting firm I used to work for, I learned that playing with things at your desk (and away from your desk) is a great way to spark creativity.
If you're sitting there thinking, why not think with some playdoh in your hands? I have a set on each of my desks at home and in my cubicle (you can purchase your own cheaply at craft stores and dollar stores).
#12: Ride the Ferris Wheel
I used to look forward to our local carnival and the boardwalk in Ocean City MD each year for the rides. I was into the haunted houses, roller coasters, mixer, or really anything with a bit of a thrill to it.
I am sad to say that I have not ridden a carnival ride in years. I have mentioned for the last three years that we should do one of those haunted houses that pop up around Halloween, but haven't gotten to one of those either!
#13: Do a Fun 30-Day Challenge
Seriously – even taking on a fun 30-day challenge is an experience. You'll learn so much about yourself, and likely won't pay a dime doing it. It's also one of my favorite frugal living tips with a big impact!
Here's to greater ROIs (return on investments) for all of us!
The following two tabs change content below.
Amanda L. Grossman is a writer and Certified Financial Education Instructor, Plutus Foundation Grant Recipient, and founder of Frugal Confessions. Over the last 13 years, her money work has helped people with how to save money and how to manage money. She's been featured in the Wall Street Journal, Kiplinger, Washington Post, U.S. News & World Report, Business Insider, LifeHacker, Real Simple Magazine, Woman's World, Woman's Day, ABC 13 Houston, Keybank, and more.
Read more here
.
Latest posts by Amanda L Grossman (see all)