Wouldn't a steady flow of birthday freebies feel amazing? Take a lunch hour to sign up for a bunch of free stuff for your birthday.
Your birthday should be one of the best days of your year – filled with loved ones, relaxation, a little adventure, good food, and birthday freebies.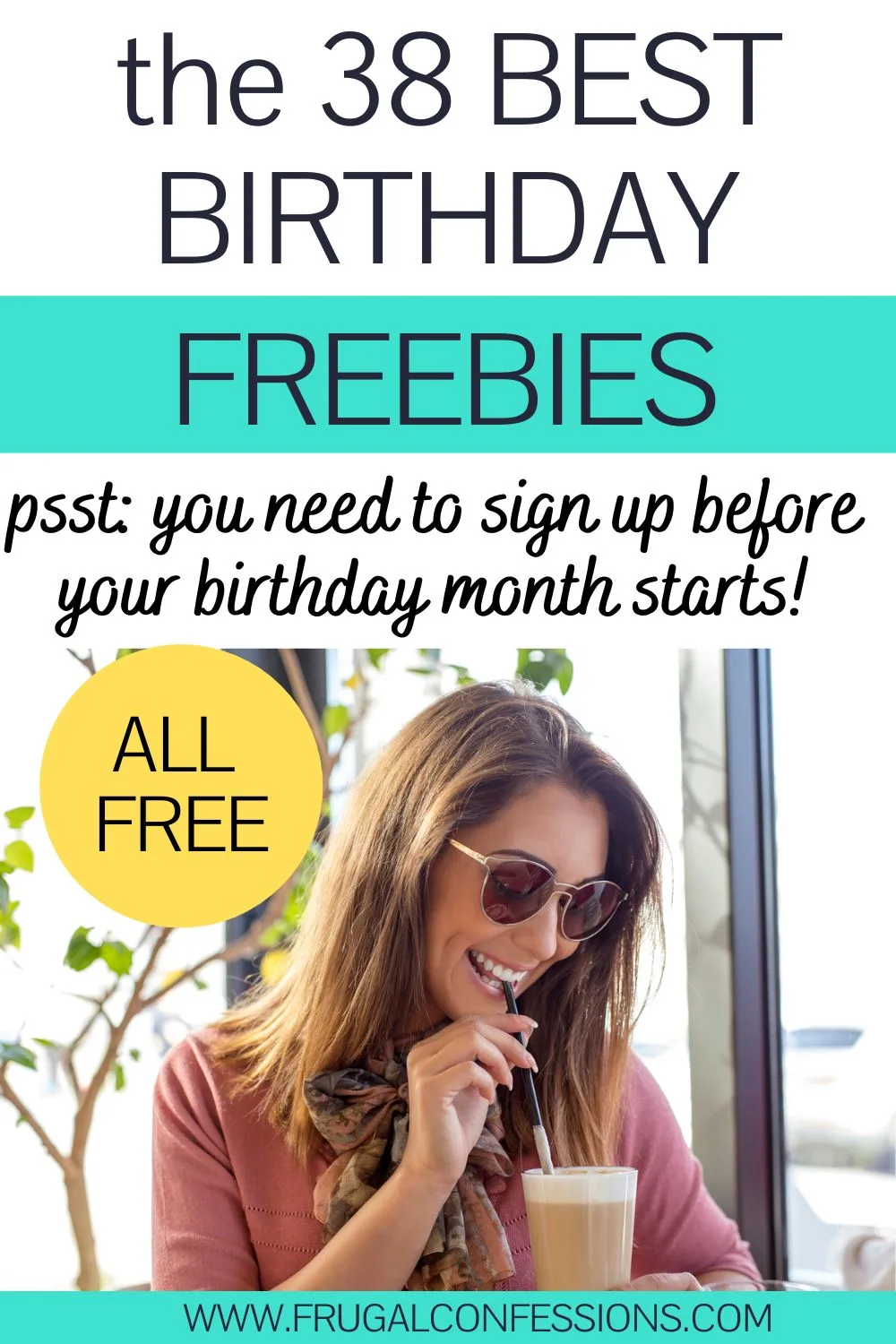 That's right – I want you to spend your birthday enjoying lots of freebies just for being born.
Let's make that happen!
Note: You'll need to plan ahead if you want to get free stuff for your birthday, but once you sign up for the different programs, most of them reward your on your birthday year after year after year.
Birthday Freebies – Where to Get Free Morning Coffee
On your birthday, you can have your latte without busting out your debit card.
One of my most favorite Starbucks discount is the free birthday drink I enjoy each year through their reward program. And the baristas are always so eager to wish me a Happy Birthday!
Here's how to make this happen:
Join Starbucks' rewards program to qualify for this offer and you have to be signed up at least 7 days before your birthday
Include your birth date on your profile.
Look out for an email from Starbucks during the week of your birthday and just present your registered Starbucks card or mobile app to the barista to receive a free food item, coffee, or drink
While Dunkin Donuts used to offer a free birthday drink, they now offer you 3X reward points earnings the day before, the day of, and the day after your birthday.
If you like Caribou Coffee, join their membership program and earn a special birthday coffee drink (your usual order, on them).
Their program allows you to earn 2 points for every $1 you spend.
Bonus: You also earn a free medium beverage after your first visit so it's not hard to earn a free beverage to start your birthday off right.
Birthday Freebies – Where to Get Free Breakfast
Consider going out to breakfast or brunch on your birthday, especially if it's free. Here are some of the best options.
Look no further than Ihop for breakfast birthday freebies. You can get free pancakes on your birthday and local discounts and offers year-round when you sign up for their Bank of Pancakes Reward Program.
This is another hotspot for a free meal on your big day through Denny's reward program (their website says that you get a free birthday gift each year – so be on the lookout for details on that).
Hint: in the past, you could simply show up to dine and mention that you'd like the free Birthday Grand Slam. This includes eggs, bacon, pancakes, and sausage or you can customize your order.
Get a free doughnut when you sign up for their Krispy Kreme rewards as well as for your birthday.
Hint: Other rewards you earn with this program will expire after 90 days if you don't use them.
Join Einstein Bagel's Shmear Rewards program and get a free egg sandwich on your birthday (with separate purchase).
You also get a free bagel with schmear after purchase when you sign up for the program.
Einstein Bagels has the same 2 points for $1 rewards system that Caribou Coffee has, and that's because they share a rewards program. Purchasing food or a drink from either place will earn you reward points that all go to the same balance.
Psst: are you into freebies? Check out these free sample boxes with free shipping.
Birthday Freebies – Free Birthday Meals (Lunch, Dinner, and Dessert)
While your friends and family may want to take you out to dinner on your birthday, you can always score a free meal, drink or appetizer at one of these restaurants as well.
This is a great way to try out a new restaurant you've always wanted to dine at or revisit one of your favorites.
Enjoy a delicious medium sub on your birthday for free when you sign up for rewards.
Get a free sub every year, along with other exclusive offers and promotions, by signing up for their rewards program. You can also earn free subs by purchasing subs and earning Shore Points® throughout the year.
Join their eclub to get a free dessert on your cake day.
Mmmmmm Pizza Hut. I still have fond memories of getting a free personal pan pizza there as a kid for their reader program.
Now, you (and I) can get a birthday reward when you're a member.
I recently ate at a Moe's in Dallas airport, and just loved their food. I didn't even know you can get a free birthday burrito with their reward program!
Depending on your tier, you'll receive a different birthday treat when you sign up for their reward program (the birthday freebie reward is added to your Noodle Rewards account on your actual birthday).
Get a Red Lobster birthday freebie that's chosen at random when you sign up for their rewards program.
If you've eaten here before then you know that everything they have is pretty delicious (and sometimes expensive!) so this is a great opportunity to live it up.
Get a fresh free smoothie when you sign up for their reward program (as long as you've accrued 15 points, minimum).
Receive a free birthday dessert when you sign up for their eClub, include your birth date, and dine in with them.
Hint: their staff would be happy to sing Happy Birthday to you, too!
Join the Ruby Rewards and a free dessert (OR an add-on Garden Bar) gets added to your account within 7 days of your birthday.
Enjoy a complimentary dessert when you join P.F. Chang's free Gold Rewards program.
Become a MyPanera member to score a free goodie on birthday.
Join The Club and get a freebie on your birthday (it doesn't say what it will be…let us know in the comments, below!).
TGI Fridays offers a free birthday surprise when you sign up for their Fridays Rewards program.
15. Edible Arrangements
Woah – did you know you can receive a free 12-count chocolate-dipped fruit box during your birthday month when you sign up for their rewards program?
You'll need to input your birth date information at least twenty-four hours (24) hours prior to the 1st day of the month of your birthday, fyi.
Hint: you'll need to have made at least a $29.99 purchase (30.00 CAD) within the calendar year of your birthday (and not including discounts, delivery charges, tax, etc.).
Join the Birthday Club and get a free, 2.5-oz. scoop of ice cream.
Kid Birthday Freebies
If you want to make your child's birthday extra special while on a budget, check out some of these places with birthday rewards that kids can enjoy.
Get a free root beer float on your birthday when you sign up for their Mug Club.
2. Medieval Times
Join the Birthday Club and sign your child up to receive a "surprise" (in years past, it's been a free ticket to the dinner and tournament experience…but it doesn't specify what it is).
3. The Children's Place
Join the Birthday Club and get 20% off your purchase to celebrate your child's birthday. This rewards program allows you to earn 1 point for ever $1 and 100 points adds up to a $5 reward.
4. Chuck E. Cheese
Before reading about Chuck E. Cheese's rewards program, I thought my aunt was the only one who celebrated half birthdays. I was wrong.
Get free tokens for your child's birthday (and half birthday!). You can also search for local coupons to snag free money towards pizza and games.
5. Disney Movie Rewards
Register for Disney Movie Rewards and receive a birthday credit to your account that you can use to get your next Blue Ray disc.
Sign up for the Nick Jr. Birthday Club and get free printables to help you plan a party for your child.
You can also choose a character that your child would like to receive a free birthday call from – super cool!
Birthday Freebies – Free Clothes and Beauty Supplies
Can you really get free clothes for your birthday? Most stores will give you a discount so you can get a percentage off of your purchase while others may provide a small trinket surprise birthday gift or sample.
Still, these discounts and freebies can help you try out new products and lower your out of pocket costs if you're doing some shopping to celebrate.
Here are some of the top options for clothing and beauty discounts on your birthday.
Get a 15% off coupon sent to your email for your birthday when you sign up to earn rewards.
Join the Yes2You Rewards Program and you get a free surprise gift/discount from Kohl's on your birthday.
Hint: you need to make a purchase before your birthday month to get sent the gift.
The Macy's Star Rewards program offers tiered rewards along with a free birthday surprise every year. If you have a Macy's store card you can also earn cash back on your purchases.
Join DSW's VIP program to get $5 off a pair of shoes for your birthday month.
Join their Ultamate Rewards Program, and receive a free gift plus earn 2X points for your birthday month.
Join Sephora's basic Beauty Insider rewards program and choose between several different birthday gift options.
I did this every year for a few years while living in Houston (there was a Sephora semi-near us), and scored some great beauty supplies. The packaging was always super cute, too, so I felt like a princess for a moment.
Birthday Freebies – Free Entertainment
If you love renting movies, Redbox will gift you a code for $2 off a rental at a kiosk or On Demand.
2. Zoos
A little known fact – many zoos give free admission for your birthday. Google your local zoo, and see if yours is one of them!
3. Aquariums
Several aquariums nationwide give free access for your birthday.
For example, Georgia residents can get complimentary admission to the Georgia Aquarium on your birthday. The Oregon Coast Aquarium also offers free admission on your birthday so be sure to bring your ID.
Getting Free Birthday Stuff is Easy
There you have it – over 50 options where you can get free stuff for your birthday. Even if you're on a budget for your birthday, there are still so many free places you can go to make day special. If you're celebrating with others, consider planning the day around some of these options even if it's just free breakfast and coffee and a movie over the weekend.
Most of these offers do require that you sign up for a rewards program or an email list. This is free to d, but you may want to narrow down which offer appeals most instead of signing up for all of these at once. That way, you aren't receiving a ton of unwanted emails or promotions throughout the year.
One Closing Tip: Create a separate email just for rewards so you aren't being bombarded with offers in your personal email every week.
When your birthday month rolls around, you can open your special email and access all your coupons, discounts, and credits to use.
The following two tabs change content below.
Amanda L. Grossman is a writer and Certified Financial Education Instructor, Plutus Foundation Grant Recipient, and founder of Frugal Confessions. Over the last 13 years, her money work has helped people with how to save money and how to manage money. She's been featured in the Wall Street Journal, Kiplinger, Washington Post, U.S. News & World Report, Business Insider, LifeHacker, Real Simple Magazine, Woman's World, Woman's Day, ABC 13 Houston, Keybank, and more.
Read more here
.
Latest posts by Amanda L Grossman (see all)