Is refinancing a car worth it? It can be, if you do it right. Here are several strategies that make refinancing a car worth it.
This is a sponsored post on behalf of Gravity Lending. All opinions are my own and were not influenced by any parties.
Is refinancing a car worth it?
Well, that depends on a number of things.
Like whether or not new loan terms would:
Better meet your current financial needs, like a lowered monthly payment, or a lower interest rate than your current loan
Allow you to use your cash flow for other financial priorities
Positively affect your financial goals
New loan terms can be great, but you should know that some people might end up paying more for an auto loan over the long-term if they refinance it.
But that doesn't have to be you!
Let's talk about why you might want to refinance a car, the pros and cons of doing so, and how to get around some of those "cons" with smart financial strategies.
Why You Would Want to Refinance a Car Loan
There are several reasons why you might want to refinance your car loan.
For example, maybe you're finding the monthly payments on your current car loan to be too much to handle. By refinancing your car loan, your minimum monthly payment would likely be lowered, allowing you to focus your money elsewhere (or, just enable you to pay all of your obligations).
Perhaps you see that the interest rates now on auto loans are better than the one on your current loan, and you want to refinance to lock in better terms.
Or maybe you want to shorten the term on your car loan, so that you can pay it off quicker and save on interest over the long-term.
Whichever reason is yours, know that there are pros and cons to refinancing a car loan.
Pros and Cons of Refinancing a Car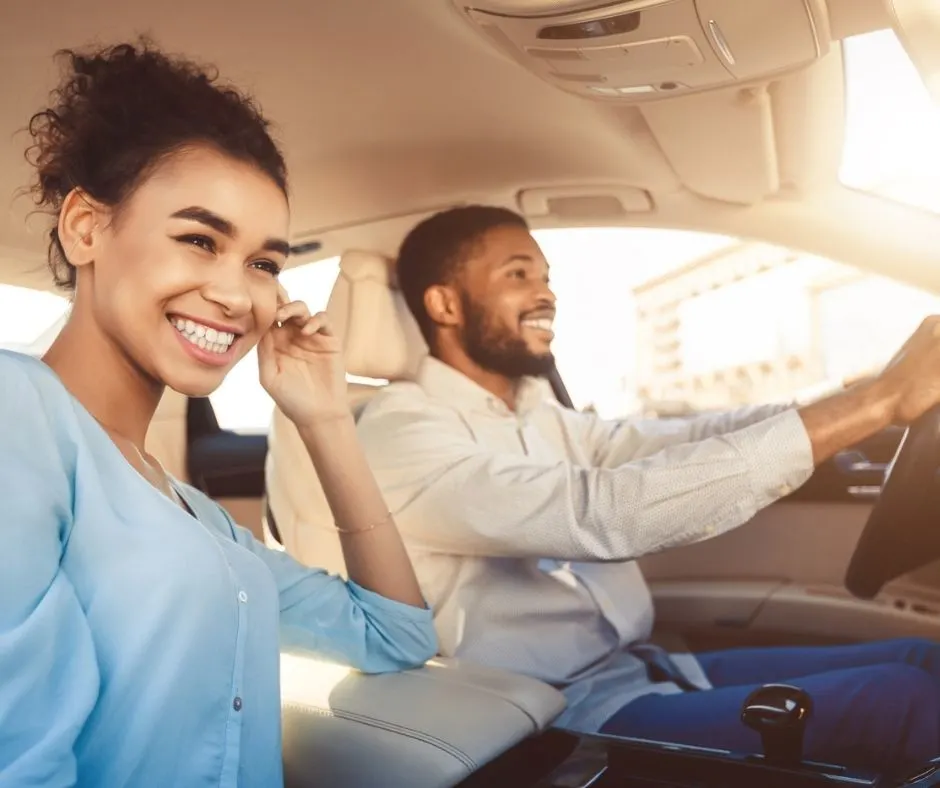 Let's start with the pros.
For starters, you could end up paying less per month after you refinance, which means having more cash available to use on other things (or to save).
You could also lock in a lower interest rate than your current one, specifically if your finances have improved and/or if you had a sky-high interest rate from a car dealership.
This is one of the reasons why it's really important to shop around for interest rates, even after purchasing your vehicle. A site like Gravity Lending helps you by comparing interest rates across lenders nationwide all at once, giving you a snapshot of your current options, and helping you choose the best loan terms without wasting a bunch of time or having multiple credit pulls.
You can also refinance to shorter loan terms for a lower interest rate, which will raise your monthly payment – this is what we did with our home mortgage. The benefit here is that you actually pay your loan off sooner than before, and likely pay less interest over time.
There can also be cons to refinancing. Like if you end up paying more interest over time than you would've with your original loan terms, just to get that lower monthly payment.
Or you might have to pay fees to refinance, such as a prepayment penalty to your current lender.
Now, let's look at how you can get around some of the "cons" to refinancing, and turn this into a good decision for you to make.
How to Make Refinancing a Car "Worth it"
I've refinanced two loans in my life – my student loans, and our home mortgage.
And both times, it was "worth it". To me, that meant that the process was relatively painless to go through, and the reward was great – we paid out less interest rate over time, AND to had a smaller monthly payment.
How was I able to achieve this? By using Strategy #1 below.
Strategy #1: Lock in a Lower Rate, then Pay the Same Each Month
One way to make a car refinance worth it is to confirm you pay less interest overall than what you're currently on track to pay.
You can do this by finding an auto refinance loan with a lower interest rate and lower monthly payment.
Just look at how lowering your interest rate could change your monthly car payment: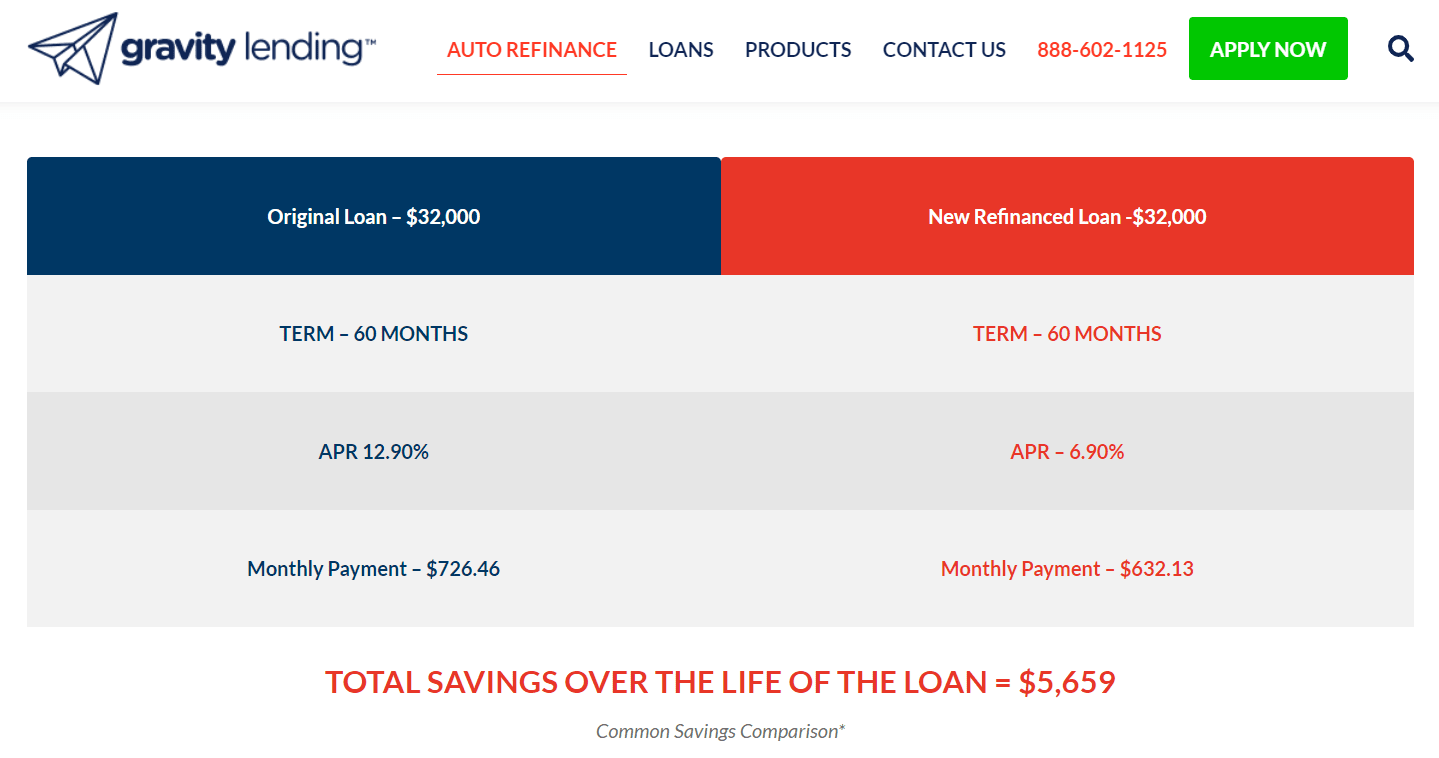 Then, continue paying the same amount that you're paying right now. By doing that, you'll end up paying the loan off even faster than the new terms, because you're sending more money into it than the payment terms require.
On average, Gravity Lending clients saves $134 a month on their loan ($2,846 overall).
In the example above, that would be an extra $94.33 going towards your loan's principal each month, which will allow you to pay it off earlier.
Strategy #2: Add or Remove a Co-Borrower
Your current loan may or may not have a co-borrower. There are benefits to having one, and reasons why you might want to remove one, too.
For example, adding a new co-borrower could give you better rates in a refinance.
Or, removing a co-borrower because you're now in a better financial position could give you the same rates, but you then get the chance to build up your credit score with on-time, consistent payments.
Either way, you can benefit from a refinance by having the opportunity to change your loan's co-borrower status.
Strategy #3: Use the Extra Money to Pay Off High-Interest Debt
Are you all in on debt repayment right now?
It might be worth it to refinance a car loan to lower your monthly payment…so that you can take the extra money you were spending on the car loan, and use it to pay off your high-interest debt faster, instead.
Then, once you have that high-interest debt paid off, you can reallocate the money you were paying toward that debt, to your car loan and have it paid off faster.
Of course, you'll want to run the numbers on this one to see if it will be worth it in the end, or not. How much faster could you pay off your high-interest loan if you were to refinance at certain loan terms?
Interested in learning more about Gravity Lending's company, and how it can help you come out ahead on an auto refinance? You can check out Gravity Lending on social media:
The following two tabs change content below.
Amanda L. Grossman is a writer and Certified Financial Education Instructor, Plutus Foundation Grant Recipient, and founder of Frugal Confessions. Over the last 13 years, her money work has helped people with how to save money and how to manage money. She's been featured in the Wall Street Journal, Kiplinger, Washington Post, U.S. News & World Report, Business Insider, LifeHacker, Real Simple Magazine, Woman's World, Woman's Day, ABC 13 Houston, Keybank, and more.
Read more here
.
Latest posts by Amanda L Grossman (see all)