Searching for ways to get paid to walk? I'll show you how to make money with Fitbit, and without a Fitbit.
I never knew how much walking would become part of our lives after having a baby.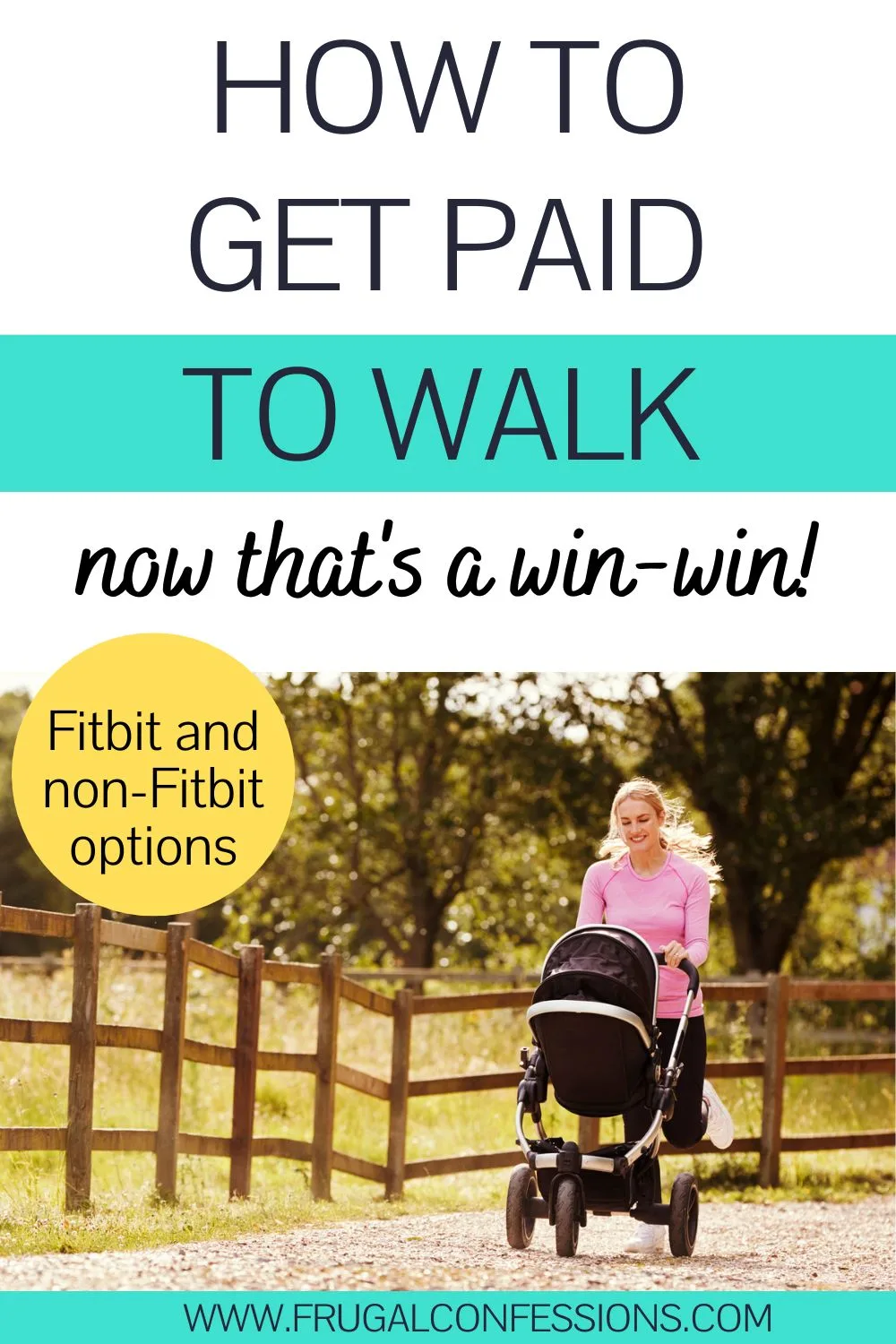 From about birth + 14 days, walks have provided so much for us.
Taking a Walk with a Baby (or just walking in general):
Gives you something to do. It's amazing how many hours there are in the day that you need to fill once you have a small child. And sometimes, you just run out of ideas! I remember looking at our little guy about 9:00 in the morning, wondering (with a little desperation) how on earth I was going to get through the day. What were we going to do together? Ahhhh yes. WALK. For an hour, at least.
Keeps your eyes on the fitness prize. Walking can keep you very fit, and can help meet your steps + weight goals.
Gives you a break. Being outside, in nature, walking by all sorts of things keeps our little guy quite intrigued. Going on walks is really like a break for us, the parents, because we can disengage for a bit.
Gets you out of the house. Especially in those first months when you're nesting, being able to strap your baby in and get fresh air (even if just a mile around your home) feels like just enough to keep the cabin fever at bay.
So…it's not surprising that with all these miles I've logged I've figured out how to get the most bang for your walks.
Can You Make Money Walking (is the App that Pays You to Walk Real)?
Short answer? YES.
You can absolutely make money walking.
I've got loads of ways to do so below, but I want to let you know that the best way to do this is to layer these money-making deals.
In other words – you want each mile you walk to count towards money in more than one program at once.
For example, you can use the same steps walked once to count for each of these programs:
Enter them in an Individual challenge at Healthywage.com for your chance to win $10,000.
Open the CharityMiles App on your phone while you walk, and have your miles go towards a donation to a charity near to your heart.
Manually log the miles in your employer's health wellness program towards a financial incentive (we've earned over $900 in my husband's paycheck by doing this).
See how that money can start to add up?
All for taking Fido or your baby for a walk they should probably be going on, anyway!
Let's get down to the exciting details, now.
Get Paid to Walk – Fitbit
You've got a Fitbit – or you want to purchase one – and you'd like to earn back the money for it (yes! great strategy to buying a Fitbit– earn money with Fitbit, and it will pay for itself).
I've got an excellent idea: use it to get paid to walk.
Seriously!
Let's look at opportunities to get paid to walk and to exercise using your Fitbit:
With Stepbet, you bet in favor of meeting the step goals you set for yourself.
If you reach your step goals for each week of the game, then you get to split the pot with others (you'll at least get what the money you bet + a profit for meeting your walking goal).
You can participate using
Fitbit
Apple Watch
Apple Health
Google Fit
Samsung Health
Garmin
Winnings are deposited as points into your account, which you can be sent to your PayPal within 48 hours! Ka-ching!
Free and available for iOS and Android.
Did you know you can enter a challenge with the chance to win up to $10,000 for meeting your step counts or weight loss goals?
It's pretty awesome.
Especially since by entering, you can get both:
accountability
MONEY (average winner gets to take home several hundred bucks!)
You can enter a challenge – either as an individual, or get together a posse of your best friends and enter as a team – at HealthyWage.com.
In order to win a money prize for the step count, you'll need to increase your step count by 25%.
In addition to the Fitbit, you can also use Apple Health, Garmin, or Google Fit to track everything.
Sounds doable, right?
Track your steps using your Fitbit at Evidation, and get $10 CASH for every 10,000 points.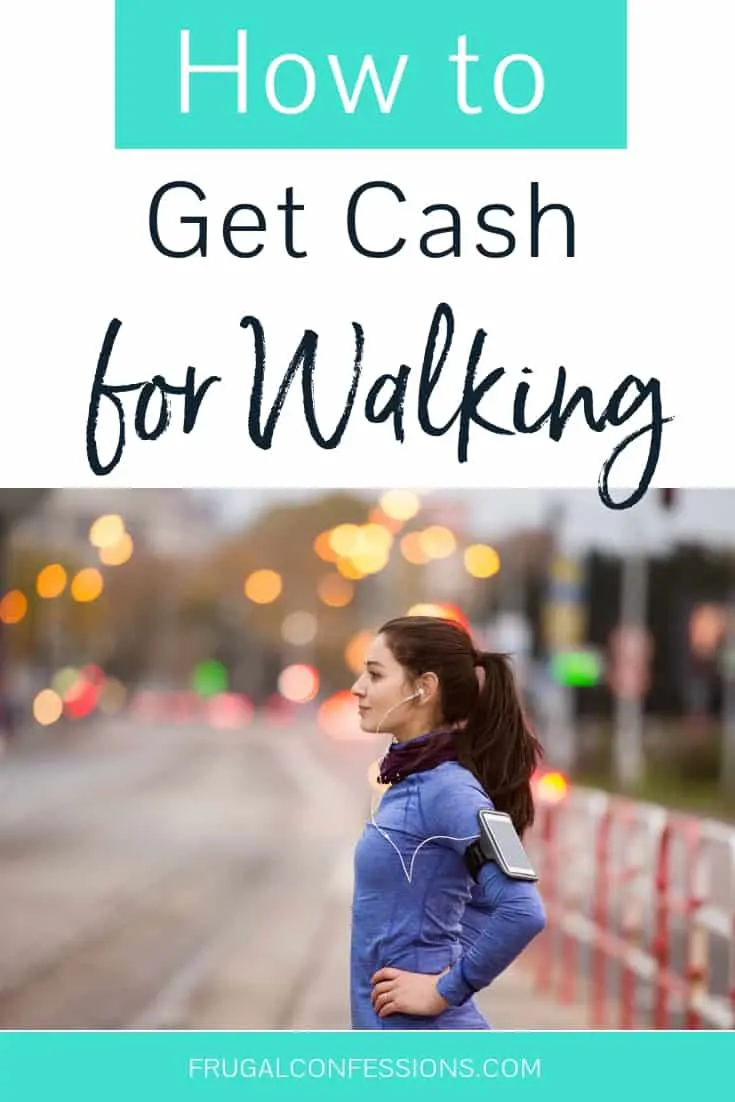 You can earn up to 100 points per day for checking in on your health and your actions, such as tracking:
Walking
biking
exercising
running
swimming
wheelchair pushes
Your blood pressure
Your food intake
Your glucose level
Your heart rate
Your sleep
etc.
Payout options include:
Paypal payment
Charity donation
Gift card
Prepaid Visa card—either virtual or physical
Bank deposit
Again, they accept over 30+ apps (including Fitbit), so you might be able to participate with what you've got right now.
Sync your FitBit, and start earning rewards for your walks with the Fit for Bucks App.
A sampling of rewards I found just the other day:
Free 12 oz. cup of coffee (20,000 steps)
$20 off a local exercise class (20,000 steps)
Free breakfast yogurt cup (30,000 steps)
Hint: many rewards offer you something free with the purchase of something else.
There's a daily earn limit of 10,000 steps, and steps not redeemed for rewards expire on the last day of the month following the month they were earned in. Also, there are online rewards for everyone, and then there are local rewards just for the communities where they're active (so far, local LA communities).
Here's the free iOS app (android is not available).
Log Your Miles for Health Insurance Premium Savings
Do you remember when I discussed the trick to employer-sponsored plan savings? It's taking part in their wellness programs. For us, taking part in our wellness program will yielded a total premium reduction of $900 two years.
That's $900 directly back into our paychecks, folks.
This year, we participated again. Except we got to put our $900 in collective rewards towards a Southwest Airline gift card that is largely paying for our airfare home for Christmas!
Among various other things – such as tracking water we drink each day, and taking a biometric screening survey – is tracking the amount of walking and/or exercise we complete.
All of these activities add up to a lot of dough for us. It's kind of like getting a cost of living raise…while raising your quality of life (double raise!).
Log Your Miles for Charitable Donations
One way you can catapult your results: make your walking goals bigger than yourself. Also a great way to use your Fitbit steps for charity.
Log your miles to donate for free to organizations and causes that are important to you (one of the 5 volunteer from home opportunities I talked about recently).
Get Paid to Walk – No Fitbit Needed
Let's talk about even MORE opportunities to earn cash for walking (no Fitbit needed).
Just sign up, walk, and get money!
I absolutely love it when you sign up for something, and then forget it's there (while it's still silently rewarding you in the background).
That's what happened to me – I signed up for the sweatcoin app in April and completely forgot about it.
And look: I've already earned 260.63 sweatcoins!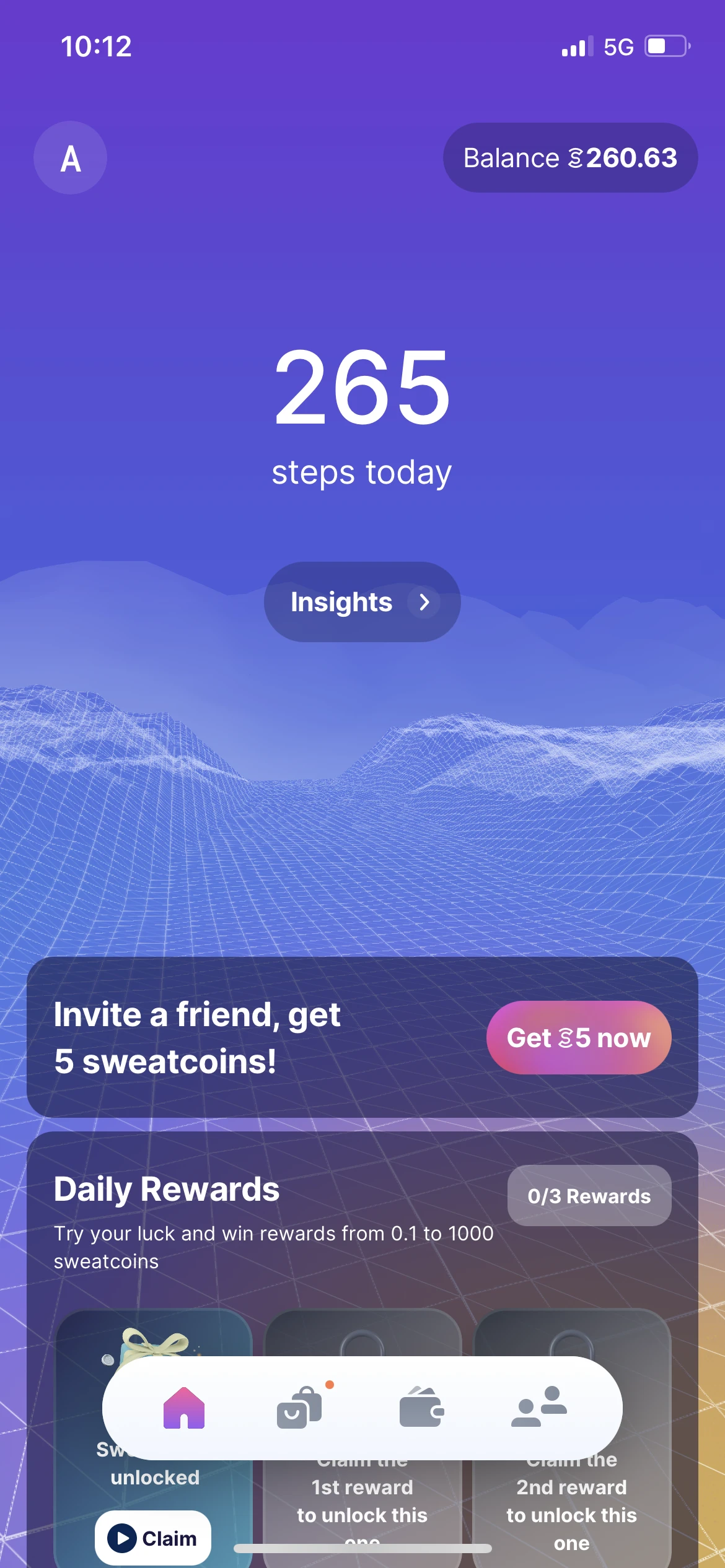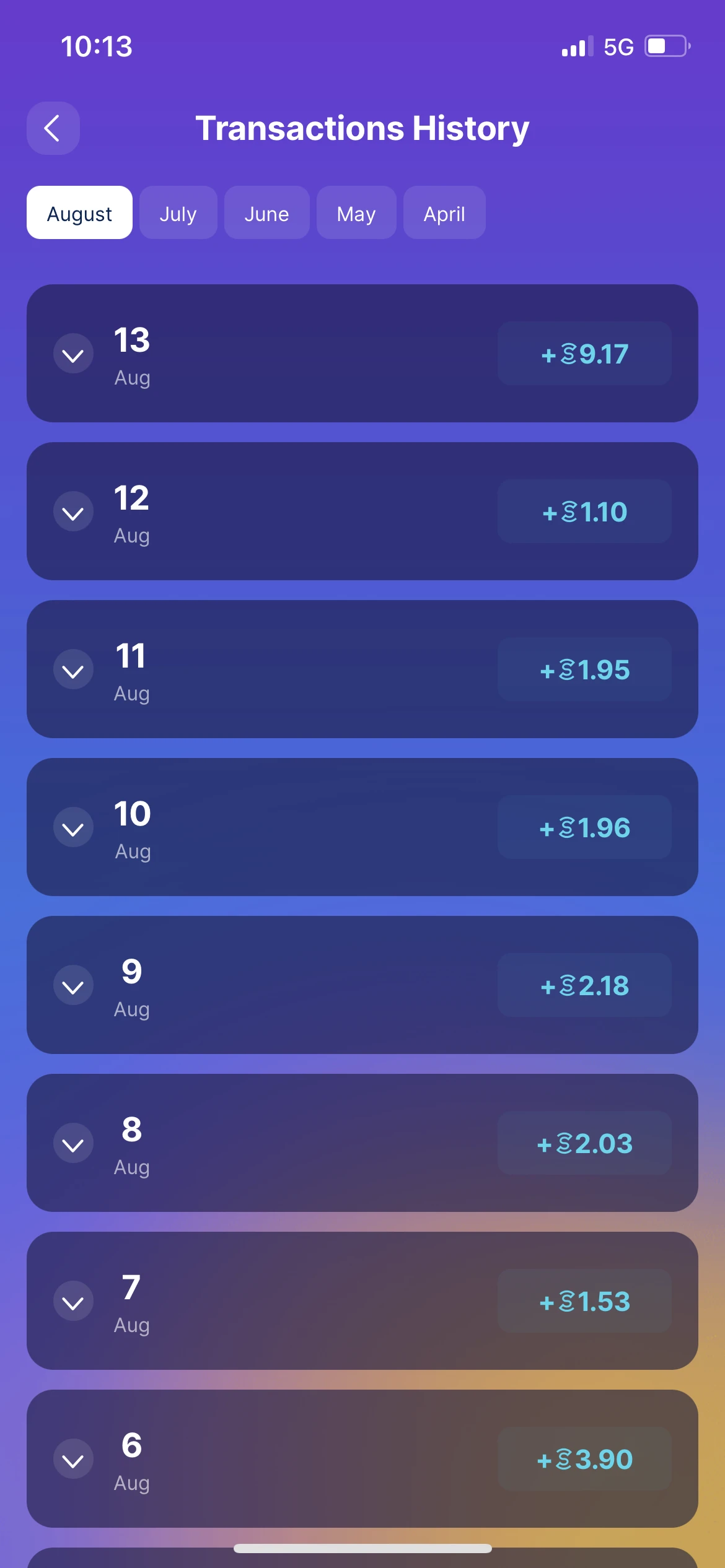 You can use sweatcoins to shop with on their marketplace, bid on auctions, or donate.
Having said that…the current prizes aren't too exciting for me. Still, I love that this app counts my steps (when I have my phone on me). I'll keep my eye out on their marketplace, now that I know I've got a stash of sweatcoins built up.
Does sweatcoin actually pay cash? Yes – though you have to catch the days when they offer PayPal cash for your sweatcoins (rumored to be rare).
Earn 0.95 sweatcoins for each 1,000 outdoor steps you take (it won't work on a treadmill, as it's measured by GPS). Each day they offer different ways you can cash in your sweatcoins, such as through Amazon gift cards, Paypal cash, or credit for workout gear.
Free and available for iOS and Android.
Which one are you dying to sing up for today? Perhaps two (or 5)?
The following two tabs change content below.
Amanda L. Grossman is a writer and Certified Financial Education Instructor, Plutus Foundation Grant Recipient, and founder of Frugal Confessions. Over the last 13 years, her money work has helped people with how to save money and how to manage money. She's been featured in the Wall Street Journal, Kiplinger, Washington Post, U.S. News & World Report, Business Insider, LifeHacker, Real Simple Magazine, Woman's World, Woman's Day, ABC 13 Houston, Keybank, and more.
Read more here
.
Latest posts by Amanda L Grossman (see all)