Searching for ways to get paid to walk? I'll show you how to make money with Fitbit, and without a Fitbit.
I never knew how much walking would become part of our lives after having a baby.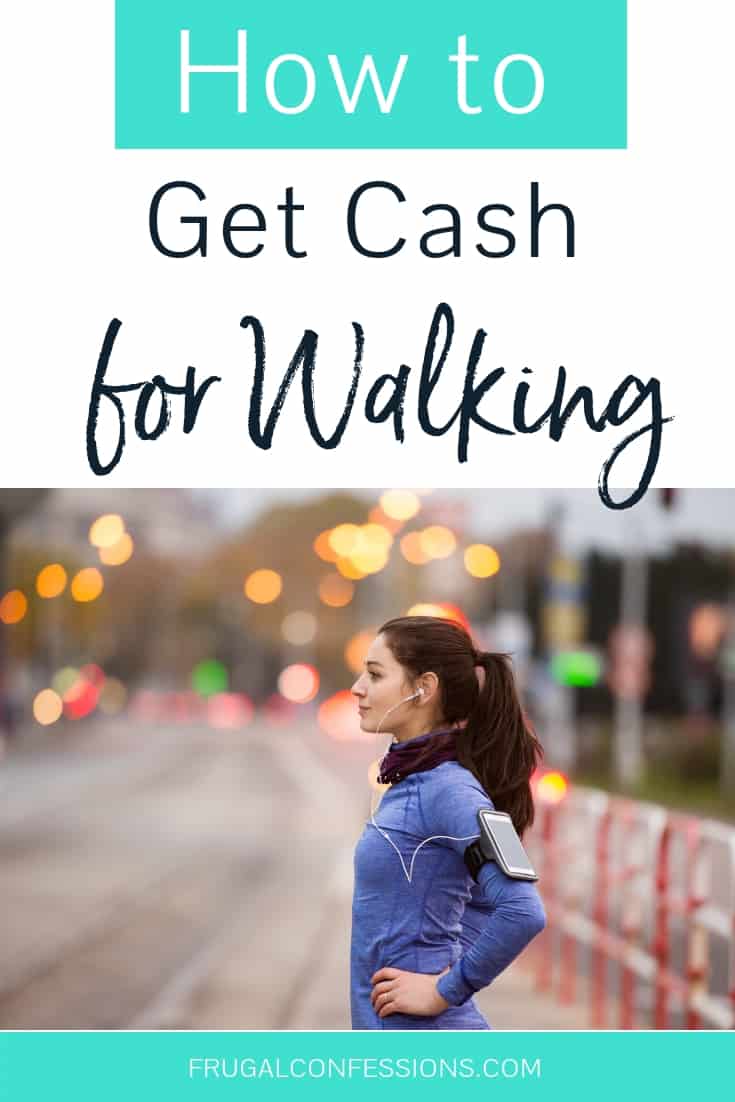 From about birth + 14 days, walks have provided so much for us.
Taking a Walk with a Baby (or just walking in general):
So…it's not surprising that with all these miles I've logged I've figured out how to get the most bang for your walks.
Can You Make Money Walking (is the App that Pays You to Walk Real)?
Short answer? Yes.
You can absolutely make money walking. I've got loads of ways to do so below, but I want to let you know that the best way to do this is to layer these money-making deals. In other words — you want each mile you walk to count towards money in ore than one program at once.
For example, you can do the following all at the same time, using the same steps you walk once to count for each program: 
See how that money can start to add up?
All for taking Fido or your baby for a walk they should probably be going on, anyway!
Let's get down to the exciting details, now.
Get Paid to Walk Fitbit
You've got a Fitbit — or you want to purchase one — and you'd like to earn back the money for it (yes! great strategy to buying a Fitbit – earn money with Fitbit, and it will pay for itself).
I've got an excellent idea: use it to get paid to walk.
Seriously!
Let's look at opportunities to get paid to walk Fitbit and get paid to exercise Fitbit:
StepBet: With Stepbet, you bet in favor of meeting the step goals you set for yourself. If you reach your step goals for the whole game duration, then you get to split the pot with others (you'll at least get what the money you bet + a profit). Goals need to be met on a weekly basis. You can participate with Fitbit, but also Apple Watch, Apple Health, Google Fit, Samsung Health, and Garmin. Winnings are deposited as points into your account, which you can be sent to your Paypal within 48 hours! Ka-ching!
My Achievement: Track your steps using your Fitbit at MyAchievement, and get $10 CASH for every 10,000 points). You can earn up to 80 points per day for physical activity (like walking!). Payouts happen via Paypal or Giftrocket, and within a week of your request. Again, they accept over 30+ apps besides the Fitbit, so you might be able to participate with what you've got right now.
Walgreens Balance Rewards Points: For every 40,000 miles you log, you earn $50 balance reward. That's a lot of miles, granted, but hey — you're going to be walking them anyway. And, did I mention, you earn 20 points for each mile you walk? Plus there are other ways to earn 20 points here, 250 points there. Use this link to sync up your Fitbit to the program.
Log Your Steps and Win Up to $10,000
Did you know you can enter a challenge with the chance to win up to $10,000 for meeting your step counts or weight loss goals?
It's pretty awesome.
Especially since by entering, you can get both:
a) accountability
b) MONEY (average winner gets to take home several hundred bucks!)
You can enter a challenge — either as an individual, or get together a posse of your best friends and enter as a team — at HealthyWage.com.
In order to win a money prize for the step count, you'll need to increase your step count by 25%.
Sounds doable, right?
Psst: Now through 11/4/2019, you can get a $55 prize boost! Go through my link for the $55 prize boost. 
Log Your Miles for Health Insurance Premium Savings
Do you remember when I discussed the trick to employer-sponsored plan savings? It's taking part in their wellness programs. For us, taking part in our wellness program will yield a total premium reduction of $900 this year.
That's $900 directly back into our paychecks, folks.
This year, we participated again. Except we got to put our $900 in collective rewards towards a Southwest Airline gift card that is largely paying for our airfare home for Christmas!
Among various other things – such as tracking water we drink each day, and taking a biometric screening survey – is tracking the amount of walking and/or exercise we complete.
All of these activities add up to a lot of dough for us. It's kind of like getting a cost of living raise…while raising your quality of life (double raise!).
Log Your Miles for Charitable Donations
One way you can catapult your results: make your walking goals bigger than yourself. Also a great way to use your Fitbit steps for charity.
Log your miles to donate for free to organizations and causes that are important to you (one of the 5 volunteer from home opportunities I talked about recently).
Log Your Miles for Cash (for Real!)
Let's talk about even MORE opportunities to earn cash for walking (no Fitbit needed).
Just sign up, walk and get money!
Which one are you dying to sing up for today? Perhaps two (or 5)?
The following two tabs change content below.
Amanda L. Grossman is a Certified Financial Education Instructor, Plutus Foundation Grant Recipient, and founder of Frugal Confessions. Over the last 10 years, her money work helping people with how to save money and how to manage money has been featured in Kiplinger, Washington Post, U.S. News & World Report, Business Insider, LifeHacker, Woman's World, Woman's Day, ABC 13 Houston, Keybank, and more.
Read more here
.
Latest posts by Amanda L Grossman (see all)
https://www.frugalconfessions.com/wp-content/uploads/2017/06/get-paid-to-walk-1.jpg
512
1024
Amanda L Grossman
https://www.frugalconfessions.com/wp-content/uploads/2019/02/frugal-confessions-logo-340.jpg
Amanda L Grossman
2017-06-19 05:00:27
2019-10-29 13:27:35
Get Paid to Walk. You Heard Me Right!