Looking for exciting things to do on date night that involve exploring other cultures (w/o purchasing airline tickets)? This is it.
Two things you need to know about my husband and I: we both love to explore, and we love to take in new cultures.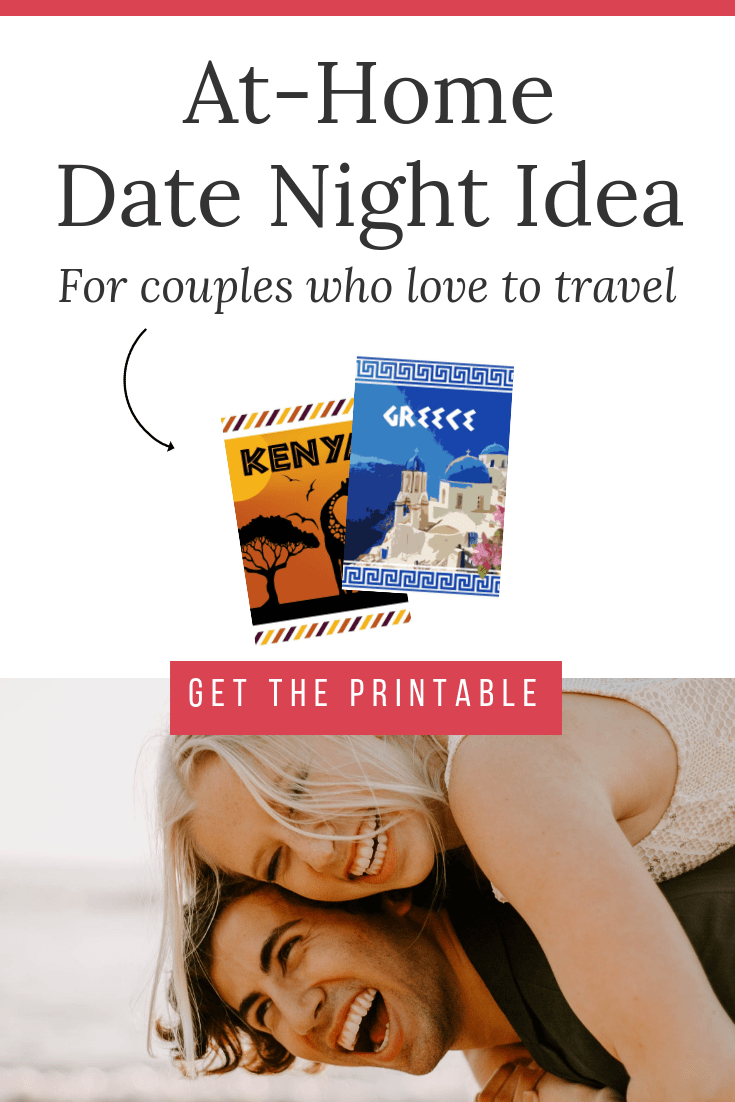 In fact, we met in Japan. He was a cryptologist in the Navy, and I was studying abroad at Meiji Gakuin University.
Taking in new cultural experiences has always been a "thing" for us. 
Like when we went to Austria for 11 days on our honeymoon, or to Cozumel for our 5-year anniversary. Or when we visit my family in PA and explore Amish Country (it's like entering another world – seriously).
But now that we've got a little one? The international travel has toned down.
And by toned down…I mean come to a screeching halt.
At least for a while.
And in the mean time? Well it dawned on me that we can still let our exploratory sides express themselves through both at-home and out-in-the-city dates.
Ever Wondered What to do On a Date Night…that's Exciting?
We're always looking for exciting things to do on a date night, and we've gone on some quite, creative date nights.  
The best date nights for us have included things like:
Plan Some Sort of "Event": Our entire date night revolves around one central theme/event, such as when we set up our own culinary trail, or when the eclipse came and I got us viewing glasses (I put a surprise pair in my husband's lunch with instructions printed out for when the eclipse would show in our area) + watched Dolores Claiborne (haha–one of the only movies I could find where an eclipse was central to the plot) the night before, a chocolate bar tasting, etc. 
Pair it with Food: Food is definitely another core part of figuring out what to do on a date night. Sometimes I cook — er, rather my crockpot cooks — the most amazing Indian food (seriously, you have GOT to try this Indian Crockpot Cookbook out), or we head out to a Food Truck (you can find out when specific food trucks, like international fusion ones, will be in your area by searching RoamingHunger.com), or we pick up something on the way home.
Get Something Done on the Couple To-Do List: We don't always do this, but sometimes pairing some sort of event above with discussions on marriage and money – what I like to call money quickies – is very helpful. After all, we've got a toddler and don't always have time to talk about things that need to be discussed. 
So, now I'm going to share with you one of our most favorite things to do on date night. It's a memory we'll never forget!
Things to do on Date Night: Choosing a Cultural Theme
Since going through the Dating Divas' 10-day, Divorce Proof Your Marriage mini-course (it's free!), dating one another has become a top priority for us.
We've designated one night a week to be date night, and we take turns with who is going to plan it out.
Some date nights are out of the house, and most date nights are at home date nights (after we put the little one to sleep).
I decided to add some pizzazz to our normal date nights, and not only get a friend to babysit for us – thank you so much, Sharareh! – but to also center the night around exploring a culture together.
When thinking about things to do on date night, I knew the Around the World dates packet from the lovely Dating Divas would be a real help. 
(Hint: these date nights were designed to take place completely at home. I just decided, since we had a volunteer babysitter, that we would spice things up even more by taking it out into the city of Houston!)
And I got to choose from one of 12 countries around the world for us to explore:
China

India

Ireland

England

Italy

France

Spain

Greece

Kenya

Egypt

Jamaica

Brazil
I decided India was for us. At least for themed things to do on this particular date night!
Our India-Themed Date Night
After printing out the India packet of goodies, I got to work planning out a date with both at-home and in-the-city components.
Here's what I set up for us:
Elephant Invitation

: First up, I cut out and filled in the invitation for Paul to our date night. He didn't even know that I had found a babysitter, so this was a big surprise for him!

Indian Dessert

: The day of, I visited an Indian bakery right near our home (Masala Munchies) and tasted several different dessert samples before choosing White Penda and Mint Chocolate Chip Burfa. Instead of using the bag toppers in the printables packet for Holi powder, I stapled them onto two lunch bags with the desserts inside!

Hindu Temple Tour

: Lo and behold, just 14 minutes away from our home is one of the most

ornate, gorgeous Hindu temples

(and buildings) we've ever seen – and I'm talking on the inside, where photographs are not allowed. We were entirely awestruck, not to mention entirely transported to India while in this marble building.

Indian Grocery Store Tour

: After the tour of the temple, we headed to

Keemat Grocers

, which is an Indian food store Anthony Bourdain toured for his CNN show. How fun to go up and down the aisles, checking out all kinds of Indian food goodies – spices, sauces, drinks, frozen foods, etc.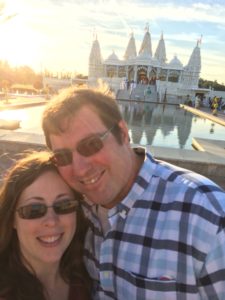 The date packet came with so much more – Holi Powder recipe, dinner recipes for two Indian dishes, iron transfer art for tee-shirts, a sexy Henna activity, a list of Bollywood movies to add to your Netflix queue, etc. – and we're going to use these things to do on date night for a Holi festival date come Spring. It turns out Houston has the biggest Holi festival in the U.S.!
More Info on the Around the World Dates Packet
That was just ONE of the 12 date nights set up for you in the Around the World Dates packet. How fun knowing we have 11 more cultures to explore either from our home, or within the city of Houston!
To help you with things to do on date night and explore the fun of these 12 fantastic countries, all you'll have to do is print off everything that's included in the bundle.
For EACH country you get:
An Invitation

Recipe Cards

A Date Night Activity

A Sexy Bedroom Activity

Bonus Ideas to Extend the Fun
You'll be visiting places like India, France and Brazil. Get ready for TWELVE exotic "vacations" from the comfort of your own home! This bundle has absolutely everything you need for a full night of fun.
If you're ready to immerse yourself in cultures from all over the globe – and I can't WAIT for us to do more of these date nights – you can grab all twelve Around the World Date Nights and have the next year of adventures completely planned out.
https://www.frugalconfessions.com/wp-content/uploads/2017/12/dani-vivanco-557423-unsplash.jpg
3542
2424
Amanda L Grossman
https://www.frugalconfessions.com/wp-content/uploads/2019/02/frugal-confessions-logo-340.jpg
Amanda L Grossman
2017-12-04 05:00:32
2019-04-10 12:50:58
Things to do on Date Night: Experience the World w/o an Airline Ticket