What are the best personal finance books of all time? Reading through this list of personal finance classics is like getting your GED in money.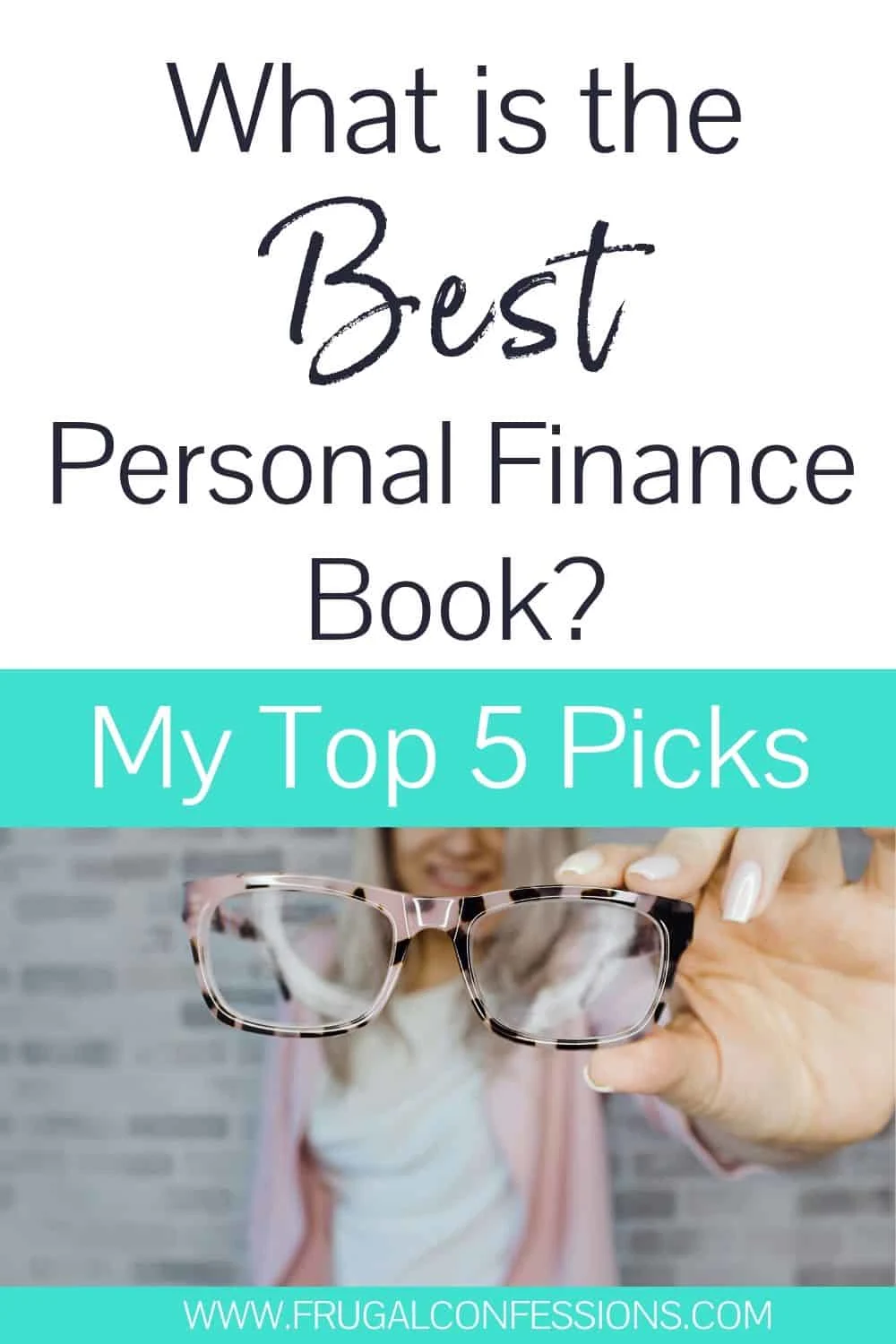 We're not born with money knowledge. Every time I've started to wonder how can I improve my financial knowledge, I've turned to personal finance books.
Like, when I was starting college and had such a small budget to work with. Or when I was 16, and decided that I needed to invest so that I could become rich one day, or when I got engaged and needed help with planning a budget wedding.
Sure, some of us might have a natural fascination with numbers (*raises hand*). But at some point we had to actually pick up the personal finance knowledge we use on a daily basis to get ahead.
Financial literacy is something that is very dear to my heart. At MoneyProdigy.com, I'm closing the money education gap, one kid at a time. My hope is to prevent financial catastrophes at the source, before someone misses a mortgage payment.
But what if you never had the chance to get that critical personal finance education back when it could have prevented the financial woes you're dealing with today?
I want to discuss the 5 money books that I've read and that I feel will give you an outstanding foundation for dealing with your own personal financial situations in the most advantageous ways possible.
Heck, read these and you're on your way to getting your personal finance GED.
Your personal finance books GED study guide…
Best Personal Finance Books of All Time
Ever wondered, "how can I improve my financial knowledge?"
I only paid $0.50 for this book at a used book sale, and can't believe the amount of personal financial information it opened my eyes to.
And it's such a short book!
The author has outlined money truths that are as relevant in Ancient Babylon as they were in 1926 when the book was written, and as they are today in the 2000s. Because of this – I think this book is one of the best financial books for beginners, hands down (but if you're a seasoned expert? This will deliver, as well).
Arkad, from Babylon, is the teacher in this book and he shows us the five laws of gold no one is immune to, as well as the cure for a lean purse. You bet you want to listen up!
A theme that spoke to me throughout this book is the call on us to be men and women of action and to resist procrastination. The author points out that the majority of us do not seize opportunities but rather hesitate, falter, and fall behind.
For someone who has a backlog reading list of three years or more, I think this is great advice.
It's so easy to think about digits without putting much value or thought into them. You know, like how high (or low) your salary is, what your raise was, how much the movies cost you last weekend.
But this book will make you think completely differently about the numbers. It'll introduce you to the concept of Life Energy, and show you how to make sure you're using yours for your optimal enjoyment (not someone else's).
This book opened my eyes to the fact that we don't trade 40-60-80 hours a week for our salary, rather we trade a certain amount of life energy — our precious allotment of time here on Earth — for our salary.
Instead of thinking about the salary I am earning as a number, I was awakened to the concept of how much life energy I was trading for both my salary as well as for the purchases I was making.
We also don't trade money for our purchases, but rather our life energy actualized.
Once you figure out the amount of life energy your purchases are costing you, you should always ask yourself,
"[d]id I receive fulfillment, satisfaction, and value in proportion to life energy spent?"
The answer might really shock you.
While I was completely unimpressed while attending one of this man's free real estate trainings, his book led to an enormous shift in my mind around money.
As a person who was raised in a normal financial household — by educated parents who did not have much money — let me tell you that the words in this book are eye-popping to me.
As I read new excerpts, I would periodically run into the living room while Paul, my husband, worked on his Facebook Farm, and spurt out sentences that particularly rang true to me.
I am excited to share some of these nuggets with you:
#1: Money Issues do not Dissolve Because You Acquire More of It
This is seen countless times in the news, when someone wins the lottery and ends up bankrupt a few years later, or when actors and actresses declare bankruptcy (and we are all left to wonder, dumbfounded, how on earth someone with even a million dollars, let alone 5 million dollars, can lose it all). In other words, in all but a few cases where the adults do not make enough money to cover necessities, making more money is not going to solve your money problems.
But this is also an exciting proposition for everyday people like you and myself who have decent jobs and make decent money, but not loads of money. This concept means that you do not need to have money or to make lots of money in order to acquire lots of money. You simply need to widen the gap between your income and your expenses.
#2: Working for Someone Else Will Not Get you Rich
What? But what if I love my job? What if I don't want to start my own company? These are the questions that ran through my head as I read this. Well, that is fine, and you can certainly work for the rest of your life for someone else, make a decent living, and have a great life. If this is what you want to do, you need to make sure that you break the cycle where you acquire things you do not need, then have to pay them off which makes you have to work harder in order to get paid more… to acquire more things… If you fall into this constant loop, then you will never increase the gap between your income and expenses in order to do the next step.
#3: Acquire Assets, Not Liabilities
"Rich people acquire assets. The poor and middle class acquire liabilities, but they think they are assets." What an intriguing statement. The author goes on to explain that assets are defined as something that puts money in your pocket. Period.
Think about your own life; are you acquiring assets, or are you acquiring liabilities? In this category, I give Paul and me a "C+" grade. In other words, we are mainly working for our money. True, we both have retirement accounts, and thus are investing and owning assets, and we also have a brokerage account where I made money investing in US Steel stock when its prices plummeted in the recession. But there are many liabilities in our lives that were purchased with money that could have been used to purchase assets. As I write this, I can see a Mustang sitting in our driveway, a fish tank next to me, and two cats that eat an awful lot of tuna! Hahahaha — okay, the cats may be liabilities according to the definitions in this book, but we love them anyway.
I can boil the entire book down to this:
if you want to be wealthy one day, then you need to spend your money acquiring assets that will work for you, not liabilities that will work against you.
And guess what? Most of what we buy are liabilities. Eye-opening.
"The poor and the middle class work for money. The rich have money work for them."
This provided a clear cut way to categorize all of our purchases moving forward: are we adding to the assets column, or to the liabilities column? Love this book.
You might wonder why I included this one in the list. Honestly, it made such a profound dent in my thinking about money + work, that I couldn't keep it off.
Is it likely that you will get your workweek down to just 4 hours from reading this book? Probably not. But you'll begin to think about possibilities of earning income in a manner you probably never have before. Which means you might make some changes that could alter the rest of your working life.
This book introduced some strange and wonderful new concepts to me: lifestyle design, mini-retirements, and outsourcing work. What fascinating — dare I say blasphemous — ideas! The idea here is how to live a millionaire lifestyle without having $1,000,000 in the bank (which has nothing to do with material things). Most of us just want the freedom and experiences we think millionaires have.
Tim Ferriss shows us that we don't actually need to be millionaires to adopt this lifestyle.
Money Book #5: The Millionaire Next Door, Thomas J. Stanley + William D. Danko
Many people with high incomes think they are wealthy. This book will open your eyes to the fact that that is entirely untrue. You can earn a huge income but if you spend most of it then you aren't actually wealthy.
This book drives home the fact − besides that the Joneses aren't exactly who you think they are − that if you want to be wealthy you have to actually accumulate part of your salary.
"Wealth is not the same as income. If you make a good income each year and spend it all, you are not getting wealthier. You are just living high. Wealth is what you accumulate, not what you spend."
This is my list. What would you include on a must-read list for a personal finance GED?
The following two tabs change content below.
Amanda L. Grossman is a writer and Certified Financial Education Instructor, Plutus Foundation Grant Recipient, and founder of Frugal Confessions. Over the last 13 years, her money work has helped people with how to save money and how to manage money. She's been featured in the Wall Street Journal, Kiplinger, Washington Post, U.S. News & World Report, Business Insider, LifeHacker, Real Simple Magazine, Woman's World, Woman's Day, ABC 13 Houston, Keybank, and more.
Read more here
.
Latest posts by Amanda L Grossman (see all)