Creative date ideas for married couples who connect over experiencing new cultures together…without having to travel the world!
Several years ago, Paul and I had a blast wandering from ethnic food store to ethnic restaurant for the better part of a day.
This was after it dawned on me that we live in Houston − a hugely diverse city with access to authentic foods from the corners of the world. In fact, Anthony Bourdain had just completed a trip to Houston for his CNN show Parts Unknown and he visited many locales near our home.
So, I researched a bunch of pit stops for us to make, and we put together our own culinary trail date.
All put together, it was quite fun.
So, what exactly did we do on it, and how can you set up your own culinary trail date?
Pssst: this would be a great date to tag onto a money quickie meeting you have with your spouse to deal with your marriage and money. 
Unique Date Ideas: Things to Do on a Culinary Trail Date
It's fun to either dive deep into one specific culture/ethnicity when putting together your own culinary food trail date, or to do a wide-ranging, worldwide tour.
It's one of our favorite date night ideas for married couples!
Also, use a combination of cultural centers, restaurants, and grocery stores to really take it all in. In fact, the lovely Dating Divas came up with a years' worth of cultural dates, all laid out for you that would make a nice addition to the info below, OR substitute entirely if you're in a particularly cultural-void area of the world. Their Year of Dates: Around the World includes countries like India, Ireland, Egypt, Brazil, France, etc.
Ideas for your Culinary Trail Date include:
:: Eating yummy foods
:: Window-shopping products from other countries (this used to be one of my favorite things to do while living in Japan — you can learn a lot about a culture this way!)
:: Walking around
:: Sampling more foods
:: Looking up recipes beforehand and then purchasing special ingredients you'll need to cook at home
Our Houston Culinary Trail Date
While it would be cool if you focused on one specific culture per date, we kind of bobbed between all kinds of cultures of the world (and, honestly, it'll give you an idea of what's out there for you to then explore further in the future).
Russian General Store: We had noticed this store right by our house, but allowed over two years to pass before we satisfied our curiosities. Until our culinary trail date, that is. If you can imagine a store that sells Soviet-era looking dried fish, then you get the picture. Think Russian nesting dolls (matrioshkas), Russian books and CDs, Russian beer, and all kinds of Russian ingredients. And from this pit-stop I got the idea for us to do a sort of Russian cultural study together. Yep, we're happy nerds like that).
Nippon Daido: This was how we stumbled upon our favorite Japanese grocer's (which is important to us as we met in Japan and still cook some of the cuisine together). We literally felt like we were perusing the aisles of a Japanese grocery store once more, putting all kinds of interesting and (sometimes) bizarre things into our cart and attempting to cook with them. The Japanese snacks aisle is especially grand.
Istanbul Market: This was a small store with a nice selection of olives, feta, cheeses, hummus, falafel, baklava, and snacks.
Phoenicia Specialty Foods: Paul once told me he stumbled into a store with a conveyor belt wrapping around its insides where fresh bread is made. This was it! We ended up bringing home this amazing Palestinian bread crusted in herbs (mmm…just typing that out makes me want to go back and get more) plus a few spices. We also really enjoyed looking through all of the cheeses from around the world.
Abdallah's: Paul ate his first Shawarma at this Lebanese Restaurant & Bakery since his days serving in Bahrain! I had a bite and can attest it was super yummy.
Several others, including Halal Meat Grocery Grill Supermarket (ever wonder what an entire lamb goes for? Apparently around $164.28), a Hookah bar (my first Hookah experience!), and Jerusalem Meats.
This was pretty much an awesome, memorable date day that had us exploring our local area while at the same time connecting over our love for learning about different cultures.
You can do this with just about anything. Some places even have loosely set up culinary trails for people, such as South Lousiana's Boudin trail, or North Carolina's Moravian Trail, or exploring Pennsylvania's Amish + German heritage.
So what do you think, will you try this out? What places can you find to go to in your own area?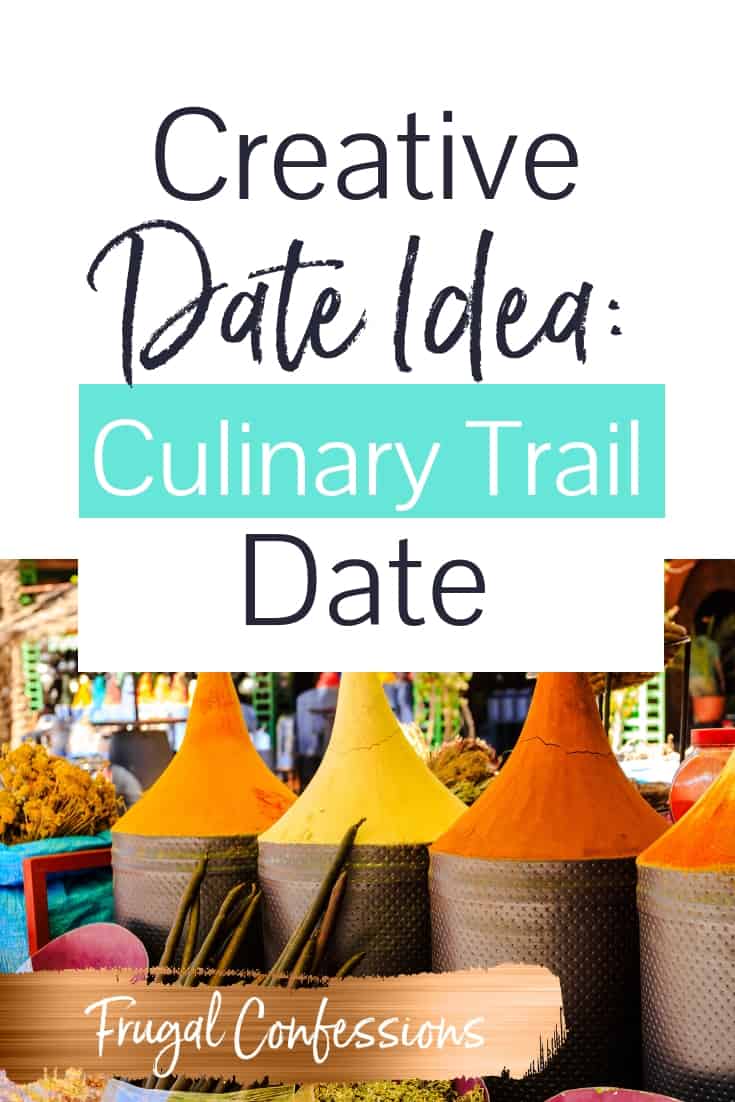 https://www.frugalconfessions.com/wp-content/uploads/2018/04/Depositphotos_67563797_xl-2015.jpg
3456
5184
Amanda L Grossman
https://www.frugalconfessions.com/wp-content/uploads/2019/02/frugal-confessions-logo-340.jpg
Amanda L Grossman
2018-04-23 05:00:34
2018-11-03 11:16:21
Creative Date Ideas: Setting Up a Culinary Trail Date