Could you access important information in a matter of minutes, if need be? Use these family emergency binder free printables to help.
When you're in an emergency, it's extremely useful to have everything you need in one, easily accessible place.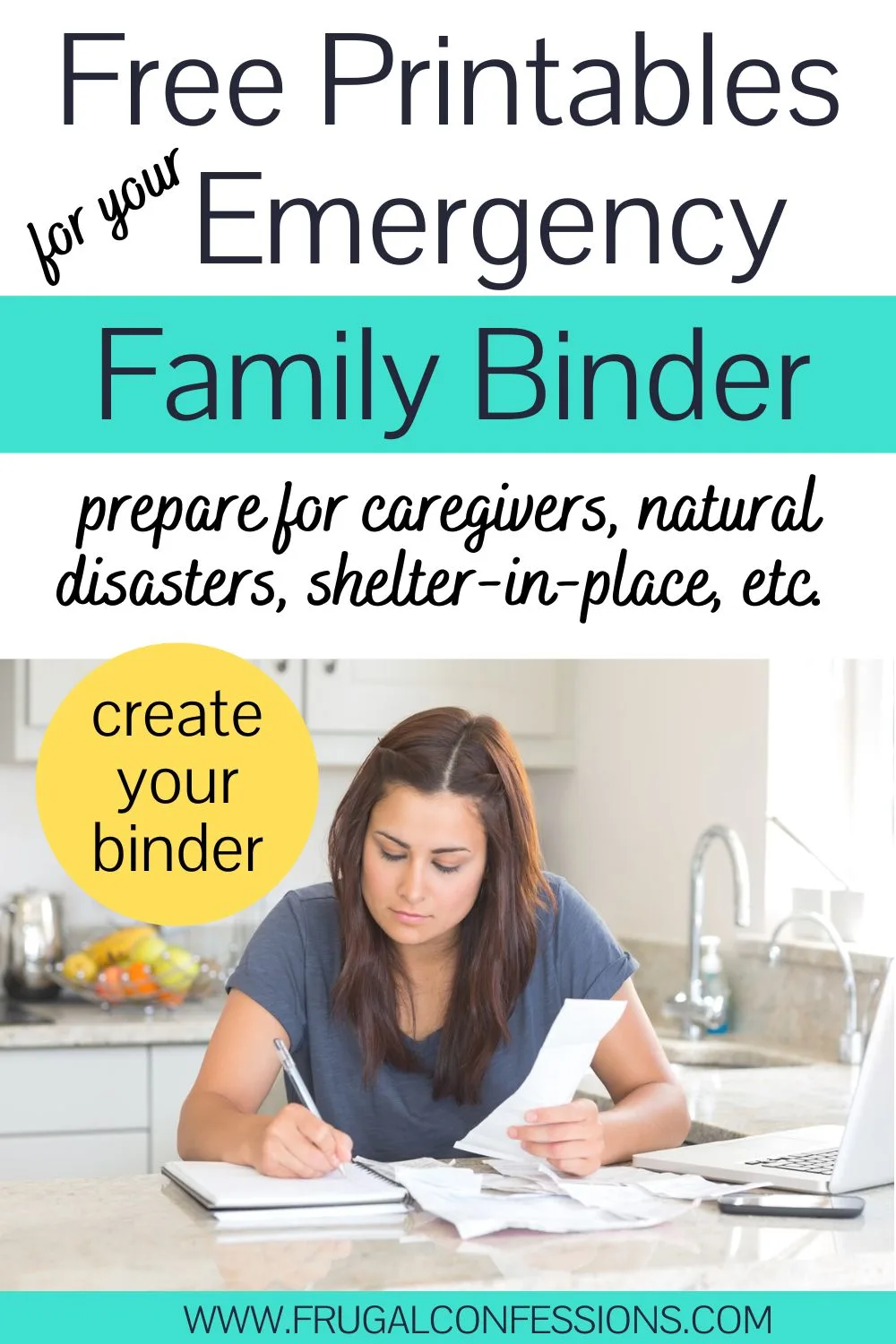 Both so that you can snatch it quickly before leaving – as long as you can do so safely – and for shelter-in-place emergencies where you need to access information.
These family emergency binder free printables will help you to:
Keep a lot of vital information in a grab'n'go format
Get information together for a spouse or loved one, in the event that someone dies
Give you important information to use during an emergency
Give a caregiver useful information
Prepping this ahead of time will give you peace of mind, so let's dive in!
What Should be in a Family Emergency Binder?
The Family Emergency Binder or ICE (In Case of Emergency) Binder has both need-to-have bits of information, and nice-to-haves.
And what you include in yours will depend on your situation. For example, whether or not you have children, what property you own, if you have pets, etc.
Family Emergency Binder Checklist:
Identification information
Financial information
Evacuation Checklist
Family Disaster Plan
Emergency contact card
Medical information
Insurance information
Property information
Ownership documents
Pro Tip: A note on where to keep these: some of these documents you want to keep accessible for babysitters, caregivers, and you. Others, you likely want to protect in a safe/security box, and/or a fireproof and waterproof organizer.
Family Emergency Binder Free Printables
Pick and choose from the free printable family emergency binder worksheets and PDFs below to make a binder that suits your needs.
Hint: keep reading, where I talk about a few tips on how to create your actual binder.
This is a very helpful set of free emergency binder pdfs you can download and print to work through.
Worksheets include:
Family Emergency Plan Binder Master List
Vital Documents checklist
Insurance Documents checklist
Financial Documents checklist
Evacuation Plan checklist
Car Emergency Kit checklist
Basic Disaster Supplies checklist
Evacuation Grab-n-Go List by amount of time you have (5 minutes to 1 hour)
Individual Identification worksheets
And more!
Check out the American Red Cross's free Family Disaster Plan set of worksheets, which includes:
Family member names and contact information
Pet information
Disaster plan of action, including a meeting place outside of the neighborhood in case of unforeseen separation
Family member responsibilities worksheet
The Kansas Division of Emergency Management put together a pretty thorough emergency preparedness workbook that they take people through in a class.
And, you can download it for free!
You'll work through putting together:
Vital records
Financial documents
Insurance documents
Emergency Kits
Residents/Household Inventory
Family Emergency Plans/Communication
Online Links to Emergency Preparedness
Looking for an online form you can type your answers into and then print out?
FEMA has a family emergency communication plan builder to help you answer important questions, then print a report out in the end.
You'll fill in your household information, information for each family member, childcare and workplace information, emergency contacts, emergency meeting places, medical information, and insurance information.
Here's a cute, 10-page set of printables to help you put your emergency binder together.
Worksheets include:
Family Emergency Supplies list (including blank monthly calendar to keep track of expiration dates)
Family Member Details
Family Emergency Plan
Household Inventory
Emergency Contacts
Grab'n'Go Items
Emergency Utilities
Etc.
Psst: while you're thinking of emergencies…don't forget about building up your emergency fund. Here are emergency fund examples, and free emergency fund tracker printables to help you. Here's how to prepare for unexpected financial emergencies.
Does your family all understand evacuation routes and escape plans from your home?
Downloading this printable and filling it out, then practicing with your family can help in the event of a future disaster.
I feel like these pages are both super cute, and a really good way to start your emergency binder (you'll likely want to print out other pages from above to add to your binder).
Pages include:
Emergency Numbers and Information
Family Personal Profile
Birthdays & Anniversary Dates
Contacts of Family & Friends
Utilities & Services
Password Tracker
Hint: you need to scroll all the way down and fill in the tiny optin box to get these.
Here's a set of checklists you can include in the following sections of your family emergency binder:
Personal Info
Financial Info
Insurance Info
Home/Auto Info
Retirement Info
Then, just gather, gather, and gather!
Hint: here's another family emergency binder checklist to help you gather everything you need for your binder.
This set of free printables is focused on shelter-in-place emergency situations, and can help you get together emergency supplies ahead of time.
There's also a worksheet for you to jot down emergency contact information and medical information.
Get worksheets for:
Family Member Profile
Contact List
Medical Contacts
Service Provider Contacts List
Emergency Numbers
Auto Information
Insurance Provider info
Household Inventory
Important Documents Checklist
Passwords Log
Financial Accounts Contact Information
Assembling Your ICE Binder
Choose and print out worksheets from above, fill them out, and organize them into a binder.
Where you keep that binder is up to you – think about what you want to keep secure, such as in a fireproof and waterproof lockbox, and what you don't mind being on the shelf.
But don't stop there.
Other things to keep in this binder:
Current photos of each member of your family, plus pets
A photo inventory of your household belongings (for insurance purposes)
Important family documents that are irreplaceable
A zippered pouch with some cash and extra keys (queasy about keeping extra cash in there? Here's some ideas for a DIY diversion safe)
Pro Tip: after you assemble your binder? I suggest that you scan in all of the documents, and recreate it in a digital format where you + your partner can easily access it (in case of it being lost, or you not having time to grab it, or any other emergency situation where you can't access it). You could do this on something like Google Drive by sharing with the other person.
The following two tabs change content below.
Amanda L. Grossman is a writer and Certified Financial Education Instructor, Plutus Foundation Grant Recipient, and founder of Frugal Confessions. Over the last 13 years, her money work has helped people with how to save money and how to manage money. She's been featured in the Wall Street Journal, Kiplinger, Washington Post, U.S. News & World Report, Business Insider, LifeHacker, Real Simple Magazine, Woman's World, Woman's Day, ABC 13 Houston, Keybank, and more.
Read more here
.
Latest posts by Amanda L Grossman (see all)