Home repair and renovation costs can quickly spiral out of control. Use these 7 strategies to negotiate with contractors and lower your next major home repair quote costs.
How to negotiate with a contractor?
We purchased our first home – a Houston-area, 1975, fixer-upper – back in the fall of 2009. And since then, we've gotten a ton of experience getting home repair quotes for major home repair costs and renovations.
Hint: you should read my article on mistakes to avoid when buying a house. We learned a lot…
Wayyyy more than I care to think back on. But for the sake of this article, I decided to take out my home binder (where I keep all the receipts, quotes, and other home owner documents) and reminisce a minute with you.
Over the last 10 years, we've had the following home projects costs:
Replaced Central A/C and Heater for downstairs
Replaced Central A/C and Heater for upstairs
Repaired the foundation
Had the master shower plumbing redone
Chimney cap installed
Roofing maintained
Back patio repaired
Wood flooring in living room installed
And that's just the stuff we got fixed. There were more things we got quotes for – like fixing the subfloor in the upstairs bathroom, or installing granite countertops – but decided to not move forward on.
For each of these jobs, we had to go through the quoting process. You know, finding companies through referrals (or, sometimes, blindly), then getting the service person to come out to give us an estimate or a quote, negotiating with contractors where we could, and then getting 1-2 more home repair quotes from others before deciding on who we'd move forward with the work.
Newsflash: even though it's highly recommended to get multiple quotes before hiring a company to do any work on your home, we didn't always take the time (or have the time) to do that. So, what I'm about to share with you will work even if you only get one quote. In fact, if you're ONLY getting one quote, then I highly recommend you bookmark this article and come back to these questions/phrases and use them – they might save your savings account.
Over this decade-long, tedious process of gathering quotes, I sort of honed my process on different phrases to use and questions to ask in order to save money on handyman repair jobs, renovations, and typical home maintenance expenses.
But before I release these awesome questions and phrases to you from the money vault (because, let's be honest, these words will save you MONEY)…let's talk about how to gain the confidence you need in order to use them.
How to Negotiate with Contractors (with Confidence)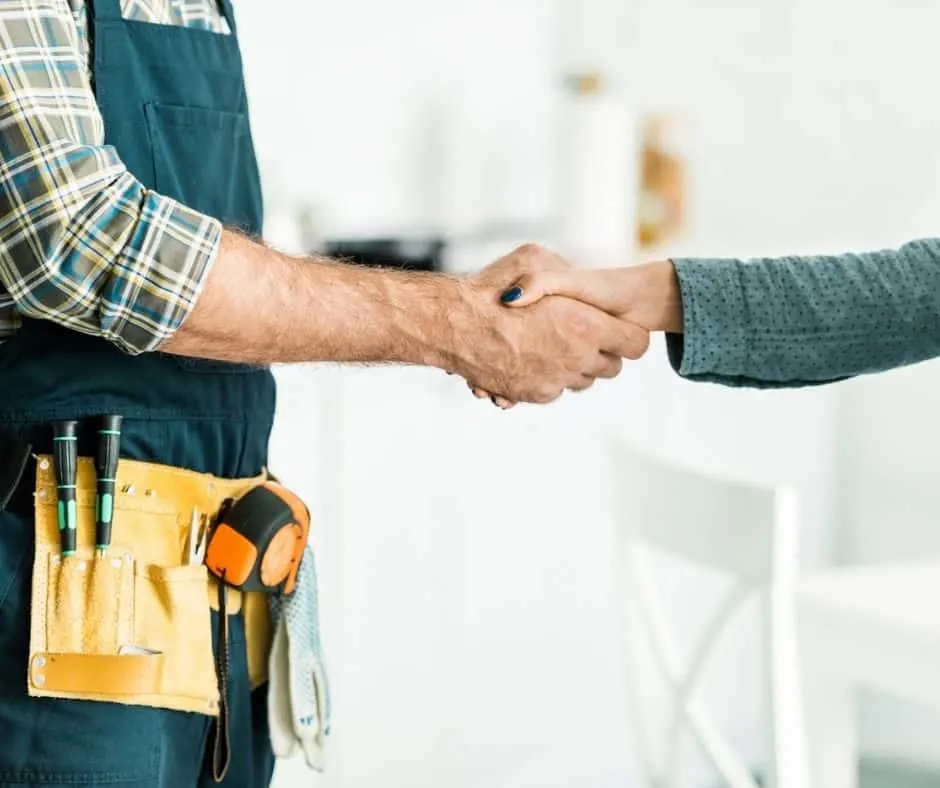 You might not feel very confident about negotiating with a contractor, at first.
I mean, I have people try to negotiate with me all the time and even I can find it intimidating, still.
So, I'd like to offer up some advice to you on how to gain enough confidence when negotiating with a contract.
The first thing to do is to remember that service providers are people. You can negotiate with people.
In fact, since you'll be doing it with professionals, then you should know that they're used to this sort of thing. Negotiations is just part of the game.
The next thing to remember is that you need to be respectful when you negotiate. And I'm not just talking with your words, I'm also talking with your counteroffers.
If a person quotes you $2,500 for plumbing, and you come back with $1,000…you're basically not respecting them. Your numbers are so different, that you'd be better off just telling them that they are out of your ballpark, you'll get a quote elsewhere, and thank you for your time.
Accidentally insulting people about their work is never a good way to get a lower quote.
A third tip is to be ready and willing to walk away. If you're willing to walk away and get another quote or find another solution, then you'll have an upper-hand in the negotiations.
Finally, know that you'll get more confident with negotiating the more you do it. My first time negotiating, I felt a bit queasy. Now, I know that it's just part of the process.
Psst: you'll also want to check out my article on whether or not you can get a home renovation for free on shows like HGTV.
How to Negotiate a Lower Price with Your Contractor to Save Money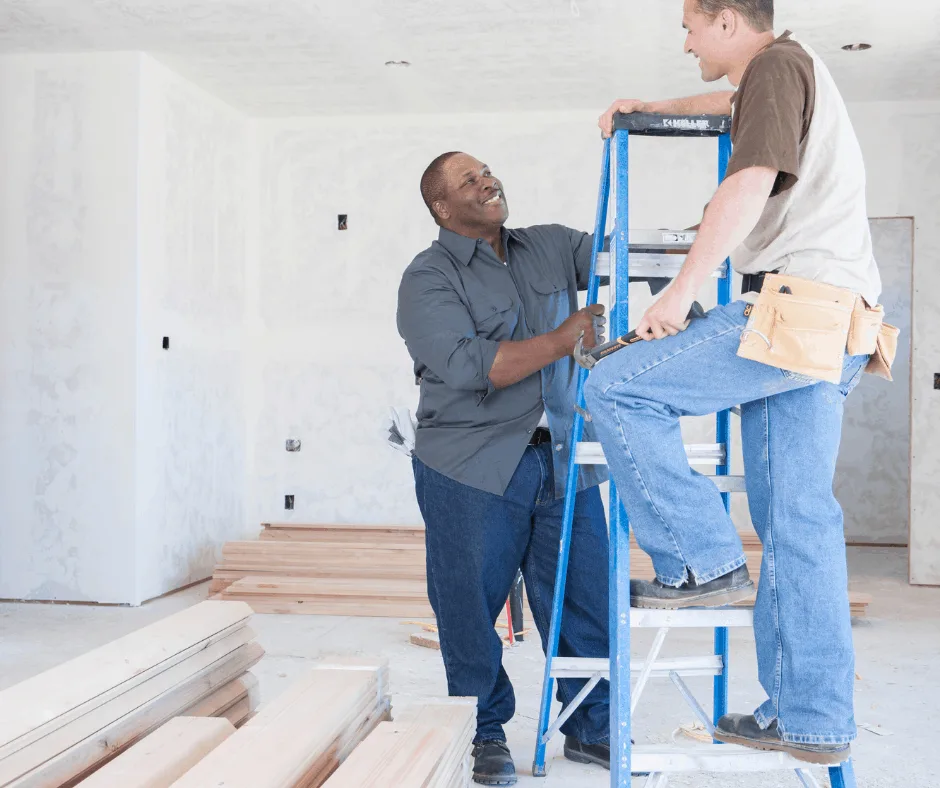 Our home is in a nice neighborhood. And you know what? I feel like we've been given some pretty pie-in-the-sky quotes due to this.
In fact, it's not just a feeling.
When I've done my due diligence and either gotten another quote OR priced out an estimate for a job online, I've quickly put fact behind my sneaking suspicion with actual numbers.
Nine times out of 10 (really, 10 times out of 10), when my gut instinct told me we were being over-quoted, we were.
And it's mainly because service professionals are taught to quote the person, not the job.
If they think that you're doing fine financially, then they might pad the quote a bit.
Or if they think you're in a desperate situation, then they might pad the quote a bit because, to be honest, they can – you need the work done ASAP (like the time there was water going through our living room ceiling, and we had to shell out $1,000 to a plumber to get the work done. We would've gone through with that even if he had quoted us an egregious $1,500…and when there's water coming out of your ceiling? You definitely don't have time to get a second quote).
Now, I'm not trying to say that all service professionals are unethical or dishonest. In fact, many work for companies where the pricing is fixed – meaning there's not much wiggle-room for negotiations at all.
But you've got to know where they're coming from so that you can get the best price possible. That's why I'm telling you these things, so that you're armed with some good information when you into the quote process.
Construction Contract Negotiation Tips
Alright, alright…ready to get your hands on these phrases and questions to help decrease the price of your next unexpected home repair? Here they are, plus how much they specifically saved us in costs.
Note: A few of these were used while I was negotiating a quote for car repairs. They'll still work well on any type of service negotiating you're doing.
Question #1: Is that the best you can do?
Our $700 question. Saying this right before closing the deal on our A/C Heater for downstairs made the guy take off an extra $700. Ummmm, hello??? That was awesome.
I didn't come up with this phrase, but it was the first one that I tried just one year after purchasing our home, and it hooked me into finding out other ways to negotiate contractor costs down.
Phrase #2: We are price sensitive.
Our $4,000 phrase. I used this when the guy started quoting us to replace our upstairs A/C and heater unit, starting at above $10,000. We got him to below $6,000. That's a FOUR THOUSAND DOLLAR difference.
We did it by telling him that we were price sensitive.
Professionals know and understand this phrase because they've dealt with tons of clients over the years. Price sensitive clients are different from clients who just want the work done and will pay whatever it takes.
Price sensitive clients will hold out longer before getting work done. Price sensitive clients will take the time to shop around for a different quote or even a different solution, altogether. A price sensitive client is motivated by saving money.
You say this phrase, and the contractor will immediately understand that they're dealing with someone who wants to hang onto their money.
Question #3: Can you throw in X?
Our $69 question. I used this to get our downstairs Central A/C unit serviced for free, which is something we should've been doing annually, but hadn't done for four years. Getting you're A/C unit serviced is between $69 – $169, but was free for us that year that we had our upstairs A/C unit replaced, all because we asked.
This is a great technique to use if the person you're negotiating with works for a company with standard rates, or is refusing to come down on their price. If you just ask them to throw in something that would cost you money anyway, and that they are used to doing anyway, then they are more likely to throw it in to seal the deal.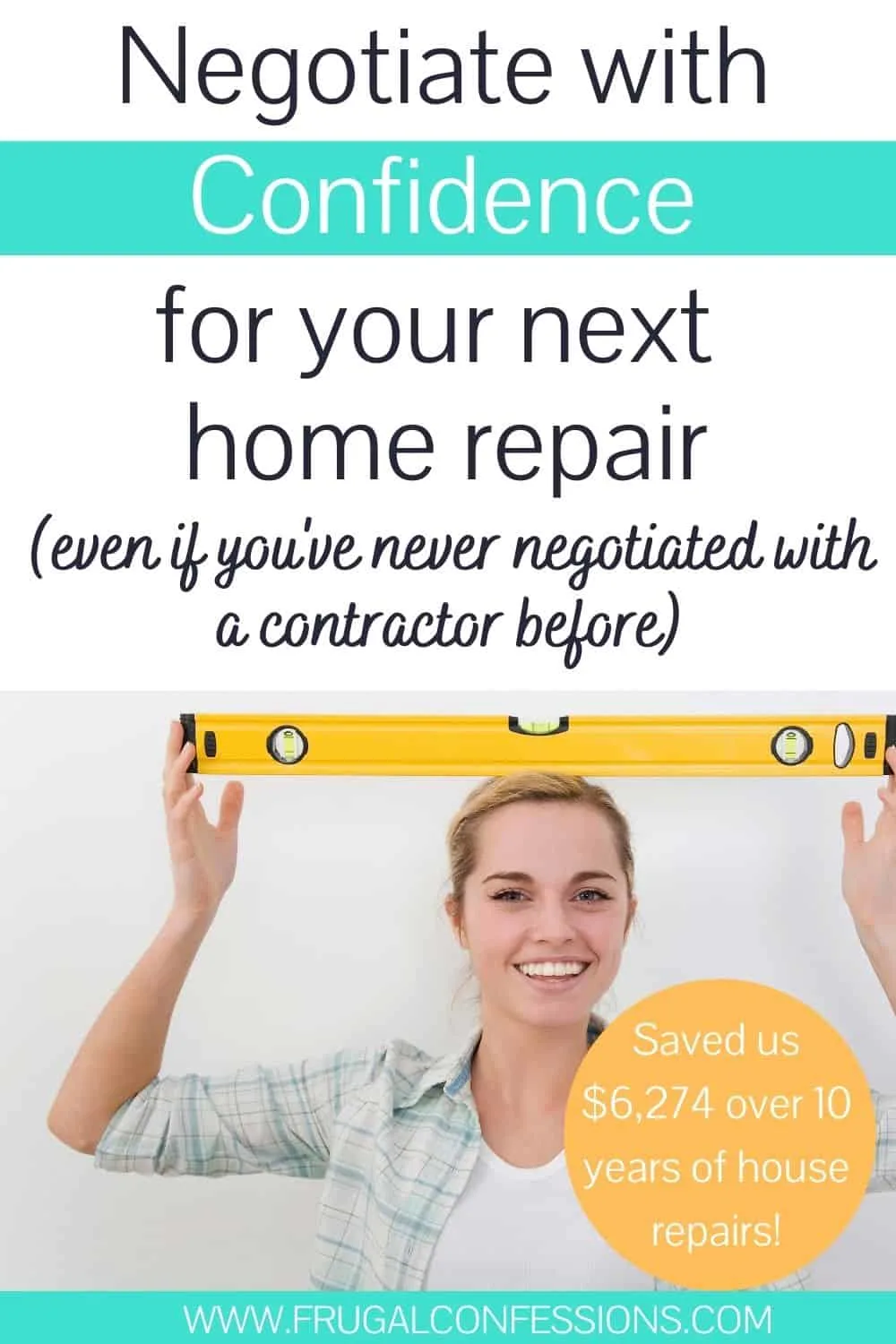 Phrase #4: I'm looking for a quick, cheap fix.
Our $705 phrase. Let me paint the picture for you: my vehicle which was leaking coolant very badly. Turns out the leak was in the heater area, and I was quoted $800+ to fix this.
When I said these words, the mechanic said he could simply detach something and bypass that system, so the leak would be irrelevant. Since I was living in Houston at the time, having no heater in the winter was no big deal.
And this alternative solution? It would only cost $95, an option that wasn't even on the table before I said those words.
That was a $705 cheaper option for us; even more so, it meant we could keep my beater car going longer without buying a new one. So far that made the vehicle last an extra three years!
Question #5: What if I get this done in the off-season?
[Note: I can't actually find the paperwork on this one, so I'm not sure how much it saved us. But I do know we've used it successfully!].
A/C repairmen need to feed their families in the winter, as well. And even though water heater repairmen scramble to get all their customer's needs met during the winter months, they'd like to earn a living in the summer, too.
So, offering to have your product repaired, serviced, or replaced during the off-time could be worth money to both you AND the serviceman. It just means you'll have to hold out awhile longer (pssst: that can be an excellent opportunity to save up for the purchase ahead of time instead of putting it on a credit card).
Phrase #6: We're shopping around for quotes, so we'll get back to you if you're in the ballpark.
Our $800 phrase. This one phrase took one of our quotes (from the company we wanted to work with – see how important it is to be willing and able to walk away, even if you really want to work with someone?) down by $800, once the serviceman reached their office and "prepared everything on paper".
And yes, we went with this company.
Question #7: Is there a cheap workaround? I'm not going to be keeping XXX very long.
[We've used this both to get an A/C unit serviced that then lasted one more year, and on our vehicle]. People understand not wanting to plunk money into a sinking ship. They also know you might really need to get the last bit of life out of something.
And if they're selling what you potentially will need in the very near future but they're able to help you to not need it quite yet? They know that chances are good you'll come back to them with dollars in hand when it's time to purchase.
So, this can be a real win-win situation.
How to negotiate with a contractor? Use these negotiation tips to get your most important home repairs taken cared of…without completely draining your account. And if you've got your own ways to negotiate with a contractor? Do tell in the comments below!
The following two tabs change content below.
Amanda L. Grossman is a writer and Certified Financial Education Instructor, Plutus Foundation Grant Recipient, and founder of Frugal Confessions. Over the last 13 years, her money work has helped people with how to save money and how to manage money. She's been featured in the Wall Street Journal, Kiplinger, Washington Post, U.S. News & World Report, Business Insider, LifeHacker, Real Simple Magazine, Woman's World, Woman's Day, ABC 13 Houston, Keybank, and more.
Read more here
.
Latest posts by Amanda L Grossman (see all)