Is cash for appliances a real thing? Yes, it can be. How we scored cash for an old refrigerator, plus how YOU can sell used appliances & old appliances for cash (and reclaim that space in your home/garage).
Have you ever thought that you could sell your old appliances for cash?
Or wondered: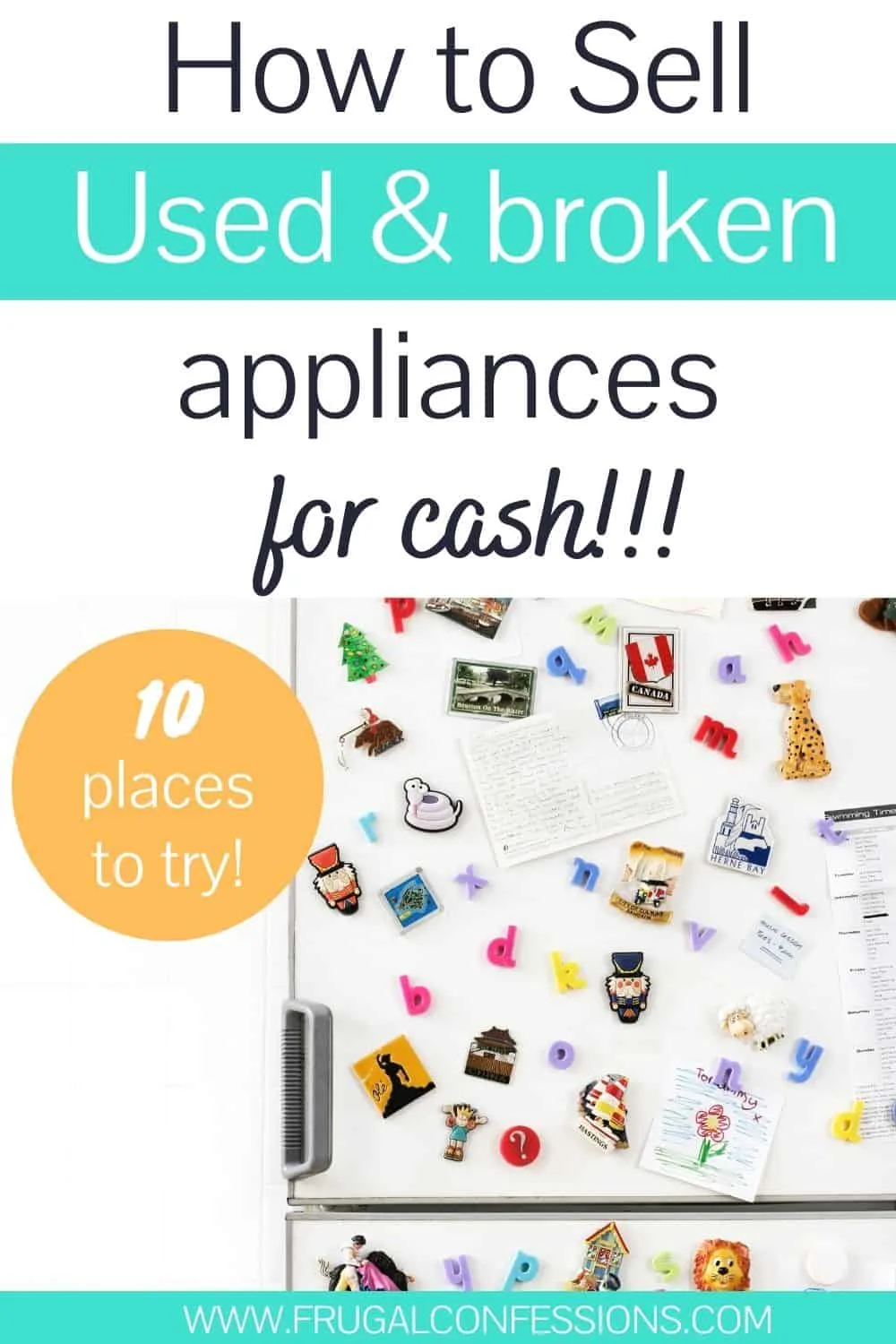 who buys used appliances near me?
how can I find free appliance removal near me?
I didn't ever think we could get cash for appliances…until my husband and I purchased our first home and were left with an unpleasant surprise.
I'll share below how we scored money for an old refrigerator (more like a refrigerator-turned-kegarator), plus how YOU can score money for your appliance (and even if you can't, there are other ways to get rid of your old appliance FAST).
Psst: looking for other ways to make extra cash, fast? Here are 37 ways to earn extra cash from home.
Where Can I Sell A Used Refrigerator

? Our Unpleasant Surprise as New Homeowners

After moving into our new home, my husband, Paul, and I thought we had scored the jackpot: the previous owners left their kegerator in the garage for our enjoyment.

It had been fashioned out of an old, used refrigerator (complete with Paul's favorite football team painted on its front door).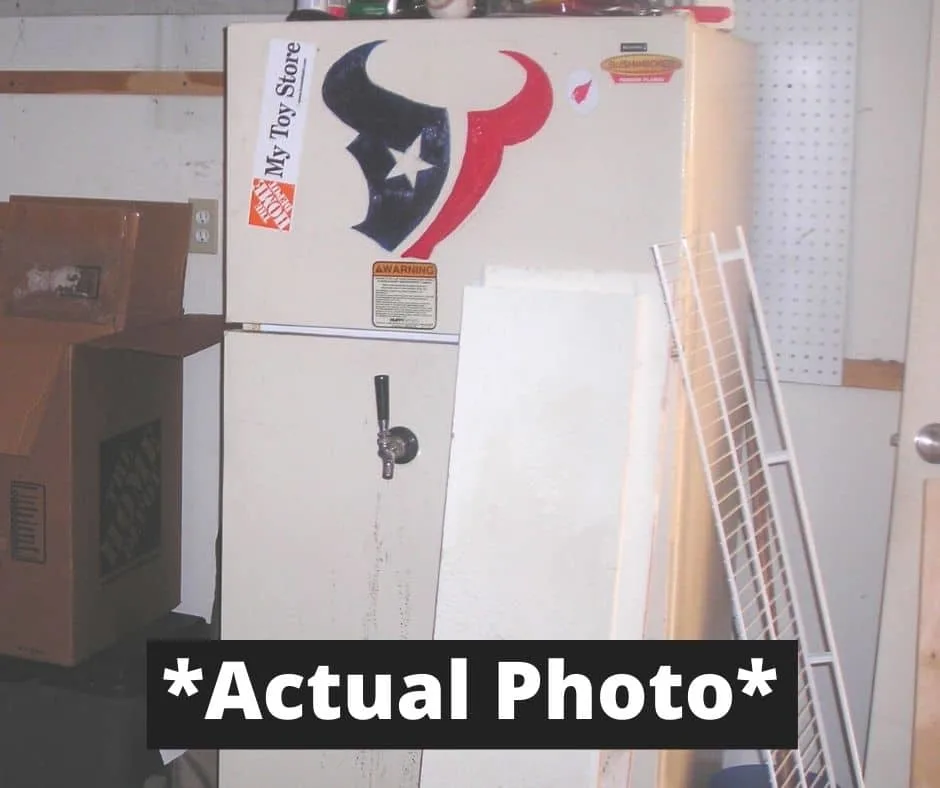 Unfortunately for us, it hadn't been used in such a long time that the product inside the keg was ruined, the tubing was moldy, and the refrigerator itself only worked when it was cranked up to the highest number (9).
In other words, we needed to get rid of our newly found treasure, and seeing how it was an energy-guzzler, we needed to do it as soon as possible.
Getting Rid of Our Appliance for Extra Cash
We did not have a truck at the time so I was very happy to find out that there was a company who was not only willing to come and pick the kegerator up from our home, but would also pay us $25 for doing so!
It was a win-win situation: the kegerator was no longer our headache, we earned $25, and this company could recycle the parts for a profit.
Since scoring this deal, I've looked into even more ways to get cash for appliances from "we buy appliances" places.
How to Get Cash for Your Old Appliances
If you have old appliances you need to get rid of and are looking for some extra cash (who isn't?), there are several ways to do so where you can earn money in the process like we did.
Read below to find out how you can extract value out of your old working or non-working appliances.
1. Sell the Appliance to Someone Near You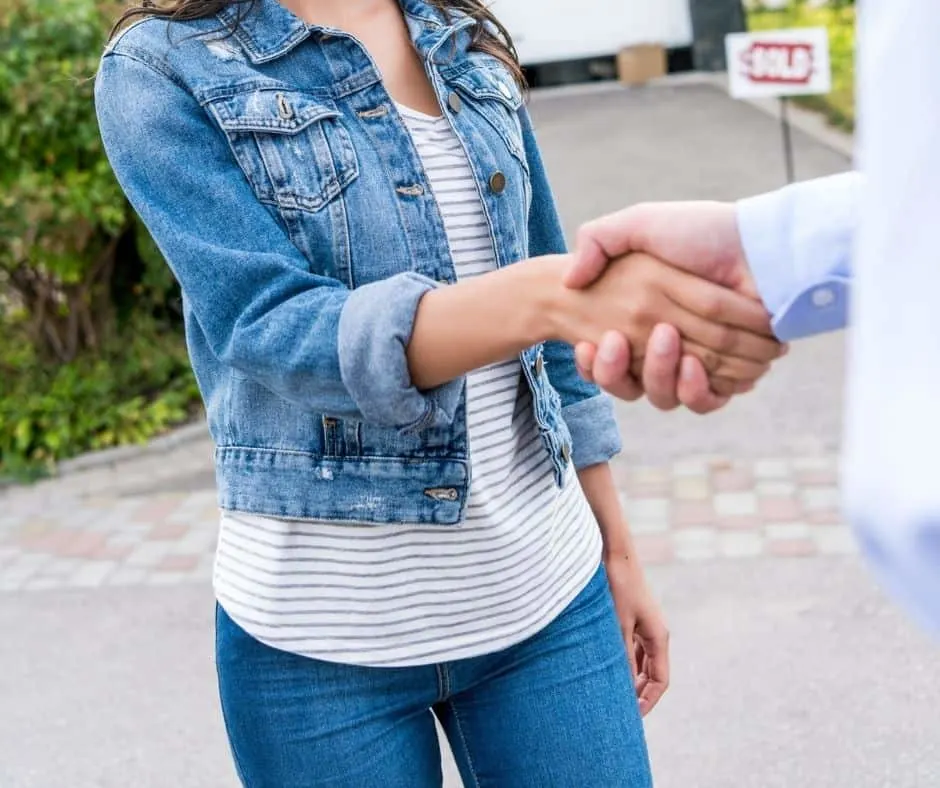 Don't have a way to transport your appliance? Great – you can sell it, and have the person come and pick it up as part of the transaction.
If the appliance is still in a usable condition, then you can sell it to people near you in a few different ways.
On Craigslist: I've actually sold two beater cars on Craigslist now, when they were at the end of their lives, for around $300-$400 each.
On a Local Buy/Sell Facebook Group: Go into Facebook, and in the "search" box at the top, put in "buy sell groups near me" to uncover a great place to not only sell your used appliances, but to pick up some new-to-you stuff.
Through a local pamphlet/ad: Got any local magazines in the free magazine stands at your grocery store? This is how we found the people who paid us $25 to take our refrigerator-turned-kegerator away, through an ad in a local magazine.
You'll want to note the real condition of the appliance (looks as well as if it's working or not), the year/model/etc., the appliance's dimensions, and create a headline that is going to get the attention of buyers.
You'll want to note the real condition of the appliance (looks as well as if it's working or not), the year/model/etc., the appliance's dimensions, and create a headline that is going to get the attention of buyers.
2. Sell to a Used Appliance Dealer
Have you heard of a used appliance dealer?
These guys will buy used appliances from people like you, and then refurbish them so that they can resell them to customers.
You'll want to search for a "used appliance dealer" near you, and see if they're interested in buying your used (still-working) appliance. Or, just call your local used appliance shops and see if they will purchase the appliance from you.
3. Sell the Parts
Looking for stores that buy used appliances? Repair shops may be looking for some of the parts in your appliance. Call around to repair shops and local appliance technicians to see if there is interest.
You'll probably have to bring the parts in for an appraisal.
4. Scrap the Metal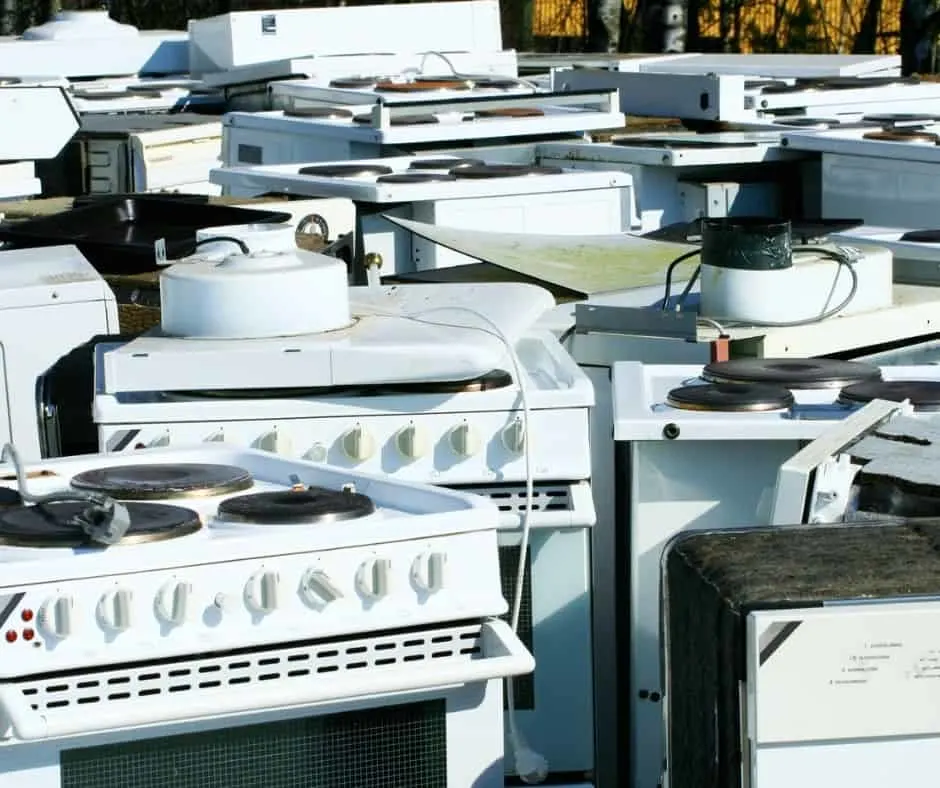 If the appliance cannot be used or fixed, you can scrap it for the metal.
Scrap metal is actually quite lucrative right now; the shop that we use has doubled their paying price from one year ago.
Find out how to find cash for scrap metal near me.
5. Donate for a Tax Break
If the appliance is in a usable condition, you can donate it and take a tax deduction (if you itemize your taxes). Some places will pick the item up from you, while others you will need to drop it off.
Also, don't forget to ask for a donation receipt if you plan to take a tax deduction.
Appliance donations are accepted at:
In our most recent cross-country move, I called Salvation Army about three weeks ahead of time to come and pick up a bunch of large pieces. We scheduled the pickup for the first day of our two-day move out.
The process from phone call to pick-up day was perfect!
We donated the following (you can see my husband with one of the Salvation Army's people taking out one of our couches):
Washer (working)
Dryer (working)
Two couches
Two reading chairs
One large rug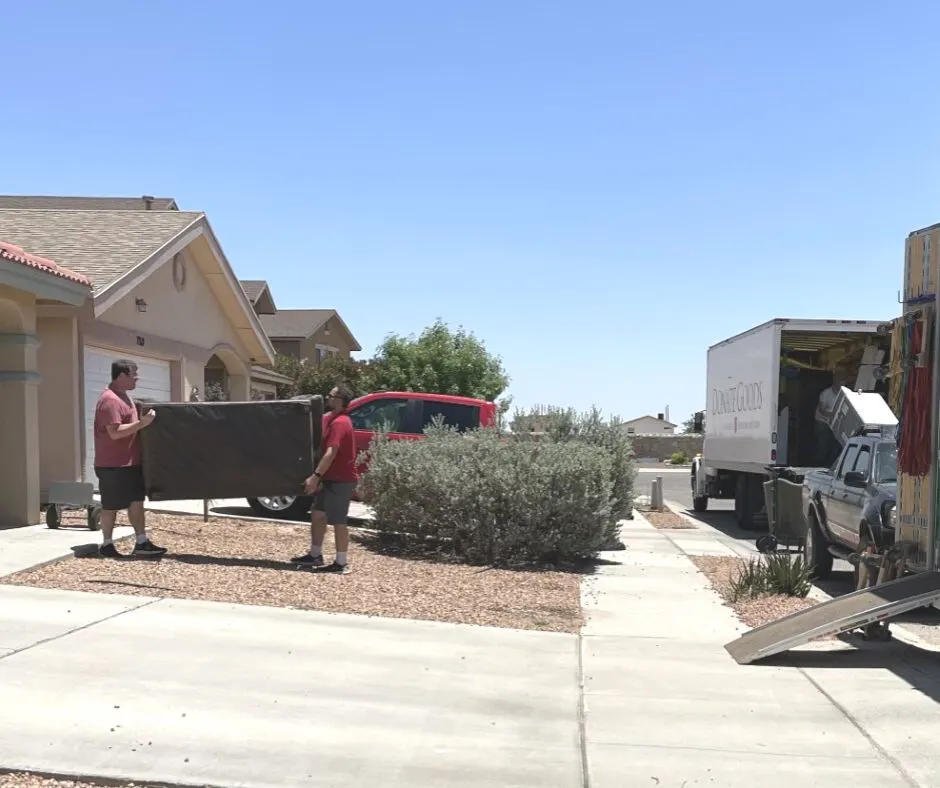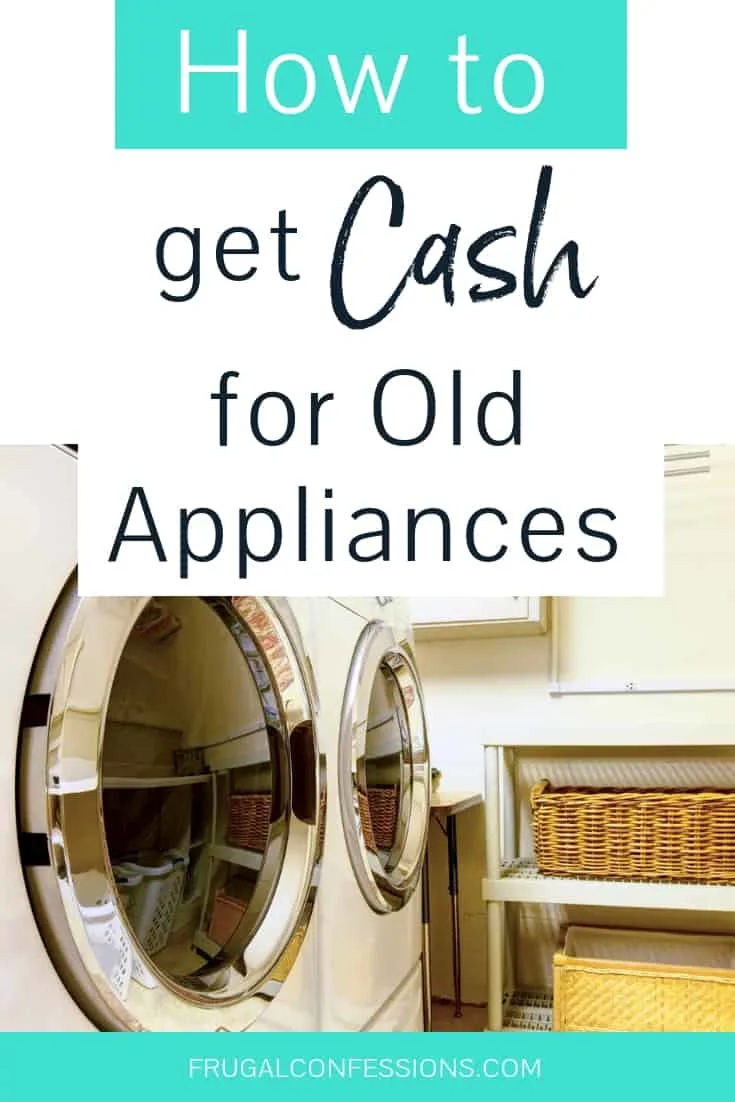 If you're in one of these 18 states, you can get a company to pick up your appliance to recycle, and then you will receive a reward.
For example, in Texas, I'm able to get my old *qualifying* refrigerator or freezer picked up AND will receive a $50 check (that's double what we received before!) for doing so by following instructions on the site.
Check to see if there's a provider in your state!
7. Recycle for a State Rebate Boost
Below, we talk about how to get money for new appliances you'll be buying.
One thing to consider is that some state programs actually give you a bigger rebate on your new appliance purchase if you recycle the old appliance. Keep this in mind!
How to Get Free Appliance Removal Near Me
Sometimes, getting paid is not your top priority. You just need the appliances removed, as quickly as possible, and preferably you want this done for free.
I'm here to tell you that YES, you can get free appliance removal near where you live!
Some options for you include:
8. Make a Donation
When I was looking to get free appliance removal near me, I found that some donation places will come and remove the appliance at no cost, while others will not.
The Salvation Army will schedule a pick up for appliances such as a Washer, and their requirement is that it be disconnected (you can put in the specific appliance you're trying to get removed for free + your zip code and find out if they'll do it near you, and any requirements they have).
With 4,400 locations around the U.S., I found that Vincent de Paul is another great option to get free appliance removal near me (and you!).
9. Call Up Someone Who Scraps Metal
You can find these people by their flyers, asking around, or even calling a scrap yard near you. Since they earn money from your old appliances, they're more likely to remove them for you.
10. Recycle the Appliance through Your New Appliance Purchase
Some companies have programs where if you purchase a new appliance with them, and they install it, they'll remove your old appliance for free.
And sometimes? The most frugal way to do laundry is to upgrade to very efficient machines (not all the time, but sometimes).
So be sure to ask if that's included in your next appliance purchase.
One More Thing to Consider When You Sell Used Appliances
While we're on the subject, you'll want to get any rebates, tax credits, insurance savings, and other savings you can on the new appliances you're buying to replace the old appliances you're selling. This will provide energy savings over the long-term for you, as well!
Here are some sources to check before going shopping:
EnergyStar.Gov: This site lets you look up rebates for energy efficient products (the ones with the energy star label) by zip code or by product type (refrigerator, dryer, washer, insert appliance here.)
Energy.Gov: This site gives you a way to search for appliance tax credits, rebates, and savings according to the state where you live. For my state, there are 7 pages of appliance rebates, tax credits, and savings!
Go to the Manufacturer Website: Loyal to one particular appliance manufacturer? Big appliance manufacturers, such as PG&E and GE, list each of their current rebate offers right on their website.
Call Your Utility Provider: Some utility companies run programs that give you an incentive (rebate) off new energy-conserving appliances. You'll want to call ahead of time to find out before making your purchase decisions.
Call Your Home Insurance Provider: When you upgrade major new appliances in your home, many home owner insurance companies will provide a discount. This happened to us when we upgraded our central A/C unit, and then again when we upgraded our water heater. It never hurts to ask for the discount!
Bonus: Why Have Appliance Purchases Accelerated?
When discussing our recent washer purchase with my grandmother, something occurred to me.
Not only did she have the same washer and dryer during my childhood, but she still has them today. Mom-mom verified this for me; she has had the washer and dryer since my aunt was in diapers.
Come to think of it, they have only ever owned two televisions in their lives. The first one sat on the ground and brought both the Watergate Scandal and the September 11th terrorist attacks into their home.
And they are not the only ones who have had permanent appliances in their lives; my other grandfather's washer, dryer, and television were at least around for the entirety of my life.
Now that I have a home with my husband, my expectations of lifetime appliances are the same as my grandparents. But I am starting to suspect that I could be sorely disappointed.
According to This Old House, Americans spend $15 billion per year on household appliances.
While there are charts to detail the average lifespan of each type, the Association of Home Appliances Manufacturers says it's actually impossible to know the accuracy of the data because most appliances are sold, left behind in a move, or traded in (i.e. still in a workable or repairable condition when the owner decides to purchase a new one).
So, what happened to buying appliances once and holding onto them for life? There must be something driving Americans to replace appliances more rapidly than in the "good old days". Actually, I think there are a lot of factors involved.
Americans are on the Move
Americans on average move once every five years.
This is certainly a new phenomenon from my grandparents' day of buying a home for life. We have "starter" homes now, or at least the real estate industry sells us on this concept. People also move around frequently due to jobs and/or military assignments.
When selling a home, typically major appliances are part of the contract. Our previous homeowners took their refrigerator, but left us the washer and dryer.
When we took a walk through of their home before closing, the wife even mentioned how she was looking forward to purchasing all new appliances in their new place.
People are Getting Used to the Technology Churn
Paul had gotten me a cute iPod Nano in 2008 from a stash of bank reward points he did not know he had. It lasted me until 2011, when suddenly it just stopped working.
I took it to the Apple store and the clerk almost laughed me out of there. He said that it was unheard of for an iPod to last three years and that I simply had to purchase a new one (I asked for a discount seeing how I thought the product should have lasted more than 3 years).
Technology is changing at such a rapid pace and with it, products become almost obsolete in just a few short years. I am talking about things like laptops, cell phones, and MP3 players.
Because of this trend of replacing smaller electronics so frequently, I wonder if it's creeping into our appliance-purchasing mindset as well. Perhaps we think that we need to ditch the 5-year old washer for a new-fangled one?
For the record, my current laptop that I am using to write this article is three years old this month. Paul won it for being a top performer at work, and gave it to me for an engagement gift!
The letters on the keys are completely rubbed off (something that frustrated my father to no end when he came to visit last month), and the battery is only good for about 40 minutes.
However, I intend to keep it until it no longer serves my photo-storing, writing, and researching needs (think I can make it to 8 years? I'm certainly going to try).
Planned Obsolescence (i.e., Not Built to Last)
To go along with the technology churn is planned obsolescence.
Whether obsolete due to functionality or due to design, appliance manufacturers certainly keep durability in mind during production.
In their realm, if everyone has a washer and dryer last 40+ years like my grandparents, then their profits would collapse as there would be a much smaller market to sell.
Less Maytag Repairmen due to Increased Appetite for New
About two miles down the road from the farm, there was a Maytag repair shop while I was growing up.
I haven't run across one since; not in Maryland, Florida, or Texas.
I am sure they exist, but my point is that they are few and far between now. Maytag repairmen symbolized dependability, something that is not as profitable anymore as innovative and new (this is played out in radio station marketing all the time, where a station that has been around forever suddenly calls itself the New XX.X for a few years to gain an audience).
I think it is becoming much less likely for people to repair an old appliance than to replace it.
Paul and I faced this decision when our washer died on us.
I called a washer repair place in the yellow pages and they estimated it would be at least $150. We decided to purchase a new washer instead of repair the old one because we did not know how much longer it would last and thought we could find a new one for about $100 more than the repair cost.
I did have a vacuum cleaner repaired once here in Texas, and the cost was only $14 for a new belt and a cleaning of the system. Repairing is possible, but does not appear to be as logical a choice in our decision-making as it used to be due to the high cost and uncertainty of new appliance durability.
We Want Better Energy Efficiency
There have been numerous tax breaks over the last 5 years or so for upgrading and replacing old appliances with more energy efficient ones.
Our Central A/C died on us during one of these incentives, and we were fortunate for a $1500 tax break (the unit was almost 20 years old and we received $1200 off the asking price of the home to account for the fact that it would most likely need to be replaced soon). On top of this, becoming more energy efficient as a nation is at the forefront of a lot of campaigns.
I love the idea of energy efficiency, and not just because of the lower cost of monthly energy bills. But this also could be causing a lot of older appliances that are still working to end up in a landfill or scrapped for extra cash.
Appliances are Now Decorative Features
Have you noticed that appliances now come in a multitude of colors, shapes and sizes, all of which are supposed to add to your home's appeal?
They are not purely utilities.
They come in stainless steel, wild cherry red, graphite steel, chardonnay, champagne, silver sands, island white, Mediterranean blue, etc. This is in line with how often some people change furniture and room decor.
With so many color and design choices out there, people might be more tempted to replace appliances to match their new décor every five years or so.
Since purchasing our first home in the fall of 2009, we have purchased a refrigerator, a washer, and a dishwasher (two of which came from the Sears Scratch and Dent Store here in Houston).
Appliances are something we do not enjoy spending money on, so we both purchase with the idea that we will have to live with the appliance for the next 30-40 years. In fact, this will be the case except if we move or if the appliance breaks down to the point where the repair would cost more than a new machine.

But after researching this article, I am almost in agreement with a reader of mine who suggested that we hold onto the oldest appliances we can find due to their reliability.
Perhaps I can search craigslist for a washer and dryer just like my grandmother's?
How long do you plan on (or hope) to keep your appliances? What has your overall appliance experience been?
Pro Tip: Send in for your rebates/tax credits/claims as soon as possible, because some of the programs only give these out until they run out of money. You want to make sure you get yours!
What do you guys think about these tips – are you ready to sell old appliances for cash?
The following two tabs change content below.
Amanda L. Grossman is a writer and Certified Financial Education Instructor, Plutus Foundation Grant Recipient, and founder of Frugal Confessions. Over the last 13 years, her money work has helped people with how to save money and how to manage money. She's been featured in the Wall Street Journal, Kiplinger, Washington Post, U.S. News & World Report, Business Insider, LifeHacker, Real Simple Magazine, Woman's World, Woman's Day, ABC 13 Houston, Keybank, and more.
Read more here
.
Latest posts by Amanda L Grossman (see all)