Learn from these common first time home buyer mistakes (some we personally made) so that you can save yourself a lot of money and headaches in your new home.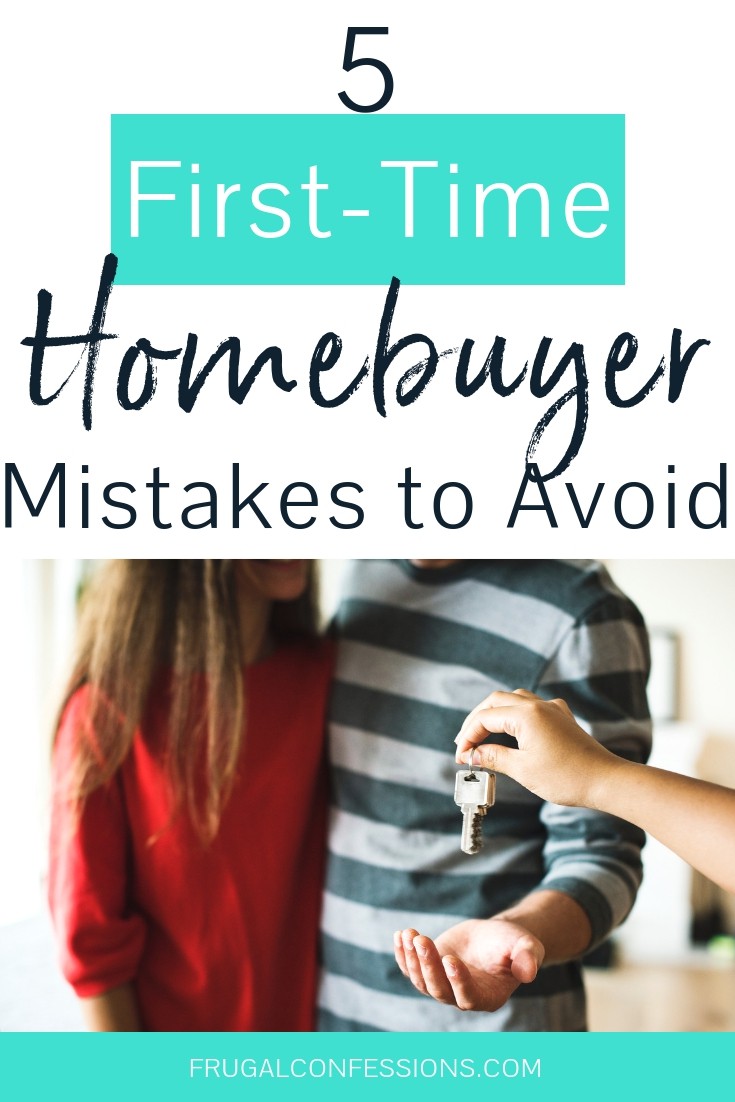 We made so many (common) home buyer mistakes when we bought our first time 9 years ago.
And you know what? Some of them are still costing us money.
Since I'm all about showing others how to spend less and how to get more of their paychecks into their savings account, I want to share with you the most common first-time home buyer mistakes home-buyers make.
Trust me – if you're in the market for your first home (or even your second), you'll want to pay attention to both common first-time home buyer mistakes + the ones we personally made.
Mistake #1: Not Vetting a Home Inspector
The home buying process – especially the first time around – is completely overwhelming.
We had knots in our stomachs, we broke a sweat more than once, and we questioned ourselves along the process.
Because of how lengthy the entire process is, we didn't even think twice about who the home inspector was for our house. It was someone recommended by the seller's real estate agent (a bit of a red flag, there), and we just went with it.
To be honest, we didn't even know you COULD shop around for a home inspector. They just made it seem all matter-of-fact, and so we just went with the flow.
That simple mistake has cost us TENS of thousands of dollars over the year.
This is not to say that we still wouldn't have bought the house if we had known all the things that would need to be completely gutted during our ownership, but it could have given us a better bargaining chip to negotiate the price down (so that we COULD more easily pay for all the renovations/repairs).
This includes things like:
$7,000+ Foundation Repair within a few years of ownership
2 new Central A/C Units and furnaces instead of the one that we thought we'd have to do (Over $11,000 for both)
The entire home needs to be re-piped because it's galvanized piping, which starts to break down at this point (we didn't know anything about the plumbing, and weren't told this)
The back patio is made out of indoor tiles, so they get seriously slick when wet + they have mostly broken away in the last 9 years
Hint: stick around to the end, where I share my bonus home inspection tips for first time buyers.
Mistake #2: Buying All New Furniture and Appliances
It's very common for new homeowners to get so excited about everything that they want to deck it all out in new furniture and appliances.
Here's what I suggest you do instead: focus on buying ONE new appliance or piece of furniture, and use what you've got or hand-me-downs to take care of the rest.
Then, upgrade incrementally as the years move on. This is one of those money saving tips that will help you in the long run.
And if I were you? I would make your home splurge REALLY count, meaning make it something you're going to use all the time.
For us, this meant buying a refrigerator when we moved in. It was the only big purchase we made, and we chose it because we had mistakenly thought there was a refrigerator included with the house (it ended up being a kegerator…which leads to Mistake #3 below).
And then just recently? We upgraded to a Saatva Luxury Firm Mattress – because, let's be real, you literally spend around 8 hours every single day in your bed. Buying a new mattress is a GREAT way to feel like you're really upgrading things.
We could have bought both at the same time, but I'm glad we didn't – we really needed that money for other things at the time.
Mistake #3: Not Thoroughly Reading Your Contract
On closing day, you will be swamped in paperwork. You might even get a knot in your own stomach – like we did – and feel like you're signing your life away.
I'm a contracts person, and so I tried my best to look over all of the paperwork being sent our way in the closing room. And I know that I read more than most, as the closing person clearly showed her dissatisfaction at the slow progress we were making.
But guess what I missed? The sellers had put an asterisk in the contract saying that the refrigerator in the garage was included (I thought they meant the refrigerator in the kitchen).
After closing and turning the keys to our new home for the first time, we quickly learned that they had left their kegerator "refrigerator" for us in the garage, and taken the one in the kitchen. And, yes, it was there in "plain" black and white (our realtor pointed out to us, after we called her and asked what had happened).
*sigh*.
Do I think you're going to catch everything in the contracts? No. But you need to read through them, that's for sure.
Mistake #4: Emptying Your Savings Account for the Down Payment
Just one month after we purchased our home, we lost our second car. It was a beater car anyway, so its days were numbered. But, did we think we'd need to pay for a second vehicle right after paying for a down payment?
Nope.
We ended up paying cash for another beater car, but for a few months there we were very low in our emergency savings fund.
Let our mistake be a lesson to you: do NOT empty your savings account and/or emergency fund to pay for the down payment.
You don't know what issues you're going to find in your home, or what life will throw at you once you buy your first home. So, you need to save up a down payment ON TOP OF your emergency savings fund.
Bonus: Home Inspection Tips for First Time Buyers
This single mistake has cost us so much money, that I want to add a bonus section to answer a few more questions and prepare you for your own home inspection.
Do buyers go to home inspection?: Yes – absolutely. You want to be there, and you want to get answers to any and all questions that you have. On top of that, if you suspect your home inspector doesn't know in-depth about a particular area, such as plumbing, you can pay a small fee to have a plumber come and inspect something to tell you what's what.
Who should pay for a home inspection?: Typically, the buyer pays for the home inspection. This is in your self-interest, as you want the inspector to be working for YOU, and not for someone else (though, of course, I'm sure most home inspectors have integrity here and do their job to the best of their ability regardless of who is paying).
What should I expect during a home inspection?: You can expect the inspector to go about his business and fill in his inspection papers. You need to proactively talk to them and ask them questions that you have – this is your chance to get information about this house before you purchase it. A good idea is to make a list of any possible concerns you have, and address them with the inspector. If they don't know or don't appear to know, then go ahead and bring in a specialist for a small fee to inspect the issue and get you an answer.
What should I know as a first time home buyer?: You should know and at least understand a little each of the major systems of a home. That's because these are the things that have the most ability to break down and cost you lots of money and discomfort over the years. Major systems include how your home gets cooled down (A/C), heated up (gas/electric), the duct system (how air moves throughout the home), the foundation of the home and how that's looking, the water heater, piping, etc. For purposes of the inspection, you need to stop thinking in terms of looks, and start thinking in terms of the health of the home.
I hope you not only find these first-time home-buyer tips helpful, but that you follow them. Learn from our mistakes, and the mistakes of others to lose less money out of your own pockets over the years. And may your first home be a good one!
https://www.frugalconfessions.com/wp-content/uploads/2019/02/first-time-home-buyer-tips.jpg
512
1024
Amanda L Grossman
https://www.frugalconfessions.com/wp-content/uploads/2019/02/frugal-confessions-logo-340.jpg
Amanda L Grossman
2019-02-20 05:00:58
2019-04-10 19:35:32
What Should You Avoid when Buying a House? Common First Time Home Buyer Mistakes