How to get companies to send you products to review? I've listed out companies that offer free product testing at home (no blog needed).
I'm a blogger, so I definitely understand how to get companies to send you products to review.
However, what if you have no audience? What if you don't blog?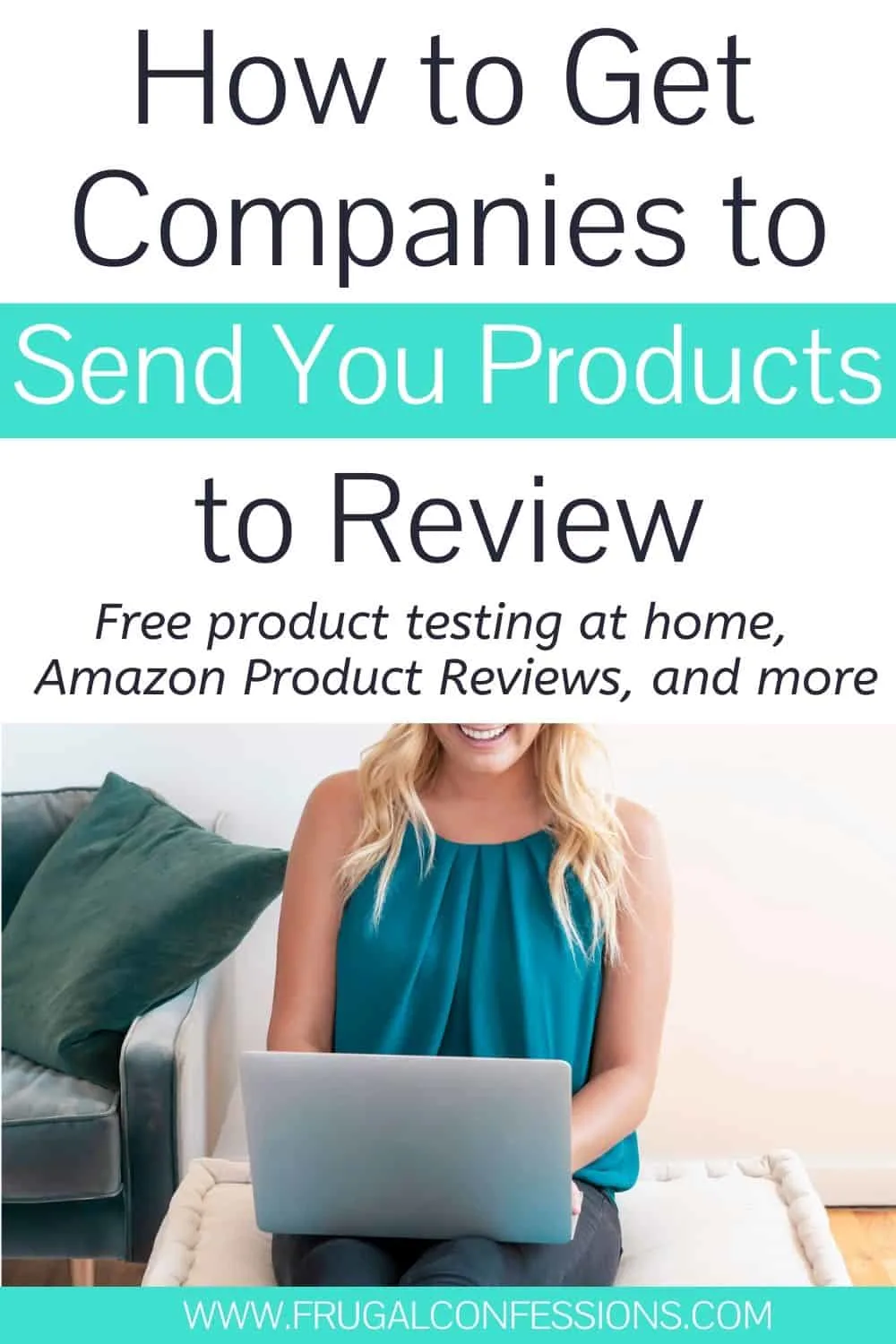 Don't worry, there are still ways to get free products for home testing.
Let me show you what I mean.
How to Get Companies to Send You Products to Review
There are several ways to get companies to send you products to review (we'll go over each method below, with specific examples you can sign up for).
You can:
Get free sample boxes (with free shipping) in exchange for your review
Get reimbursed for buying products, within 24 hours (my favorite NEW way to get free products to review!)
Become a product tester for an individual company (free product testing)
Sign up for a platform that works with brands looking for product testers
Review products on Amazon.com (through the Early Reviewer Program)
Use an Amazon review site to get rewarded for reviews
Let's get started getting you some free products!
Free Sample Boxes with Free Shipping
I've got one company that actually sends free sample boxes with free shipping! I even tried them out, myself.
Here's another, completely free box of goodies (shipping is free, too) you can get sent to your door.
Pro Tip: you can increase your chances of getting a Daily Goodie Box after you sign up by commenting on their Facebook Page. They post new boxes, daily, and choose 50-100 people to send them to!
PINCHme is an online service that lets members try products from leading brands in exchange for their feedback. The best part is that it's 100% free.
Think BirchBox – but no credit card required and shipping is also FREE!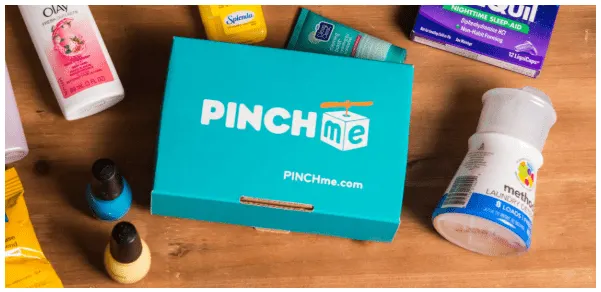 In fact, I received a box from these guys.
It contained the following:
1 Bausch + Lomb Lumify sample
2 Compeed Advanced Blister Care Samples
1 Coconut & Vanilla Native Deodorant sample
4 Cookie Squares baked in France (Michel et Augustin)
1 Ghirardelli chocolate square
1 Ester-C Effervescent packet
1 Umbra Sheer Physical Daily Defense sunscreen sample
1 Aquaphor Ointment Body Spray sample
Here's how to sign up, for free!
I frequently check up on what's out there, and it can be slim pickings.
That's why I'm SO excited to offer you this new free sample! Click here to snag a box of free healthy snack samples. No shipping costs, and no credit card required.
Bonus tip: be sure to follow them on social media (scroll down on the page after you sign up for your free box), because they give away free boxes of products there, too.
My newest, favorite place to score free products? Is RebateKey.
These are 100% free products that you apply for (you find out right away if you get accepted), and then you buy either from Amazon.com, or Walmart.com.
Here's a few other things to know:
You DO NOT have to leave any review, whatsoever (what?!?! That's awesome!)
Limit of 5 items per day and 50 items per month
To get free shipping, you need to either have Amazon Prime, or order other products to cross the $25 free shipping threshold (however, you need to make sure the product you applied for offers free shipping – I've found that the majority do)
They offer tons of other products at severely discounted rates, too
There is a 35-day waiting period to get your rebate
Your rebate can be paid out either by a gift card, by PayPal ($0.50 processing fee), or by sending a check ($1.00 processing fee)
So far, I've gotten $41.99 in rebates! Start getting your free products, here.
Here's a sampling:
What if I told you that you could get free products…without having to leave a review?
This is quickly becoming my favorite way to get FULL-SIZED products for free.
Sign up for the ibotta App here (here's for iOS, and here's for android).
Just in the last two months, I've gotten the following products free:
Pure Leaf Cold Brew Tea ($1.98)
Butterball 3 lb. Turkey ($9.98)
Great Value Frozen Green Beans ($1.34)
Chobani Flip Yogurt ($1.22)
Great Value Cranberry Sauce ($0.98)
Oikos Pro Dairy Drink ($1.84)
Red Baron Frozen Pizza ($3.89)
On top of receiving free, full-sized products, they give you cashback on your groceries (I earned a crazy-great $56.10 in just the first month from all the bonuses!).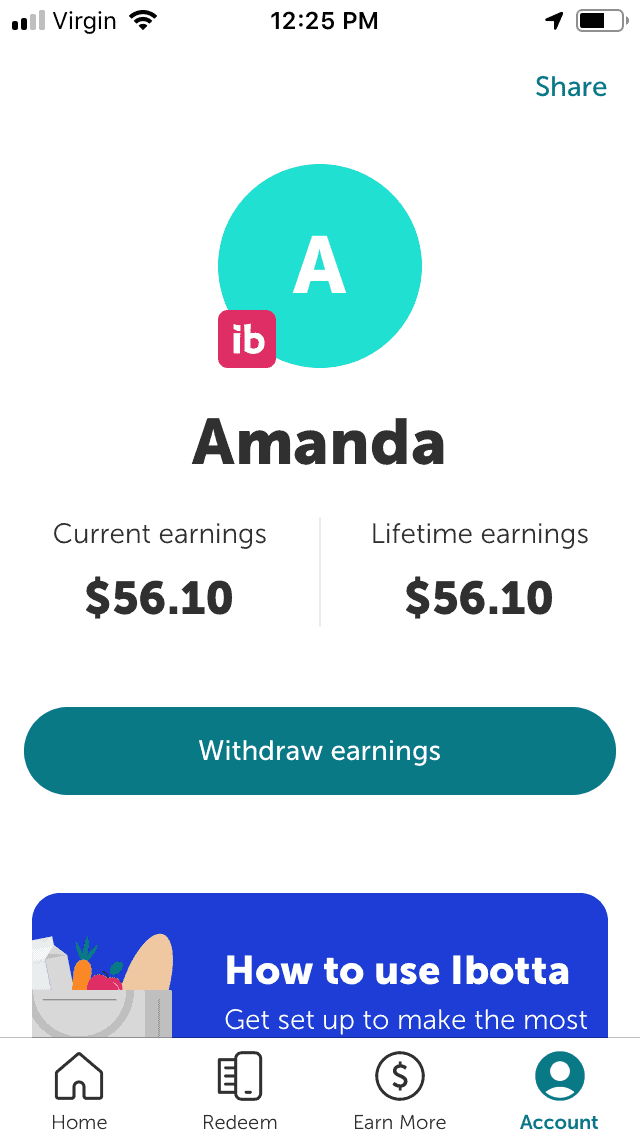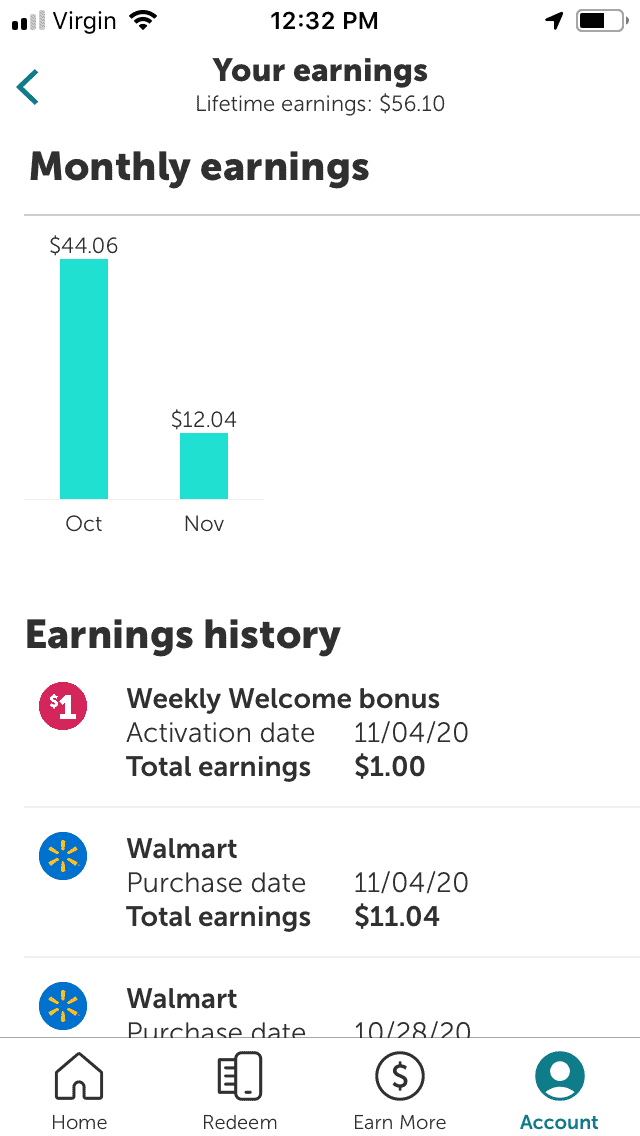 You pay for the product, then you get completely reimbursed for them within 24 hours (usually, it's faster). Just scan your grocery store receipt, and BOOM.
Even easier than sending away for free product samples, because you can do it at your own store!
Individual Companies that Offer Free Product Testing at Home
Let's move onto our list of specific companies that offer free product testing you can do at home.
Meaning, you get free product sent to your home in exchange for testimonials or reviews, or something else.
Psst: don't forget to also sign up for freebies on your birthday. Tons of companies give out free products to help you celebrate!
My sister was a McCormick Panelist for a bit. Here's what she said about it,
"I love when a company pays me to try their product and tell them about it!! I was just approved with McCormick to test 2 products for them. Once I complete the survey, I will receive a $10 Amazon Card!!"
Do you homeschool your kids? Homeschool.com offers product testing on their site. In exchange for your feedback, you can receive products like:
Free books
Free kits
Free special reports
This is a consumer panel for people who love (and regularly use) things like makeup, skincare products, and the latest beauty trends.
You'll get sent cosmetic products to test in exchange for your feedback via online surveys.
By joining this community and giving your opinion on all things style, you are entered into a giveaway for the chance to win prizes. Sometimes, you get insider opportunities to actually review style-type products.
Vogue magazine has a panel of Vogue Insiders, where they give out samples of beauty and fashion products in exchange for feedback.
If you're accepted to test a product, then you'll test it out for 2-4 weeks. Testing it out involves keeping a daily log of your activities. Also, you'll need to mail the product back afterwards so that they can check out how it stood the test.
Are you a teacher? Mead is looking for teachers to give their honest opinions about Mead products. You'll receive free Mead products, in exchange, to use in your classroom.
Take the Membership Survey and complete your profile to see if you get accepted into the Johnson & Johnson Friends & Neighbors program. When you qualify for a study, they'll send you an invitation by email (you can also check under the "Activities" tab).
After everyone in the study completes it, you'll get a Prepaid Visa Gift Card sent by mail as a thank you (doesn't say how much).
Are you a runner? Brooks Running gives out shoes, bras, and apparel to product testers (that could be you!) for testing before releasing them to the market.
Even though Roku has been on the market for awhile, they're still looking for beta testers to test out certain tasks, procedures, pre-released software updates, etc.
You can join a community of fitbit field testers to test our devices, app features and site features (during various stages of development).
Companies that Offer Several Products to Test at Home
Did you know that there are companies out there that act as a platform for brands to work through to offer free products for home testing?
Let me share a few.
Brands use Crowdtap to set up campaigns where free samples are sent to people in exchange for feedback. You sign into your dashboard, and apply to any of the campaigns you'd like and qualify for.
For every 1,000 points earned, you earn a $5 Amazon.com gift card.
You register for a product test, and if you're chosen, you'll receive the product in the mail. Then log back in to take a survey about your experience.
At the time of writing this article, they've got makeup products, tanning products, and foaming face wash products for testing.
Each week, they also run sweepstakes and competitions that you can win. And the good news here? While many of the other product testing sites are U.S. only, this one is available in: Australia, Brazil, Canada, China, France, India, Indonesia, Malaysia, Singapore, South Africa, USA and the UK.
Join Smiley360 to get product samples in exchange for your honest feedback.
Here's another company where you take a survey, then join, and you can possibly qualify to test out product samples from a variety of brands.
There are product testings, surveys, discussion forums & polls! You can even possibly attend VIP, in-person events.
Test Products for Amazon
Does Amazon have product testers?
The answer is: sort of. It's more like you can potentially get paid by Amazon (through an Amazon gift card) to review purchases that you've made.
But first, you should know that it's against Amazon's policies to accept payment for reviews. In keeping with their own policy, you can get gift cards to use on Amazon.com for participating in this program, but you do not earn cash.
Hint: You can resell your amazon.com gift cards to cash out at below price. Just a thought in case you're in a pinch for some extra cash!
Amazon's Early Reviewer Program solves a problem for both manufacturers/sellers as well as people wanting to earn free Amazon gift cards:
Manufacturers and sellers can get help getting their first reviews for their product
People can earn between $1 and $3 per review, on an Amazon gift card
For a product to be eligible for the Early Reviewer Program, it must be at least $15.00 or more in price, and it must have less than 5 reviews from customers.
Here's another kicker: you have to have purchased the product in order to qualify to leave a review. On top of that, Amazon picks from actual customers of a product to ask if they'd like to leave an honest review in exchange for a gift card of between $1 and $3.
And yes, if you leave an honest 1-star review? You still get the reward. Honesty is key, per Amazon's community guidelines. In fact, Amazon doesn't "hire" customers to do this if they suspect their reviews in the past have been dishonest.
Having said all this…how can you increase your odds to getting picked to be an Amazon product tester for something you bought (or, rather, a reviewer for something you purchased)?
Glad you asked. I was playing around with this the other day, and stumbled upon a good place to start: Amazon Launchpad.
Amazon's got this new project area where they're launching really innovative products. I went there, then clicked on "New arrivals", and then sorted by Average Customer Review. And guess what? I found lots of products with less than 5 reviews.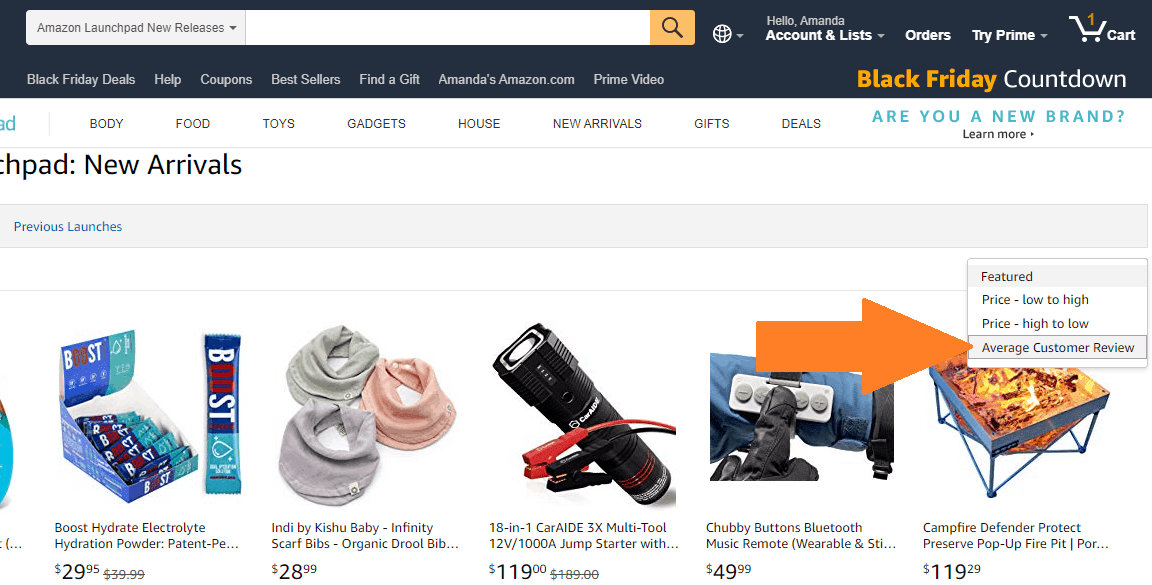 Since this is one of Amazon's biz pushes right now…my hunch is they might be looking for more reviewers for these products. Unfortunately, you wouldn't know until you buy one, though!
Use an Amazon Review Site to Get Free or Discounted Products to Review
There's one more way you can get free or discounted products in exchange for your review on Amazon, that does not go against Amazon's policies.
Hint: since the fall of 2016, this is actually now against Amazon's policies.
You would need to join an Amazon Review Site. What they do is give out coupons for discounted products, then you leave a review for the product (you typically have to disclose that you received the product for free or at a steep discount).
Here are a few to try out:
I tried this site out for myself, several years ago.
As soon as I signed up, I tried clicking on three deals. In the end, I decided on a 6 pack of cotton crew tee-shirts (you would gasp if you saw the state of my husband's current ones) for $9.99.
Without the Snag, these would cost $19.99 + shipping. With the snag, and shipping, I paid $10.47 (I had a free $5 credit gift card from taking a five-minute survey from Quantcast; actual cost would have been $15.47 with tax + shipping).
My order was placed on 4/5/2016, and I left my review on Amazon on 04/18/2016.
Hint: Amazon made this against their policy as of October, 2016 — after I tried this out for myself.
Just so you know, you can only do one at a time. Shipping is free if you have Amazon Prime, or if your order is over $49 and qualifies for free shipping. Otherwise you will need to pay shipping costs.
Also, they do the percentage off by the list price, not by any deals/sales Amazon is offering them, so sometimes the percentage is not as good a deal as you thought. Like a pair of shoes for Paul, says it's $130, you can get for $29, but the actual price when I clicked through to Amazon was a sale of $39-$59.
So, these guys actually state on their homepage that they are NOT an Amazon review site. You just become a member, and can snag coupons for Amazon products…sounds good to me!
I've now shown you lots of ways for how to get free products to review. Which are you going to try out first? Let me know of your successes in the comments below!
The following two tabs change content below.
Amanda L. Grossman is a writer and Certified Financial Education Instructor, Plutus Foundation Grant Recipient, and founder of Frugal Confessions. Over the last 13 years, her money work has helped people with how to save money and how to manage money. She's been featured in the Wall Street Journal, Kiplinger, Washington Post, U.S. News & World Report, Business Insider, LifeHacker, Real Simple Magazine, Woman's World, Woman's Day, ABC 13 Houston, Keybank, and more.
Read more here
.
Latest posts by Amanda L Grossman (see all)