Bargain books are advertised everywhere. But how can you know you're shopping at the cheapest place to buy used books? I show you.
My husband and I love to read so much that we turned one of the rooms in our home into a library. Even though we have a passion for the written word, we do not want to pay full price for books, and rarely do.
Instead, we buy cheap used books ($1 for paperbacks, $2 for hardbacks) from our local JCC's awesome used book sale each year, borrow from the library, borrow from family and friends (as well as lend), etc.
There are many other ways to obtain books besides paying full-price for them right off of the shelves of a Barnes & Noble. In fact, there are LOTS of options out there.
I'm outlining a whole list of cheap used book sources today.
On top of that, I actually did an experiment (because I'm geeky like that), and chose one specific book to find out how to get it the cheapest way possible. I also wanted to keep speed in mind, as I am patient enough to wait several months for results, but sometimes it's nice to get what we want when we want it.
Go through the list below, starting from the most expensive to the cheapest places to buy used books (based on my experiment with trying to get the book Stop Acting Rich by Thomas Stanley).
Please note: some places only sold the hardback version of this book, which is obviously more expensive than the used paperback book version; where this occurred, I've noted it.
Used Books Source #1: Amazon Used Books
For reference, I started with Amazon.com because if I were to get the Stop Acting Rich book this way, then Amazon is the most expensive option (unless you cut out the shipping costs by being a prime member or ordering this book with $35 worth of other items).
Total Cost of Stop Acting Rich: $19.04 ($15.05 without shipping).
Used Book Source #2: Thriftbooks (Review)
Thriftbooks offers both used AND new books. Unfortunately, I could only get a new paperback version of the Stop Acting Rich book. However, I still want to include this as a resource because there are some really great deals offered on this site.
First up, they offer free shipping on orders over $10 — not like with Amazon, where you have to order at least $35 worth of items to get free shipping (unless you're a Prime member, in which case, you get free shipping).
Then, you earn points for each book that you buy through them through their ReadingRewards program. Once you reach 500 points, you get a free book (up to $5)! I love that.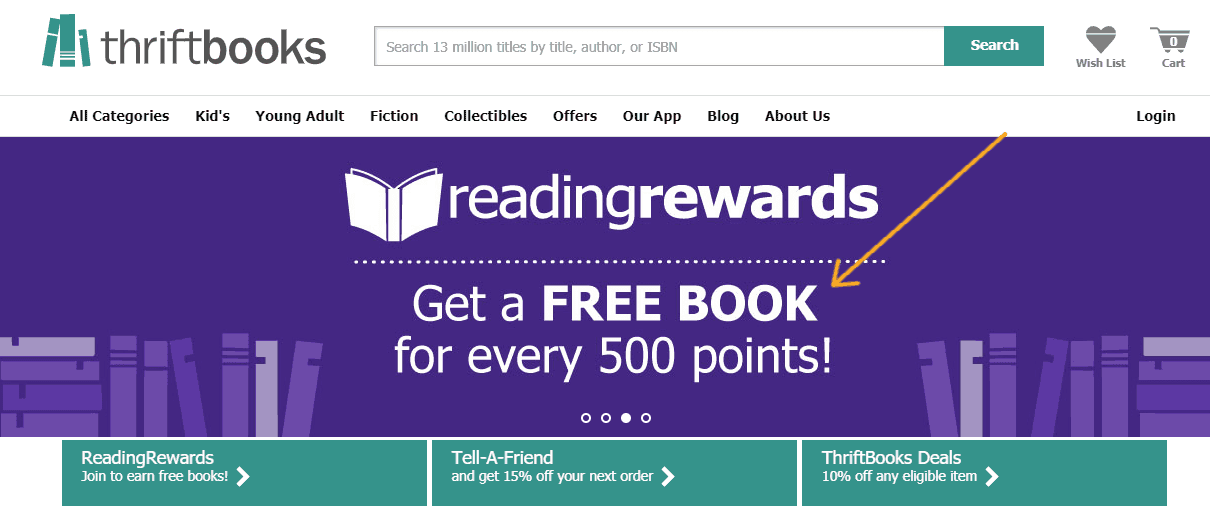 They've also got a referral program, where you get a 15% off Thriftbooks coupon when you refer someone. And finally, they offer a 10% coupon on over 100,000 books.
Just go to "Categories", then scroll all the way to the bottom, where you'll click on "Thriftbook Deals" to get a full listing.

Another way to find Thriftbooks deals is by doing your search in the search bar, then scrolling to the lefthand side and choosing "Thriftbook Deals", or "Under $5", to filter the search with.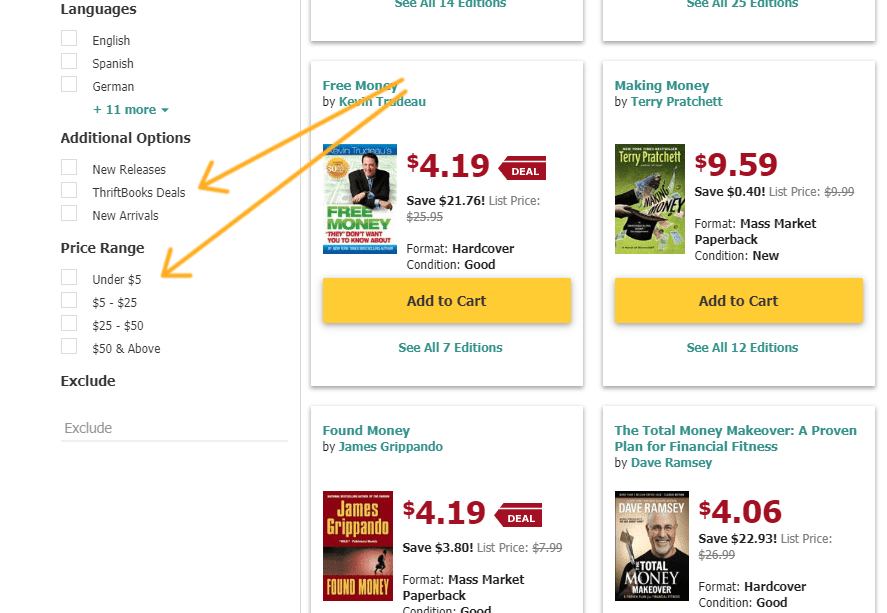 Total Cost: $16.78 (includes free shipping over $10)
Used Books Source #3: Half Price Books
When I checked our local Half Price Books store, this particular book was not in stock.
The person at the counter let me know that if/when it is available (in hardback only), it would cost $13.49.
That's a bit cheaper than Amazon.com!
Total Cost: $13.49
Used Books Source #4: eBay
I found a used copy of the Stop Acting Rich book with a "Buy Now" price of $5.99 + $5.23 shipping. I would assume up to 5 days on the delivery time (this depends, of course, on how quickly the seller gets it in the mail).
Another great way to use eBay for used books? Are there used book lots for sale.
To find them on eBay, go to Books > Books & Magazine Wholesale and Bulk Lots>Book Wholesale Lots. You can buy in used book lots as small as 5 books, and all the way up to 500+ books.
Total Cost: $11.22.
Used Book Source #5: Buy eBooks
Lots of eBooks are free (here's more information on how to score free eBooks). But if you're looking for a specific one at a specific time, then you generally need to pay. This eBook is delivered instantaneously to a device upon purchase.
Total Cost: $10.49.
Psst: you'll definitely want to check out my 27 places to score free eBooks on the free Kindle App (and I also show you, by tutorial, how to upload any eBooks or PDF copies of an eBook to your Kindle Reading App, whether you get it from Amazon or not).
Used Books Source #6: Paperback Swap
Last week I opened my email account to the usual: spammers trying to poach my bank account information, two to three newsletters I can't remember subscribing to, a few people trying to get free links on my site, and the like.
Among the riffraff is one of my favorite notifications: an almost free copy of The Light Between Oceans: A Novel just waiting to be mailed right to my door.
It's a book I saw one of my close high school friends rave about on Facebook, so I added it to my Paperback Swap list months ago.
Since I've got the patience of a snail avoiding the salt mines of Salzburg, I forgot about it and merrily went on my way.
Sure, I could have ordered it from the library for free. There's a fantastic interlibrary loan system at our library that I routinely take advantage of.
But sometimes I just don't want the pressure of three weeks to finish something (the rumor is true: I have a two-yearish waiting list on reading a book). And it's super convenient to not have to go to the library to pick things up at all now that I've got a five-month old.
Also, since I own the books that I get through PaperBack Swap, when I'm finished with it I can:
donate it
relist it on Paperback Swap
sell it at a Half Priced Books store
give it to a friend
keep it for life
Lots of choices!
Here's How PaperBack Swap Works:
Sign up is FREE. You have to list 10 books you are willing to send to others through the mail if your book meets something on a customer's wish list (by the way, audio books and hardback books are totally welcome. Here's where you can source free full length audio books).
You can then create a wish list of all the books you're dying to get your hands on. When you look at your wish list, you can see what line in queue you are for all requests (for example, The Life-Changing Magic Tidying Up I'm in position 1 of 815 with an estimate of one week until I can get my hands on a copy; however, I shouldn't hold my breath for Tiny Beautiful Things where I'm resting at position 115 of 212).
When someone requests a book of yours, you need to accept/deny. Then you have a couple of days to mail it off. Don't forget to mail "media mail" as it costs much less than normal (just tell the post office person that it's a book and they'll know what to do). Postage typically will cost you about $2.50 per book.
You gain a credit for each book you ship off.
You then get to use a credit to "pay" for each book that you request.
In order to request a book, there is also a $0.49 swap fee you need to pay.
That's it!
From what I've seen, Amazon's typical book shipping price is around $3.00+, so even if you find a book for $0.01 there, you're saving money by using this service (of course, you can get totally free shipping on Amazon if you have qualified purchases over $35).
So far I've mailed 6 books, and have received 8 books. The system says I've saved a total of $12.46 (after postage paid), but obviously the savings is much higher if I had bought each of these books new.
Ready to learn more? Great, head on over to PaperBack Swap and create your free account. Then come back here and let me show you reasons to use it.
I'm in love with PaperBack Swap as it's reaped me some great books over the last few years.
Click To Tweet
Reasons to Use PaperBack Swap
If you read a library book that you very much loved and would like to own forever.
If you own the book already but want to get a copy for a friend so that you can read the book together and discuss.
For book groups (be sure to look ahead on books you will need so that there's plenty of time to find one).
To source books for cool crafts, like my sister's book folds.
To freshen up your child's library as he/she ages.
To source homeschool book supplies.
For those serving in the military overseas that don't have access to big bookstores.
For those living in a rural area without a big bookstore.
If you'd like some frugal karma. By sending out more books than you want to request (decluttering!), you can donate credits to schools needing books for their libraries.
Used Books Source #7: BookMooch
Looking for an alternative to PaperBack Swap? BookMooch is the same concept. Each book you list gets you 1/10th of a point, and each book you send gets you 1 point (if you send internationally, it's 3 points).
Then, it "costs" 1 point to request a book from another member. You have to send at least one book book to another member for every 2 books that you receive, fyi.
Total Cost: Shipping.
Used Books Source #8: BookCrossing
Are you open to what kinds of used books you get? BookCrossing is a pretty fun thing to do. You sign up for a free membership, and get a unique BookCrossing ID (BCID) for a book you wish to "let go" into the wilds of the world.
Then, you download and print a label to include with your book. The person who finds the book needs to upload the book's ID into BookCrossing.com where you'll then be able to see where your book travels to!
Then, you release your book (either with a "controlled release" — like giving it to someone you want to, or with a "wild release", like leaving it in a cafe or park bench for others to take).
Of course…you'll need to find a book from a BookCrossing member if you want to be on the receiving end of a free used book. But thought I would share this as a resource, anyway!
Potential Total Cost: Free
Used Books Source #9: Little Free Library
Have you ever noticed a Little Free Library in a park (what looks to be a bird house, but filled with books)? We have several near us in Houston, and use them regularly.
You pick up the books you want, and leave the same number of used books you no longer want so that others may take them. It's a pretty awesome concept! My son, especially, loves going "treasure-hunting" for used books…and it's nice that we can walk to one.
Here's how to search for one near you.
Total Cost: Free
Used Book Source #10: Borrow an eBook to Read on Kindle App
A neat development as libraries attempt to acclimate to the age of digital books has been the availability of eBook lending (you do not need to own a Kindle reader for this to work; you can simply download a free Kindle reading app onto your computer or smartphone if you have one). If your library is linked to Overdrive then you can check out titles virtually using your library card number and PIN. This eBook is also not available to borrow at OpenLibrary.org.
Total Cost: Free
Here's how to find free books on kindle.
Used Book Source #11: Amazon Vine Program
Amazon has a program called Amazon Vine, where people join it, receive free products, and are asked to honestly review them. And guess what? Sources say, they offer paperback books all the time! As in…new ones, not even used ones!
Only one problem: this is an invite-only program. Amazon says,
"Customers who consistently write helpful reviews and develop a reputation for expertise in specific product categories are most likely to be invited into the program."
Total Cost: Free (plus your time to leave a review)
Overall, I'm in love with paperback swap's service, as it's reaped me some great books over the last few years. If you're a reader as well, then please tell me what's your favorite way of getting your hands on the books you're dying to gobble up?
The following two tabs change content below.
Amanda L. Grossman is a writer and Certified Financial Education Instructor, Plutus Foundation Grant Recipient, and founder of Frugal Confessions. Over the last 13 years, her money work has helped people with how to save money and how to manage money. She's been featured in the Wall Street Journal, Kiplinger, Washington Post, U.S. News & World Report, Business Insider, LifeHacker, Real Simple Magazine, Woman's World, Woman's Day, ABC 13 Houston, Keybank, and more.
Read more here
.
Latest posts by Amanda L Grossman (see all)