13 actionable strategies for how to get quality furniture for cheap. Including the best place to buy furniture on a budget, and where all the cheap furniture online hangs out.
Years ago, my husband and I purchased a large, 3100 square foot home. With all that space, sourcing cheap quality furniture practically became a side hobby for us.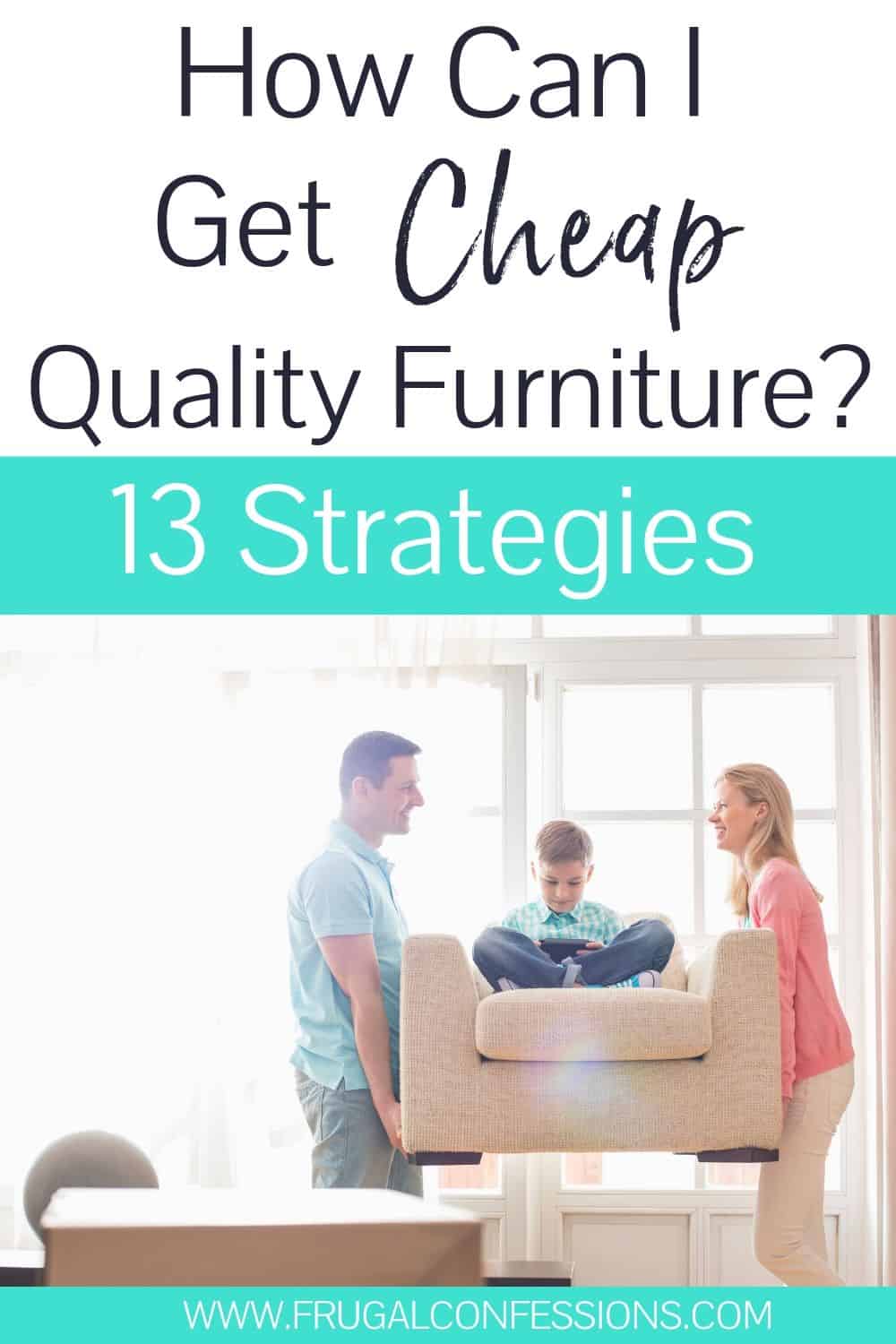 We didn't expect or seek out such a large space, but we toured 19 homes and not only did this one "feel" like it was home, but it was almost $40,000 cheaper than others (with less repairs needed). What a find!
Furnishing a huge home and trying to find the best place to buy furniture on a budget is a challenge.
That's why I've brought in two other bloggers (McKinzie from Moms Make Cents and Melissa from Flea Market Flipper) to help me share with you 13 actionable strategies to get quality furniture for cheap.
First up though, you'll need to know HOW to identify quality furniture so that you can really score some sweet deals instead of buying furniture that quickly falls apart.
How to Tell Quality Furniture from Cheap Furniture
Melissa, here. When you are sifting through furniture pieces, there are a few things that can let you know if the piece is high quality or cheaply made.
First, you'll want to check if it's real wood or particle board. Real wood will let you strip it and refinish it, but particle board will just fall apart if you try to strip it down to the bones to repaint it.
You can usually tell this by looking at the seams of the wood and feeling the grain.
These dovetails at the seams are a good sign that it's a good quality wood.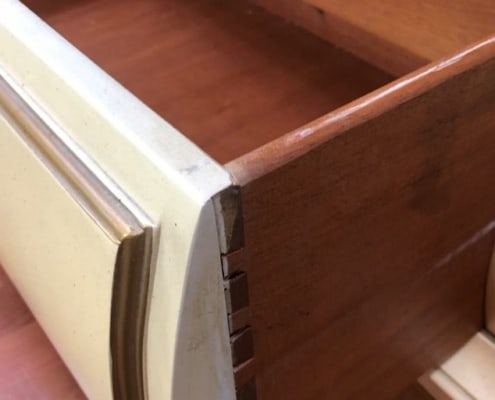 When you think of particle board furniture you can think of those cheaply made pieces that you assemble yourself by inserting pegs between pieces.
Another thing to check for is if the item has a brand name on it. A quick Google search will let you know if they are worth anything brand new.
One type of material that makes quality furniture is teak. Teak is a very dense board and doesn't rot (it's used on boats a lot). However, it will look weathered and old if not oiled and left out in the sun.
That's how my husband, Rob, got such a great deal on the teak set below. They were old and weathered, but it just took a good pressure washing to get them back into shape again (and worth more money!)
Here is a side by side of one of the chairs he pressure washed and one that he didn't.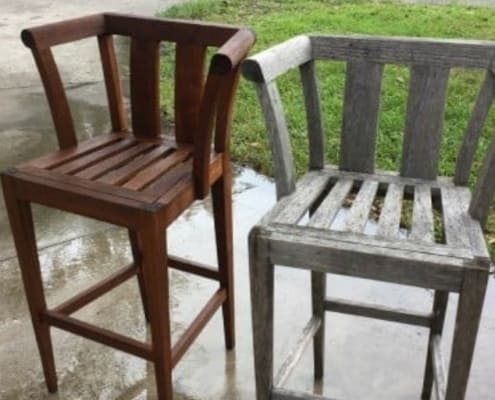 Complete difference!
Now that you know a few tips for how to identify quality furniture, we'll share with you 13 strategies for where to find deals.
Strategy #1: Where Can I Buy Cheap Furniture Online?
McKinzie, here. As a busy mom, I find it hard to find time to get into the store, so I do a lot of my shopping online. A lot of the rock bottom prices are found by getting out there and digging for the deal, but you can still save a lot and find places to buy cheap furniture online.
Shop at Discount Furniture Online Outlets with Low or Free Shipping
There are many places online that sell discounted furniture that was surplus from in-store locations. The most popular places to look are Overstock (shipping free over $45, and just $4.95 if under that) and Wayfair (shipping fee for orders over $49, and just $4.99 if under that).
These may be last year's items, but they are at much lower than their original price.
Watch for their flash sales and clearance deals to get your furniture at an even higher discount.

I'm an Amazon girl. I love that with my prime account I can order just about anything and have it at my door in two days. Amazon already prices their items very competitively, but with a little patience, you can get an even better deal.
One of my favorite Amazon tricks is to use a free site called Camelcamelcamel.com.
On this site, you can add in the URL for the item you want and you can see the price history for that product so you know how good of a deal you are getting.
If the price is higher than you are wanting and you don't mind the wait you can even set up a price alert that will send you an email when the price on Amazon drops below a certain price.
Bonus tip: To save even more, use an Amazon gift card!
Strategy #2: How to Find Cheap, Nice Furniture at Yard Sales
I have a secret tip for finding super cheap nice furniture. We're not talking like an IKEA dresser, but the top of the line stuff. With this money-saving hack, I was able to get an 85-inch cherry wood bathroom vanity with solid-surface, Corian countertops for $200. Plus I scored a huge solid wood executive desk for free!
Are you ready to hear it?
We all have those "upscale" neighborhoods in our area. Find the yard sale groups for those areas and join them. Then watch and wait. People will start remodeling and get rid of nearly new high-quality furniture for cheap.
I limit myself to places within an hour of my home, and I am able to find tons of deals.
Strategy #3: Shop at the Best Place to Buy Furniture on a Budget
If you would prefer to buy new, but still want to find a place to buy furniture on a budget, then try some of these places.
Birch Lane
I personally love this site. Their styles are up to date and they have a huge selection. For their style and quality, their prices are very reasonable too.
Bonus tip: When on their site, sort your search from low to high and then look for open box and close out deals to save even more!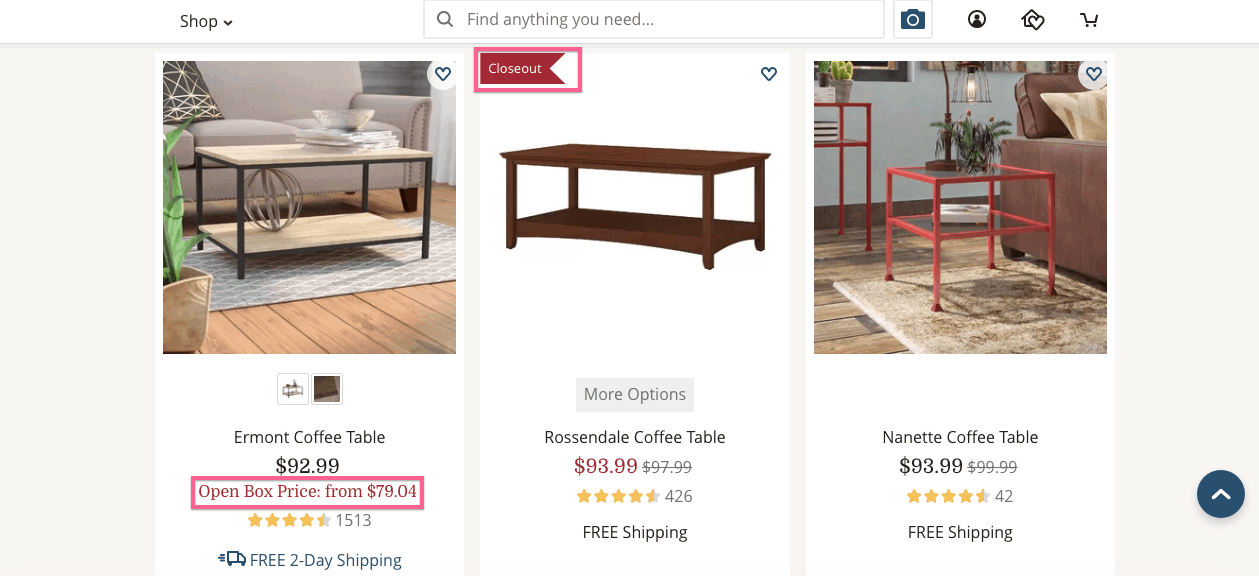 Amazon
Like we talked about above Amazon has great prices, and if you can wait until an item goes on sale, then you can save even more. Another frugal tip is to check the Amazon Warehouse deals.
They have a whole section dedicated to furniture!
Strategy #4: Buy Quality Furniture Cheap By Buying Used
Craigslist and Facebook Buying Groups became our best friends. We were able to score all of the furniture in our library for around $240 (which includes three matching bookcases, a gorgeous rug, and two reading chairs).
You can find cheap, used furniture for sale in buying/selling groups on Facebook. Click on "Marketplace" under your profile picture in the "home" section of your Facebook.

Then, you'll be taken to an area where you can join buying/selling groups near you, see multiple listings from multiple buy/sell groups at the same time, and even create your own listings (in case you want to sell something to others — a great way to pay for your furniture!).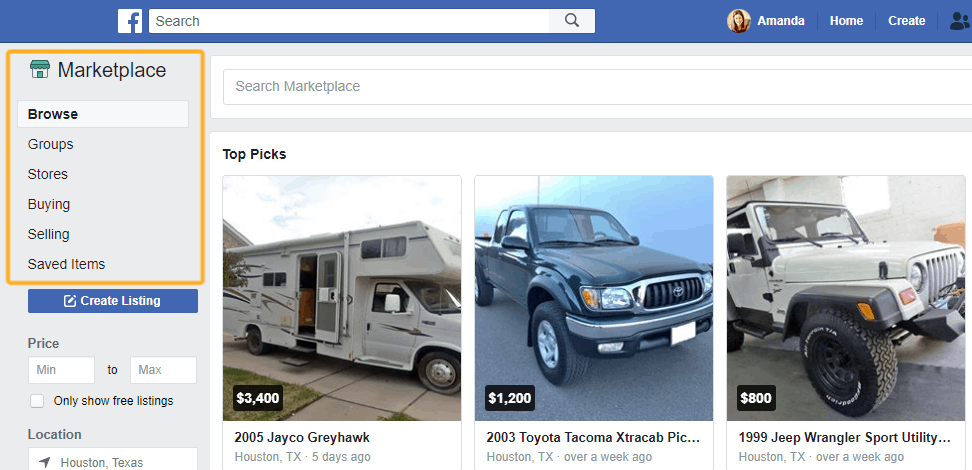 After finding two quality wing-back reading chairs, I ordered matching wing-back chair covers from the clearance section of Overstock.com to really pull everything together.
We also scored a wooden buffet for $75 for our dining room, and a cast iron sink ($80) for our laundry room.
With the Facebook Marketplace, you can also set alerts for certain items in a certain area. If you are looking for a solid wood dresser, then search for that in the upscale zip code (set a radius of about 10 miles and then watch and wait as new items are posted).
McKinzie uses Craigstlist as well. She writes,
"A few years ago we were looking for new nightstands we looked in one of the more affluent neighborhoods and a man was getting rid of two solid wood nightstands still in the plastic wrap for ⅓ of the price new. We happily bought them and almost six years later they still look almost brand new."
Networking among family and friends is another great option when looking to used. We let a few people know that we were looking for a nice set of living room couches, and sure enough a friend of a friend was looking to get rid of theirs. We actually had gone to their home before and were really impressed with their very nice furniture. For $400, we scored a gorgeous (almost brand new), set of couches.
And guess what? 9 years later, we still have all of these pieces (they've even held up under our 3-year-old).
Strategy #5: Have Quality Furniture Built for You
You may not have thought of this, because it seems like custom built furniture would be more expensive. But building your own furniture or having someone else do it for you could end up saving a chunk of money.
We did this for the new oak vanity in our laundry room, an area that needed to have a custom cabinet built because of specific measurements.
Various companies quoted us around $1200 for a vanity to fit the space, but our cost to have it custom-built by someone was $500. That's less than half!
Strategy #6: Use Online Marketplace Apps
Melissa, here.
Apps like OfferUp and Offerup are great places to find quality furniture cheap!
Some people even list items for free that they want gone that day. If you have a specific type of item you are looking for (like end tables or dressers), search for it regularly and the smart feeds will start showing you all items related to it.
OfferUp is my husband, Rob's, favorite app to scroll through, and mine is Facebook Marketplace.
Strategy #7: Flip Used Furniture to Use or to Sell
My husband, Rob, and I have been flipping items online for our whole marriage (12 years), and he had been doing it for another 10 years before I met him.
Needless to say we have bought and sold a lot of items!
We started to get into furniture more about three years ago. It was actually a dining set that we sold on eBay that was a pivotal moment in our reselling business.
We had bought this dining set for $350 at an auction, and listed it locally on Facebook Marketplace and OfferUp for $750. Almost double our money so not too bad.
But no takers.
It was a beautiful set! But the interest wasn't there.
Then my husband Rob decided to try to sell it on eBay and ship it freight.
He listed it and it sold for $2,250! Three times more than we were asking locally (and couldn't get)!
That's when we learned how to ship freight and we've been able to sell furniture for way more than we can locally.
As much fun as selling furniture is, the money is really made in the purchase. If you can't get a good deal on the piece or set, it may not be worth the work of refurbishing it to sell for a profit.
Rob found this teak set on OfferUp for $100.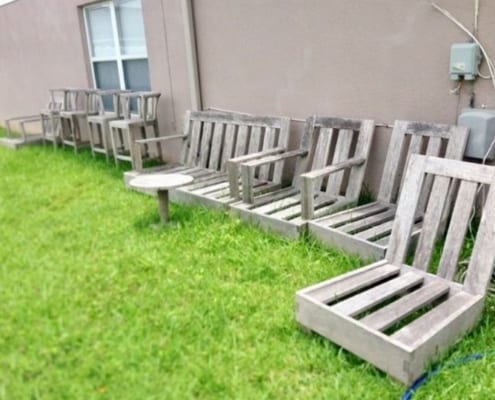 Once we pressure washed it and oiled it, we sold it on eBay for $2,400!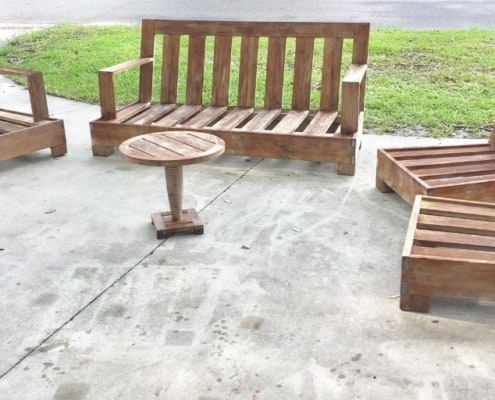 Strategy #8: Find Alternative Sources of Quality Furniture for Cheap
The great thing is there are so many places to find quality furniture cheap! So if a piece you fall in love with is too much to invest in, then you can move on knowing that another one will come along soon.
So where are these places to find quality furniture cheap?
Here are a few of our favorites:
Alternative #1: Auctions
There are many physical auctions still around, but there are an increasing number of online auctions too!
That dining set we talked about earlier was bought at an online auction while sitting at home from our computer. We use local auctions that have an online auction, and then you go and pick up the item.
They can be a great way to get quality furniture cheap, just don't get too caught up in the bidding process or get too attached to an item.
Set your limit of what you are willing to pay and still be able to make a profit. And be sure to stop there.
Alternative #2: Thrift Stores
There is usually a plethora of furniture at thrift stores. You just have to do a little digging.
We have a Habitat for Humanity, Goodwill, and two other locally owned thrift stores nearby that we stop in often and check out.
Alternative #3: Curbside
So before your negate going through the trash, this is probably one of our FAVORITE places to find items to flip!
We go on a walk almost every day, and you would be amazed at the amount of things people throw away.
For example, we found these end tables in the trash. I repainted them and put them in our rental property.
Just recently we found a bed frame someone was throwing away. We dusted it off and sold it on Facebook Marketplace for $100 in a few days.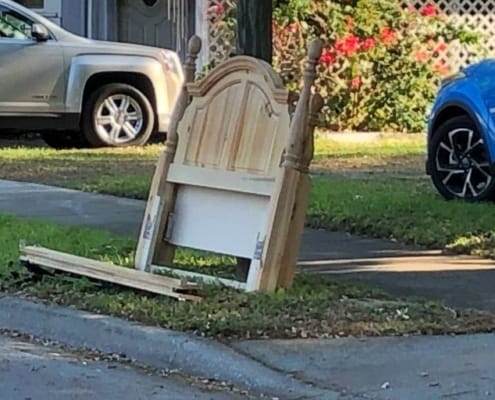 Strategy #9: Shop Local Discount Outlets
If you live close to a city, chances are you have a local discount store. In McKinzie's area, they have one called the Liquidation Team. They have overstock items, items that were previously displays, and "scratch and dent" items. These items may have minor wear, but often they are in good condition and have great prices.
Paul and I are not the type to buy from a furniture superstore just to fill a space up, but since we had so much space in our home, we wanted to get enough quality cheap furniture to make it feel as cozy as possible. Using the action steps above saved us a ton of money, and 9 years later, all of the pieces we scored are still in great condition around our home!
The following two tabs change content below.
Amanda L. Grossman is a writer and Certified Financial Education Instructor, Plutus Foundation Grant Recipient, and founder of Frugal Confessions. Over the last 13 years, her money work has helped people with how to save money and how to manage money. She's been featured in the Wall Street Journal, Kiplinger, Washington Post, U.S. News & World Report, Business Insider, LifeHacker, Real Simple Magazine, Woman's World, Woman's Day, ABC 13 Houston, Keybank, and more.
Read more here
.
Latest posts by Amanda L Grossman (see all)