Using a money savings jar? Get creative ways to save money in a jar. Plus, a money savings challenge 52-week TWIST (using a deck of cards).
I don't have to tell you how cool and convenient money savings jars are.
I mean, almost everyone owns a mason jar – or can clean out a spaghetti jar to use – so getting started is almost instantaneous.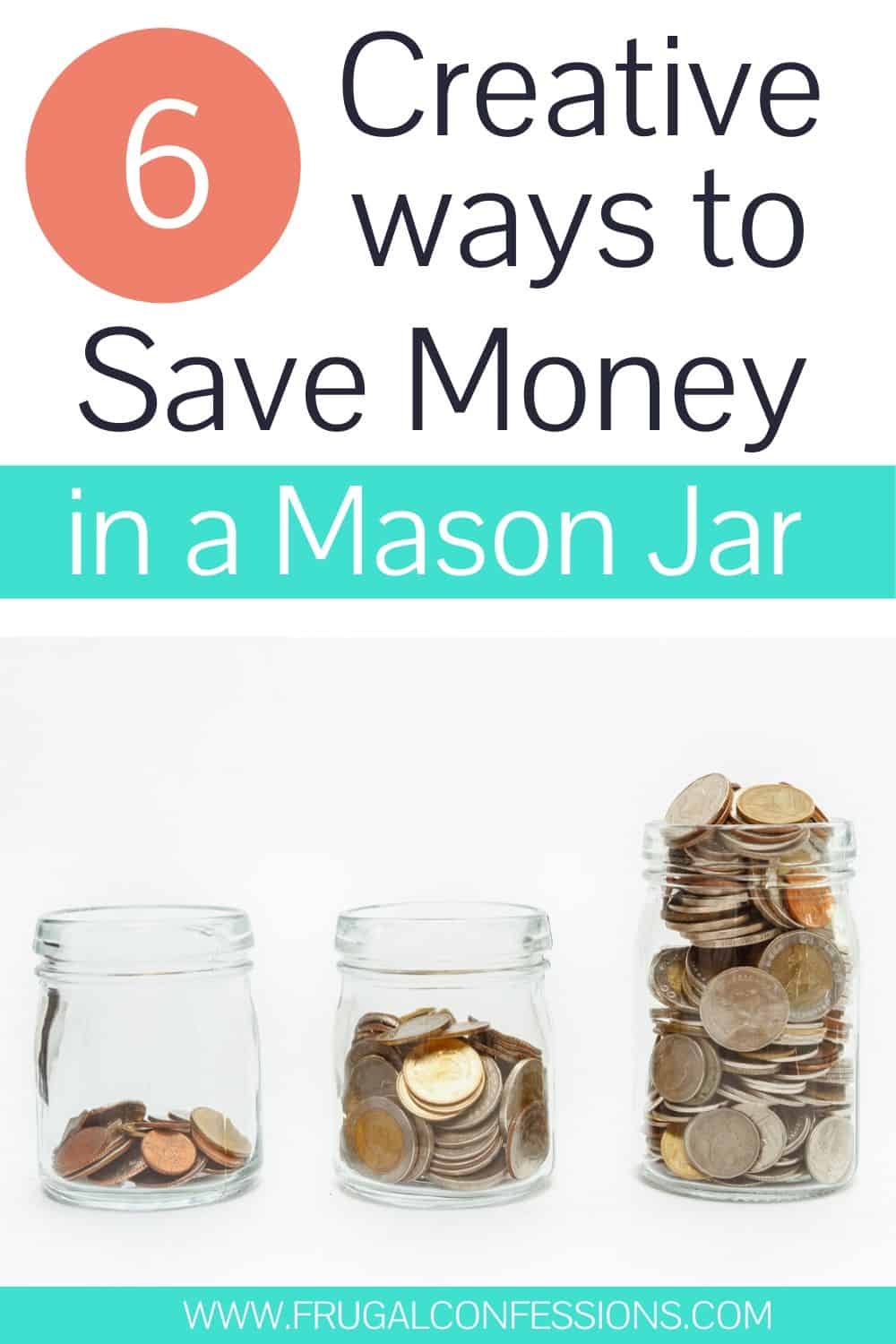 You can stash your money savings jar right in front of you so that it serves as a constant reminder of what you're trying to accomplish.
And they're way more convenient to fill than heading to the bank every time you want to make a coin or dollar deposit.
Well, in this article, I hope to take your savings jar to a whole new level with creative ways to save money in a jar (including a money savings jar challenge using a deck of cards!).
First up? A fun play on a well-known money saving challenge.
Get Creative with Money Savings Jar Challenges
I've got such a FUN money savings jar challenge that's pretty creative – it's called the 52-Card Pickup Weekly Savings Challenge.
And all you need? Is a money savings jar, a deck of cards, and the free printable I had created for you below. Read on.
52-Card Pickup Weekly Savings Challenge
You've probably heard of the 52-Card Pickup game…but have you heard of the 52-Card Pickup Savings Challenge?
Of course you haven't…because I just invented it!
It's a twist on the popular 52-week savings challenge (haven't heard of these? Just google "52-week savings challenge" and prepare yourself for a monsoon of free savings printables).
After several years of seeing the 52-week challenge takeover part of the internet, I got to thinking that just adding one twist to it would add a whole lotta fun.
You see, a full deck of cards has 52 cards in it, just like there are 52 weeks in a year.
Pair the two together, and you've got a fun recipe for saving a sweet $676 over the next 365 days (or whatever amount you want to – we'll get into how to edit this for your own purposes).
To play, you'll need to add a deck of cards (shuffled) right next to your money mason jar. Then, assign a money value to each card in a suit (Ace through King).
On the same day of each week, you'll choose the top card. That's the amount of money you need to set aside in the money jar.
You can fill in values that will allow you to meet a certain savings goal or savings amount by the end of the year, OR, you can use my values from below.
These example values will give you $676 in savings by the end of the next 52-week cycle:
2 = $2
3 = $3
4 = $4
5 = $5
6 = $6
7 = $7
8 = $8
9 = $9
10 = $10
Jack = $15
Queen = 20
King = $30
Ace = $50
You'll DEFINITELY want to pair this challenge with my resource article stocked with 250 money saving tips. Consider that extra $676 saved!
Ready to Play the 52-Card Pick-Up Weekly Savings Challenge? Get your free printable here.
Creative Ways to Save Money in a Jar
So, you're using money jars and you're looking for some more creative ways to save money in a jar?
Great – I've got some killer savings jar ideas for you.
For starters, it's a known fact that people have more than one savings goal at a time. Maybe they should, maybe they shouldn't.
But we're not talking about "should's" here – we're talking about how to use money jars in creative ways to save money.
So, why not use your money jars to help you keep an eye out for your most prioritize saving goals?
In other words, decide on which of your savings goals is the most important to you, then which is the second most important, then the third most important, etc.
Grab as many money jars as you have savings goals, but here's the twist: each jar needs to be a different size. Then, stack up the jars from most important goal (the biggest sized jar) to least important goal (the smallest sized goal).
You can also do this by using the same-sized jar, but putting a different colored, coin-slotted lid on top (with each color standing for a different priority level).
Sometimes, just seeing our priorities in a different light can help remind us of them!
Another creative way to use a money jar to save money is by changing the look of it. Make it fun and creative-looking, like this one, and you might be motivated to save more money than if you paid its looks no attention.
Money Jar Ideas You've Gotta Try
Looking for even more money jar ideas? I've got some special ones for you to try, below.
Starting with the one that means the most to my husband and I!
1. Honeymoon Savings Jar
My husband and I bought a savings jar while on our honeymoon in Austria 10 years ago.
I wanted to give it a special purpose in our life – something to help us extend that honeymoon and new-married-feeling as long as possible.
What could be a better use for a savings jar picked up while on our honeymoon than to fund a special date night?
Here's what we do with it:
Turn in All Our Change: Whenever we have change, we feed our date night jar.
Wait for an Anniversary or Special Date: We then choose a special date night to have for either an anniversary or other special date, and pay for it using money from the jar. For example, last year our honeymoon savings jar paid for a date night out to Medieval Times!
It seems so simple, but because we bought this savings jar on our honeymoon, the date night we go on each year from money saved in it just feels like a natural extension of us getting married.
Really makes the whole thing more special!
2. Create Rewards Lines on the Jar
Nothing gets you saving money faster than rewarding yourself along the way.
Take your money saving jar, and paint 2-3 small lines on the outside of it.
When the money gets to that level? Celebrate in some way.
Here is my article on 365 ways to reward yourself for $5 or less (great idea to keep the reward cheap since you want to put as much of your money possible away in your money jar!).
3. Follow a Savings Challenge on the Jar
Here's another free printable you can use to tape to the outside of your jar. Her savings jar printable will help you to follow along with a $20/week savings challenge, using your money savings jar.
4. Track Your Savings On the Jar Itself Using Stickables
For my other site where I teach kids about money, Money Prodigy, I created a fun set of Money Jar Stickables. You can print these out and put them on the outside of your jar, then color in as you add more and more savings to the jar.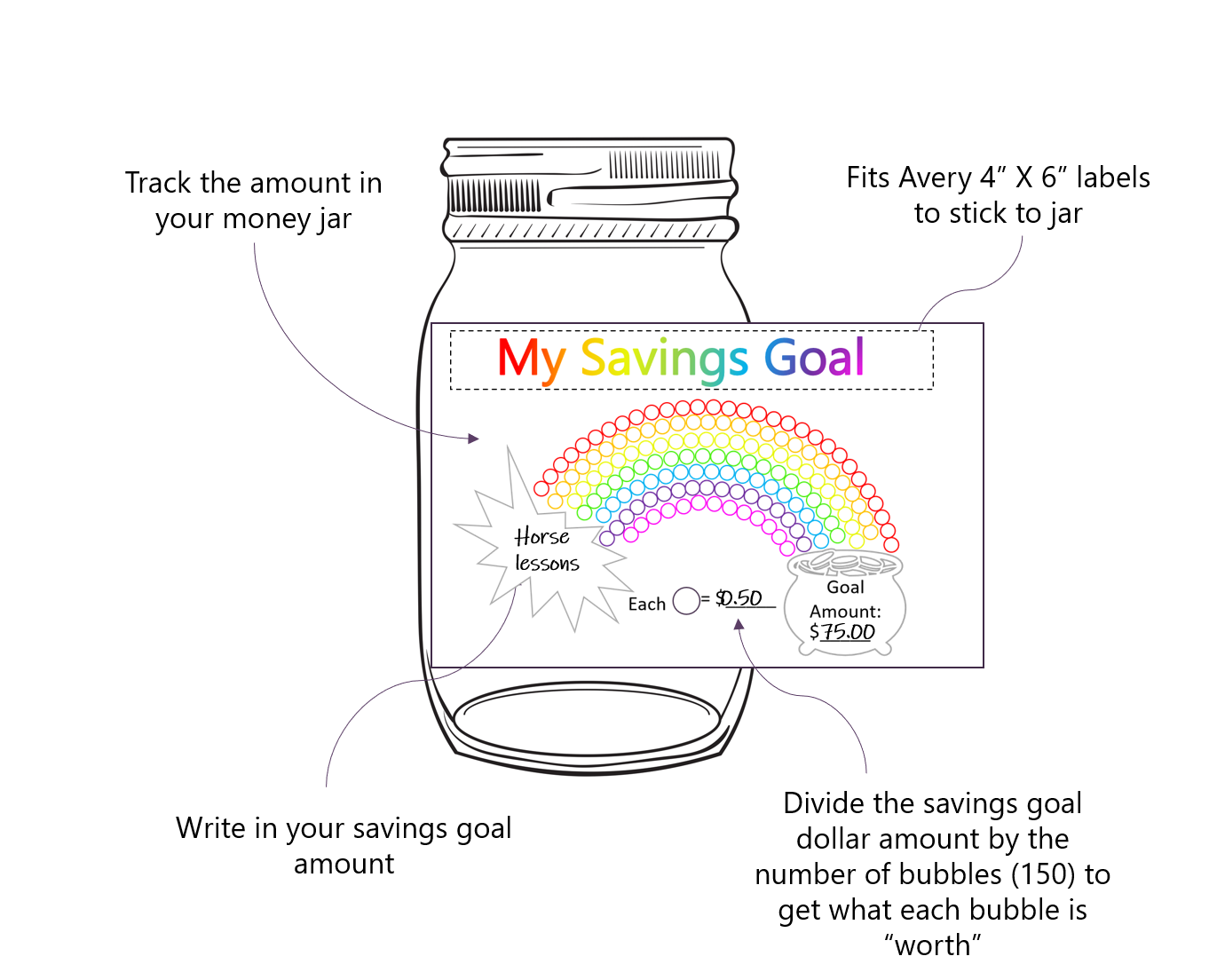 Get your own free set in my article on the best Give Save Spend banks.
I hope I've shown you how you can save money creatively with creative ways to save money in a jar.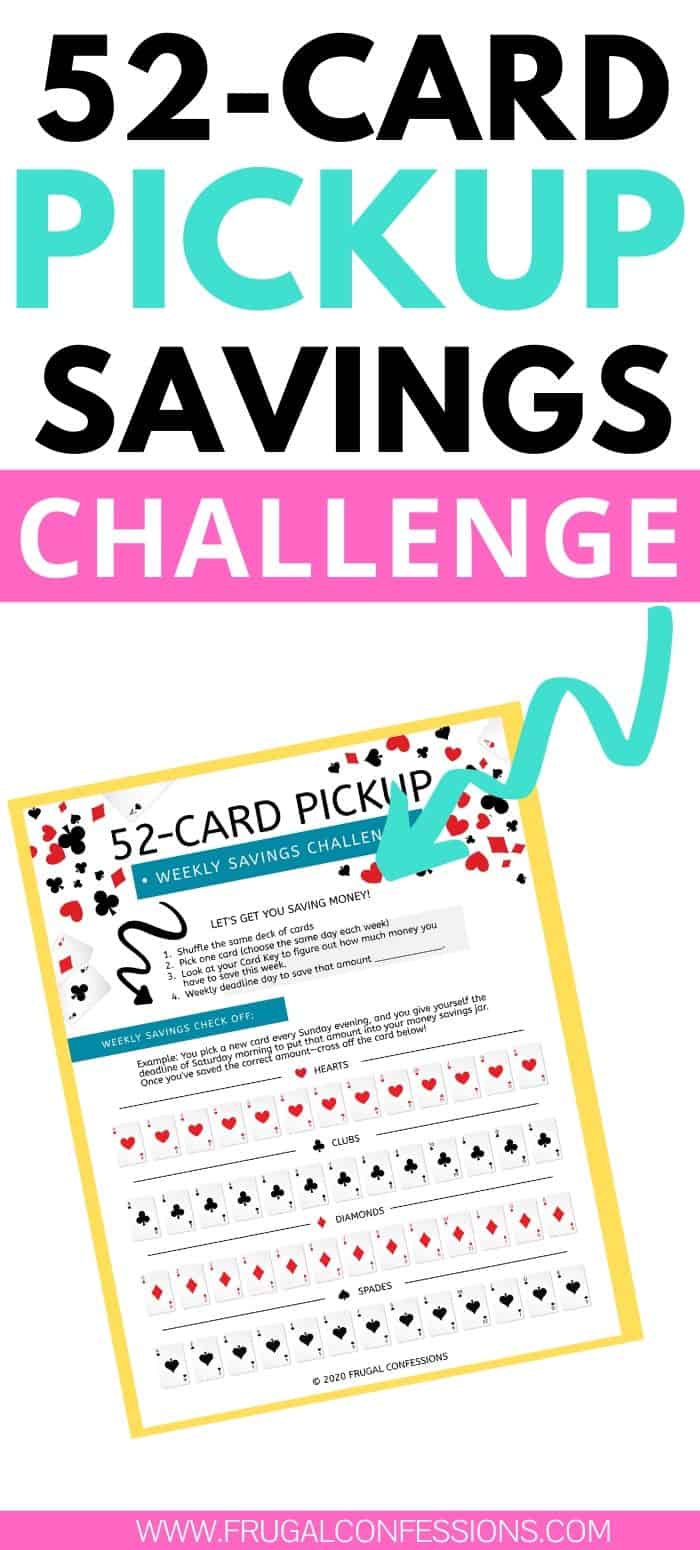 The following two tabs change content below.
Amanda L. Grossman is a writer and Certified Financial Education Instructor, Plutus Foundation Grant Recipient, and founder of Frugal Confessions. Over the last 13 years, her money work has helped people with how to save money and how to manage money. She's been featured in the Wall Street Journal, Kiplinger, Washington Post, U.S. News & World Report, Business Insider, LifeHacker, Real Simple Magazine, Woman's World, Woman's Day, ABC 13 Houston, Keybank, and more.
Read more here
.
Latest posts by Amanda L Grossman (see all)