Got an A6 personal sized binder? Let me show you A6 savings challenge free printables that can help your finances (big time).
I probably don't have to tell you that finding A6 savings challenge free printables is rather hard to do.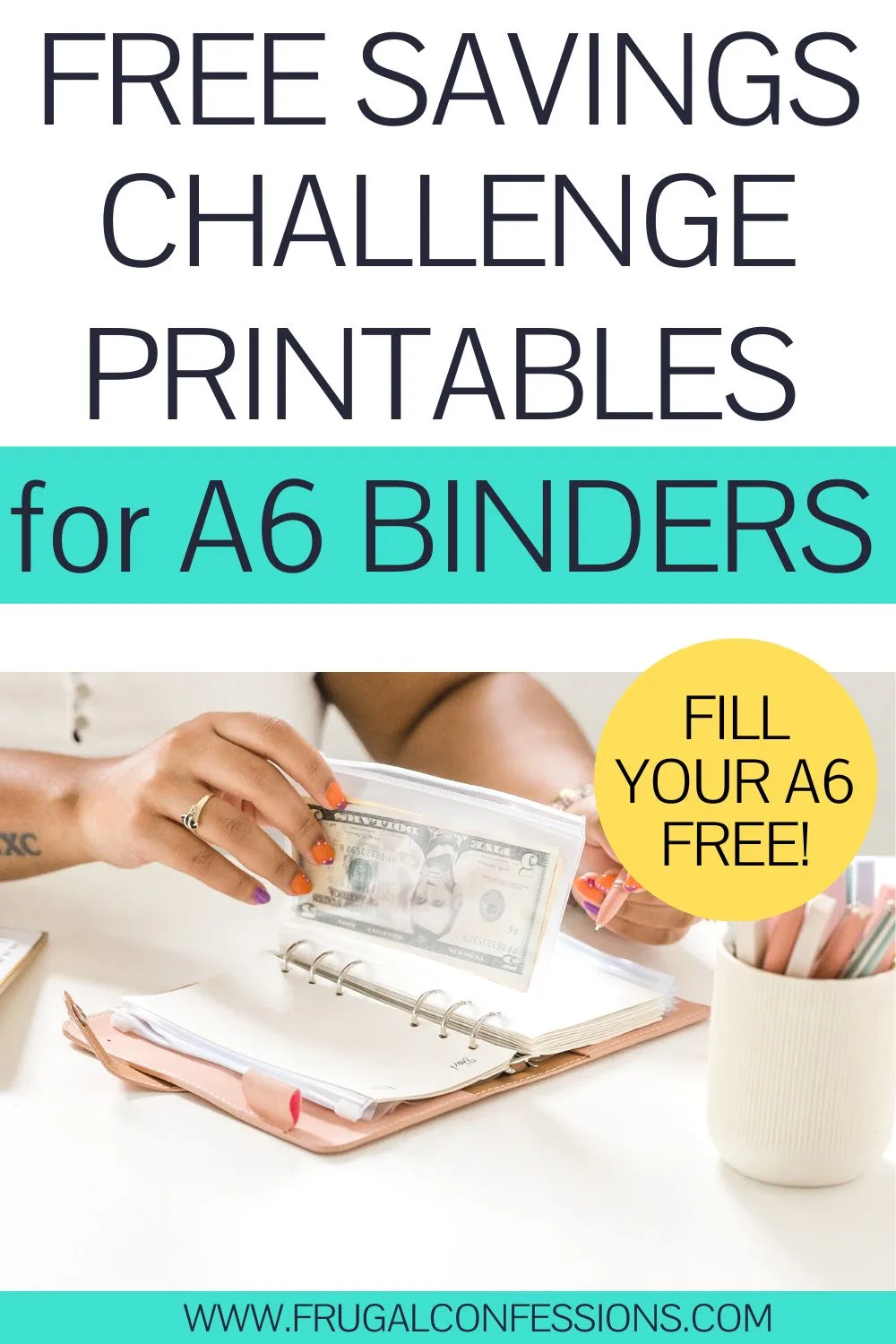 Almost all of them cost money.
Which is why I'm so excited to not only show you several out there, but also a way for you to convert any type of free savings challenge into an insert that will fit your cute A6 Personal Planner binder.
Ready to get your A6 filled with inserts to help you reach your savings goals?
A6 Savings Challenge Free Printables
The way I see it, you have three options to fill your A6 binder with free savings challenge printables.
Find free savings challenge printables specifically for A6 (there are several, below).
Find free envelope savings challenge printables, and just use the savings challenge front part (which fits nicely into an A6 binder cash envelope).
Use a printing hack to decrease the size of a normal PDF, allowing you to use other free savings challenge printables in your A6.
Free Savings Challenge Printables Made for A6
There is one savings plan printable for each month in these boho-themed free printables.
I love how this set works both as a printable to hole punch and put into your A6, AND, they fit into your cash envelopes in an A6 binder (here's the A6 personal binder in the photo, and the other one I use is this A6 personal binder).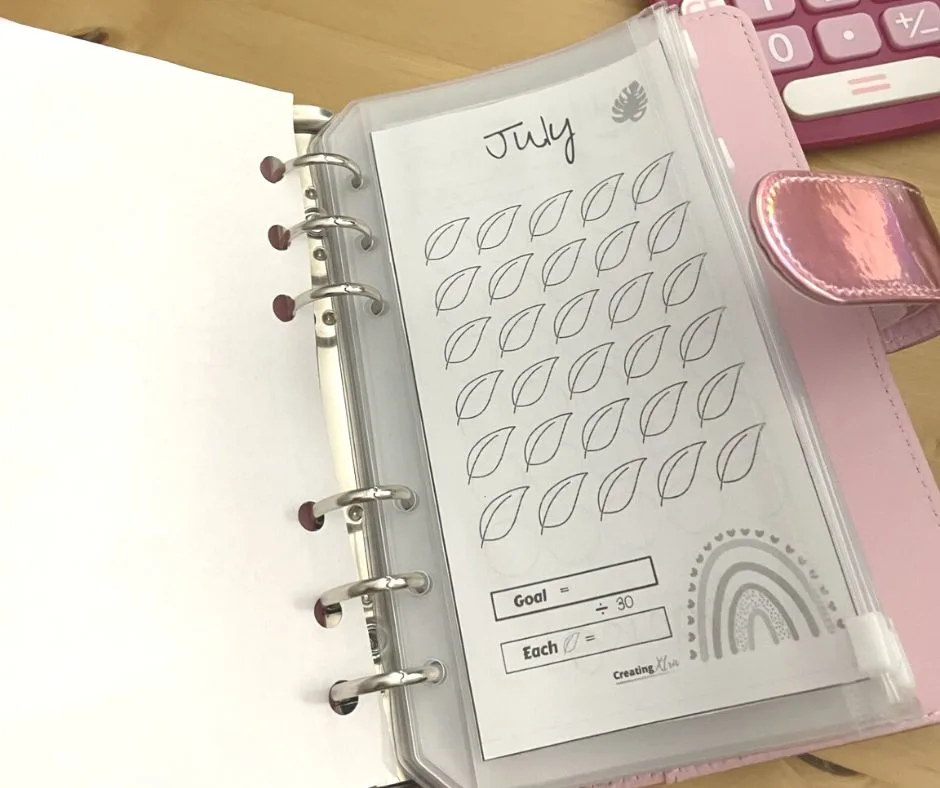 Hint: if you use them in the envelopes? You can then use a wet erase marker (these are the ones I use) so that you can reuse the same sheet over and over.
There are thirty spaces for each month, and a spot for you to put your savings goal into.
You then divide that goal by the number of spaces (30), and then you have what each space is "worth" (check this article out for how to start a money savings challenge).
Free Envelope Savings Challenge Printables (A6 Cash Envelopes)
Okay…so you know all of those fun envelope savings challenges (that also come with tons of free printables)?
Well, I printed a few out and cut the savings challenge part out, and it turns out that fits beautifully inside my A6 cash envelopes.
Here's an envelope savings challenges that you can fit into your own A6 cash envelopes.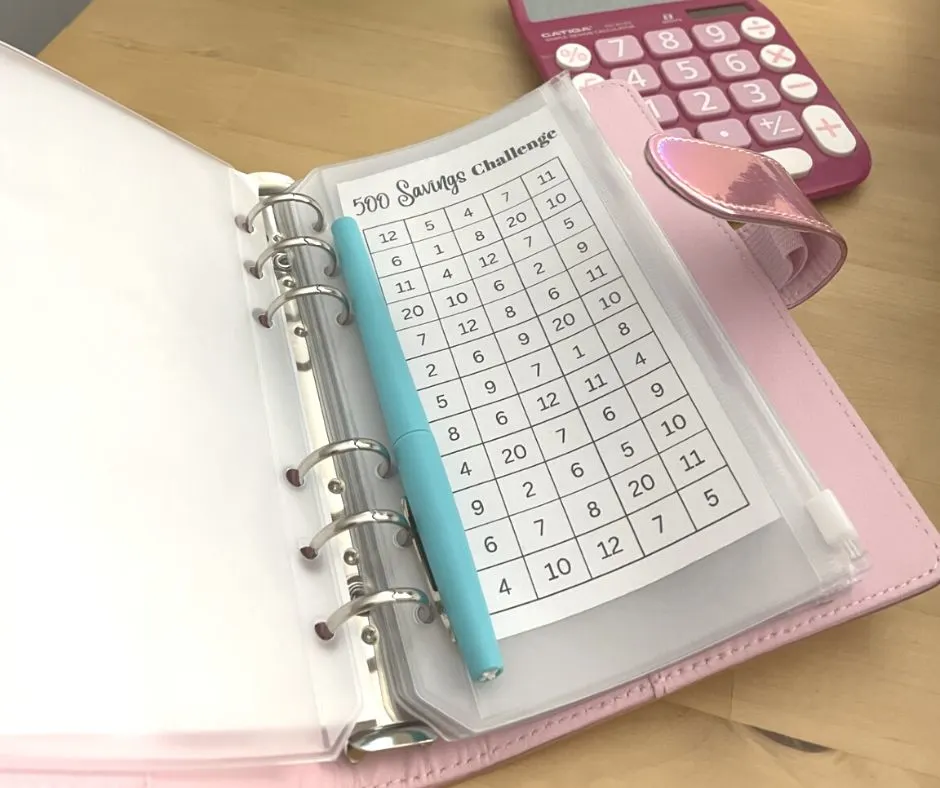 This free envelope saving challenge will fit right into one of your A6 cash envelopes.
There are 60 squares, each with a money amount on them. As you save money in your envelope, cross off the number of squares that add up to the amount.
For example, if you save $31 this week, then you can cross off the $20 and $11 spaces.
When you've crossed off all the spaces, then you know you've saved $500.
Printing Hack to Convert Savings Challenges to Fit the A6 Binder
There are a few ways that you can take any regular sized PDF printable (8.5" X 11"), and print it out to fit your A6 personal planner (or any sized planner, for that matter).
By Percentage: Open the printable, and click "print". Under "Advanced" options, click "Scale", then "Custom". You can then put a percentage of the original size, which will shrink the printable down. Here is a chart for percentages to use with different types of binders, including the A6. Note: your printer and software may look different than mine, but you'll want to look for these same settings.
By Pages Per Sheet: I found that when I did the 44% for the personal A6 binder, it had no margin for binder holes, and it was really small. But when I went up a size, it didn't work either. SO, I actually switched it to print 4 per page…and it magically came out perfect.
By Paper Insert Size: When you click to print a document, you can click on "Paper Size" to reveal a bunch of different options. Some planner paper sizes are already programmed in, and you just need to click on that one (A6, in this case).
Here's a screenshot of what the page-per-sheet settings look like on my computer: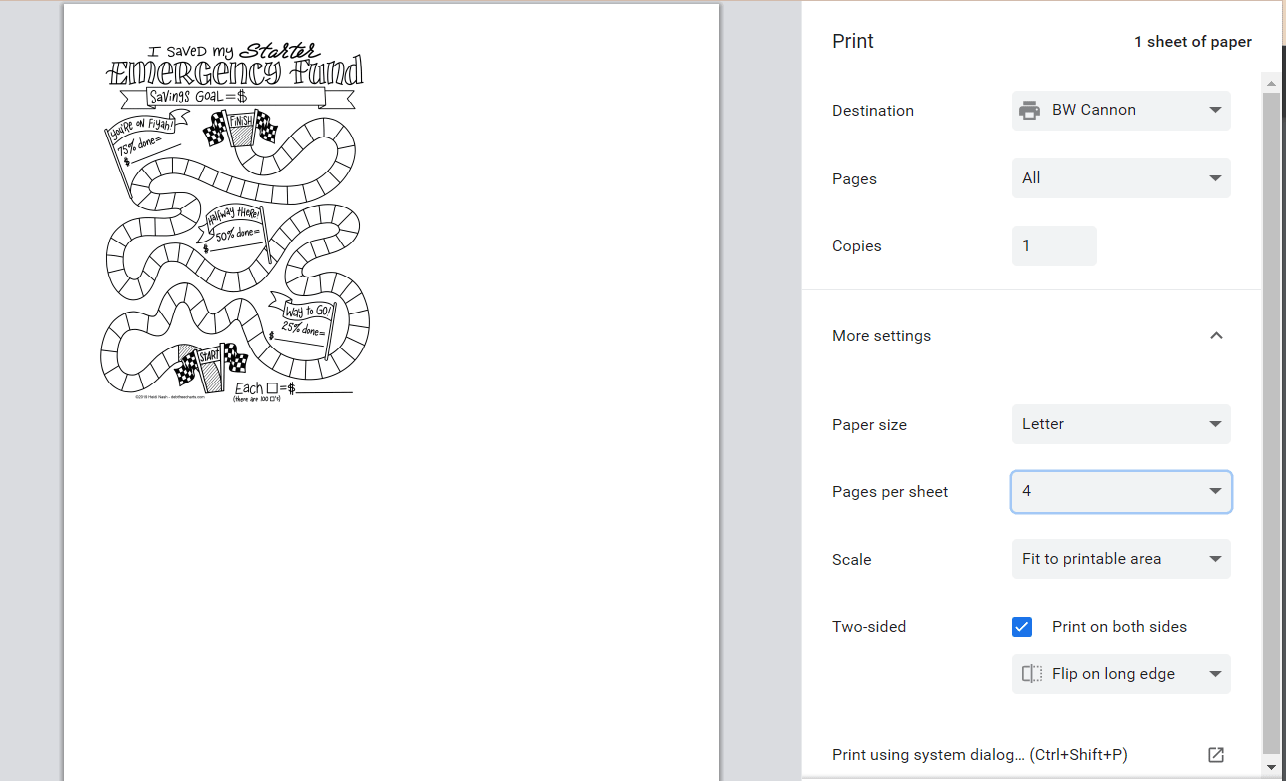 Use one of those methods above to print out one of these free savings challenge printables. Then, just cut your insert out, hole punch it, and put it into your A6 personal binder.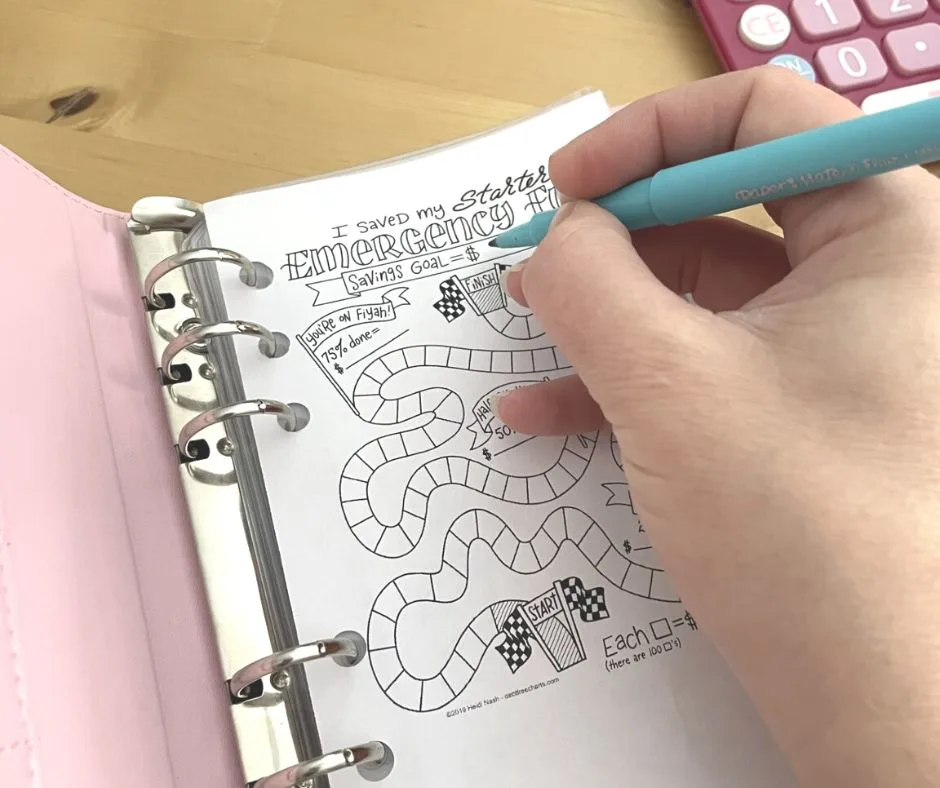 Is saving up for an emergency fund on your list of priorities?
Figure out what emergency fund amount you should save for (here are emergency fund examples), and then use this printable to track your savings progress towards that goal.
I love how it even has little milestones – you can choose a cheap way to reward yourself for each!
Psst: here are 11 more free emergency fund trackers.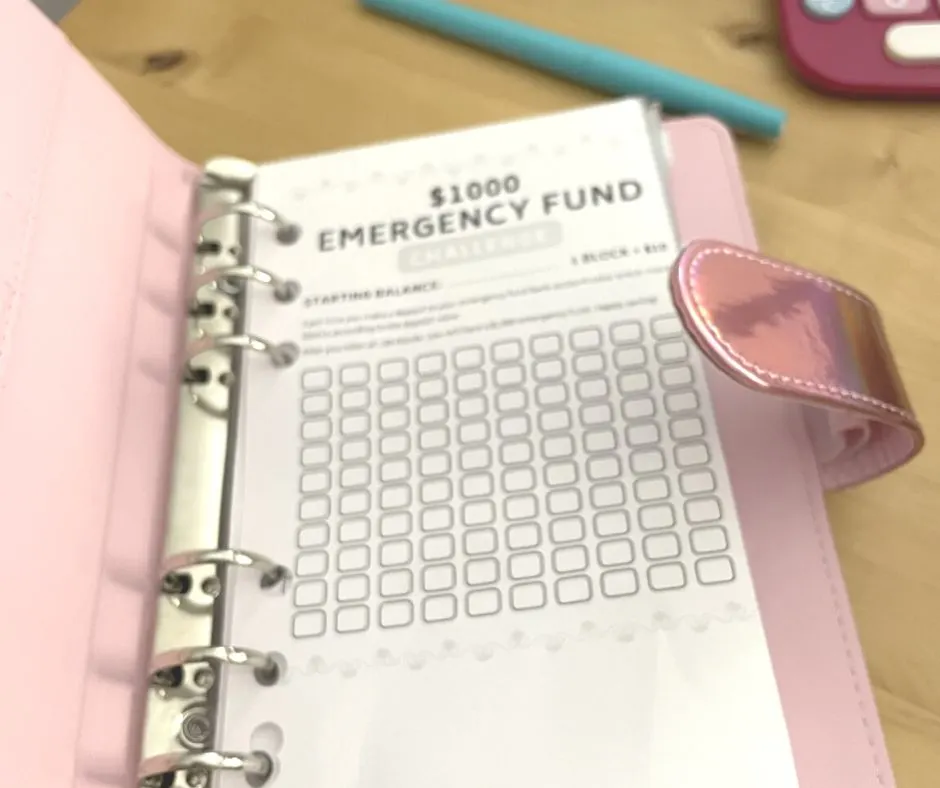 Not sure how much to save for your emergency fund, OR, you're doing the Dave Ramsey baby steps and need to save up that $1,000?
Then this free savings printable is for you.
And after choosing printable settings of "Letter", "4-sheets-per-page", it looks so cute in my A6!
Each block is worth $10, and at the end of coloring in each of the blocks, you'll have your $1,000.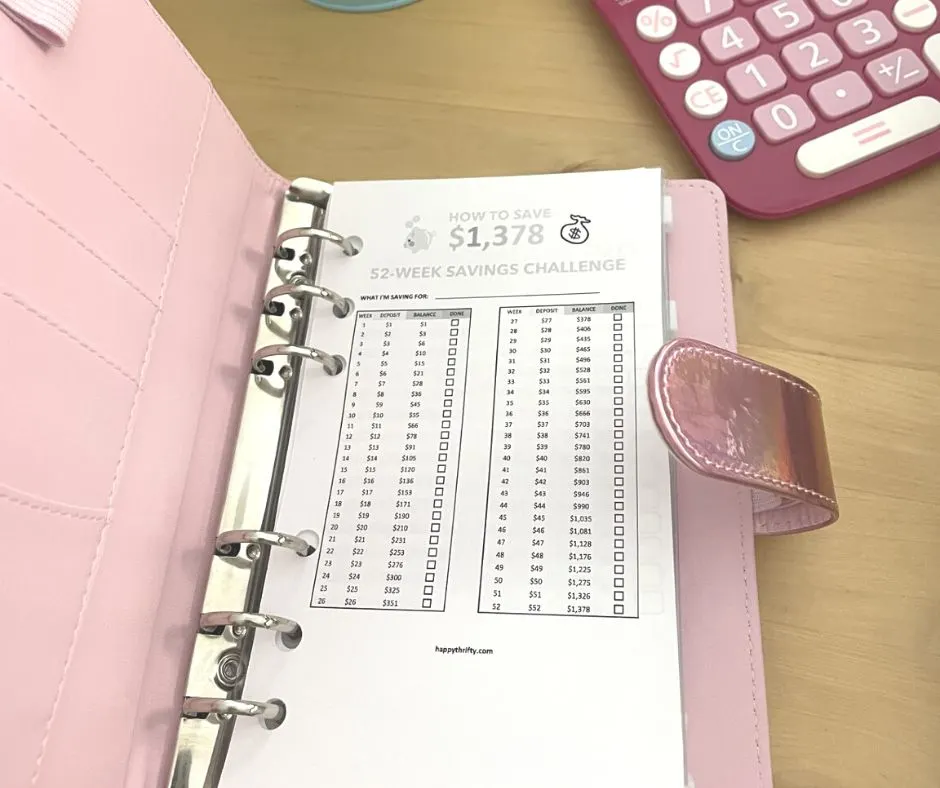 Want a year-long savings challenge in your A6 binder?
I was able to get this 52-week savings challenge PDF to fit perfectly after adjusting it to "Letter" size, and 60%.
She gives you several printables, with different saving goal options:
Save a specific amount each week (given on the printable), and you'll end up with the savings goal amount at the end of the year (or the end of the 52-week period – you can start anytime).
And there is a black and white, as well as a color option for printing.
Also, there's a blank one so you can build your own savings challenge around your goals!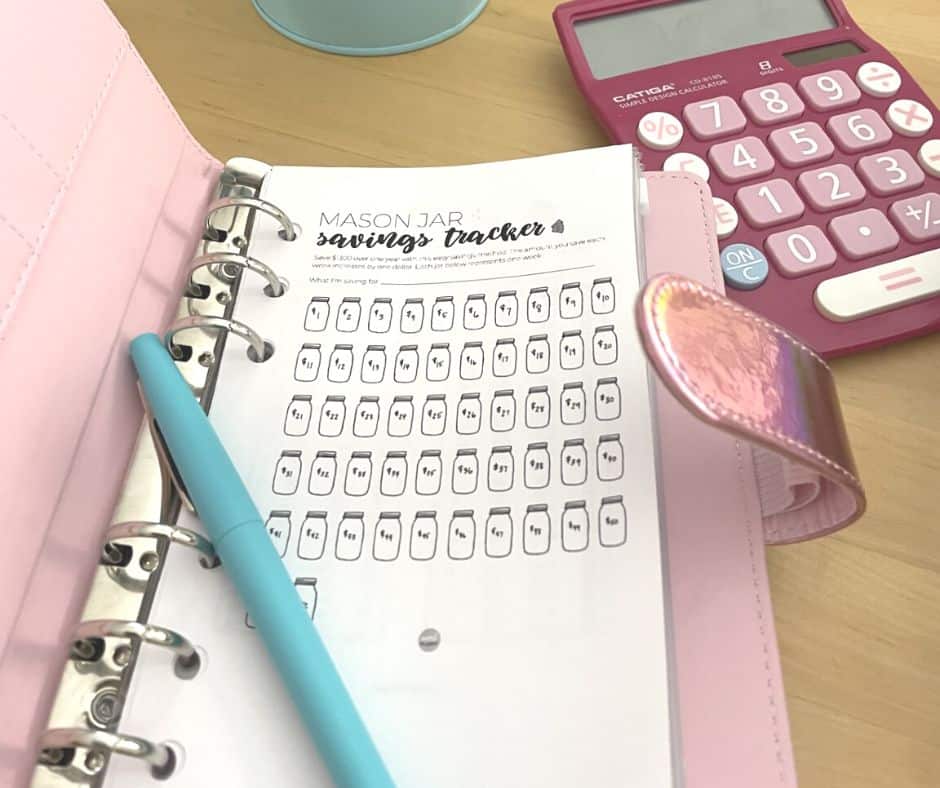 Are you wanting to take a paid-for vacation next year, or something else big is going on and saving $1300 up will really help you tackle the cost?
This printable helps you track saving $1300 up at the end of 52 weeks, without ever asking you to save more than $52 in one week.
Amounts start at $1, and increase in value by one more dollar each week.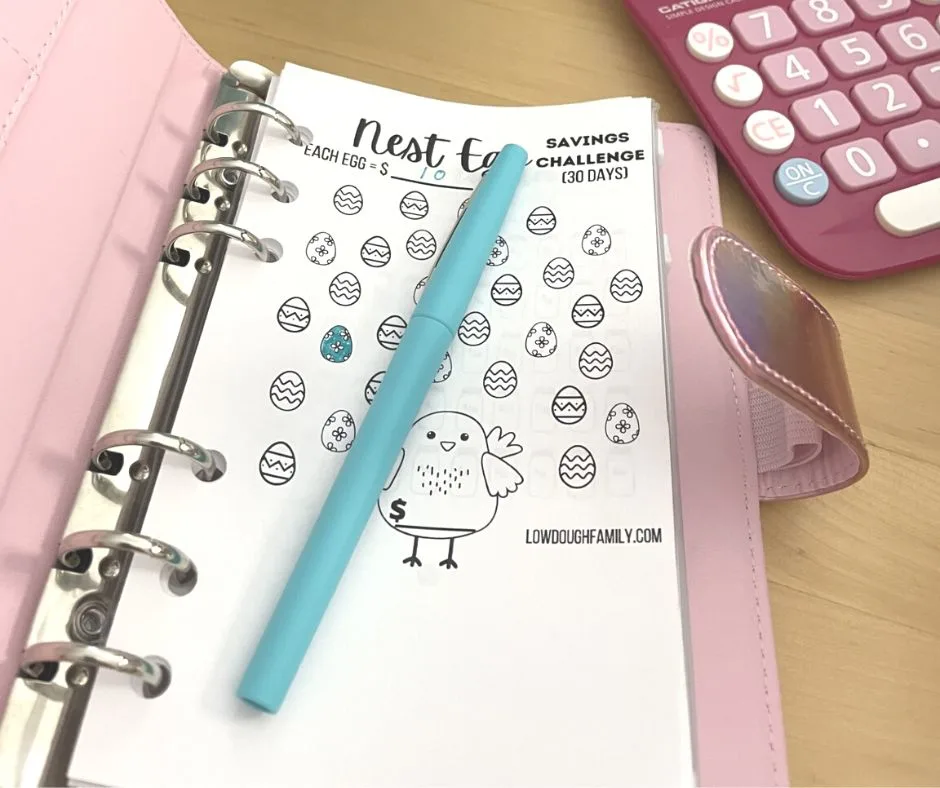 Here's a totally cute Nest Egg savings challenge for one month (30 days).
You need to save $10 to be able to color in an egg (actually – that's just their example. You can make the eggs equal any value you would like!).
If you use the $10/egg value, then at the end of 30 days, you'll have $300 more in savings than when you started. Score.
These a6 savings challenge free printables offer a pretty powerful ways to track the progress you make towards your savings goals. What you track, grows. So, pick one out, and get to tracking! You'll be so proud of yourself (and learn a few things along the way, when there are inevitable mistakes) when you reach the end goal.
The following two tabs change content below.
Amanda L. Grossman is a writer and Certified Financial Education Instructor, Plutus Foundation Grant Recipient, and founder of Frugal Confessions. Over the last 13 years, her money work has helped people with how to save money and how to manage money. She's been featured in the Wall Street Journal, Kiplinger, Washington Post, U.S. News & World Report, Business Insider, LifeHacker, Real Simple Magazine, Woman's World, Woman's Day, ABC 13 Houston, Keybank, and more.
Read more here
.
Latest posts by Amanda L Grossman (see all)