Fill out one of these free printable Christmas gift list organizers this year, and save yourself time and headaches for years to come.
I did one of those holiday-overwhelm game-changers three years ago when I downloaded a free printable Christmas gift list organizer.
Suddenly, instead of having to rewrite my gift-giving list each year, I simply saved this list and added a name here and there the next year and the year after that.
It felt magical (well, a dose of Christmas magic for us adults, anyway).
It saved so much time and headache, that I decided to share with you the best free gift list organizers for you to download and use this year.
Seriously – you'll thank yourself around November (or September if you're like me, and you tend to shop for Christmas months in advance).
Free Printable Christmas Gift List Organizers
I encourage you not to think that gift-list-organizing is a "type-A" personality thing to do.
It's not.
It's a sane thing to do. Sitting down to print out one of these cute holiday gift organizers and writing it out just this year will save you loads of time and headaches for years to come.
Just save the list in your holiday storage area, and grab it come next year.
Psst: you'll want to pair one of these with these free Christmas Budget printable PDFs, as well as read up on these 17 holiday budgeting tips.
1. Simple Christmas Gift List Printable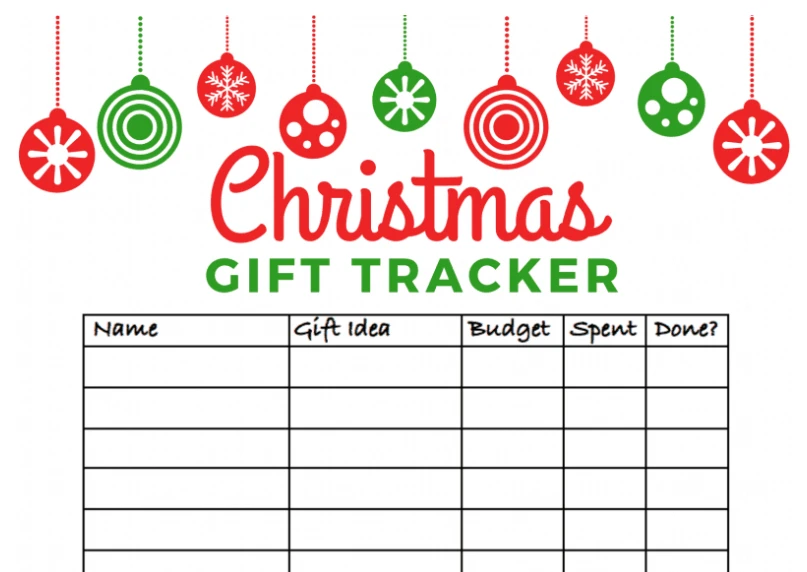 Here's a simple, fun Christmas gift list printable with 16 slots for people on your buy-list.
I like how there's a column for you to put a budget for each person (then add up everything and see if it's within your overall holiday shopping budget).
2. Holiday Christmas Gift List Printable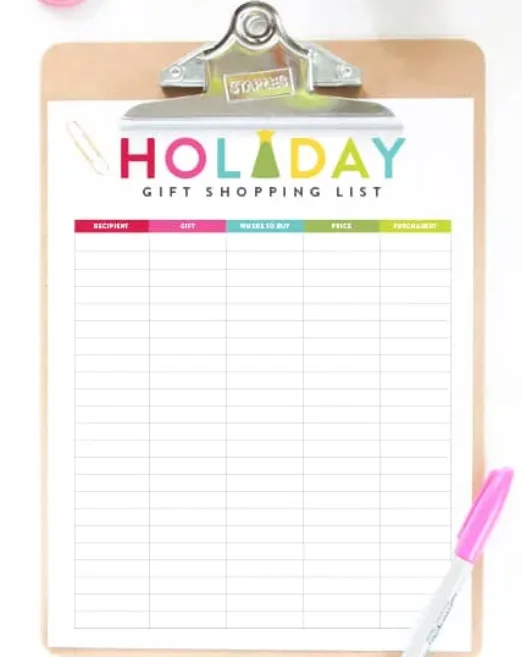 Looking for a simple, colorful, Holiday planner as opposed to a Christmas one?
Check this one out – there are columns for:
Recipient
Gift
Where to Buy
Price
Purchased (to check off)
3. Super-Cute Christmas Gift List Printable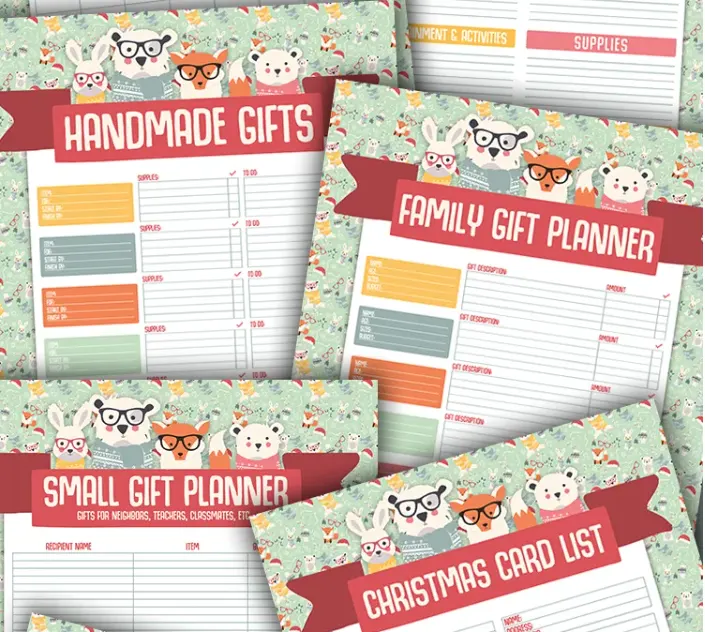 Here's a super-cute Christmas planner with a gift list printable for you.
Not only that, but you can plan your entire Christmas season.
Printables include:
Blank December monthly calendar
Handmade Gifts planner
Family Gift planner
Christmas card list
Christmas Day planner
Individual Gift planner
Etc.
4. Minimal Christmas List Printable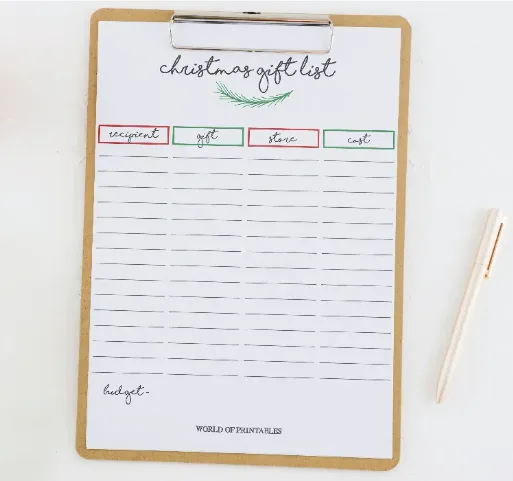 Checkout this minimal gift planner (and imagine how great it'll look in your home binder, or wherever else you plan to house it).
Columns include:
Recipient
Gift
Store
Cost
Psst: giving cash this year? Here are free printable money card holders you can use.
5. Kid-Centered Christmas Gift List Printable
Looking for a page to dedicate to each of your kids?
Cool – this one does just that. I like how it also includes an area for stocking stuffer ideas, big gifts, clothing sizes, etc.
Very thorough and helpful.
6. Multiple-Gifts Christmas List Organizer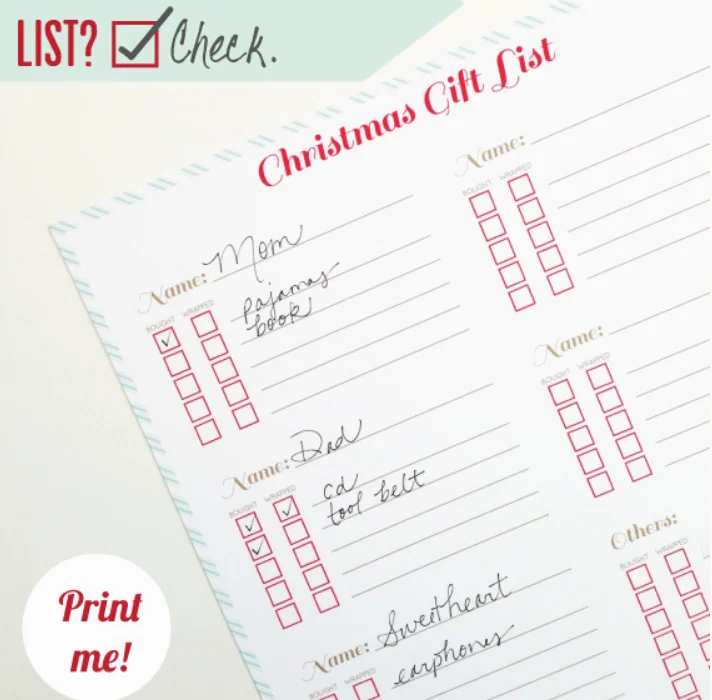 Do you just want a printable to organize buying gifts for children, or your spouse, or people you'll be buying multiple gifts for?
Great – this planner could be the one.
It offers six slots for people you're going to purchase gifts for, then multiple rows to put in multiple gifts.
Hint: at the bottom is an area for 13 "others", where you can just come up with one gift per person.
7. Free Christmas and Stocking Stuffer Gift List Organizer
This set of cute gift organizers is sorted by person, so there are multiple gifts you would choose for the people on your list (like for kids and a spouse).
I love how it includes a spot to write in a budget for each person, and then to come back and see how you're doing with sticking to the budget or to see how much you have left.
8. Free Printable Christmas List Organizer
Here's a simple, printable Christmas list organizer with no optin required (meaning, you can just download it without having to sign up for their email list).
There's enough room for 20 people, and there are columns for:
Person's name
Gift
Store
Bought (to check off)
Wrapped (to check off)
9. Printable Gift List with Packaging Checklist
Do you tend to ship your Christmas gifts each year yourself (but sometimes get stuck trying to remember what you have or have not shipped off yet)?
This printable has a column specifically to checkoff that you've shipped someone's gift. Could be helpful for you.
Look – if you're anything like me, then you're in a season of life where you need things as simplified and easeful as possible. Especially around the holidays and the end of the year. Printing out one of these free printable Christmas gift list organizers, filling it out this year, then storing it for next year is going to bank you time in holiday seasons to come. Couldn't we all use a bit more of that? Well, that, and more Bad Mom Christmas sequels. Just sayin'.
The following two tabs change content below.
Amanda L. Grossman is a writer and Certified Financial Education Instructor, Plutus Foundation Grant Recipient, and founder of Frugal Confessions. Over the last 13 years, her money work has helped people with how to save money and how to manage money. She's been featured in the Wall Street Journal, Kiplinger, Washington Post, U.S. News & World Report, Business Insider, LifeHacker, Real Simple Magazine, Woman's World, Woman's Day, ABC 13 Houston, Keybank, and more.
Read more here
.
Latest posts by Amanda L Grossman (see all)