Nothing but the best, cute Valentine's day gifts for girlfriend will do? I've got you covered for girlfriends, new girlfriend, fiancee, etc. (all for under $20).
Chocolates, flowers, cards…isn't there something else you can do this year for Valentine's Day to show your girlfriend how much you care?
Yes – there are tons of cute Valentine's Day gifts for girlfriends that go wayyyy beyond the "normal" ones.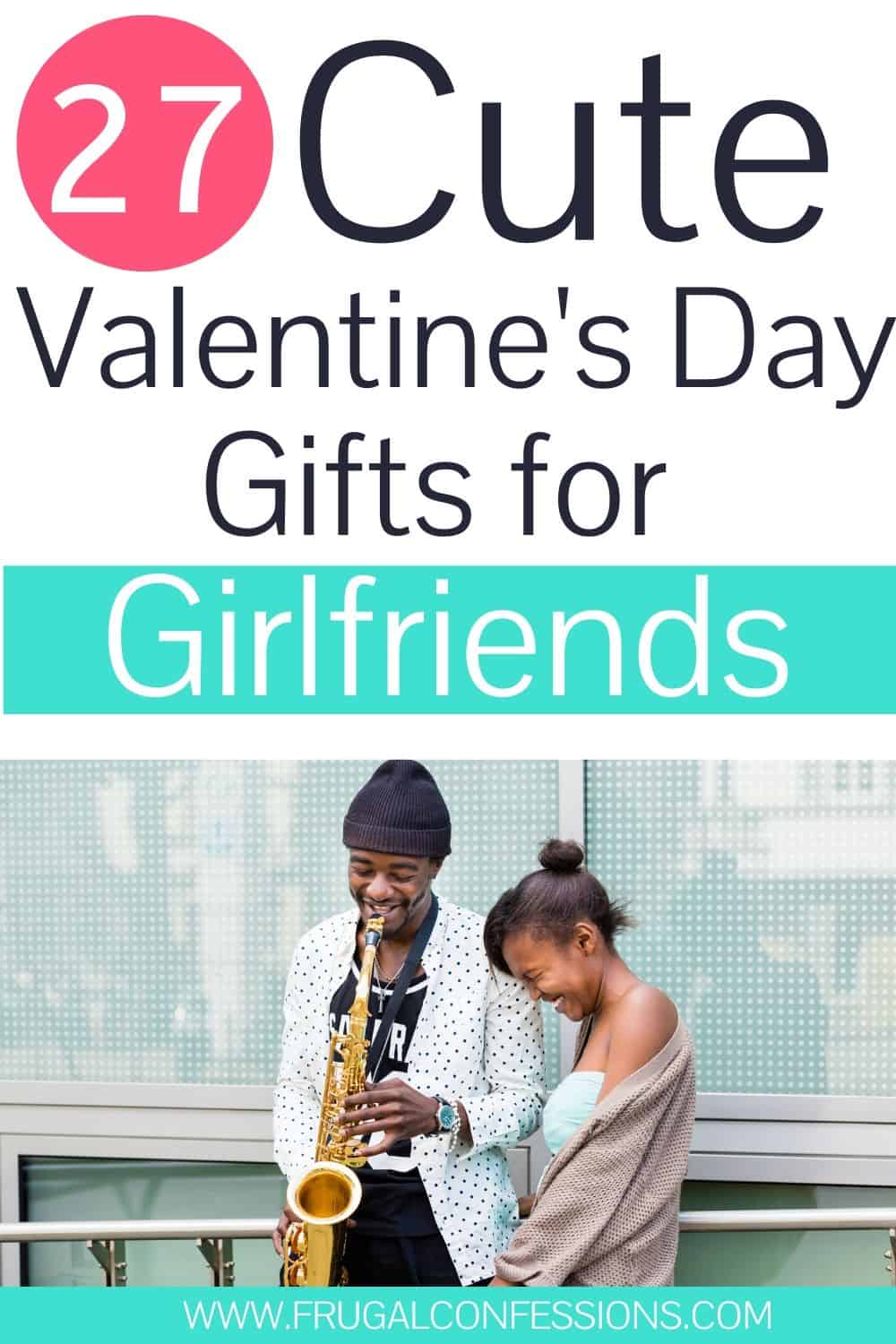 Choose something from below, and you may just score some major brownie points this year. But first? Let me help you with picking the right gift by explaining what makes the best Valentine's Day Gift for your girlfriend.
What is the Best Valentine Gift for Girlfriend?
Ever wondered what makes the best Valentine Gift for a girlfriend?
As a woman, I'd like to give you my perspective on that.
The best Valentine's Day gift for a girlfriend is something that does at least one of the following:
Shows her you find her so intriguing, that you want to get to know her even better
Shows her you see a future with her
Honors something from your couple's past
Gives her a glimpse into how much she means to you
Notice how I didn't say it costs a certain amount of money? Because it doesn't have to. Cheap Valentine's Day gifts or expensive ones both fit the bill, so long as they help you communicate something important — the depth of your love, and the future you hope to have with her.
Use that as help to pick through the options below.
Cute Valentine's Day Gifts for Girlfriends
You're not just looking for the regular ol' chocolate and flowers. You want CUTE Valentine's Day Gifts for girlfriends. Well…you've come to the right place.
Exploding Gift Box: How cool — this exploding gift box has all kinds of places you can stash photos, moments, and relationship memorabilia for when your girlfriend opens it up! Way to show you've been paying attention.
Uncommon Questions for Couples: Show her how much more you want to get to know her with this fun deck of cards.
30 days of Thoughtful Acts for Couples: Why not extend Valentine's Day by suggesting a 30-day relationship challenge with your loved one? You'll both love each other's new attentiveness and kind gestures, and the whole thing is organized with this deck of cards.
Matching Couple's Pajamas: Who says matching pajamas are only for Christmas? Valentine's Day is in a bitter-cold time of year as well, and some matching flannel pajamas will be appreciated.
Relationship Bracelets: Not ready for a ring? No worries — no need to rush into things. Show your increasing loyalty and commitment with these matching bracelets. You wear one of these bracelets, and she wears the other (bonus: the stone holds essential oils!).   

Couple's Journal: You can keep a couple's journal over the course of one year, three years, or any other length of time you'd like. I did this with an old boyfriend, and it was a special thing – it was while we were in separate colleges, and we would trade the book each weekend we saw one another. What a cute way to both talk to each other AND to keep a history of your relationship!
10 Romantic Gift Ideas for Your Girlfriend
Looking for romantic gift ideas for your girlfriend? I've got you covered.
Valentine's Day Gifts when Broke
So, what are you supposed to do when you want to show your love to your significant other on Valentine's Day through a gift…but you're broke?
When you're broke, your best currency is time. Because you have more time than money, you especially want to make sure you spend time and energy on the gifts that you give.
I've got you covered with several Valentine's Day gift ideas for when you're broke.
Valentine's Day Gifts for New Girlfriend
Are you very early on in your relationship? Not to worry. I've got several Valentine's Day gifts ideas for your new girlfriend.
#1: I Wanna Know You Better Quiz Book: You both still have so much to learn about each other! Give her this gift, ask her to fill it out by a certain date, and then read through all of her answers (which can be great conversation starters on your next date!).
I hope you've enjoyed my list of cute Valentine's Day Gifts for girlfriends. Let me know what you come up with below — you might help someone else out!
The following two tabs change content below.
Amanda L. Grossman is a Certified Financial Education Instructor, Plutus Foundation Grant Recipient, and founder of Frugal Confessions. Over the last 10 years, her money work helping people with how to save money and how to manage money has been featured in Kiplinger, Washington Post, U.S. News & World Report, Business Insider, LifeHacker, Woman's World, Woman's Day, ABC 13 Houston, Keybank, and more.
Read more here
.
Latest posts by Amanda L Grossman (see all)
https://www.frugalconfessions.com/wp-content/uploads/2020/01/top-10-valentine-gifts-for-girlfriend.jpg
512
1024
Amanda L Grossman
https://www.frugalconfessions.com/wp-content/uploads/2019/02/frugal-confessions-logo-340.jpg
Amanda L Grossman
2019-12-05 05:00:22
2020-01-02 09:23:43
27 Cute Valentine's Day Gifts for Girlfriend (All Under $20)