Are you wondering is buying a gym membership worth it? The only way you can know for sure is by factoring in these two things when deciding on membership.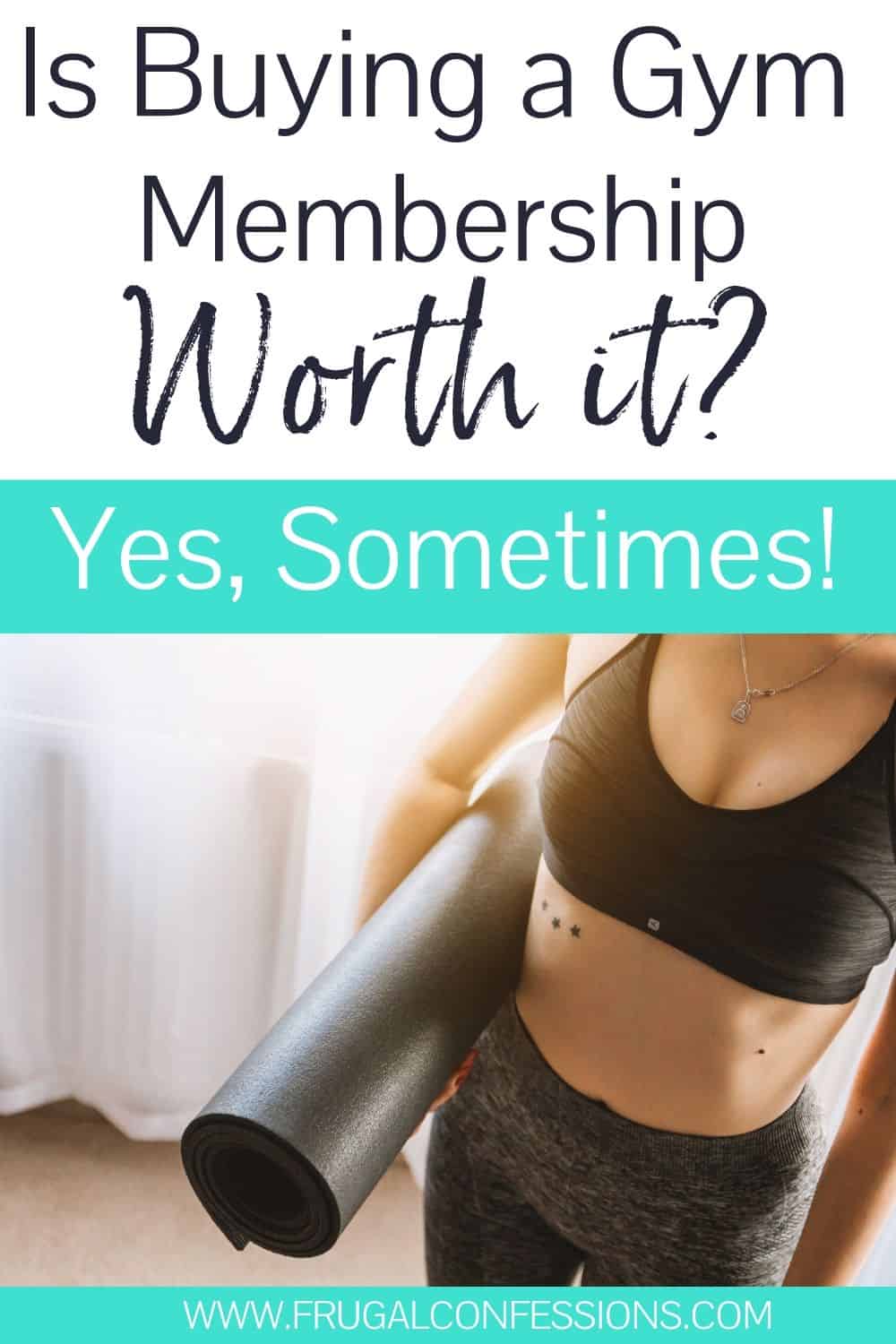 I've said it before, but not nearly enough: there's a reason why it's called personal finance.
Not every cookie cutter solution is going to work for your particular situation, your household makeup, your needs, or your wants.
In much of personal finance, there's no right or wrong answer — and that includes whether or not a gym membership is a waste of money.
There's a reason why it's called personal finance. There's no right or wrong answer.
Click To Tweet
As a personal finance blogger, the best that I can hope to achieve is to open your eyes to the tableful-feast of options that you weren't aware of or didn't know how to execute or weren't confident enough to take that next step on.
But those options that I, and every other proud financial nerd out there, give? They may or not may not work for you.
And that's perfectly fine!
Today I want to give you a perfect illustration of this in our own lives.
Let me explain something that most frugal people (my old self, included) tout as the best way to cut down on spending, but that doesn't make financial or other sense in our household: cutting out the gym membership.
"Gym Membership" is not a Dirty Word(s)
Are you sick and tired of hearing every article tell you to ditch your gym membership (or not start one, to begin with) so that you can save some money each month?
It's always included because it's one of the easiest and most non-essential spending categories you can ditch.
But you know what? I'm here to tell you that "Gym Membership" is not a dirty word(s).
Sometimes, it makes sense to have one. In fact, my husband and I (a woman who runs a blog with "frugal" in the title) have had one for the last two years!
Before I dive into our own reasoning, let's talk about the two factors you need to know before you can decide if a gym membership is worth it.
How to Determine Is a Gym Membership Worth It
There are a few factors that will help you determine if a gym membership worth it to you. Pass these tests, and the answer is yes (as long as you have the money to cover it, of course).
Test #1: Can You Afford the Cost Upfront?
If you truly can't afford it, then buying a gym membership (even a discounted one) is not a good idea for you.
To help you determine if you can afford it, you'll want to go through Test #2, because your gym membership might substitute spending you're doing elsewhere (such as your entertainment budget, or childcare budget), meaning you can actually afford it by giving up that other stuff.
Test #2: What You Get Out of It – Amenities
You need to look at the cost of gym membership and calculate if it's saving you any money elsewhere.
For example, as you'll see below, my husband and I get free 90-minute childcare as part of our gym membership. There's a cafe onsite, and so I can work on my business for 90 minutes, twice a day if I'd like, for $97/month.
Since I'm all about the numbers (even after I said it was priceless!), I calculated it out, and it turns out I'm getting quite a deal on childcare. With how much I use their service − about 3 times a week − that $97/month is rounding out to about a $5.38/hour childcare cost. I'm thinking I won't really find that anywhere else, especially considering the quality of their atmosphere and daycare team.
If I decided to go more often, then I'm getting an even better deal at no extra cost to me. Score!
And on top of the childcare, our gym gives us discounts to cultural events they hold (like a chili cook-off, a movie festival, etc.), access to a splash pad/pool for the summer, and free open gym time twice a week for Pre-K kids, held in their fantastic gymnastics center.
What amenities does your gym offer that is actually saving you money elsewhere in life?
Here's a few possibilities:
Entertainment/get-together events at the gym
Childcare
Cafe with WiFi
Discounts on summer camps and programs for kids
Discounts on your health insurance premium
Access to classes you'd pay for anyway (like a yoga class for free, with membership)
Another way to make your gym membership cost less or "worth it", is by getting paid to go to the gym.
Test #3: How Often You Use It
If I have a gym membership but I never go? Well then YES, you bet you need to cancel that. But if you go several times a week, like we do? Then you've passed test #3.
Next up, let's look at getting a discounted or free gym membership (which would definitely make a membership worth it!).
How to Get a Free Gym Membership (or Discounted)
There are ways to get a free gym membership, and certainly ways to get a discounted one. Let me share with you things I've personally tried, as well as what I've researched.
Ways to get a free or discounted gym membership:
Stagger Free Trial Passes: If you live in a city, like I do, then you can stagger all those free 1- and 2-week free trials at various gyms around the city. This could go on for months! When I did this, I would do a free 2-week trial at one gym, supplement it with outdoor/at home exercise (Yoga with Adriene is my favorite way to exercise at home) for a few weeks, and then sign up for another 2-week free trial at a new gym. Also great to save these for the sucky-weather times of year, such as summer in the South, or winters in the North.
Look Up Your Health Insurance Benefits: Many major insurance companies and plans offer 30% discounts to gyms.
Refer Your Friends: At our gym, you can get up to $50 towards membership fees or programs for every person you refer that becomes a member. Nice!
See if You Qualify for a Tax Deduction: While most people don't qualify for this (plus you have to be able to itemize deductions to take this), it's worth mentioning. If you have a medical condition where your doctor recommends a health facility as treatment, then you may be able to deduct your gym membership (which would be a discount to you).
Check Your Medicare Plan: Are you on Medicare (or maybe this tip is for your grandparents/parents)? Many Advantage Plans offer membership to their SilverSneakers program, which gives you free access to over 16,000 gyms across the U.S.
Check Your Memberships: Places like Triple AAA and Costco offer their members discounts on gym memberships as well. Check with each membership card you've got hanging in your wallet.
Search on Groupon: Did you know that Groupon offers discount gym memberships? Be careful here, as some of these are only offering that discount for one month (read the fine print).
Why We Have a Gym Membership (and it's Totally Worth It)
My husband and I live five blocks down from a bayou that is accessible through neighborhood roads. Plus, we live in Houston, Texas. In other words, there are plenty of opportunities to exercise outdoors pretty much year-round.
And yet, last summer I found myself signing up for a family gym membership at our local community center. The cost was $97/month, and that included access to the gym, cafe/work area with free WiFi, and 60 minutes of free babysitting time each day.
Yes, $97/month is a lot of money. But being able to spend it on this gym membership was absolutely priceless for us.
We Changed, and so our Needs have Changed
Life changes for you, just like it changes for us. After we had our baby, our needs and wants changed as well.
Where previously I was happy with my work routine of working from home + spending afternoons at a local coffee shop a couple times per week, it was no longer working for me.
I was making the huge transition of becoming a work-at-home-mom, an altogether different state of being from a work-at-home person. On top of no longer being able to get out of the house to go to a coffee shop when I felt itchy or restless, or like I needed some water-cooler-turned-cash-register talk, I also was craving a bit more of me-time than an infant can afford to give me.
I was tired, feeling worn out, and losing momentum in both my biz and personal life.
Then one day, it dawned on me that the local center near our home probably provided some form of childcare while people were working out. And that they had a cafe, which meant instead of using that delicious time to sweat it out on the treadmill, I could get a little bit of focused work in. By myself. In an adult surrounding.
You better believe I high-tailed it down there. We signed up for a two-week trial because I needed to see whether or not I was going to actually make use of it (meaning whether or not I wanted to put in all the effort of packing up a baby, getting in a car, getting our baby out of the car, dropping him off, then getting 60 minutes of time to work).
Yes, it turned out to be very worth it.
This Gym Membership/Lifesaver is a Steal
That $97/month bought us so much more than a gym membership.
Yes, I typically work out now two times a week − bonus is that I actually catch up on drinking tons of water at their water cooler (do you have trouble drinking enough water each day as well? So much easier to let it slip through the cracks with a little one in tow). But mostly, I use that 60 minutes of "free-time" (and now 90 minutes since our little boy is walking!) to untangle my mind long enough to focus on my business (am writing this blog post from the community center now!).
My husband and I also have carved out some #CreativeIntimacy thanks to our membership. Several times he's met us there right after work, we've dropped off our little one, and we enjoyed 60 minutes of adult time to work out together + catch up on our day. On those days I typically have a freezer Crockpot meal simmering away so that our dinner is already ready for when we get home. It's glorious!
And even more of the priceless stuff? I walk out of there feeling refreshed + much more capable to structure the afternoon and evening hours around enjoying our little one.
I detailed all of this out to you to say this: not every piece of financial advice is going to make sense for your family, and for your particular situation. The best you can do is to read and inform yourself on lots of different options, then choose the ones that optimize your life and the lives around you (while choosing to not spend your money on the ones that don't give as much). That's what I've done above, and I couldn't be happier with the way it's turned out.
The following two tabs change content below.
Amanda L. Grossman is a writer and Certified Financial Education Instructor, Plutus Foundation Grant Recipient, and founder of Frugal Confessions. Over the last 13 years, her money work has helped people with how to save money and how to manage money. She's been featured in the Wall Street Journal, Kiplinger, Washington Post, U.S. News & World Report, Business Insider, LifeHacker, Real Simple Magazine, Woman's World, Woman's Day, ABC 13 Houston, Keybank, and more.
Read more here
.
Latest posts by Amanda L Grossman (see all)