Wondering how to win a tax assessment appeal? Let me show you how I successfully went through the appeal process for a total tax savings of $612.
I was surprised to get a letter in the mail several years ago from the Harris County Appraisal District (HCAD) stating that the 2010 appraised value on our home was 7% higher than our appraisal in 2009.
It just didn't make sense; the country was in a recession at the time, and I had just heard on the news that overall housing values in Houston had lost 4%…yet ours gained 7%?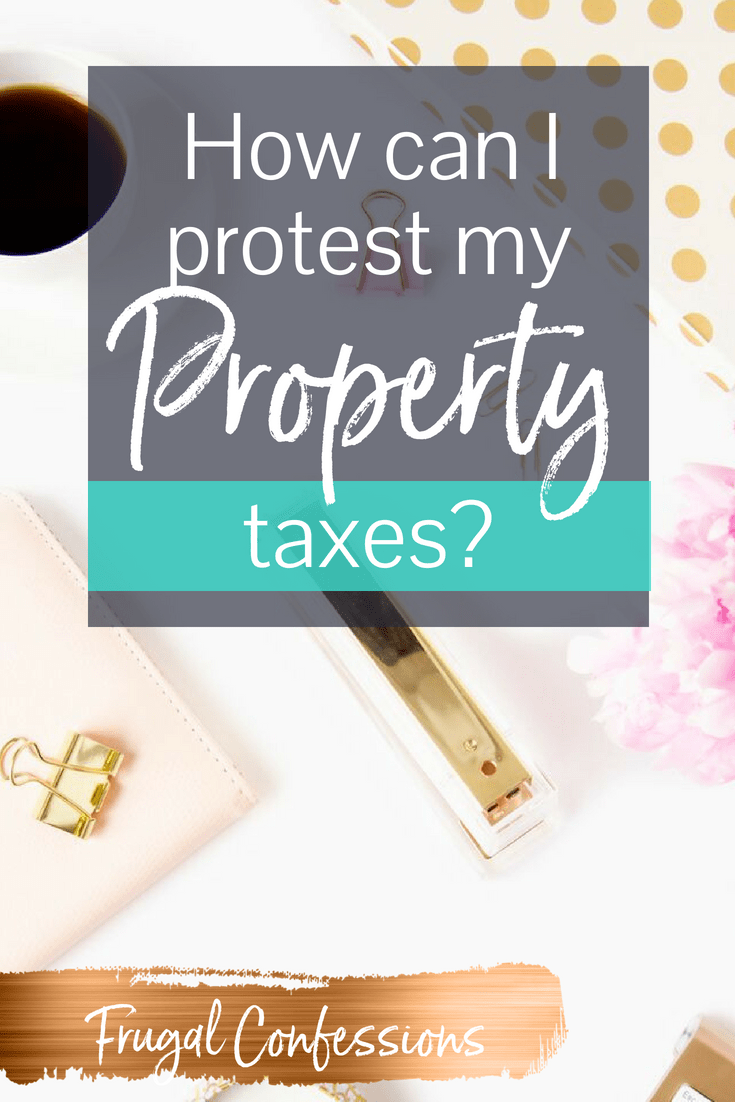 I decided we needed to fight property taxes, as well as to share my experience and information about the appraisal appeal process so that in the event that your property has been unfairly assessed (hint: it's thought that 60% of homes are over-appraised), you can fight for a fair property appraisal without paying a firm or lawyer to do so.
That's right; I didn't have to hire a property tax appeal service!
How to Win a Tax Assessment Appeal: The Process
There are three stages to filing a tax appeal in Harris County, TX (and the process likely looks similar where you're from).
Stage #1: You can file your protest online, which resolves some of the appeals all together.
Stage #2: The next phase is to have an informal meeting at HCAD, where Harris County representatives are given certain leeway to negotiate with you. If the issues still have not been resolved then it's onto stage #3.
Stage #3: The third and final opportunity to protest your taxes is through a formal hearing with the Appraisal Review Board (ARB) and one other person who represents HCAD.
We had to go through all three.
Property Tax Protest: Gather Your Evidence
After getting over the initial shock of the letter and complication of the appraisal appeal process, I sat down to logically and rationally put together an argument to prove that our property was being overvalued for tax purposes.
Being an investigator in a different life (I used to be an environmental investigator for the state), I knew what HCAD would be looking for: actual evidence with specific examples, photographs, and numbers.
I gathered evidence by researching the costs per square foot of my home versus the other 14 homes on our street, and found that ours was assessed at $49/square foot, while everyone else's averaged $39/square foot.
Next, I took photographs of each of the issues throughout our home, including the following:
sinking sub-floor in our bathroom upstairs
the exposed cement of our bathroom floor (we had to take the carpet up because the humid environment coupled with poor air circulation led to possible mold conditions)
cracked and molding sink vanities
Finally I gathered our inspection documents plus quotes we received from several companies to fix some of these issues.
Hint: our inspector found a few of the issues, but not all of them. This becomes very important in our argument, and likely in yours if you use the same one. 
Stage #1: Filing a Property Tax Appeal Online
To begin the process, I filed a property tax appeal online.
Our argument at this point in the process:
I explained the significant difference in square foot pricing between our house and the others on our block, as well as the issues discussed above that needed to be fixed.
Unfortunately, this was not enough to resolve the issue, and so the next step was an informal meeting with a representative from HCAD.
My appointment was set for two weeks later, and I took off work full of optimism that once I could speak to someone in person, the issue would be resolved.
Stage #2: Our Informal Meeting with the Appraisal District
An obstacle for new homeowners that I became painfully aware of during the informal meeting is that it is the appraisal district's stance that a buyer establishes the appraised value of a home when they purchase that home for a specific price.
This of course makes sense, and if you try to argue that the home is actually worth much less than what you paid for it, you come off looking like a fool.
The woman would not even listen to my arguments, which I felt was a waste of both of our time. Point blank, she asked if I had had an inspection done before purchasing our home.
Of course we had inspected our home before purchasing it!
So her argument was that we should have known all of the defects and calculated our offer based off of that.
I have to say, it was a stellar argument.
And guess what else? It helped me establish the winning argument in the end.
Preparing for the Final Round
Still, I felt that our appraisal was unfair, and so I went ahead with the formal meeting.
Only this time, I had more ammunition as I knew what their main argument was going to be.
In preparation for our formal hearing, I prepared my documents and argument by highlighting what was found during the inspection and "fixed" by our sellers (and also provided the documentation showing that the sellers signed off on the inspection report saying that several of the problems had been fixed).
Then I got together the quote from a qualified expert after we had moved in showing that the sellers had not fixed several of those problems, and the dollar amounts it would cost us to fix them properly.
I also highlighted the quote for our chimney, which has issues that were not found by our inspector.
With this information, I went to the hearing.
Stage #3: The Formal Hearing + the Results
The ARB was sympathetic to my argument, but only because of the documentation that I provided. I was able to prove that things came up after the inspection that we were unaware of as buyers, and that the amount we paid was probably too high considering these issues. The HCAD representative was completely rigid, however. After listening to my argument, the ARB asked the HCAD representative what she thought, and she was resolute in keeping the same value.
Fortunately for us it was voted on and they knocked 3.9% off of the value, which meant that overall our property was raised by only 3.1%. I felt good about meeting them somewhere in the middle at the true appraised value of our property.
Tips on Protesting Your Property Taxes
If you are nearing retirement age, it is an excellent idea to fight your tax appraisal in a home you expect to stay in because many districts have a ceiling on some of your tax obligations once you reach a certain age (barring any large home improvements you make). In other words, you want to have it as low as possible before locking in that rate for the next 20-30 years.
Read the directions your appraisal district has sent you; you will get brownie points just for doing what 50% of the population does not bother to do.
Forget about sharing fuzzy stories that don't have specific dates or details, he-said she-said scenarios, and emotional drama of any sort (including  but not limited to medical problems, financial problems, and poor-me's). Just stick to the facts.
Everything you plan on discussing must be backed up with a number. After all, we're talking about money here. Provide quotes from at least one company on how much it will cost to fix something and provide dates for everything.
Do your research on your county tax appraisal's website to find out what the costs are of other homes on your street, such as the average cost per square foot compared with yours. Chances are good that you have to tell them what you think your tax appraised value should be, and by doing your research, you can come up with an appropriate number.
For photographs, make sure the date and time are correctly programmed into your digital camera (I know, I know…do people still use digital cameras? Try to put a time stamp on your smart phone pictures).
Make lots of copies of everything; there will most likely be more than one person in the meeting (for Harris County you will need to make 4 copies of everything).
I'd love to hear your own property tax appeal success and failure stories.
Thank you to Helen and Pete for their help with my own tax appraisal protest.
The following two tabs change content below.
Amanda L. Grossman is a Certified Financial Education Instructor, Plutus Foundation Grant Recipient, and founder of Frugal Confessions. Over the last 10 years, her money work helping people with how to save money and how to manage money has been featured in Kiplinger, Washington Post, U.S. News & World Report, Business Insider, LifeHacker, Woman's World, Woman's Day, ABC 13 Houston, Keybank, and more.
Read more here
.
Latest posts by Amanda L Grossman (see all)
https://www.frugalconfessions.com/wp-content/uploads/2010/07/SSS-Free-Stock-917-7.jpg
960
960
Amanda L Grossman
https://www.frugalconfessions.com/wp-content/uploads/2019/02/frugal-confessions-logo-340.jpg
Amanda L Grossman
2018-09-24 05:00:26
2020-04-21 11:17:58
The Value on Our Home Decreased by 3.9% in One Day…and I'm Smiling?