Did your property tax assessment come in the mail, and make you cringe? Here's how to DIY fight property taxes, plus our own experience when figuring out how to lower property taxes.
Today I want to talk about a frugal hack that can definitely increase your monthly cash flow (if you're a homeowner…and if you're not, then tuck this one away for future reference!): how to lower property taxes.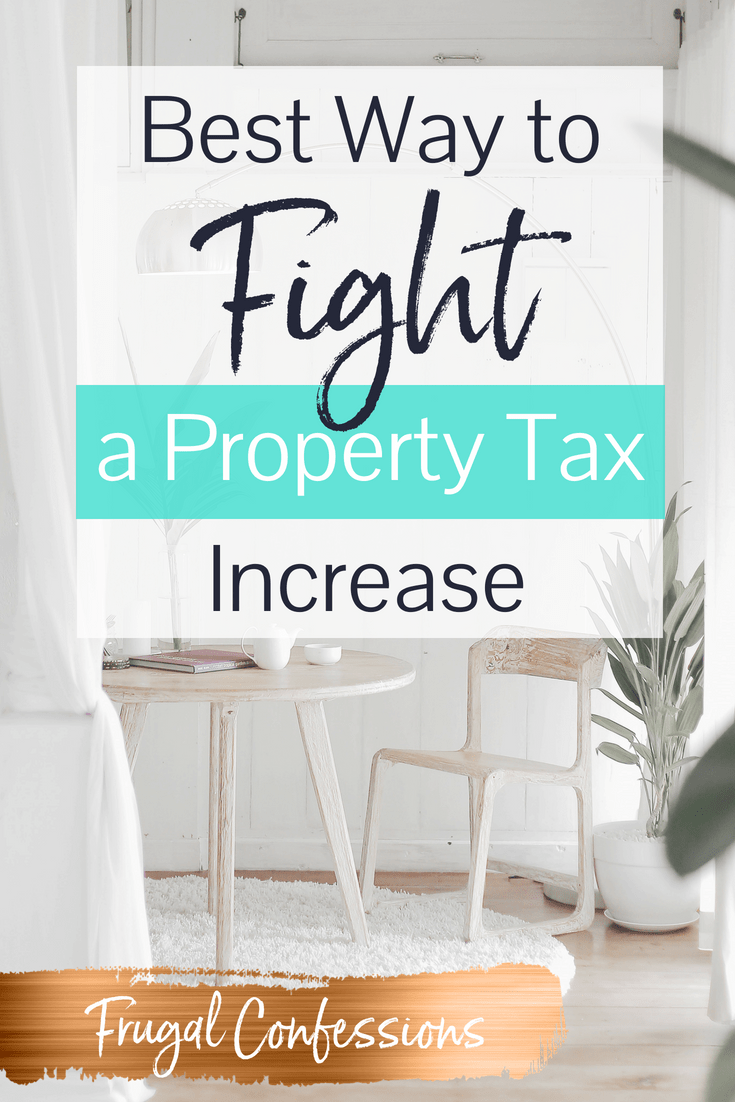 Fighting your property taxes more specifically means getting your local tax assessor to lower your home's appraised value (tax appraised value, not market value) so that your property taxes will also decrease. That makes how to save money way easier!
I DIY'd reducing property taxes for our household back in 2010, and this saved us approximately $612 over the past three years (without me having to fight it three times over!).
Before we talk about the best way to appeal property taxes, let's talk about how property tax is assessed, and why they increase in the first place.
Psst: looking for another way to drastically cut expenses on your home? Use the 4 call scripts to decrease your insurance premiums (including homeowner's), and enjoy your extra cash flow.
How is Property Tax Assessed?
Property tax is calculated by multiplying your home's assessed value by your local tax rate.
It's not usual for the local tax rate to decrease, so in order to decrease your property tax bill, you need to decrease your property's assessed value.
What Causes Property Taxes to Increase
Do property taxes change? Well…yes. But usually not in your favor.
Unless you're proactively fighting them, that is.
It's first smart to go over common reasons for property taxes to increase, as this would have been great information for my husband and I to understand before going into homeownership (read: we were totally surprised when we got a letter in the mail raising our home's appraisal value by 7% shortly after buying it).
Some common reasons include:
A Sale Establishing a New Market Value: This is the one that got us. Since we had purchased our home at a price that was far above the previous appraisal by our tax district, the tax district changed the appraisal automatically to reflect the market value (which we conveniently had set for them by agreeing to a home price).
There is an Increase in Neighboring Property Values: Ever wondered 'why are my property taxes higher than neighbors?' They may actually not be. Property values are determined largely by the property values of homes around yours. So if your neighbors are making significant improvements, or have sold their homes for high prices, or if there are other improvements in your area (like a new shopping center moving in), then your home may be reappraised higher by default.
You Make Sizable Home Improvements: When you renovate YOUR home, you apply for permits to do so (hopefully, *ahem*). A new appraisal may be triggered based on what types of renovations you will be doing or have already done.
The Jurisdiction Needs More Money: Your property taxes are a revenue fund for state and local governments, and sometimes they decide to increase the tax simply because they need more money to fund programs.
Note: With all these reasons, you might start to wonder, "do property taxes ever go down?" Well…while it can happen, it doesn't happen often.
Instead of using a property tax appeal service, I DIY'd this myself. Let me share with you the strategy that got our taxes reduced.
The Argument I Used When Fighting Property Taxes for Our Home
While I won't go into detail about the whole experience of fighting property taxes, I'd like to go over how I lowered our property taxes to give you an idea of a solid one. It's my strategy for how to win a tax assessment appeal.
The actual argument (I had several) that won my case to reduce my property taxes is as follows:
Yes, selling our home established a market price, which was much higher than the appraised value of the home. So raising that value makes sense. However, we established this market price with faulty information. It turns out that our home inspector missed several key issues that needed repairing on our home (I provided photographs, quotes from professionals for the repair costs, and highlighted areas on the inspector's report showing where these items were checked off as "in good repair"). Had we known the actual condition of these items, we would have offered a lower asking price. Thus it follows that our home's value should not have been raised as high as it was.
The result: I got our tax-appraised value decreased by 3.9%. They did not raise it again for another three years, so all together my efforts kept about $612 in our pockets.
Reasons to Appeal Property Tax Assessment
If you've been reading along, then you've picked up a few reasons to appeal property tax assessment already. But I want to outline several of them here so that you can be sure to know whether it's worth it or not.
Reason #1: You Hear a Neighbor Had their Property Tax Lowered
Maybe you go to a community meeting, or your HOA (Homeowner's Association) meeting, or you see in your neighborhood Facebook group that someone else fought their property taxes and got them lowered. If they have a similar home to yours, in a similar location, then you might want to fight yours.
Reason #2: There was a Major Disaster Near Your Home
I live in Houston, TX. We went through Hurricane Harvey, and hundreds of thousands of homes flooded right around ours (ours, thankfully, did not). When you're in a disaster zone, then it's likely that the appraised values of the homes are going to go down. And property values are partly based on comparables, meaning the selling prices of comparable homes to yours (local homes with the same square footage, number of rooms, number of bathrooms, etc.). So if their property value goes down…it follows that yours should, too. Use this to your advantage and insist on a lower tax bill.
Reason #3: Your Home has a Good Chance of Already Being Over-Assessed
According to the National Taxpayer's Union Foundation, 30-60% of homes are over-assessed for tax purposes. That's a good chunk! But, only 2-5% of people ever appeal their property taxes.
You Don't Have to Fight Your Own Property Taxes
While I decided to DIY our property tax fight, I found out later that you don't have to go this route. Which could be a good thing for people who weren't environmental investigators in their previous lives (like me), or who don't have the time to head on down to their local tax assessor's office twice to plea their case.
Two alternatives include:
Hiring a Property Tax Consultant or Using a Property Tax Appeal Service: This person will fight your property taxes for you, and then take a percentage of any savings won.
Buy a Report to Submit to Your Local Tax Assessor: Have you been researching this issue? Then you've probably seen the option to buy a report that you submit to your local tax assessor. Typically you'll pay $40-$65, and receive a report listing comparable house prices and appeals paperwork for you to submit.
So what do you think…is fighting your property taxes something you will do, or get someone else to do for you? If you've done so in the past I'd love to hear your experience in the comments below.
The following two tabs change content below.
Amanda L. Grossman is a Certified Financial Education Instructor, Plutus Foundation Grant Recipient, and founder of Frugal Confessions. Over the last 10 years, her money work helping people with how to save money and how to manage money has been featured in Kiplinger, Washington Post, U.S. News & World Report, Business Insider, LifeHacker, Woman's World, Woman's Day, ABC 13 Houston, Keybank, and more.
Read more here
.
Latest posts by Amanda L Grossman (see all)
https://www.frugalconfessions.com/wp-content/uploads/2018/01/hutomo-abrianto-576207-unsplash.jpg
5472
3648
Amanda L Grossman
https://www.frugalconfessions.com/wp-content/uploads/2019/02/frugal-confessions-logo-340.jpg
Amanda L Grossman
2018-09-17 05:00:36
2020-04-21 11:19:26
Reasons Your Property Tax Went Up and How to Fight It