This post may contain affiliate links - it's how we keep the lights on around here. Here's our policy.
We look into 5 Swagbucks searches (and discuss Swagbucks search words) that will actually make you, or save you, MONEY.
I'm a huge believer in the phrase "knowledge is power." In fact, I believe it's even more than just power; knowledge is financial power as well.
Knowledge is financial power.
Click To Tweet
I can't tell you the number of things I've saved money on for our family, the countless ways I've added to our savings account, or the endless number of times I've gotten our cash flow to "make it" just by seeking out knowledge from others and implementing it for our own use.
Most of the information I've found by conducting online searches using certain phrases.
Pssst: again, read through the entire article to learn more about Swagbucks search words, including an official statement from the company.
And because this is a blog all about adding to your own bottom line, I'm calling these Swagbuck searches (not Google searches).
Note: Are you on the Swagbucks wagon yet? It's a great way to earn points called SB that you can then cash in for rewards or actual cash just by doing what you do anyway: searching the internet (you can also earn points for referring others, taking surveys, and lots of other activities).
In addition to adding to your bottom line by earning points while searching the internet, let me show you 5 searches you want to complete that will help + boost your cash flow even more!
Swagbucks Search #1: "Your local area + free things to do"
I often challenge people to take their entertainment budgets down to $0. That's not me telling them to sit on the couch and binge-watch Downton Abbey or Hoarders: Buried Alive. Rather it's a way to find alternative forms of entertainment so that you can siphon those dollars off towards another goal (adding an extra payment onto your debt one month, saving up for a family trip, stocking your emergency fund, etc.).
I've been so pleasantly surprised over the years with what this simple internet search yields that I'm passing it onto you. I'm talking about free outdoor movies in the summer time, a week-long daily yoga/meditation/lecture/homemade Indian food seminar for free by Swami Mukundananda  (I've since gone four years in a row now), free Cuban music/dance night outside a museum, a free genealogy research class at our local library, free afternoons at the zoo, etc.
It's mind-boggling the opportunities out there!
Swagbucks Search #2: "How to DIY + Something You were Going to Hire Out"
Is there something you were going to hire out for that you have a sneaking suspicion you might be able to do yourself (if only you knew how)?
We've saved a decent amount of money by searching for what we need done and following some directions/videos/experiences of how other people have done it. For example, searching for, "how to fix fireplace cracks" yielded us a way to save almost an estimated $800 a company quoted us for the same work (the guy who came out to quote us actually told us to do this!). It was really easy to do, and my husband felt confident that he could get the job done on his own. Almost six years later and the work he did still looks great.
Swagbucks Search #3: "Best Savings Account Interest Rates"
It's helpful from time-to-time to make sure you're in the ballpark of receiving the most amount of interest on your emergency fund or travel fund money as you could be. This is especially true if you're looking to bank-hop because you are moving, want to take the plunge from a brick-and-mortar bank to an online one, or have a large sum of money held in a savings account (at that point, even incremental interest rate increases will make a big difference).
Swagbucks Search #4: "How to DIY + Something You've Been Putting Off because of Mental Obstacles"
Oooohhh is this a delicious one to tell you about. About a year and a half ago I talked about a gorgeous piece of art I stumbled upon from Bill and Giuliana's reality television show: The Octopus Triptych. I fell in love, and quickly looked it up online only to find that the art piece runs between $3,000 and $6,787.50. Good grief! Still, you know how it is to really want something, right?
Well, I did an internet search and found out that several crafty DIY bloggers were on the mission of recreating it within a reasonable budget. It took me two years to get around to actually doing it, but this beautiful piece is now hanging in our living room for just $52.17 + a few hours of my time.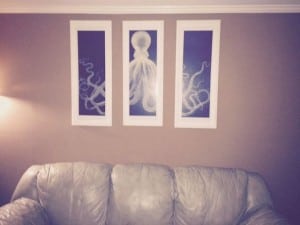 In case you're in love with this now as well, here's some info to get you started:
Free Octopus Clip Art: You can find the pattern on The Graphics Fairy.
Free Photoshop-Like Software: Then you want to use a free photoshop-like software like PicMonkey.com to edit it to the colors you'd like.
Free Tutorials: I used a combination of a tutorial from SplendidMinta, and Southern State of Mind's idea to do it in 11 X 17's to help with frame sizing and printing it out.
Free Image-Splitting Software: I had no idea how I was going to split the image into two rows and three columns of 11 X 17's to print out at an Office Store. Then I searched on the internet something like "how to split an image up", and came upon the glorious free tool, ImageSplitter. Took me ten minutes!
Print Out at an Office Store: I went to Office Max and had the 6 images (which were automatically created using ImageSplitter) printed out in color on 11 X 17 paper, fit to page.
Frames: By far the part of the project that took the longest for me (besides actually getting around to do it) was finding the right frames. I needed three 11 X 36, white frames, and looked at IKEA, Michael's, Hobby Lobby, etc. The nice wooden ones were quite expensive, plus they were all black so I'd have to spray-paint them anyway. Then I stumbled into a Garden Ridge store my husband suggested to me, and they happened to be having a store closing sale. Bam – there were three 11 X 36 frames with beautiful wood at 40% off. I picked out a Modern White Matted spray paint, spray painted the wood outside for ventilation, and then pieced the whole thing together.
I'm simply in love!
How about you: is there something that you fell in love with that costs enough to make your eyeballs dislocate…but you just can't stop thinking about it? Search online for how people are DIY'ing the very thing you'd like (there are entire blogs dedicated to recreating pieces from Pottery Barn, for example).
You might be surprised with what you find.
Pssst: sad this article is almost finished? Here's 5 MORE Swagbucks Search that will change your bottom line.
Swagbucks Search #5: "How to Make + Your Favorite Signature Coffee Shop Drink"
Do you have a certain coffee shop addiction that you'd rather not give up, or would like to indulge in more but simply can't justify spending the money?
The good news is there are hundreds of copycat recipes available online for your favorite signature drinks. By searching for them, you can add the items needed to your next grocery store list and save yourself probably 50% the cost of what you'd pay at a coffee shop.
My own drink of choice? Iced Soy Chais from Starbucks. Yummy. Here's a recipe I found for how to recreate it using this internet search phrase.
If you get into the habit of making one or two of your favorites from copycat recipes at home, then you can really add to your bottom line (those $3-$5 coffee-shop stops really add up!).
Bonus Swagbucks Search: "Swagbucks Search Words"
I emailed the team over at Swagbucks to ask about whether or not the rumors were true. You know, where you can find the Swagbucks search words that have earned others swagbucks that day (or as recently as possible) with the hopes that once you enter those search phrases, you'll earn big to.
Here's the official quote I got from the company,
"The idea of specific keywords triggering a search win for every user isn't accurate, it is all done at random through an algorithm this is coupled with confidential security controls.  An easy way to earn SBs is by answering our Daily Poll, or completing the Daily Search in the "To Do List"."
So, there you have it folks!
Now it's your turn: what are some internet search phrases you've used to really make a change to your bottom line? I'd love to hear all about it!
https://www.frugalconfessions.com/wp-content/uploads/2018/07/nikita-kachanovsky-597646-unsplash.jpg
5892
3912
Amanda L Grossman
https://www.frugalconfessions.com/wp-content/uploads/2018/07/Untitled-design-12.png
Amanda L Grossman
2018-07-16 05:00:21
2018-08-09 00:47:11
5 Swagbucks Searches that Will Change Your Bottom Line