Did you ever think to lower your hernia operation cost ($3,900 – $8,900) by shopping around? Let me show you why you want to shop around for your next surgery, and how to estimate your costs.
Amanda's Note: Do not shop around if you have an emergency. Shopping around is a luxury for procedures where you have a few days to a week at least to do some investigative work. Your health is your number one asset in life, so please be responsible with it.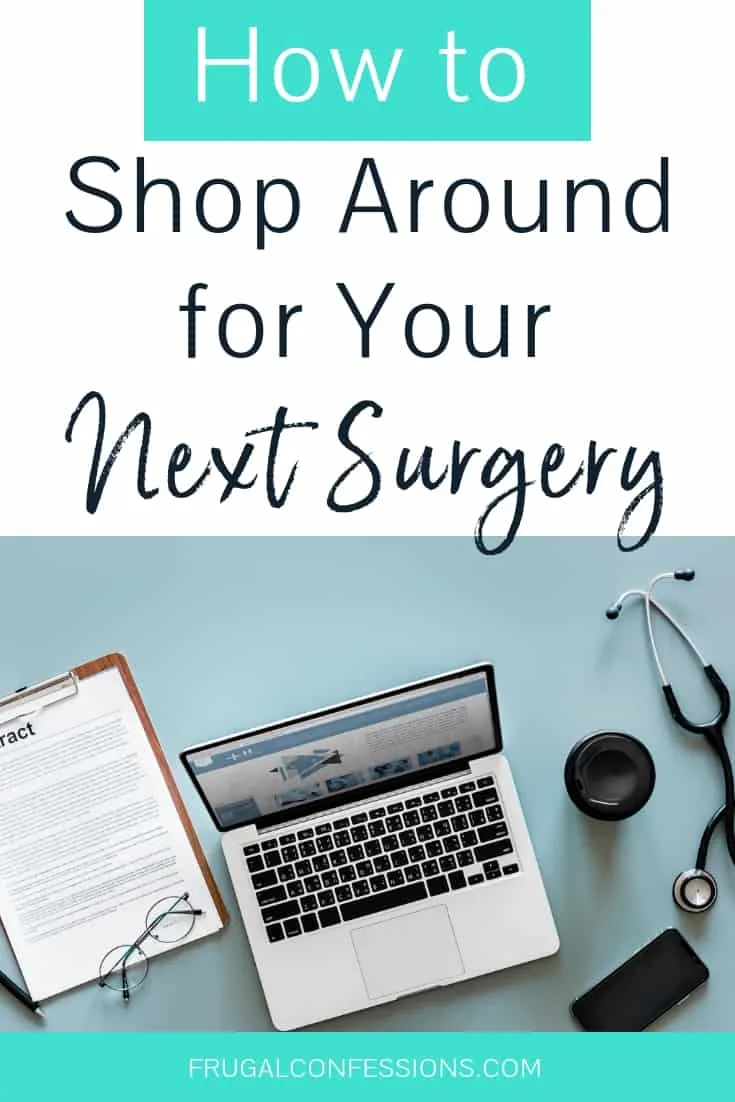 Have you ever thought about not getting surgery because of the prohibitive costs? Hernia operation costs and other operation costs can be really expensive, even with insurance, and so it might be tempting to do.
But it's definitely not always a good idea.
Take my sister, for example. In the beginning of August my sister went into the hospital for severe pain. She thought she had gallstones — my mother is a nurse and the two of them settled on this diagnosis from the symptoms — and tests at the hospital confirmed this. Her gall bladder needed to be removed through surgery.
The only problem is that she didn't have health insurance, and she hadn't had it for over two years. The tragic side to this is that she just recently had enough hours at work to be able to sign up for her employer's health plan, and her benefits and coverage period were set to begin…on September 1, 2010.
Her initial reaction was to live through the pain and hold off on the surgery until her coverage was set to kick-in — just 26 precious days away — but a few days after the initial hospital trip her skin turned jaundice and she began to have more complications.
She ended up back in the hospital, and thank goodness she had enough sense to do so: a rather large gallstone was blocking her bile duct to her liver, causing her liver to stop functioning. The first surgery was to remove the large gallstone, and the second surgery was to remove her gall bladder. She is now healed and waiting on the arrival of her medical bill.
It Turns Out, You Can Shop Around for a Surgery
We've all seen those news stories in the last year or so when the newscasters compare pricing at hospitals for various surgeries. I watched these stories and was shocked to learn that rates for things like surgeries and giving birth vary from doctor to doctor and hospital to hospital; I thought that the going rate for a broken leg was set by some random standard, regulation, or hospital agreement.
I was also initially horrified at the idea of shopping around for a surgery like price shopping for salami.
And then something happened to me.
I went to a new dentist here in Texas and since I have never been to a dentist in Texas, by state law I had to have two consultations before they were able to do a cleaning. The first came with a $35 copay, and I assumed the second would be the same. During the second visit, the woman behind the glass said "$75", and I winced in pain. I asked why she had not informed me that my second consultation's copay would be so much more. And then something shocking happened — she said
"I can take the price down to $50, but that's as low as I can go". I thanked her, closed my mouth, and got out my check book.
I was initially horrified at the idea of shopping around for a surgery like I was price shopping for salami.
Click To Tweet
In light of my sister's plight and my recent experience of being offered a lower price at a doctor's office, I decided to try shopping around for surgeries for myself and see if it is worth it. And I can tell you, it is. Hernia operation costs and other operation costs actually vary greatly!
I do not have a Inguinal hernia (nor can I pronounce it), but I wanted to choose a symptom that was benign enough to not excite people on the other end of the phone (I had visions of nurses screaming into the phone to get into an ambulance and get to the hospital right now while I was trying to price out a ruptured spleen or a burst appendix), and that was common enough that I could do the research.
Psst: you'll definitely want to check out my article on how to negotiate medical bills over the phone.
How Much does Laparoscopic Hernia Surgery Cost?
According to Amino.com, the average hernia surgery cost is $7,743. This is both what you + your insurance will pay together (so long as you have health insurance, and your plan covers some of the cost).
I've based all of the prices on the same type of surgery: laparoscopic inguinal hernia repair.
But as you will quickly see, the prices vary greatly.
So, what can YOU expect to pay (estimated, at least) for a hernia surgery? Amino has an awesome hernia calculator that can estimate your cost, based on your own health insurance plan. You'll definitely want to check that out.
For example, when I input my own information, and my location, then chose a doctor from the 104 matches they gave me, I clicked on "cost", then saw that a hernia surgery would be $7,236.
That's some golden information!
But that's not all — because that's the total cost, not what I would pay out of pocket.
Based on my insurance provider, I clicked on "Calculate what I'll pay", and it came back as $4,411 out of pocket cost to me.
Note: You'll always want to verify any estimate you receive, specifically with the doctor/facility where you choose to have your surgery. Verify beforehand!
Does Insurance Cover Hernia Surgery?
Your insurance company will likely cover your hernia surgery. It must be a health concern for them to do so, and there will be lots of other costs involved besides the surgery itself — so, you'll want to do the following:
Call your own insurance company and find out what they will and will not cover.
Call the office/medical center where you want to have the surgery, and see if they'll give you an estimate of what you'll need to cover after your insurance pays their amount (this will help you verify that your insurance company will, in fact, pay some towards the hernia operation costs).
So, what exactly can you expect to pay for a hernia operation, and why should you shop around for this + other surgeries you might have?
Let's look at the comparison prices I found to answer these questions.
Hernia Surgery Cost Without Insurance
How much is hernia surgery without insurance? If you don't have insurance, and you need surgery for a hernia repair, then you're looking at spending thousands of dollars out of pocket.
In order to get an estimate, you'll need to call the facility where you'll get the surgery. Let them know you do not have insurance.
But before you do this, I highly recommend you do the following:
Hernia Surgery Cost with Insurance – Comparison Prices in Houston (including Houston Hernia Center)
How much does hernia surgery cost? I called around to various places within Houston to shop around for the hernia operation costs, and was surprised with what I found.
Note: Obviously, you might not be in the Houston area; but I'm showing you this as an example of what cost estimates will be + why you should shop around in your own area for hernia operation costs.
The Houston Hernia Center offers a low cost hernia surgery option for people without health insurance on the following hernia operations: Inguinal, Umbilical, Epigastric or Incisional Hernias. The cost is $3,900-4,900 per hernia with no complications. This price covers the surgeon's fee, anesthesiologist fee, a State Certified Ambulatory Surgical center, mesh materials and the outpatient fee. At Riverside General Hospital, the same surgery (groin or abdominal) comes in at $16,100, and at the Kelsey-seybold ASC, the same surgical procedure is just $5,400. At Park Plaza Hospital the procedure will cost you $8,500. (Prices above are estimates provided by New Choice Health and/or phone conversations).
The most interesting conversation I had was with a financial counselor at Memorial Hermann Hospital, who said that the contracted rate for this surgery with my health insurance company, Blue Cross Blue Shield, was $1,991.
If I were paying for the surgery on my own and paid in full the day of, the cost would be $3,800. If I did not pay in full, the cost would be $8,900.
I was shocked!
I asked this woman why on earth they would charge so much more to an individual with no health insurance than to a health insurance company, and basically she said it's because that is what the health insurance company was willing to pay. And can you imagine the law that allows a hospital to tack on $5100 if you choose to finance?
Most furniture stores that I've seen commercials for offer 0% financing for the first year on the agreed upon price that you leave the store with…could you imagine coming home with new leather sofas and finding out right after you child dropped juice on them that now they will cost you an extra $3,000?
Low Cost Hernia Surgery – Medical Tourism
If you don't have thousands of dollars to pay out of pocket costs for a hernia operation…would you consider having an operation done in Poland?
What about Belgium?
Medical Tourism is when someone travels to a different country in order to get some sort of medical care (dental, vision, medical surgeries, operations, etc.). They do this because they'll either be receiving better care, or be receiving good care at a better price.
According to healism.com, a hernia repair in Belgium within the next 1-3 months would cost me between $410-$500. The same surgery in Mexico goes for about $340-$410. For a top-notch Bumrungrad hospital in Thailand, the cost is between $3,616 and $5,397. You will also have to add in the cost of travel, food, and hotel rooms for this option.
Hernia Surgery Cost Blue Cross Blue Shield – Insurance Considerations
I happened to have Blue Cross Blue Shield health insurance when I shopped around for this hernia surgery. So, I went ahead and called my personal insurance company to get the lowdown on pricing and my part of the bill.
My copayment would be $150 per day (if the surgery is inpatient), as well as 20% of the bill.
You can quickly see why it would be in the favor of someone with insurance to shop around as well; 20% of $16,100 ($3,220) is a lot more than 20% of $5,400 ($1080).
Note: you'll want to call your own insurance company and find out what portion of the bill you'll be liable to pay, and what part they will cover. Is it a 20% or 40%? What is the copayment for inpatient surgery, versus copayment for an outpatient surgery?
In Conclusion: You Need to Shop Around
From what I gathered while doing the research for this article, it is not common for patients to ask pricing in advance.
Yet it is in your favor to do so as the price differentials can be startling.
If you have an upcoming surgery — inpatient or outpatient — that you would like to price, start by visiting New Choice Health to get some estimates, such as finding out umbilical hernia surgery cost vs. cost of private umbilical hernia repair.
Psst: also check out how this woman survived cancer financially, without going into bankruptcy.
Call around to several hospitals, clinics, or centers and ask to speak with the billing department or a financial counselor to get some cold, hard dollar amounts. If you have health insurance, you will then want to speak with a rep from your health insurance company to find out what your copay and coinsurance rates will be.
For those without health insurance, you can work with hospital financial counselors and bill payment centers to set up a payment schedule, and/or apply for Care Credit. In fact, it may be in your favor to have a loan through Care Credit (0% financing) before having the surgery so that you can pay in full the day of and substantially reduce your bill. Emergency insurance applications are available as well — talk with the hospital that you are having the emergency surgery at.
A final thought: my health insurance rep informed me that health care surgeries and procedures are cheaper outside of city limits, which is something you may wish to keep in mind when trying to save money.
The following two tabs change content below.
Amanda L. Grossman is a writer and Certified Financial Education Instructor, Plutus Foundation Grant Recipient, and founder of Frugal Confessions. Over the last 13 years, her money work has helped people with how to save money and how to manage money. She's been featured in the Wall Street Journal, Kiplinger, Washington Post, U.S. News & World Report, Business Insider, LifeHacker, Real Simple Magazine, Woman's World, Woman's Day, ABC 13 Houston, Keybank, and more.
Read more here
.
Latest posts by Amanda L Grossman (see all)