Sick of paying too much money on your prescriptions? How to get prescriptions cheaper, with or without insurance.
When my grandparents told me how much they pay per month for their prescription medications, I about fell off my chair.
They need to know how to get prescriptions cheaper, and I'm guessing you do, too.
Actually, I know you do (or at least a lot of Americans do). According to a Kaiser Family Foundation (KFF) Health Tracking Poll,
"Among those currently taking prescription drugs, one-fourth of adults (24 percent) and seniors (23 percent) say it is difficult to afford their prescription drugs including about one in ten (overall and among seniors) saying it is "very difficult."
Maybe you don't fall in this group, and you just WANT to know how to get discount medications from drug companies and other sources. Because, to be honest, you'd rather spend the extra money elsewhere.
I can help with both situations!
Discount Prescriptions Without Insurance and With Insurance
The following prescription medicine discount resources will work for you whether you've got health insurance or you're uninsured. Start with these, then move onto the section about discount prescription drug cards.
Discount Resource #1: Prescription Savings Search Engine
The first resource I'd like to pass onto you is a health savings search engine.
The Partnership for Prescription Assistance was created by the Pharmaceutical Research and Manufacturers of America (PhRMA). You can use their Medicine Assistance Tool (the search engine) to find financial resources available to you to save money on health needs.
Step #1: You enter your medication information for medicines that you need financial assistance with.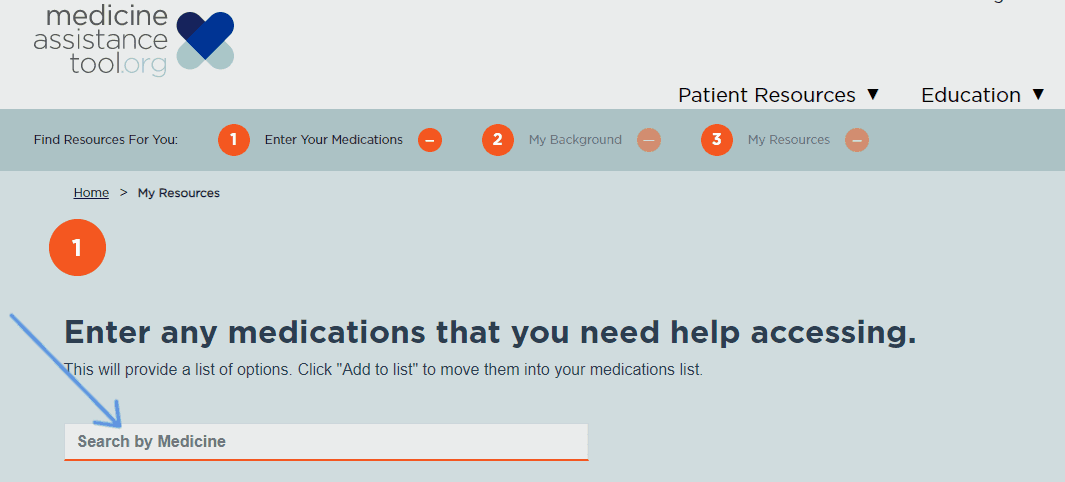 Step #2: You enter in your personal information to help them find resources you may be eligible for.
Step #3: You get your results, if any, that can help you with paying for your medicines.
Discount Resource #2: Contact the Medication's Manufacturer
Did you know you can simply reach out to your prescription drug manufacturer, and ask them to help you?
They're called Patient Assistance Programs (PAPs), and you'll find information on many drug manufacturer's websites. Needymeds.org has put together a complete list of all PAPs, by the drug name.
Several of the sites I visited had savings programs just for that particular medication where you could sign up for a savings card and get your prescription for very little. It's definitely worth checking out!
Discount Resource #3: Apply for Financial Assistance from Charitable Foundations
Have you ever heard of Patient Access Network Foundation (PAN)? They're a charity that focuses on helping pay for their out-of-pocket healthcare expenses. These include help with your deductible, co-pay, and coinsurance costs. And you can apply whether you have health insurance (even Medicare), or you don't.
If you apply and receive a grant, it's good for 12 months' worth of prescription costs.
Other charities to try:
Discount Resource #4: Shop Prescription Drugs Online
Join a network like Blink, which not only guarantees the lowest generic Rx costs (their Price Match Guarantee), but also will ship your order for free to your door.
They're free to use, and can assist you in moving your prescriptions to one of the 35,000 pharmacies that accept them.
Pro tip: if you're going to buy your medications online, you'll want to check with a source like LegitScript to make sure that the site is a legal one.
Discount Resource #5: Find the Cheapest Place to Get Prescriptions Filled Without Insurance
Transferring prescriptions and getting store gift cards for doing so is a great way to cut down on your cost of prescription medications.
But oftentimes, you are still paying an out of pocket $20-$35 copay.
How about if you could be paying $4 or $10 in total for a 30 or 90-day supply of your prescription drugs?
Many stores now have programs that offer this cost for a multitude of pills, such as antidepressants, antibiotics, and pills for Parkinson's, asthma, heart condition (if this program had been around when my grandfather was alive perhaps he would not have sliced his heart pills into thirds to save on costs), topical medications, diuretics, thyroid, diabetes, hormones, muscle relaxants, etc.
Work with your doctor to see if you can be prescribed one of the available generic prescriptions in the programs below.
List of Prescription Drug Programs:
Discount Resource #6: Ask Your Pharmacist if it's Cheaper to Not Use Your Insurance
Sometimes it's cheaper to get a prescription drug by NOT using your medical insurance…even if you have medical insurance.
But how are you supposed to know? Turns out, pharmacists know the answer. Except for one thing: historically, pharmacists have not been able to tell you if you could get a prescription drug cheaper by not using your insurance plan.
"For years, pharmacists knew that consumers could sometimes pay less for a prescription drug by not using their insurance — but couldn't tip them off because of so-called gag clauses in contracts between pharmacy owners and pharmacy benefit managers. (Technically, pharmacist were allowed to discuss it but only if the consumer knew to ask.)"
Good news is, they're ending this practice. But in the meantime, be sure to ask your Pharmacist whether or not you should use your insurance, on a prescription-by-prescription basis.
Discount Resource #7: Comparison Shop Medicare Plans Based on Your Prescription Needs
Consumer Reports found that two people buying the same prescription drug, from the same pharmacy can end up paying $27 or $153 depending on what type of Medicare Part D insurance card they've got.
Yikes! That's how important picking out a Medicare Part D plan can be…yet it's very complicated to do.
Psst: have you ever heard of the Medicare Extra Help Program? It can be worth up to an additional $4,900 in annual benefits to you.
Here's a nifty little Medicare plan options tool, as well as a nifty little benefits-checker tool from the National Council on Aging.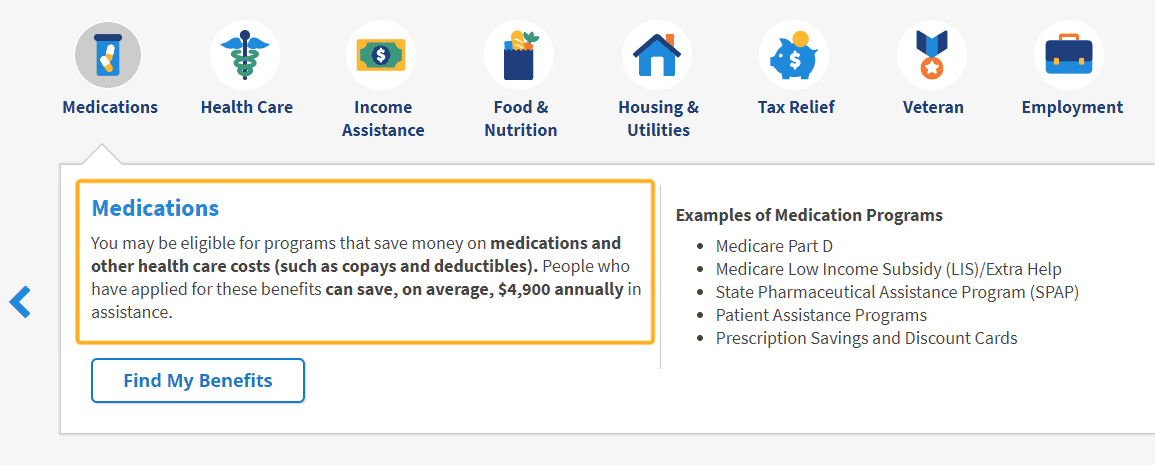 How helpful is that?
Bonus: New for 2019 — there's a do-over period for Medicare Advantage Plans. If you chose one and you don't like it, you had until March 31 to change it (hopefully the same period stands for next year, as well!).
Discount #8: Find Your Plan's Preferred Pharmacy
Consumer Reports found a huge cost increase on the same 5 drugs from a pharmacy that is considered a Preferred Pharmacy for a Medicare Part D plan, and one that is not (think a price of $688 for all 5, versus $1,687 for all 5).
That's because Part D plans negotiate "special arrangements" with these Preferred Pharmacies.
Bonus Tip: It's not just Medicare Part D plans that do this — so check with your employer's healthcare plan and see if they have a Preferred Pharmacy.
You need to go to a Preferred Pharmacy for your Medicare Part D plan.
How do Prescription Discount Cards Work?
At the beginning of each new fiscal year I, like many Americans, have a prescription drug deductible that I must meet before my health insurance will kick in.
The particular prescription that I get normally has a copay of $35, but because of my annual prescription deductible, it is $85 one month a year.
This year I thought I could outsmart this deductible by using one of those prescription drug savings cards that boasts 75% in conjunction with my insurance —the perfect scenario, if the card's discount would work on my copay portion.
Unfortunately, when I whipped out my discount medication card, the pharmacist said that this particular card would not work with health insurance. This led me to wonder…
Are there discount prescription cards that do work with health insurance? And how do prescription discount cards work?
Pssst: you'll definitely want to check out my article on how to negotiate your medical bills like your life depends on it.
You can sign up for prescription drug discount programs for free and everyone qualifies, whether or not you have health insurance, whether or not you have pre-existing conditions, etc.
The reason why these cards are free for everyone is because the companies make money through a referral fees paid by pharmacies for each prescription filled using this card. It's a private discount program, and pharmacies decide whether or not they want to accept these discount cards through a contractual agreement that binds them to then offer reduced costs to discount medication cardholders.
Each discount card works with a different pool of pharmacies (which is why a discount card might work great in one location, but do nothing for you somewhere else). That's because, like insurance companies, discount prescription drug card companies negotiate using a group-buy. They go to pharmacies in bulk and negotiate discounts on your behalf.
Other programs are sponsored through nonprofit organizations. The card can either be printed off on the website for instantaneous use, or it will be sent to you in the mail.
Most of the programs are accepted in major retail pharmacies across the nation, such as CVS, Walgreens, Kroger's, etc.
Bonus: Some programs even include discounts on pet medications (since some pet meds are also people meds), such as the SuperRxCard and the RxFreeCard.
All FDA-approved brand and generic drugs are eligible for a discount, but not all drugs will have a discount.
Typical Savings from a
Free Pharmacy Discount Card
These prescription drug savings cards seem to be popping up everywhere, each touting around the same amount of savings due to special relationships with pharmaceutical companies.
But, do pharmacy discount cards work?
I researched several, and while they advertise up to 80% savings, they AVERAGE between 10-32% savings based on the card (self-published data on several discount card websites: it pays to read the fine print).
Hint: I'd like to point out that there ARE people who are seeing 75% – 80%+ discounts (I've read reviews stating this on the Better Business Bureau website). So, you could certainly see these as well. It's just now the "norm".
For example, GoodRx claims you can get savings of up to 80%. But if you read the fine print, then you see that only 15% of people actually get savings that good.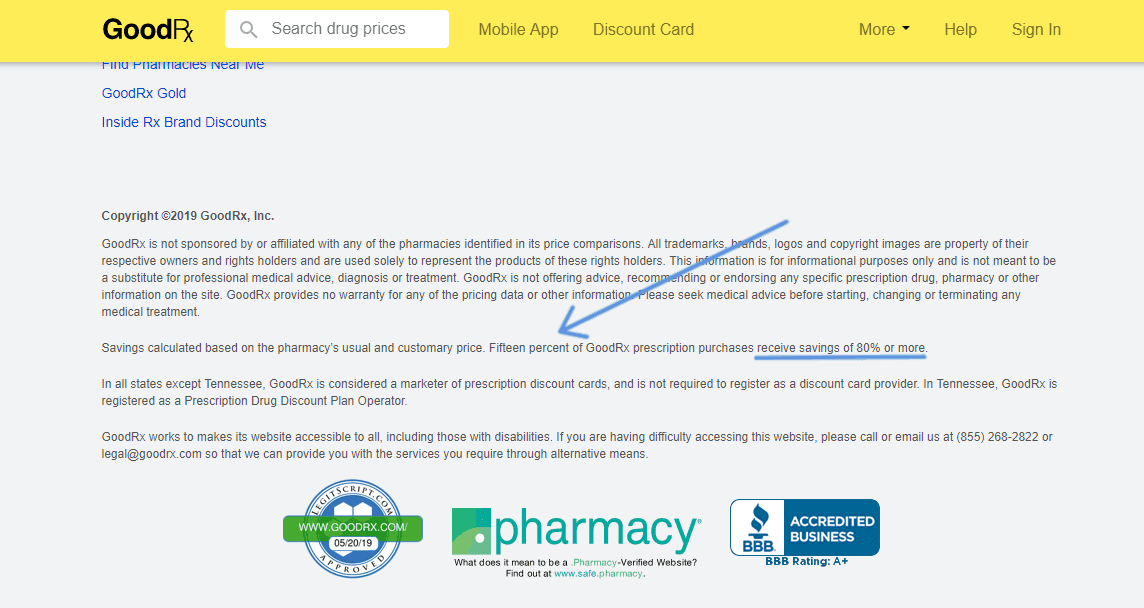 Or on the RxSavingsPlus website that advertises savings of up to 70%.
In the fine print, you'll see that the average savings is just 22%.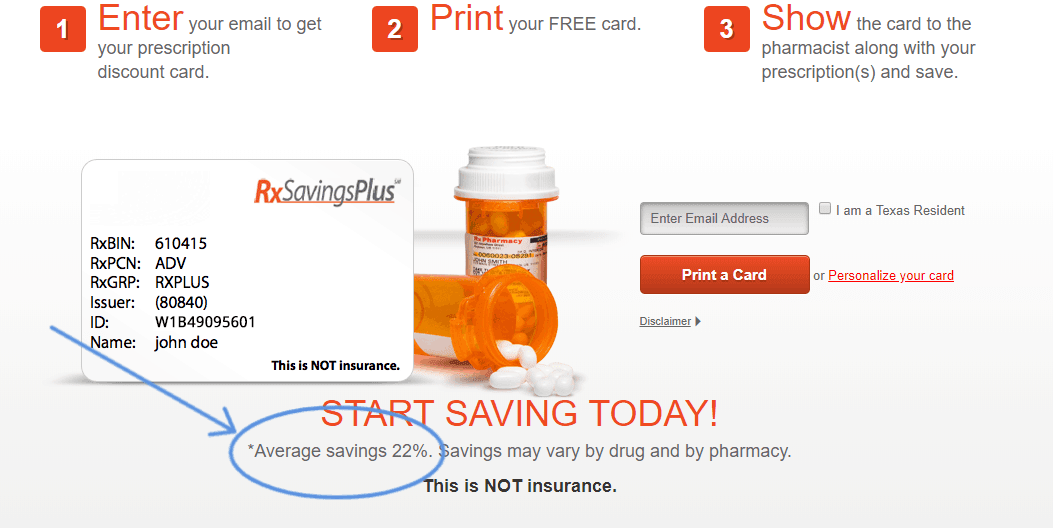 In fact, I searched for my particular medication, and the savings would have been just 7%. Generic medications will have the deepest discounts.
How Prescription Discount Cards Work with Health Insurance
First off, you should know that a prescription discount card is NOT insurance. In any shape, way, or form.
Also, you should know that prescription discount cards are not just for the uninsured; however, most cards do not work with your health insurance. You can still use them, but only one OR the other — not both.
Which means you need to figure out, for each prescription transaction, if it will be cheaper to use your health insurance plan, or to use your discount prescription drug card.
Several programs suggest taking both your health insurance card and the discount card and asking the pharmacist to figure out which will yield the most savings. This card is especially useful for prescription drugs that are not covered under your insurance plan.
Medicare patients can get discounts on prescriptions while in the donut hole. However, the Pharmacy Discount Network gave the following caveat to Medicare patients:
"although this discount can be used as a Medicare Part D supplement by covering drugs once participants reach the "donut hole," drugs purchased with this discount program will not count toward your Medicare deductible."
If you find yourself in the donut hole, be sure to check with how using this card will affect you.
From what I have researched, it can't hurt to sign onto a program because it is free, painless, and instantaneous. Those without health insurance will benefit the most from these programs. And if you take a medication not covered by your insurance or one that has a particularly high copay, then you will also benefit.
Can I use a Drug Discount card with my Medicare Advantage plan?
Yes, you can use a drug discount card with a Medicare Advantage Plan. HOWEVER, you can't use them at the same time.
Let me explain: you can sign up for a free drug discount card, even if you have a Medicare Advantage Plan. But when you're actually paying for your prescriptions? You can only use one or the other, not both at the same time.
Bummer…I know.
You should also know that some free discount drug cards have fine print that excludes Medicare beneficiaries from their program.
Having said all that, here are the questions you need to answer in order to know if you can use both of these programs at the same time:
Does your Medicare Advantage Plan include drug coverage (MAPD)?
Does your drug discount card allow users with Medicare Plans?
You're allowed to choose using a discount card over using your MAPD plan, if it's cheaper for you. But you should go ahead and check out all the ins and outs of doing this, such as tracking your drug spending as you go to help with you getting credit towards going in or out of the Donut Hole.
Prescription Discount Card Reviews
Before I go through several prescription discount card reviews, I would like to say a few things I found from my research.
These cards are not scams, and these companies are recognized by the BB (Better Business Bureau).
Whether or not the company got a good score or not seems to depend entirely on it if a customer was able to use it. You have to remember that not every pharmacy will accept the card you choose (so call ahead of time), and you can't always use the card (you'll want to search their website for prescriptions + your zip code for help with this).
Try multiple cards. One might not work for you, but another may. That doesn't mean one of these companies is "better" than another; just that you have to find what works for your special concoction of pharmacy choice + doctor + prescription + insurance.
Bonus Tip: you may want to check to see if your state has a drug prescription discount program.
RxSavingsPlus Review
Price: Free
BBB Rating: Could not find a rating
Customer Reviews: Could not find reviews
Number of Pharmacies that Accept it: 59,000
I can't seem to find any reviews online for this company; however, you should know it's run by MinuteClinic, which is part of CVS.
In fact, if you're uninsured, then you can show your RxSavingsPlus card, and get a 10% discount on a MinuteClinic health service or screening.
Print out your card here, or download the mobile app (iPhone).
FamilyWize Review
Price: Free
BBB Rating: N/A
Customer Reviews: Could not find reviews
Number of Pharmacies that Accept it: Accepted at 96% of all pharmacies in US
I was surprised to learn about a United Way program that helps with people's prescription costs. Unfortunately, I can't seem to find any reviews (please let me know in the comments below if you've used this program, and if you would or would not recommend it).
One thing I really like about these guys is their free Medicine Cabinet account, which will track the costs of your medications FOR you, so that you always know the cheapest place to fill prescriptions.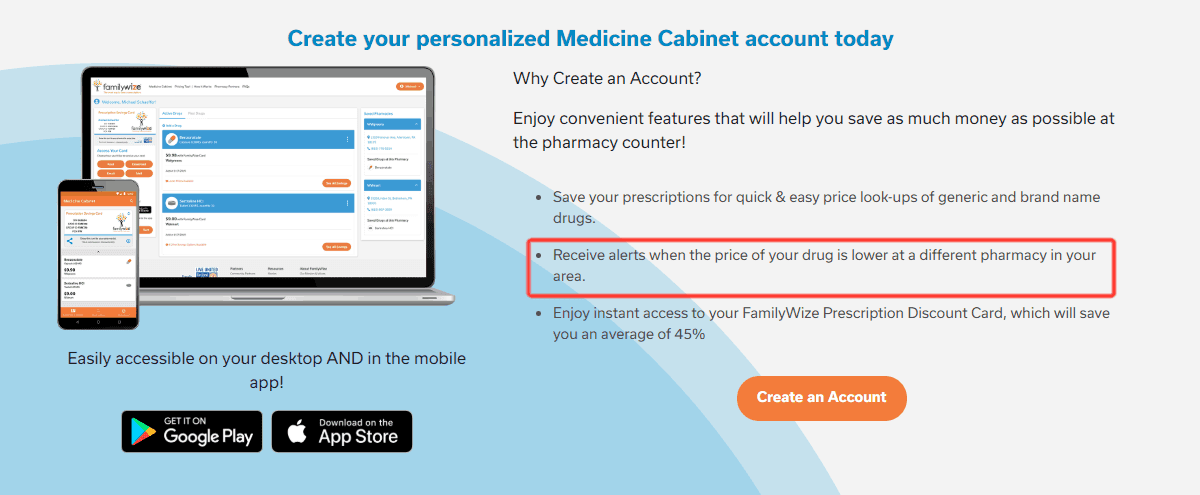 Print out your card here, or download the mobile app (iPhone or Android).
GoodRx Review
Price: Free
BBB Rating: A+ rating
Customer Reviews: average 3.5 out of 5 stars (23 reviews)
Number of Pharmacies that Accept it: 70,000+
Yes, GoodRx is a legitimate company. If you read through the complaints, you'll see that actually, GoodRx seems to have a very good customer support system. That's a plus!
This particular one also made it in the "two to try" prescription discount apps on ConsumerReports.org.
Print out your card here, or download the mobile app.
ScriptSave WellRx Review
Price: Free
BBB Rating: A+ rating
Customer Reviews: average 4.75 stars out of 5 (13 reviews)
Number of Pharmacies that Accept it: 65,000
In an interview, these guys said that average savings are 45% (but you can get up to 75%). I read through the reviews on BBB, and they're all pretty great.
Aside from the great reviews (and absence of virtually any negative reviews), what I like about this one is that you don't have to enter any information to use the program.
Print out your card here, or download the mobile app (iPhone or Android).
One final thought. Do prescriptions cost the same at all pharmacies? Nope. Not in the least. Drug prices vary WIDELY between stores and pharmacies (which I'm still shocked about). So, no matter what steps you take from above, make sure you always shop around for your prescription drugs.
The following two tabs change content below.
Amanda L. Grossman is a writer and Certified Financial Education Instructor, Plutus Foundation Grant Recipient, and founder of Frugal Confessions. Over the last 13 years, her money work has helped people with how to save money and how to manage money. She's been featured in the Wall Street Journal, Kiplinger, Washington Post, U.S. News & World Report, Business Insider, LifeHacker, Real Simple Magazine, Woman's World, Woman's Day, ABC 13 Houston, Keybank, and more.
Read more here
.
Latest posts by Amanda L Grossman (see all)