When you own beater cars (like I've done my entire life), you quickly learn how important finding an honest mechanic is to your whole operation. Let me show you how to vet one so you can trust them.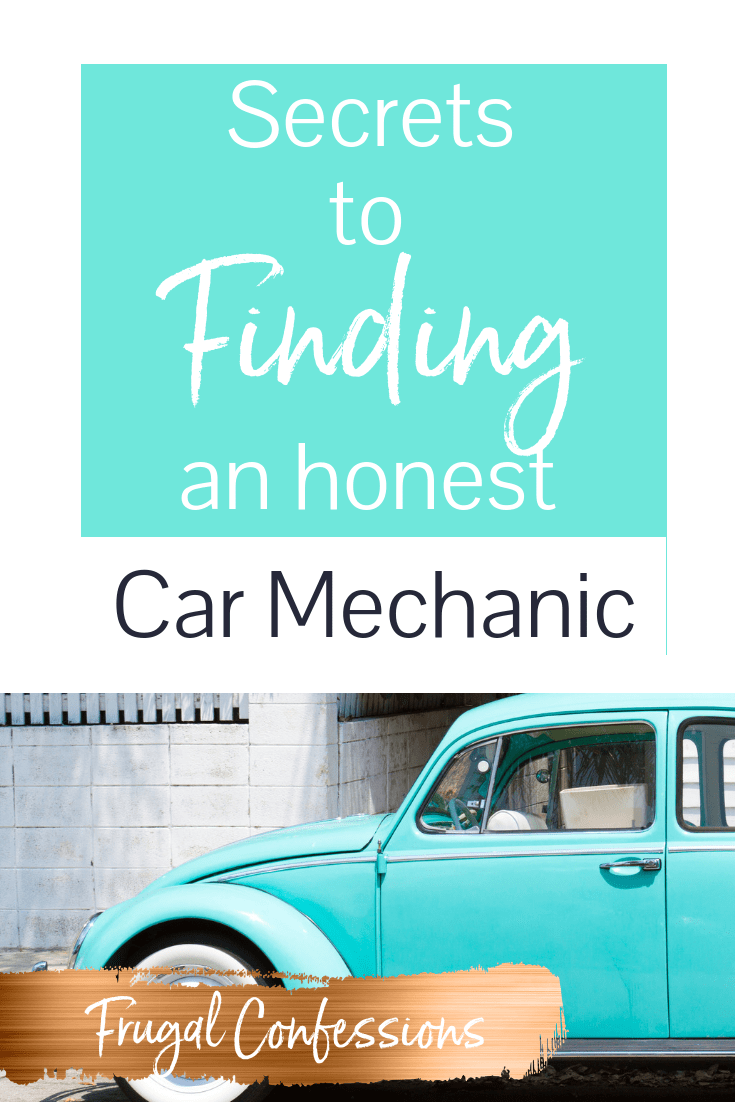 You're reading the blog of a woman who has never had a car payment in her life.
Not one.
And I should mention that I've owned a vehicle since the age of 17.
Instead of buying new, I've always opted to pay for beater cars in cash, and run them into the ground.
Pssst: Should you buy new or used? I've got some things to say on the subject. Also, check out our experience of becoming a one-car family for 2.5 years.
My best mileage record to date? 228,282 miles for a car I paid $1500 cash for when I was a broke college student.
When you own a beater car like I've done my entire adult (and teenage ) life, you quickly learn how important finding an honest, handy mechanic is to your whole operation.
Over the years I've had some weird mechanical needs come up, mostly because I usually purchase my cars with over 100,000 miles on them and take them over the 200,000-mile threshold.
Things like non-working automatic windows, worn-out bearings, heating core leaks, and mufflers (yes, with an 's').
The fact is, most mechanics probably look at a rust-bucket car like mine coming into their lot as a huge opportunity. It would be a very believable story to say that anything is "on its last legs" because the whole car kinda looks like it could come apart at the next stoplight (don't worry, it legally passes inspection + emissions tests).
So how can I, and you, know that we've found an honest mechanic, especially when we don't particularly know much about cars?
How to Vet a Mechanic to See If They're Honest
My good friend Helen introduced me to the best mechanic I've ever met. He's very honest, and he's helped me out of some potentially expensive situations with a little cleverness + flexibility (such as rerouting my car so that, while there is no heat, there is also no more leak at a cost of only $95 when the alternative would have been $700. I live in Houston, so living without heat in my car is not a deal breaker).
She then told me how she ended up finding this honest mechanic, and I thought it was an extremely smart method.
We'll call this Method #1 to finding an honest mechanic:
Helen's father is very savvy when it comes to cars, and typically fixes his own. However, on a road trip from Los Cabos to Texas, his car needed to be fixed and all his tools were left in Canada (her family has lived all over the world).
He assessed what was wrong with the car himself.
He went through the Yellow Pages, and visited several mechanics (with Helen as his chauffeur), until he found one that assessed it correctly and also gave him a fair price.
Boom: he found Helen's future mechanic.
How cool is that? And let me tell you, this guy's place stays busy. People have obviously figured out that he is smart, efficient, and honest.
How to Know if a Mechanic is Not Being Honest
So the second method to finding an honest mechanic? Is to catch them NOT lying to you.
Over the years, through experience, I've spotted some dishonest mechanics (doesn't hurt that I was an environmental investigator for the State of Texas for four years — I've put those skills to good use!).
This is my own method, but I have tried it twice now and will not be going back to either of these places:
Go in for a simple car maintenance need. Mine is always an oil change that I'm not mystery shopping.
When they suggest you need something cosmetic added to the car, ask them to show the worn out/broken part to you.
You'll quickly see if they're being honest or dishonest, and can gauge the rest of what they say based on that assessment.
Once I was told I needed new windshield wiper blades. I couldn't make this up if I tried: I had literally just replaced the blades three weeks earlier when I had gone for my inspection.
When I told the man this, he smiled and said, "my eyes must be failing me." Yeah…or you didn't look at all. Worse yet, you looked but didn't care because it's some sort of policy to tack on extra work? Who knows.
The second time I was told I needed a new air filter. So I asked them to show me the old one. It was almost Orbitz-sparkling white. So I said, "well, I guess I don't really need one." He agreed.
I purchased my current car at 160,000 miles for $3,500 cash five years ago. This year I hope to beat my record mileage. Currently, my beater car is sitting pretty (and a bit vibrationally) at 219,917 miles. Either way, because I've had no car payments over the last 5 years, I've set aside a little bit of money each month for when I'll need to purchase my next beater car. That's a method I highly recommend!
The following two tabs change content below.
Amanda L. Grossman is a writer and Certified Financial Education Instructor, Plutus Foundation Grant Recipient, and founder of Frugal Confessions. Over the last 13 years, her money work has helped people with how to save money and how to manage money. She's been featured in the Wall Street Journal, Kiplinger, Washington Post, U.S. News & World Report, Business Insider, LifeHacker, Real Simple Magazine, Woman's World, Woman's Day, ABC 13 Houston, Keybank, and more.
Read more here
.
Latest posts by Amanda L Grossman (see all)