How do Olympic athletes make a living? Most are not wealthy, and most have to fund their own training.
I think many of us tend to assume that anyone who has a show on television, stars in a movie, or who competes in sports at the Olympic-level is "wealthy".
Perhaps they don't have the type of home that can be showcased in MTV's Cribs, but it's not a stretch to assume that they can at least purchase a car outright, plunk down as much money as their latte habits demand, and generally enjoy life.
The limelight is glamorous and the people in the limelight are glamorous looking…so the money must be flowing, right?
Unfortunately, it seems that Olympians who also happen to be wealthy are the exception, not the rule.
To make it to the Olympics, one must be singular in their focus almost to the point of obsession.
This is to the detriment of most other things in life, including money — both earning money, which takes your focus off of training, and accumulating money, as the little earnings Olympians and Olympian hopefuls make on the side is spent on things like equipment, trainers, travel, and coaching.
Pssst: here's even more Olympics inspiration to help you meet your own life and money goals.
The majority of Olympians must train for so many hours during the day to earn their spot in such an elite category of athletes that they only have time for part time work.
Some do not work at all because their focus is so singular and their drive is so intense that they simply choose to not take time away from their dream.
Take Steve Prefontaine for an example. Leading up to the 1972 Olympics he was receiving food stamps and splitting $15 rent with another roommate (this was before Olympic athletes were allowed to accept endorsements). The Track and Field Association recently surveyed its top athletes and found that 50% of track and field athletes who ranked in the top ten make less than $15,000 per year. 2012 Olympic athlete Cyrus Hostetler (javelin thrower) states on his personal website, "Sometimes the competition that I face is not the competition on the track but rather the competition of finances, and every year it's a losing battle. When you total up all the cost of coaching, trainers, medical, equipment, and travel expenses my monthly paycheck just doesn't add up." He made a total of $2,273 for throwing a javelin in 2011.
How Do Olympic Athletes Support Themselves?
We all need money to live on and $2,273 a year or even $15,000 a year is typically not going to cut it. So how do Olympic athletes (the ones without the huge endorsements and 16 gold medals) make ends meet?
1. Hold Down a Part Time Job
I think the key with any passion is to make money from that passion, to make money from working in a field as close to the passion as you can get, or to find a flexible job that will allow you to spend as much time as possible pursuing your passion on the side.
Cyrus Hostetler is a website/graphic designer for the 2012 US Olympic Trials Track and Field project management team.
This allows him to train 4-6 hours every day, work on the logistics of sports he loves, and still earn a living to pay his bills. Swimmer Amanda Beard has been modeling since she was 16 and continues to do so in addition to the book she wrote and her motivational speaking engagements.
Even Prefontaine worked for a short while at Nike (before it took off).
I think the key with any passion is to make money from that passion.
Click To Tweet
2. Share Living Arrangements
Olympians and Olympian hopefuls make many sacrifices in order to fund their dreams.
One of them often includes living on their own. It is typical for an Olympic athlete to share living arrangements with others.
While some athletes like Prefontaine informally seek roommates to share the rent, others live with host families while they train.
I found one ad on Craigslist looking for host families (Salt Lake area) for the 2012-2013 hockey season for Regulators Hockey. The specifications are to provide a good environment, furnished room, nourishing meals, car rides to practices, a bathroom, and laundry facilities.
Host families for this organization are given a $400 per month stipend. A quick Swagbucks internet search shows that there are many organizations and athletes looking for host families during training events.
3. Raise Money
Some athletes hold fundraisers in order to help fund their athletic training and travel.
Olympic hopeful Nick Symmonds (800-meter run) auctioned his left shoulder on eBay for the top bid of $11,100 (Hanson Dodge Creative).
Rose Wetzle and Falesha Ankton hosted a fundraiser for themselves at a local cocktail bar with drink specials, a ring toss, and raffle.
Cyrus Hostetler solicits donations and contributions on his personal website. In his blog he details his financial situation, and states that he only makes money from winning prizes, so "this makes the time between big competitive meets financially hard". Norris Frederick auctioned himself off as a celebrity date.
In 2005, Adam Nelson successfully auctioned a $12,000 sponsorship on eBay.
4. Accept Government Assistance
As far as direct help from the government, US Olympians are out of luck. Many other nations do provide money to their top athletes.
For example, in the UK there is funding from the government as well as the lottery. In Indonesia, the government supports their Olympic athletes while they train and perform, and in China and Korea, Olympic medalists are given pensions and other retirement assistance.
Many countries have pledged money to various levels of medal winners, just like the prize money awarded to American medalists.
Other lotteries such as the South African lottery and EuroMillions lottery also help fund Olympic athletes.
5. Source Funds from the US Olympic Committee (USOC)
The USOC is a non-profit organization that serves as the national Olympic committee in the United States.
Funded by private contributions, corporate sponsorships, and the International Olympic Committee, the USOC provides training centers, funds, and support staff to elite athletes.
For example, the US Rowing Association received $1.2 million towards its 2012 Olympic team. Women on the US Rowing team receive between $400-$800 a month stipends from this money to help cover bills.
6. Receive Prize Money
In 1997 the IAAF created IAAF Competition Awards to continue their quest in financially motivating and securing athletes at the highest level.
The USOC also offers the following prize money: $25,000 to gold medal winners, $15,000 to those who take home a silver and $10,000 for a bronze. Some private sponsors offer incentive-based prize money.
An example of this is Speedo's promise of $1 million to Michael Phelps in 2008 if he met Mark Spitz's record of 7 gold medals.
7. Funding through Associations that Collect Membership Fees
Associations of more popular sports, such as USA Swimming, can afford to fund their Olympic athletes through membership fees that hobbyists and professionals pay.
For example, the USA Swimming Association pays a $3,000 monthly stipend to National Team Members ranked 16th or higher.
8. Score an Endorsement
The list is pretty large in terms of which companies will sponsor winning Olympic athletes or Olympic hopefuls.
Probably one of the most extreme examples of endorsements is when Luge racer Fuahea Semi legally changed his name to German Underwear and swimsuit company Bruno Banani.
It should be noted that sponsorships and endorsements tend to follow the more popular sports (sorry steeplechase Olympic athletes, I think you are out of luck on getting a cereal box deal).
What I love about this is that many people have found a way to pursue their passion and still survive financially.
What makes me sad is to think of all of the stories that have not been written about the athletes who have been unsuccessful in funding their dreams. I think this happens in many professions from artists and writers to athletics and theater. However, I am a believer that where there is a will, there is a way. Let's hope we all find our way, just as these Olympic athletes have done.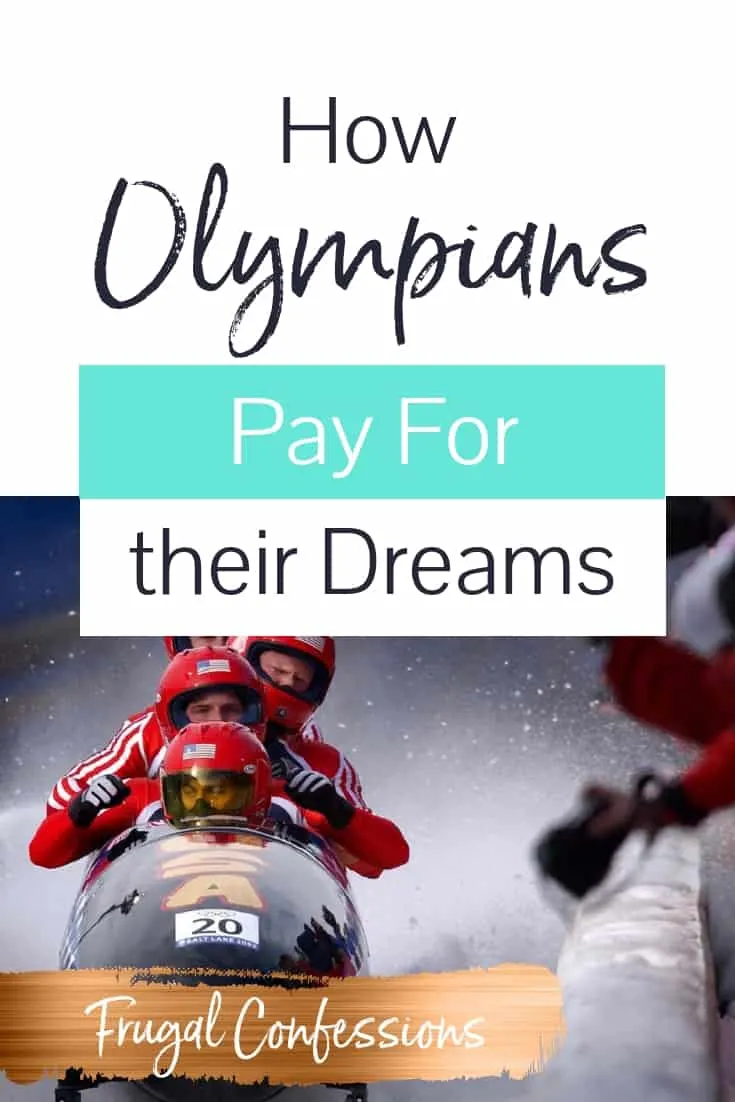 The following two tabs change content below.
Amanda L. Grossman is a writer and Certified Financial Education Instructor, Plutus Foundation Grant Recipient, and founder of Frugal Confessions. Over the last 13 years, her money work has helped people with how to save money and how to manage money. She's been featured in the Wall Street Journal, Kiplinger, Washington Post, U.S. News & World Report, Business Insider, LifeHacker, Real Simple Magazine, Woman's World, Woman's Day, ABC 13 Houston, Keybank, and more.
Read more here
.
Latest posts by Amanda L Grossman (see all)