Free resources and products to get your investing decision questions answered, so that you can start to invest your extra money.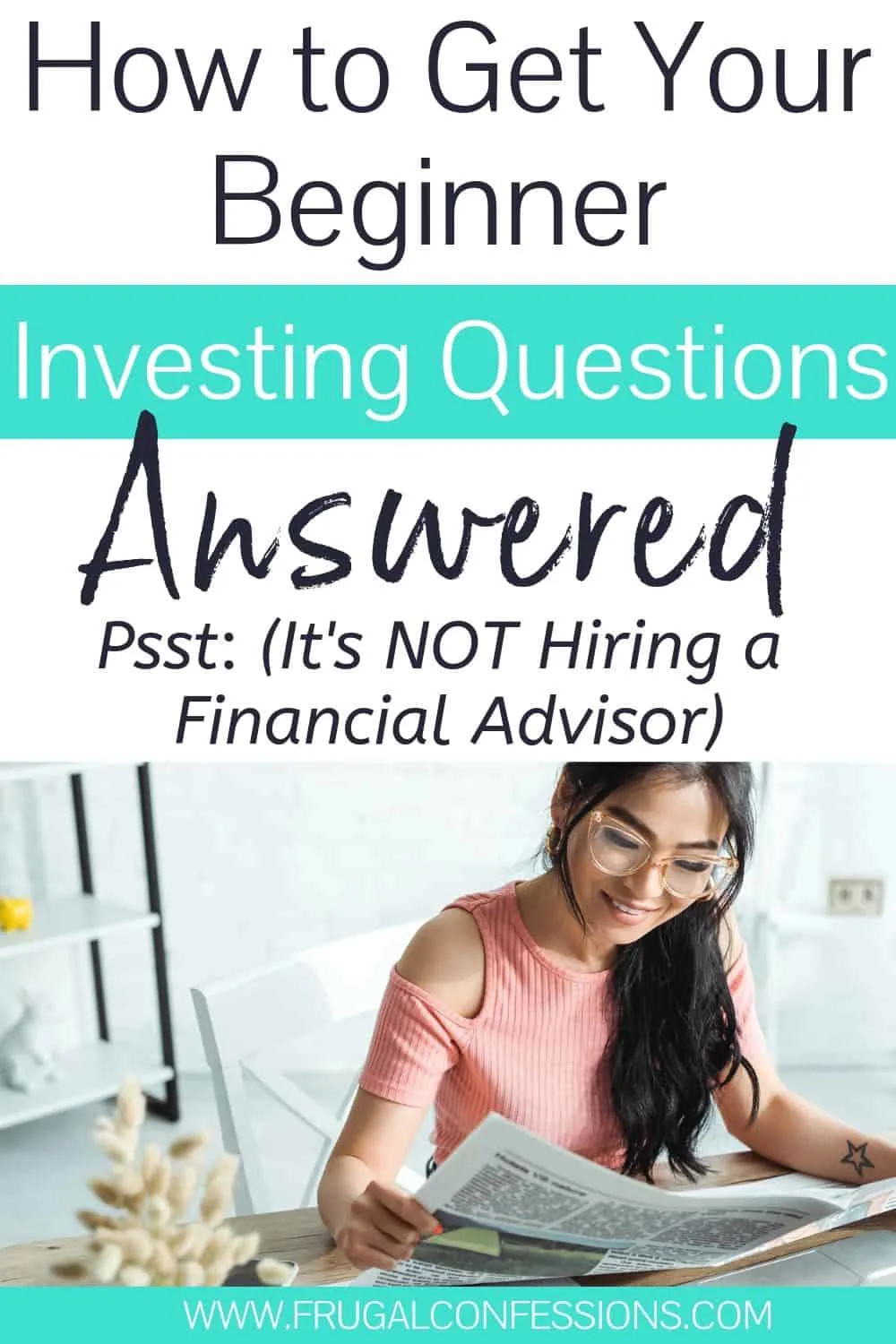 So, you've got a little extra money socked away, and you're thinking you should start to invest on the side to earn more than the piddly interest rate offered by savings accounts.
There's just one problem:
You have a ton of beginner investment questions (not to mention, specific investing decision questions), and you don't even know where to start to get the answers.
Questions like:
How do I start investing with little money?
How much money should I keep in savings versus how much should I invest?
How much money do I need to start investing?
How do I pick stocks to invest in?
Is a mutual fund better, or should I go with individual stocks?
What is the best investment for beginners?
How do I manage the taxes I'll owe if I earn money with stocks?
If you've got questions to ask before investing in stocks, then buckle up – I've got several free resources that you can use to get the answers you need…without paying for a financial advisor.
Psst: Not sure if your money situation is good enough to invest yet? Check out FINRA's free resource on prepping your finances to invest.
Resource #1: Join a Self-Directed Investment Club
Have you ever heard of investment clubs? Sounds kind of middle-school, I know, but this could be just the thing you need to start investing confidently. Basically, you meet up with a bunch of other people also interested in investing, and you talk to one another about the best investments to make.
With a regular investment club, you would actually all pool your money together and buy together. But with a self-directed investment club? You can make decisions on investments with others, but then make the investments yourself. It's sort of a win-win.
So, where exactly do you find a self-directed investment club? Meetup.com lists 26 clubs across the U.S., and another good place to look is BetterInvesting.org.
Resource #2: Ask Your Employer's Retirement Plan Broker
Getting your beginner investing questions answered can be as easy as asking your HR department about your benefits, especially since 55% of employers offer retirement plan one-on-one investment advice.
And if your company isn't one of the ones that offers an individual retirement plan investment advice? Call your employer's 401(k) broker company, and ask them your specific investing decision questions. Who knows what kind of help you can get!
Bonus tip: 20% of employers also have financial wellness programs as part of their benefits package. So, don't forget to ask!
Resource #3: Let a Personalized Robo Advisor Pick Stocks for You
Making investment decisions – like so many other financial services and products – now has a pretty neat automation option: the Robo Advisor.
Robo Advisors offer their own unique algorithms to pick stocks FOR you, in accordance with your risk tolerance and other information you provide them.
Which is amazing, especially if you don't know how, or don't feel confident enough, to handpick stocks yourself.
Even better, there's a new hybrid of Robo Advisor that offers automated investing using a smart algorithm, in addition to a human touch. In other words, a savvy algorithm qualifies a list of good, dividend-producing stocks out of the 35,000 available, then a group of real people (you know, the kind that geek out on the stock market?) goes through that list and qualifies stocks by hand.
Psst: here's how to get a free portfolio checkup. I share what ours showed!
Resource #4: Check Out Investor.gov Resources
You better believe that the government has some awesome, free resources to help answer something as important as investment questions.
Here's some great links for you from the U.S. Securities and Exchange Commission (hint: they're the guys who regulate the stock market and work to protect investors like you):
Resource #5: Ask Your Questions in Investment Forums
There are some good resources online where you can meet other people, and start asking some of those investment questions you have.
Great resources to give a try include:
Resource #6: Take a Free Investment Course
You might be surprised to find that there are lots of free investment courses out there. Get a great introduction to investing, and get some of those beginner investment questions answered using one of the free courses below:
The incredible, free, resources above should help you get the answers to all those beginner investing questions you have. Not to mention, you've now got an option for getting others to handpick stocks for you. If, after all this, you still want to hire a financial advisor? Be sure to read FINRA's guidance on the questions you need to ask them before doing so.
The following two tabs change content below.
Amanda L. Grossman is a writer and Certified Financial Education Instructor, Plutus Foundation Grant Recipient, and founder of Frugal Confessions. Over the last 13 years, her money work has helped people with how to save money and how to manage money. She's been featured in the Wall Street Journal, Kiplinger, Washington Post, U.S. News & World Report, Business Insider, LifeHacker, Real Simple Magazine, Woman's World, Woman's Day, ABC 13 Houston, Keybank, and more.
Read more here
.
Latest posts by Amanda L Grossman (see all)