Need some car gift ideas for that beater car or used car owner in your life? I've got you covered with both car safety items, car accessories gift ideas, and more.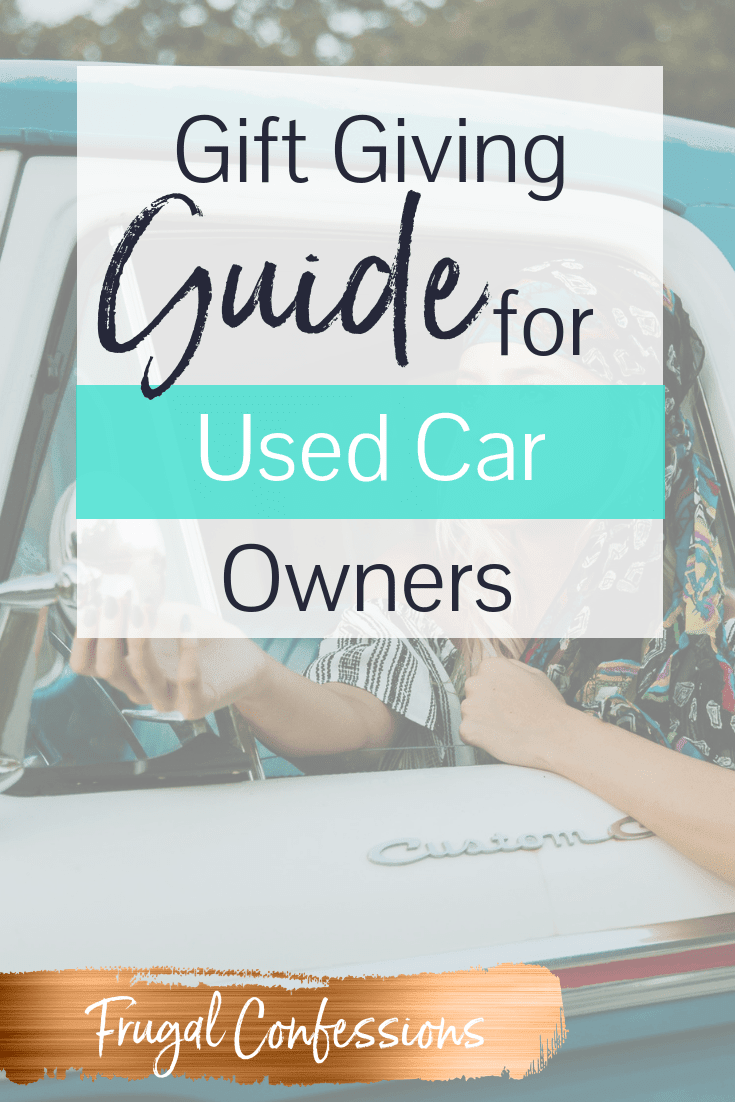 I've owned a beater car for 18 years now – in fact, I've never had a car payment in my entire life!
So, I know a thing or two about owning a very used car and the types of car gift ideas that would have made my life easier + more my commutes more enjoyable.
Let me give you the lowdown on some awesome car accessories gift ideas for the used car owners in your life. We'll cover gifts that:
Add reliability to their used car.
Add car personalization (because it's just fun when your car feels like "you").
Makes their used car look a little less "used", and a lot more loved.
Car Gift Ideas Category #1: Safety and Emergency Gifts
Beater cars and used cars are just not as reliable as brand-new cars (or cars just a few years old). I want to address this with car accessories gift ideas that actually add reliability to a used vehicle – reliability in getting help in the case of being stranded, in having what a person needs to keep their car running, and accessories that are helpful in the event of an emergency.
Because who wouldn't want to gift their loved ones more reliability? Not only that, but when they move onto their next car, these gifts can go with them.
1. Road Hazard Kit
What I love about this kit is that not only are you prepping the used car owner in your life for a car mishap eventuality, but you're equipping them with a free, 365-Day Roadside Assistance Service at the same time! The kit is only $39.99, and do you know what a one-year membership to Triple AAA costs? Over $50. So, you're really getting a good deal here.
In the kit comes a jumper cable, pair of gloves, rain poncho, tow-strap, blanket, headlamp, first aid kit, and more.
I can't tell you how many times I've gotten a flat tire. The beauty about a gift like this is that it's virtually foolproof, and it can get enough air in the tire to get the person to the nearest tire shop/garage for help. Of course, the one-year, FREE roadside assistance the product comes with means that for the first year, they can just simply call for help! After that first year? Then they'll have a way to inflate their flats and get the help they need.
Anyone living up North knows how important a good, sturdy ice scraper can be. It's so important, that I'm adding it to this safety + reliability section.
What's being more reliable than knowing precisely where all your important car documents are (like, your car insurance information, the number to call for Roadside Assistance, your title, etc.)?
Car Gift Ideas Category #2: Car Personalization Gifts
You'll find a dizzying number of vanity license plate choices on Amazon. You can also just purchase a metal license plate frame, and add whatever text you'd like to on the frame for some personalization.
Pssst: you might want to add in a set of blingy license plate screw caps to add to it!

Lots of the beater cars (used cars) I've owned have had worn-off, cruddy steering wheels from normal wear and tear. That doesn't have to be a problem! Choose their favorite color and give them one of these posh, leather/microfiber steering wheel covers to brighten up their car (plus help with any wear and tear on their current steering wheel).
Car Gift Ideas Category #3: Car Cleaning + Maintenance Gifts
I've got some practical + fun ideas for how to help the used car owner in your life keep their car clean and maintained.
Some used cars come with a funky smell…while others develop one along the way. Help your loved one keep their car smelling fresh – but without an overpowering floral scent – with a car ionic air purifier (yes – you can actually get an ionic air purifier for your car). It's actually much cheaper than I would have thought.

Save them money by giving them everything they need to wash the car themselves.

I have found that beater cars/used cars are often lacking in modern amounts of storage space. I just love this solution, where you can slip it under a car seat, and be able to grab what you need for your kiddo from the front seat (don't ask me how many times a day I'm handing something back to our almost-3-year-old in the car!).

Car Gift Ideas Category #4: Unique Gifts for Car Lovers
Sooo…this used car owner you're buying for happens to love their car (or cars in general)? I've got a few special, unique gifts you can include on your list for them.
1. Host a Car Date…in their Car
If you have a spouse/partner who just LOVES their vehicle, then you'll definitely want to host a cozy car date in it! What…never thought about hanging out in your car after the kiddos go to bed? Here is the Dating Diva's Cozy Car Date printables to help you set this up. Talk about unique!
Wow are these unique! You can get a set of metallic-designed floor mats in bright blue, red, black, or silver.
I can honestly say, these are mighty unique. Perhaps your loved one can't afford nice tires or rims…but they can still put some bling on them (if that's their sort of thing!).


Speaking of "bling" lovers? Here's a fun bling ring for their start ignition button.
I've lost my key, like dozens of times. In fact, at the start of this year, my husband lost his entire set of keys and we've yet to relocate it.
We've had to call our homeowner's association for new park/pool key, he's had to get spare keys made, and we lost our spare vehicle key.
A key finder is a pretty awesome idea!
This particular one has a tracking device that attaches to your key chain, and it connects to a smartphone app (via Bluetooth).
Car Gift Ideas Category #5: Car Warming Gift
If someone in your life recently became a car owner, putting a car warming gift together would be a lot of fun.
A few fun ideas for you to make the gifts we discussed a bit more fun:
You can take some of the ideas above, then purchase this car trunk organizing container, and put everything in there.
You could create a car treasure hunt, and your car warming gifts are at the end of it.
If you have access to their car, you could clean it as a secret, then leave a few gifts in the driver side.
The following two tabs change content below.
Amanda L. Grossman is a writer and Certified Financial Education Instructor, Plutus Foundation Grant Recipient, and founder of Frugal Confessions. Over the last 13 years, her money work has helped people with how to save money and how to manage money. She's been featured in the Wall Street Journal, Kiplinger, Washington Post, U.S. News & World Report, Business Insider, LifeHacker, Real Simple Magazine, Woman's World, Woman's Day, ABC 13 Houston, Keybank, and more.
Read more here
.
Latest posts by Amanda L Grossman (see all)